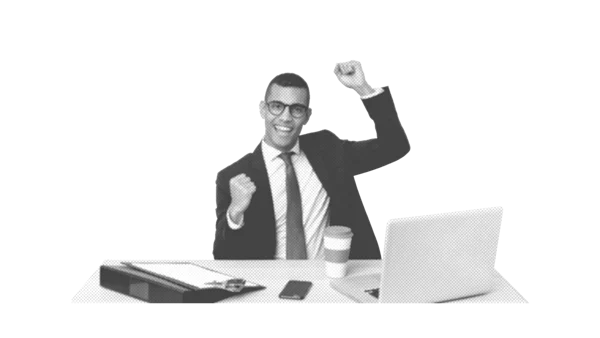 Sales prospecting has never held such an important position in business yet, most companies neglect the strategic parts it entails. Some fail to recognize that the more thought that is put into sales prospecting, the more the target audience will reveal itself and the less time it will take to make a possible sale.
So, how to prospect for sales and why? Sales prospecting helps build personas your sales team can get in contact with, simplify marketing decisions.
What is sales prospecting?
What is prospecting?
Prospecting is the first stage of the sales process. It is to initiate and develop new business by searching for or identifying potential customers, better known as prospects, and converting them into customers. A database of those prospects or leads is stored in the hopes that they would, one day, purchase your products or services.
The goal is to lead those prospects through the sales funnel and convert them into customers that will generate revenue for your company.
What is sales?
Sales describe the methods that are used in the selling of goods or services, such as warm calling, where you have already had prior contact with them before looking to offer the benefits of your product or service.
Of course, you have active listening because you have to know what their needs are and make sure what you sell correspond to their needs.
It is a mutual transaction between two people, a buyer and a seller, where the buyer receives his goods and services from the seller in exchange for money.
The buyers pay the seller for a product or service and if they agree on the terms and conditions, there is an exchange of money, in which the buyers receive the money.
What are the sales prospecting techniques?
You always want to take advantage of every opportunity and technique to acquire customers. Not everyone finds your company through the same channel, nor love to be contacted the same way. You need to be creative in the many ways you can attract customers.
First, you can start with:
Cold calling and emailing: This is the way to directly speak to prospects through social media, email etc. about the advantages your product can bring to them.
Referrals: Gently asks potential customers, past customers for any referrals they might have. It helps to directly get in contact with people they know might have the same interests as them. And those referrals, would feel more confident to work with you because if their entourage referred you to them, then, there must be some sort of trust and professionalism.
Networking: It involves going to trade shows and conferences to get your company's name out there and promote your brand out there.
Preparing scripts: Not to omit any important information or have blanks, but create a fluidity that will let the prospect know that you are aware of what you are talking about.
Pursuing prospects that can become efficacious: You do not to waste time on leads, that won't amount to anything, so, make sure to research the commonality the prospects have with your brand.
Making time for prospects: There are days that will result to nothing, which is why you should be persistent.
Have monthly webinars: that way you can constantly keep your prospects and customers informed and updates about products.
How to prospect for sales?
Sales prospecting is very important for a salesperson to know his sales prospects and what he or she is doing, as prospects transform into leads that become potential customers. So, any time wasted on the wrong people lead to money lost. Therefore, you should:
Research prospects to whom your product or service would serve a purpose and in turn generate value and sales for your company. You should investigate his or her buying habits. A CRM, customer relationship management, can be helpful to track leads and prospects.
Implement a schedule: Be persistent, have a schedule. That is the most efficient way to stick at it and find prospects or potential customers. Rome wasn't built in a day, that habit will become natural, and you will see yourself a pro at scouting leads.
Determine if the prospect is viable: By assessing the probability of them purchasing, start organizing and prioritizing the most valuable prospects. Find the right opportunities to connect with them, contact them (phone call, an email blast) through personalized marketing, so you can proceed with a sales meeting. Take the time to truly understand your prospects' needs and their main source of communication, like their favorite medium platform. This will increase your success in connecting and building relationships with them.
Investigate to create distinctive pitches for each prospect: is made possible by figuring out your prospects' leads. Once you have found the most plausible prospects, have determined their needs, take the time to truly understand those prospects' needs and their main source of communication, like their favorite medium platform. Check their blogs if they have one, their latest social media updates, seek information about their company. This will increase your success in connecting, finding your common point and building relationships with them. It can be easy to get off track, but using a pitch, helps you stay on topic.
Be the expert of your product: When questions arise, be quick and ready to answer them.
Use social media: it is the one main way for getting notoriety for your business. Be consistent and keep posting. Study the conversations that prospects, leads and customers are having. For example, what do they post on Twitter? What do they speak about?
Time to put that pitch to work: Remember to start building relationships first, not sell. Your job is to bring a solution to their problem. Ensure that the problem is relevant by solving the issue that they didn't know was bothering them. Ask questions, listen because it is about them and not you. A connection will be born out of this. Even if they do not become a customer, you will have helped them, and they could refer your product to their entourage.
Foresee a successful outcome: The point, once again, is to create a relationship with the prospects so that they become leads.
Build long-term relationships: You might get no's, show them that you have the patience and perseverance. Express to them that you truly care about their needs and not only selling them your product or service. Look out for them, ask questions
Email marketing: To send emails to constantly stay on your customers' minds, letting them that you still have offers and promotions that might be useful to them.
Why is sales prospecting important?
Because sales closing might be difficult and involves steps, follow-ups, determination, it is important not to waste time on the wrong profile.
Prospecting for sales is important because:
It is easier to determine your audience: Defining the demographics, age and gender of your audience, you can get to directly cater to their needs.
Personal messages can be sent (emails, newsletters etc.): Customers or prospects will not react to emails or newsletters that is of no use to them or bring a solution to the problem they might be having. If it does not correspond to what they are looking for at the moment, then, they will close the email or worse, delete it.
It finds common points between you and the prospects: You may better understand what they are truly interested in and looking for. Sales prospecting helps personalize marketing strategies' content.
Habitual sales prospecting is beneficial: The more you practice and make sales prospecting a part of your day, the more and quicker you will seek out your audience. And, the quicker they are found, the quicker relationships can be built and grow, resulting into loyalty and sales.
Prospect tools
There are many ways to get in contact with potential customers, known as prospects. There is:
LinkedIn Prospecting: In sales prospecting, it involves searching for your target audience through the available filters on the site. Connect, engage in discussions, send InMail messages, join groups, with which you have same goals.
Asking for Referral: Receiving referrals from buyers for sales prospecting, shows your work with them has been successful that you get to mention them on the phone to other prospects, i.e., their friends. It creates a certain level of trust from both sides as the prospect will most likely believe that if the company was referred to, it is because they have a good business relationship with the customer. Rather than phoning people whom you have never had any communication with and taking time to convince.
Cold Emailing: After thorough search on the net and the creation of a prospect list, phone some prospects to have them be aware of your brand, and what you can offer to answer to their pain.
Attending Relevant Events: is the opportunity to physically sales prospect and meet the ideal prospects. It is also a nice way for both to see whose behind those technological tools, questionnaires, emails etc.
Seeking Out Partners: Partner with people you trust, to work with, that have the same ambitions as you do for sales prospecting.
To use, sales prospecting is to help to differentiate individuals, from the general term of prospects/ leads. Basically, acquiring customers is not just because you wish to make a sale. It requires effort and consideration for customers/prospects to appreciate. You want a product to be useful to a customer/prospect, to receive referrals and have them be loyal. Your reputation will evolve and so, will your sales revenue.
Software quoted in this article