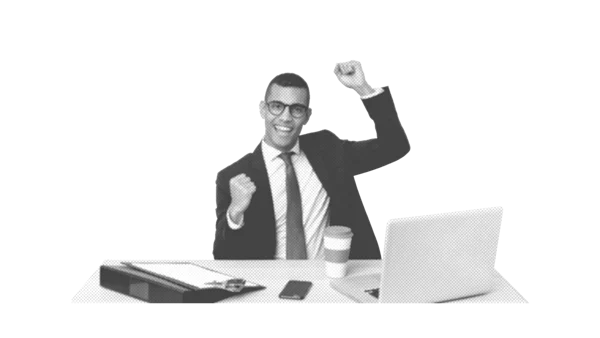 How to prospect for sales: techniques, tools and steps
Sales prospecting has never held such an important position in business yet, most companies neglect the strategic parts it entails. Some fail to recognize that the more thought that is put into sales prospecting, the more the target audience and client portfolio will reveal itself and the less time it will take to make a possible sale.
So, how to prospect for sales and why? In fact, sales prospecting helps build personas your sales team can get in contact with, simplify marketing decisions.
What is sales prospecting?
What is prospecting?
Prospecting is the first stage of the sales process. It is to initiate and develop new business by searching for or identifying potential customers, better known as prospects or leads, and converting them into customers. A database of those prospects or leads is stored in the hopes that they would, one day, purchase your products or services.
The goal is to lead those prospects through the sales funnel and convert them into customers that will generate revenue for your company.
What are sales?
Sales describe the methods that are used in the selling of goods or services, such as warm calling or door to door selling, where you have already had prior contact with them before looking to offer the benefits of your product or service.
Of course, you have to get used to active listening because you have to know what their needs are and make sure your sales correspond to their needs.
It is a mutual transaction between two people, a buyer, and a seller, where the buyer receives his goods and services from the seller in exchange for money.
The buyers pay the seller for a product or service and if they agree on the terms and conditions, there is an exchange of money, in which the buyers receive the money.
To help you have a clear vision of how to prospect successfully in sales, Appvizer and ZoomInfo have prepared a free downloadable whitepaper.
ZoomInfo is a platform that puts sales and marketing professionals in a position to identify, connect, and engage with qualified prospects/ leads in order to have a successful b2b prospecting. Backed by the world's most comprehensive business database, ZoomInfo has the best-in-class technology to fuel your go-to-market strategy from start to finish.
Best sales prospecting techniques to attract your customer
Your company always wants to take advantage of every opportunity and technique to acquire customers. Not everyone finds your company through the same channel, nor love to be contacted the same way. You need to be creative in the many ways you can attract leads. First, you can start with:
Cold calling and emailing
Cold calling is a method of telephone prospecting. Its concept: solicit prospects by phone, without prior contact from them. A "cold" contact, therefore, unlike other types of business relationships, where the prospect is interested in your business and wishes to be called back. The objective of cold calling is to convince the interlocutor to accept another interview, in order, ultimately, to buy your product or service.
Referrals
Gently asks potential sales customers, past sales customers for any referrals they might have. It is used to directly get in contact with people they know might have the same interests as them. And those referrals would feel more confident to work with you because if their entourage referred you to them, then, there must be some sort of trust and professionalism.
Networking
Networking is an effective way to conduct business prospecting. It consists of forming a network of people likely to become potential customers. LinkedIn is a large professional social network offering an opportunity to generate qualified leads. Networking on LinkedIn is a very popular method of business prospecting. However, it requires the implementation of convincing communication strategies which consist of the following two stages, namely:
Establishing connections
Joining all relevant groups likely to be interested in your offers and services
Preparing scripts
Not to omit any important information or have blanks, but create a fluidity that will let the prospect know that you are aware of what you are talking about.
In practical terms, this business strategy must be well-prepared in advance to be effective Your sales representatives will follow a predefined call scenario, which notably identifies the most common objections and offers them the right arguments to respond to them.
Pursuing prospects that can become efficacious
You do not waste time on leads prospecting, that won't amount to anything, so, make sure to research the commonality the prospects have with your brand. To do that, you can:
Segment your prospects
Respond quickly
Feed prospects with useful material
Personalize your communication
Use multiple communication channels
Create a follow-up schedule
Track interactions
Find out when to drop lost causes

Making time for prospects
There are days that will result in nothing, which is why you should be persistent. "Raw" leads are of no interest in themselves. What's interesting for your business is to capture their attention on a regular basis and lead them to see you as an expert in your field, and therefore to consult with you, the day they are ready to make a purchase. To do this, an effective nurturing system must be set up:
Respect them by only sending them content if they have given their consent;
Offer quality content regularly, a real "plus" in your area of ​​expertise;
Vary the available media: white paper, newsletter, webinar, video training, blog article, etc.;
Adapt the content to the maturity of your leads.
Have monthly webinars
That way, you can constantly keep your sales prospects and leads informed and updated about products and your company. In a context where prospecting has become a sensitive mission, bringing value to its target is a major stake. Sales reps must dedicate themselves to processing the most mature and qualified leads in order to provide them with a perfectly personalized and contextualized experience. Organizing a webinar, therefore, becomes a more than relevant option since it meets the expectations of the modern buyer.
Prospecting on social media
Social media have been popular in recent years. Indeed, 2.31 billion of the 3.42 billion Internet users are said to be "regular social media users". Using social media is a profitable alternative insofar as prospecting on social networks facilitates communication while offering a large audience. Social media is where customers leave most of their intent data.
There are two types of social networks, including professional platforms and those intended for the general public. Some community networks stand out from the others, namely Viadéo, Twitter, and Google +. However, Facebook rises to number one.
How to prospect for sales: Our tips
Sales prospecting is very important for a salesperson to know his sales prospects and what he or she is doing, as prospects transform into leads that become potential sales customers/prospects. So, any time wasted on the wrong people leads to money loss. Therefore, you should:
Research prospects
Research prospects to whom your product or service would serve a purpose and in turn generate value and sales for your company. You should investigate his or her buying habits. Use CRM, customer relationship management, to track leads and prospects.
Implement a schedule
Be persistent, use a calendar to schedule your appointment. That is the most efficient way to stick at it and find prospects or leads. Rome wasn't built in a day, that habit will become natural, and you will see yourself a pro at scouting leads.
Determine if the prospect is viable
By assessing the probability of them purchasing, start organizing and prioritizing the most valuable prospects. Find the right opportunities to connect with them, contact them (phone call, an email blast) through personalized marketing, so you can proceed with a sales meeting. Take the time to truly understand your prospects' needs and their main source of communication, like their favorite medium platform. This will increase your success in connecting and building relationships with your prospects.
Investigate to create distinctive pitches for each prospect
It is made possible by figuring out your prospects' leads. Once you have found the most plausible prospects, have determined their needs, take the time to truly understand those prospects' needs and their main source of communication, like their favorite medium platform. Check their blogs if they have one, their latest social media updates, seek information about their company. This will increase your success in connecting, finding your common point, and building relationships with them. It can be easy to get off track, but using a pitch, helps you stay on topic.
Be the expert on your product
Your product or service is ready to be sold, you know it and you let your potential customers know it. When questions arise, be quick and ready to answer them.
When you are seen as an expert in your field, you are able to convince and sell more than if you are seen as a salesperson. Don't be a simple salesperson, become a strategist. Only enter a market that you have mastered from A to Z so that prospects trust you from the start. They should immediately understand that you are the RIGHT choice: the one who will help them achieve their goals and who will provide quality follow-up.
Use social media
It is the one main way of getting notoriety for your business. Be consistent and keep posting. Study the conversations that prospects, leads, and customers are having. For example, what do they post on Twitter? What do they speak about? Which platform do they use?
Time to put that pitch to work
Remember to start building relationships first, not sell. Your job is to bring a solution to their problem. Ensure that the problem is relevant by solving the issue that they didn't know was bothering them. Ask questions, listen because it is about them and not you. A connection will be born out of this. Even if they do not become a customer, you will have helped them, and they could refer your product to their entourage.
Foresee a successful outcome
The point, once again, is to create a relationship with the sales prospects so that they become leads. The relationship, when it is of good quality, that is to say, that trust is installed, makes it possible to work (help to buy) faster, easier, and arguably more.
When trust is installed with the prospect, it allows him to:
to give you time more easily,
to share quality information with you,
to be loyal to you to buy your products from you,
to recommend you.
Build long-term relationships
You might get no's from your leads, show them that you have the patience and perseverance. Express to them that you truly care about their needs and not only sell them your product or service. Look out for them, ask questions. Obviously, then you have every reason to want to build quality, trusting relationships with your prospects. And then, let's be honest and pragmatic: it's still more enjoyable for everyone! The only thing is, a relationship of trust is built over time. And time, sometimes it takes more than you would like.
Use email marketing
Use emails to constantly stay on your customers' minds, letting them that you still have offers and sales promotions that might be useful to them. Emailing is an inexpensive solution compared to telephone prospecting or mail, and relatively quick to set up. Overall, think about quality rather than quantity, and don't forget to regularly follow up with your prospects! At the same time, take the time to analyze the results of your emailing campaigns.
Prospect tools
There are many ways to get in contact with potential customers, known as prospects. There is:
LinkedIn Prospecting: In sales prospecting, it involves searching for your target audience through the available filters on the site. Connect, engage in discussions, use InMail messages, join groups, with which you have the same goals.


Asking for Referral: Receiving referrals from buyers for sales prospecting shows your work with them has been successful that you get to mention them on the phone to other prospects, i.e., their friends. It creates a certain level of trust from both sides as the prospect will most likely believe that if the company was referred to, it is because they have a good business relationship with the customer. Rather than phoning people whom you have never had any communication with and taking time to convince.


Cold Emailing: After a thorough search on the net and the creation of a prospect list, phone some prospects to have them be aware of your brand, and what you can offer to answer their pain.


Attending Relevant Events: is the opportunity to physically sell prospects and meet the ideal prospects. It is also a nice way for both to see whose behind those technological tools, questionnaires, emails, etc.


Seeking Out Partners: Partner with people you trust, to work with, that have the same ambitions as you do for sales prospecting.
To use, sales prospecting is to help to differentiate individuals, from the general term of prospects/leads. Basically, acquiring customers is not just because you wish to make a sale. It requires effort and consideration for leads/prospects to appreciate. You want a product to be useful to a lead/prospect, to receive referrals, and have them be loyal. Your reputation will evolve and so, will your sales revenue.
Best tools for you