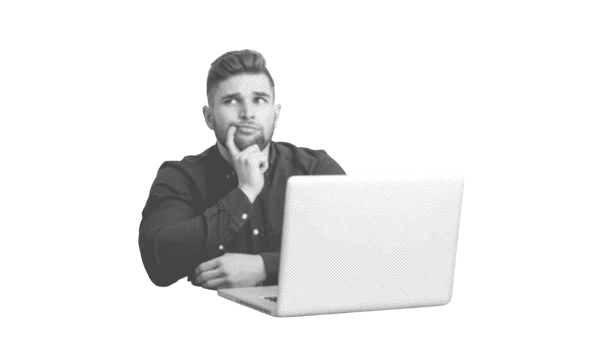 What does CRM stand for? 7 reasons why you need CRM software
CRM consists of strategies, processes, and software that manage your company's interactions with customers and potential clients. This helps you sell more and build customer loyalty with a longlasting lifecycle.
But what does CRM stand for? What are some examples of CRM software? And, why is CRM important?
appvizer answers all of your questions. CRM 101 is over here:
CRM: Definition
What is CRM?
CRM stands for Customer Relationship Management. It is a more precise and accurate way to talk about customer-centric relationship management and interactions with contacts.
Indeed, there can be different types of contacts:
members,
prospects,
leads,
customers or clients,
users, collaborators,
suppliers.
Here is a video that gives a simple definition of CRM:
The term CRM actually has another meaning. "CRM" also refers to CRM software, a tool designed for companies to manage their relationships with their clients.
What about the ECRM meaning? It's a "subcategory" of CRM that focuses on digital and web channels.
The 3 components of CRM
A CRM project: This is the strategy for customer interaction. The CRM strategy defines the tools and methods to manage interactions with them.
A CRM system: This is the CRM software. Its features let employees work efficiently by saving and analyzing data from each interaction.
A CRM process: This is the methodology to be followed for each action. The features of a CRM tool ensure that procedures are being used to serve your strategy.
What does a CRM system do?
A CRM system puts customer interaction at the heart of relationships with your contacts.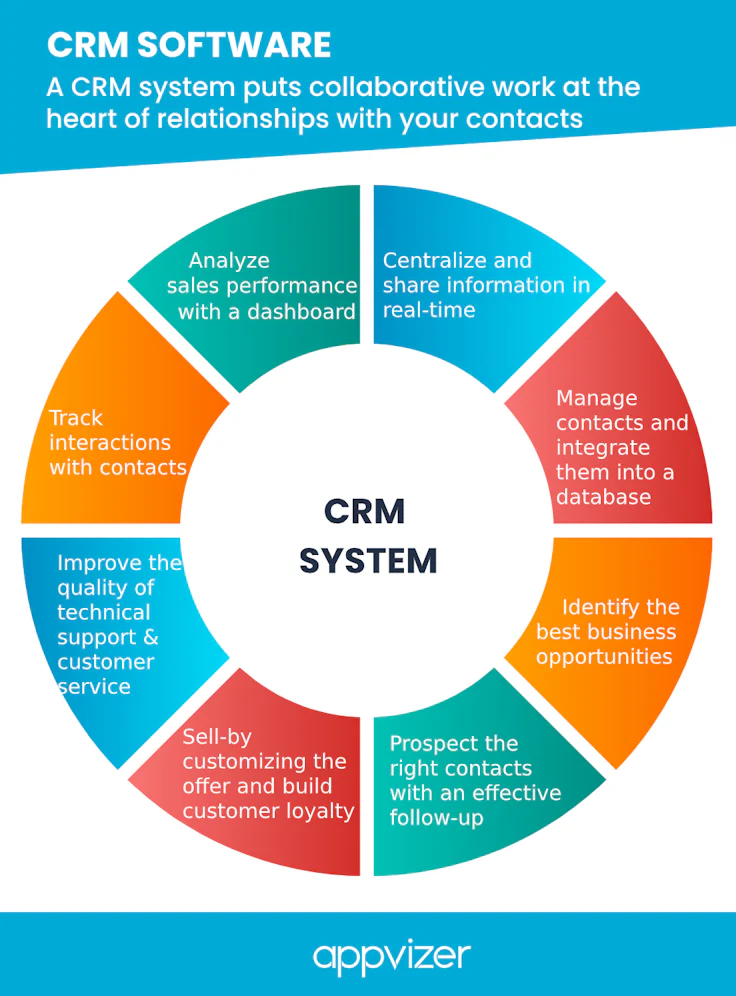 Here is what every user can do with a Cloud-based CRM software:
centralize and share information in real-time,
access an online document base,
manage contacts and integrate them into a database,
track interactions with contacts through a history,
identify the best business opportunities,
prospect the right contacts with effective follow-up,
sell-by customizing the commercial offer and build customer loyalty,
improve the quality of technical support and customer service,
manage sales activity, analyze its performance with a dashboard
optimize marketing strategy by using crm digital marketing.
5 benefits of using CRM software
1. Learn more about your customers
Good customer knowledge will help you improve customer experience online, in-store, by phone, email, postal mail, or videoconferencing.
Companies collect large sets of data from every interaction with a contact. Therefore, they must keep a history of these customer interactions. A CRM tool can process and centralize this data.
You can also use the client database to target the right customer by using CRM advertising.
2. Improve prospecting and selling
Getting to know your customers better means that you have a higher chance of sales opportunity by meeting their expectation and offering them customized offers at the right time.
For example, you can personalize marketing campaigns by segmenting your database according to information collected.
3. Increase customer satisfaction and loyalty
Listening to customers and users is also essential in this relationship: it is necessary to be able to react quickly to demand for all types of users.
Moreover, acquiring a new customer requires more effort than building the loyalty of an existing customer. It is also more expensive. A CRM tool connected to all channels meets this objective.
4. Be more responsive and perform more efficiently
Different departments within a company must have the same information and documents to work efficiently.
By using the collaborative tools of cloud-based CRM, employees such as salespeople become more productive and close more sales.
5. Stay competitive
Today, we live in a digitalized world where people interact live on the Internet. Therefore, sales and customer support staff must have tools adapted to this technology. This will help a company create or maintain its competitive advantage in a specific market.
6 key features of a CRM software
What are the features of a CRM tool? What is a CRM database? Here is a list of the key features of CRM Software and what each one can potentially bring to a company.
1. Contact management
All contacts are centralized in the database of the CRM software. This is also known as the CRM database. The different departments within a company have access to this information in the contact sheets, either to update them in real-time or to search for information. Each record also lists the interactions with a customer for example.
This contact management system is essential for managing relationships. For example, a sales representative can see whether a customer's order has been delivered or paid for.
Filling in a contact sheet correctly and keeping it up to date with the right information is crucial for all departments in the company: sales, marketing, logistics, invoicing, accounting, customer support. It also avoids having duplicates that can lead to mistakes which can be disastrous for customers.
Here is an example of what a contact management system looks like with Netsuite CRM.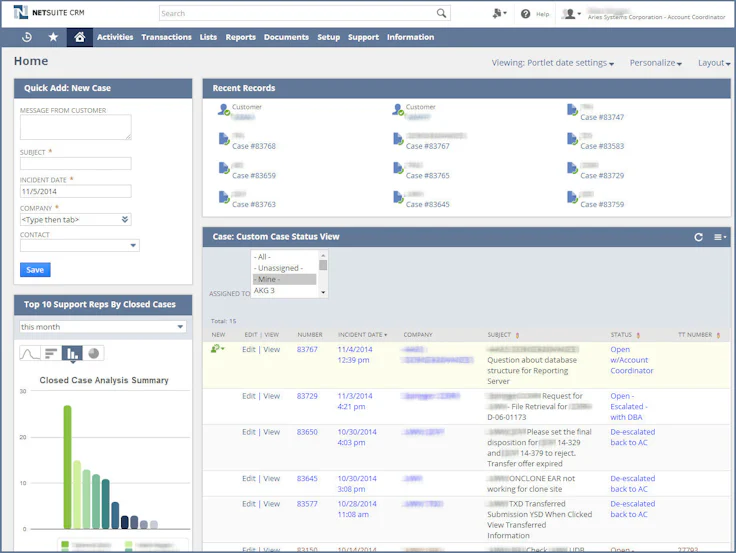 2. Document management
A cloud-based CRM solution offers the possibility of centralizing all documents and making them available to employees 24/7.
For example, a sales representative on a business trip out of the country can access an online quotation template that he can download and present to a prospect. If the customer signs the order, the sales representative will be able to upload it to the document base. With an electronic signature, the customer can sign from anywhere.
The customer's order form is sent to the Cloud. This action triggers the production or packaging of the item ordered for delivery, or the implementation of the service purchased. Logistics is immediately notified. The invoicing department issues the invoice and sends it to the customer.
The vast majority of CRM systems are compatible with office automation suites such as Microsoft Office 365 for example. This means that a CRM system offers an interface that is able to communicate with other software and facilitate the execution of your tasks by importing and exporting information from your database.
3. Sales process management
A CRM system is a must-have for a company's sales force. Salespeople need to follow up on their prospecting efficiently, manage each contact and inform each prospect of the steps they have taken: making appointments, opportunities, sales, etc.
The main advantage of CRM software for sales representatives is that it can be configured according to the sales process. You can, therefore, configure a pipeline, a sales process, a way of managing incoming leads, etc.
Software such as Salesforce Sales Cloud or Zoho CRM pushes the limits of a CRM tool. These solutions are capable of automating sales processes: they detect the best business opportunities and suggest them to sales staff!
Other features are very popular and requested by sales representatives: a feature that gives access to a product catalog to advise the customer and the contact geolocation feature. These last two functionalities should be accessible in the mobile version of the CRM application.
To illustrate the possibilities of the latest generation of CRM software, here is a picture of the type of questions the salesperson can ask the Zoho CRM artificial intelligence system and how it can answer: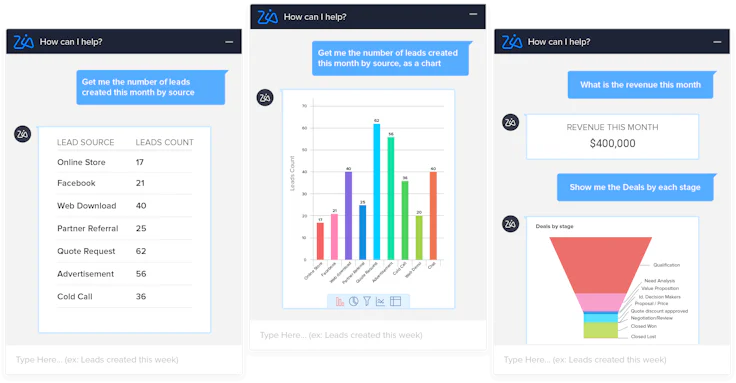 4. Targeted marketing campaigns
If your database is filled and segmented correctly, then the marketing department can send personalized email or SMS campaigns to influence leads decision making. The goal is simple: to guide and advise them right up to the purchase decision!
The main objective of CRM software is to align marketing objectives with sales objectives.
Customer profiles are identified accurately. The marketing department can thus send different messages depending on the interest of the contact. This adapts the quality of the content that is being sent according to the type of contact: a simple website visitor, a prospect at the beginning of his thinking process, a hot prospect that has identified a need.
CRM software are compatible with professional emailing (and SMS) software such as Mailchimp, and marketing automation software such as Sharpspring.
Here is an example of the indicators and dashboard that Sharpspring provides to monitor the performance of your campaigns.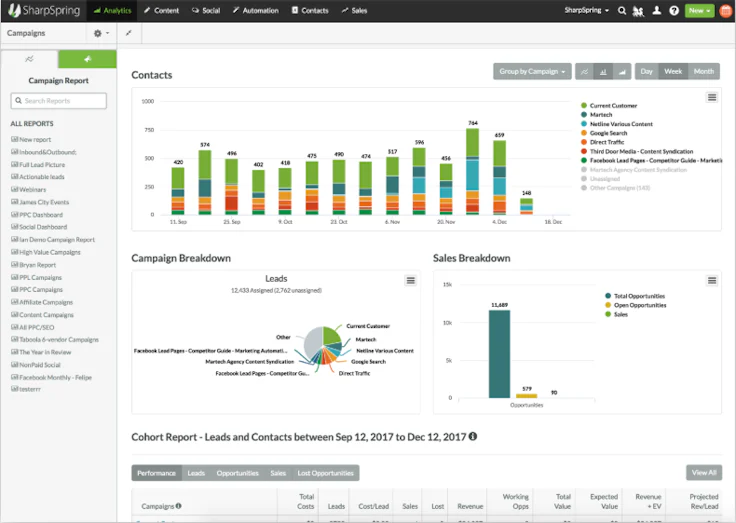 5. Performance analysis
By entering your KPIs and sales objectives in your CRM software, you can set up a dashboard. The indicators help you make the best decisions for your business.
This dashboard has an analytical function: you control the sales activity by having the key figures available in real-time. Based on performance, you adjust your sales action plan to achieve your sales objectives.
You can also make sales forecasts based on past activity, and detect periods that are ideal for prospecting or selling to your customers. Some data helps you identify the best customers, sales cycle or calculate the cost of acquiring a new customer, for example.
6. Technical support and customer service features
This feature is essential to the company: your customer service operates a tool directly integrated with the CRM and the database. It is in this base that each interaction with a contact, a user, a customer, is stored.
A technical support and/or customer service module lets your team with better customer interaction via any communication channel: telephone, email, chat, social networks, etc.
This type of module provides a ticketing tool that allows you to assign the customer request according to its type and priority to the appropriate person: a technical expert, after-sales service, logistics, etc.
A customer support module makes the team collaborative and inclined to satisfy the customer. The team can provide the ideal solution within a short period of time.
To improve collaboration and reactivity of customer service, some CRM software offer the possibility to provide customers with a knowledge base and an F.A.Q.
Best tools for you