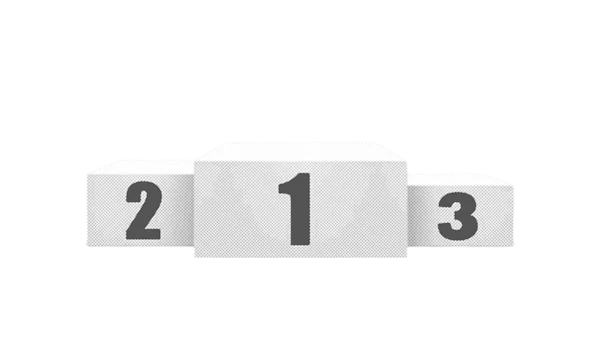 Top 5 Customer Relationship Management Examples
Today, there are many Customer Relationship Management examples in business.
Indeed, customers are the most important part of any business and it is vital to have a good relationship with them to reduce customer attrition.
Here is everything you need to know about Customer Relationship Management along with our Top 5 Customer Relationship Management examples in companies!
What is Customer Relationship Management?
Before reviewing Customer Relationship Management examples, it is essential to define the notion of Customer Relationship Management.
Customer Relationship Management or CRM consists of strategies, processes, and software that manages your company's interactions with customers and potential clients.
CRM can be used in marketing, sales, and operations, to monitor and improve relationships, and upsell clients.
Here is a video that gives a simple definition of CRM:
Why is Customer Relationship Management important?
Customer Relationship Management provides you with insights on your customers, prospects and suppliers. You can use this information to identify pain points, improve processes, sell more and build customer loyalty.
The goal of using CRM is to improve and expand a customer lifecycle, by enhancing relationships, adapting customer retention strategies and driving sales growth.
Managing this cycle can mean the difference between customer retention and customer churn.
Top 5 examples of CRM implementation in organizations
Here are 5 successful Customer Relationship Management examples that may inspire you to use CRM in your business.
1. Apple CRM
Customer Relationship Management plays a pivotal role in Apple's growth strategy.
If you've ever used an Apple device, you probably had to register it using an Apple ID. An Apple ID is an account you use to access Apple services like the App Store, Apple Music, iCloud, iMessage, FaceTime, and more.
These unique IDs synchronize across devices, save music and film preferences, and provide bespoke recommendations based on what you like. For users, this is convenient. For Apple, it's a tool that provides insights on what customers like and it can be used for effortless, targeted marketing.
2. Coca-Cola CRM
Coca-Cola uses CRM to promote collaboration and deal with customer issues quickly and efficiently.
By using CRM software, every member of a Coca-Cola team can identify issues, monitor customer behaviour and social media to promote offers and promotions.
Moreover, team members can use mobile apps on the go to access customer history anytime and anywhere, create and update work orders, and send out field technicians in real-time.
3. Amazon CRM
Throughout the past few years, Amazon has become the go-to online platform for online shopping. One of the main reasons for this is Amazon's CRM system. Amazon has one of the most complete CRM infrastructures in the world that harnesses customer data during purchases to instantly customize users' online experience.
When purchasing an item from Amazon, you will need to set up a personal account. Then, Amazon can track your purchases and browsing history to tailor marketing campaigns and email campaigns based on things you will probably like.
Moreover, you can configure your account to set up purchases in one-click. This is one of Amazon's most popular feature and customers appreciate it as it dramatically speeds up the checkout process when making a purchase.
4. Activision CRM
Activision is a pioneer in the video gaming industry that uses CRM to connect with gamers via social media websites such as Facebook and Twitter. By using a cloud-based CRM solution, the company was able to:
reduce customer service related expenses by 25%,

assess and resolve 82 % of customer-related issues through online self-service,

improve communications with its gaming community,

reduce overhead costs,

increase user satisfaction rates,
5. Tesco CRM
Like most retailers today, Tesco uses a Clubcard to reward its most loyal customers. For every pound spent, you earn a point. These points can then be traded in for Tesco Clubcard 'vouchers' and vouchers can then be traded in for rewards. Tesco has partnerships with many restaurants, hotels and gas stations thus giving users more opportunities to earn points.
There are programs available for all family members: Tesco Kids Club, Tesco Baby and Toddler Club, Tesco Healthy Living Club, World of Wine Club.
Tesco uses this for targeted marketing actions and there are over four million variations of its quarterly mailing to ensure that discounts and offers are personalized for each customer.
What are the top 3 CRM systems?
Microsoft Dynamic 365, a cloud-based CRM and ERP combining 200 apps
Microsoft Dynamic 365 is a highly collaborative cloud-based CRM software that can help your sales team be more efficient in an increasingly complex environment.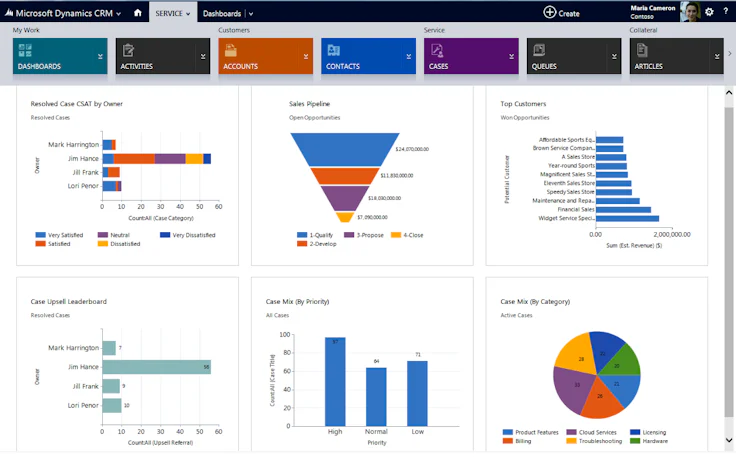 With Microsoft Dynamics 365, you will be able to analyze your company's performance to develop an effective marketing strategy and create a personalized customer-business relationship. Moreover, this software can be used to:
generate and send messages containing automatic responses based on the customer's actions,
customize workflows based on the requests and the needs of the company;
target customers before setting up an e-mailing campaign.
Microsoft Dynamics 365 now combines CRM (Microsoft Dynamics CRM) and ERP. And, today this software offers a wide range of features including marketing, customer service (after-sales service), field services (field uses), project management automation, and more.

Cloud-based CRM and ERP combining 200 apps
Learn more about Microsoft Dynamics 365
Oracle CRM, a complete CRM that drive sales, marketing and loyalty
Oracle CRM is a cloud-based CRM system that simplifies customer relationship management for businesses of all types and sizes.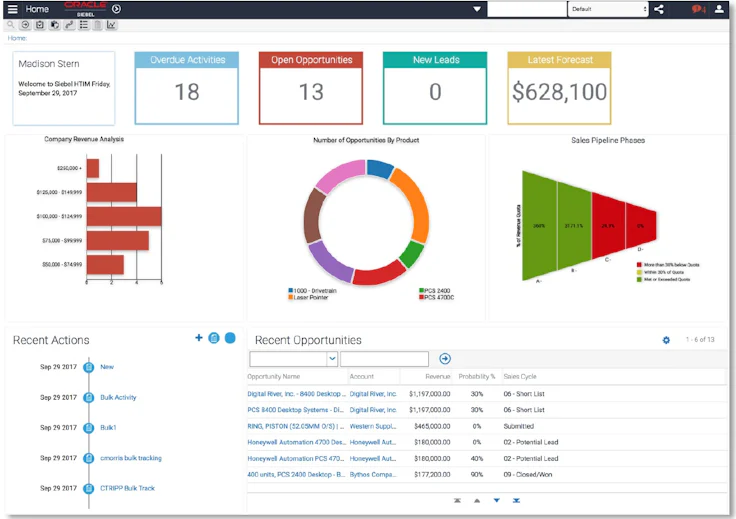 From a marketing perspective, Oracle CRM offers mailing and e-mailing features. Marketers can use this software to develop and execute marketing campaigns, set up workflows and carry out complete and precise analyses to have a clear vision of marketing actions.
On the other hand, sales teams can use Oracle CRM's advanced contact management functionalities to :
automate sales processes,
improve interactions with customers and prospects,
forecast sales more accurately.

Lead Generation Software
Learn more about Oracle CRM
Pipedrive, the all-in-one CRM platform for salespeople
Pipedrive is a sales-focused CRM software specially designed for small businesses. The strength of Pipedrive focuses on developing sales and integration with more than +250 services within one click.
Pipedrive allows you to:
get more hot leads

and guide them into the sales pipeline to make a big deal,

track communications

information to have a global vision on your schedule,

get the most interesting customer insight

by tracking the performance of your business,

protect your database

and keep it transparent but private,

access your Pipedrive on the go

anywhere, anytime on any device by using the Pipedrive App,

customize

easily the interface and activity to suit your needs.
Furthermore, Pipedrive has a friendly sales community to share experiences and get advice from other users. You can sign up for free using LinkedIn.

Maximize your sales efficiency
Learn more about Pipedrive
Salesforce Sales Cloud, the world's leading web-based CRM
Salesforce Sales Cloud is a cloud-based CRM software that helps you track and monitor customer information and interactions in a single platform to follow more leads. Developing sales, building customer loyalty and exploring new opportunities are the major assets of this marketing solution.
With Salesforce Sales Cloud, you will be able to create personalized, targeted emails based on customer profiles to help you connect with your customers and prospects. These include:
individualized workflows, to adapt responses based on customer's actions,
intelligent customer service, to respond more quickly and accurately to user requests,
reports and analyses presented in the form of customized graphs to monitor the performance of your campaigns.
Contact management is carried out by an automatically updated database which allows you to:
access customer and prospect data in segmented lists according to selected criteria,
remove potential duplicates with an account and contact merging feature,
monitor customers and prospects data to have a clear vision of the opportunities and actions to be implemented,
prioritize accounts with the possibility of sponsorship,
access a detailed history of exchanges between clients and your company.

The all-in-one CRM for your business
Learn more about Salesforce Sales Cloud
What type of CRM software will you use?
Today, CRM is considered as the largest software market in the world and there is a plethora of CRM software for you to choose from.
CRM software features are varied and adapted to various needs. There is no point in investing a considerable amount of money to get the most complete CRM software if expectations are not too high.
However, for a very large company with a large customer base, it is advisable to choose a complete software package that will cover all of your needs and offer discounts based on the number of users.
Among the alternatives available, there will certainly have one that suits your needs.
Best tools for you