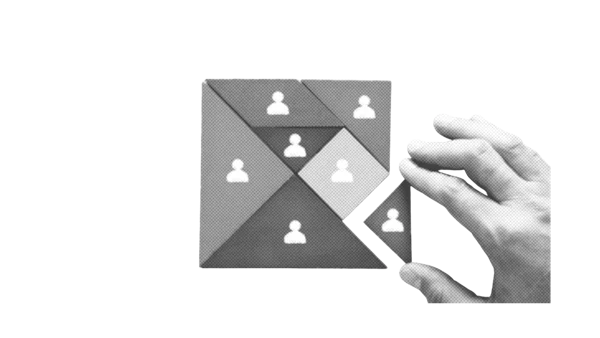 With great operational CRM comes great benefits!
Is your organization looking to gather, analyze, and act on customer data? Using an operational CRM can significantly increase your company's agility by providing marketing, customer service, and sales teams with a one-stop shop for everything customer-centric.
While there are three main types of CRM platforms (analytical, collaborative, and operational), an operational CRM platform will be the most strategic deal for your team to build on the functionalities that the two others provide.
Here is everything behind an operational CRM and all the functional connections it allows which makes it an excellent option for companies of all sizes and across a range of industries! 🕸🕷
What is an operational CRM?
An operational CRM refers to a type of Customer Relationship Management (CRM) platform designed for automation and data management to streamline all your sales initiatives, marketing outreach, and customer support services.
💡 Reminder: the definition of a CRM platform
A CRM platform refers to a system, often cloud-based but also on-site, that allows companies to deepen their relationship with their customers by communicating more proactively, identifying leads and turning them into customers, and by automating workflows for more harmony among teams.
How does an operational CRM work?
The guiding function of an operational CRM system is to enhance your company's relationship with its customers and to efficiently handle the routine processes that don't need as much human interaction.
An operational CRM is particularly useful for helping sales, marketing, and customer service operations for companies of all sizes.
Customer service
Using an operational CRM to boost your customer service performance means accessing a database where all customer interactions and information is stored from the moment the customer has shown interest in your product or service.
You can track all your customer data in one place, making it accessible to all team members. The result: quick and easy customer support with faster response times.
Sales
Staying on top of your sales pipeline is crucial, no matter the size of your business. An operational CRM allows your sales team to focus on sales-related tasks rather than getting bogged down with tasks that may be more labor-intensive (data entry), require a different kind of attention (meetings and emails), and ultimately draw their attention from hitting their goals.
An operational CRM can help your sales team identify and generate leads, determine the best ways of turning them into prospects, and store all the contact information necessary to convert them into loyal customers.
In fact, an operational CRM will streamline your sales process and significantly shorten your sales cycle by allowing your team to enjoy centralized access to all their sales-related tasks in a single platform.
Marketing
While an operational CRM helps you nurture relationships with existing customers, it also enables you to develop marketing strategies to discover new ones.
An operational CRM enables your marketing team to generate automated email campaigns, effectively significantly streamlining your external communication process. When your CRM has identified someone as a lead, it will be able to use the behavioral data it collected to generate personalized email campaigns to match their interaction.
Overall, an operational CRM can help your cross-functional team automatically find contact info, identify potential pain points, monitor engagement levels, and provide other crucial data that can guide your strategy-making and determine the best practices in your industry.
What are the benefits of using an operational CRM system?
There are countless benefits to using an operational CRM system beyond skimming off the labor and resources needed to perform specific duties. Some of these benefits include, but are not limited to:
1. More efficient collaboration
When your team communicates on multiple channels, in different ways, and at different times, the odds that some messages and critical information will get lost are very high. An operational CRM can be extremely handy in eliminating information silos and lost communication.
The more centralized your information and communication channels, the more you will be able to spend time focusing on your customers.
2. Repetitive task automation
So much time is wasted on performing tasks that could be automated. An operational CRM will help by sending follow-up emails, automatically updating lead contact information, scheduling appointments and updating schedules, and scouring and routing leads.
An operational CRM will also generate reports for you to better understand customer behavior and customer satisfaction.
Not only does automation save time, but it also makes sure that all its works stay transparent and available to any team member.
3. Premium customer satisfaction
When you have streamlined processes with an operational CRM that performs tedious tasks for you and that enhances cross-departmental collaboration, you can focus on what matters: your customer.
An operational CRM also includes certain very useful customer-centric features, like live chat options and client portals, to make sure you communicate with your customers as directly as possible.
Business reporting and analytics
With an operational CRM, you can view your company's position in your industry. You will also be able to identify, track, and adapt to trends via the analytics your CRM will provide you. You will know which products to develop and promote.
How to choose an operational CRM software?
Because there is so much CRM software on the market, it is crucial to know how to choose your operational CRM.
When comparing software, consider precisely which features you need for your team. Once you've identified your needs, odds are you will find a CRM software that provides exactly all the things you've written down.
Second, consider how tech-savvy your team is. If you choose a complex interaction, you will need to make sure your team can follow. Prioritize more accessible user interfaces and interactions. This will reduce your training time and optimize your process overall.
Finally, date before you marry. Don't select an operational CRM that you haven't tested. Ask for demos and sign up for trials to see if it meets your needs.
What are some examples of operational CRM functionalities?
To understand what an operational CRM can do for you, it's better to view some examples of it in action. Here are a few examples of what an operational CRM can do based on the different teams it works with:
Marketing
Do you need help keeping your churn rate level low? An operational CRM can automate the best win-back campaign to let your customers know why they should reconsider.
For example, if you've noticed that some of your customers used to purchase your product/service actively, but no longer do, your operational CRM will use the data it has collected on their behavior and interaction with your product to generate automated win-back email campaigns to get their interest piqued again.
Sales
When your salespeople are researching leads, they can often use up resources that could otherwise be automated with an operational CRM.
Your operational CRM platform provides an automated prospecting tool for you to search through all your customer data. Your salespeople can find all the relevant leads without having to research them for hours.
With sales, the shorter the sales cycle, the better, which means that if an automation tool in an operational CRM allows for faster prospecting, they can focus on driving home a sale.
Customer service
Providing customers with time-sensitive and relevant responses is essential in guaranteeing customer satisfaction.
While emails and phone calls might still be the preferred way of communicating with clients in some industries, most will privilege more direct communication channels, like chatbots.
Your operational CRM notifies your team that a message has been received and centralizes all your communications with customers, so any team member can jump in at any time to answer queries.
Which operational CRM should you choose?
There are a few top operational CRM systems on the market that will help you get the job done:
Agile CRM
Agile CRM is an all-in-one solution for companies looking to boost their project management skills and contact tracking.
Pros:
Advanced customer ticketing feature
Built-in telephony features
Cons:
High price point for small- to mid-sized companies
Limited customizability options
Pricing:
Up to 10 users: free
Starter: $8.99 per user/per month
Regular: $29.99 per user/per month
Enterprise: $47.99 per user/per month
Bitrix24
Bitrix24 is an operational CRM designed to address all the everyday operations that keep the doors open.
Pros:
In-app telephony
Clickable features for task creation
Full-featured free version
Cons:
Tricky UI
Limited customization capabilities
Complicated for small businesses with bespoke needs
Pricing:
Free starter pack
Basic: Starts at $39 per month
Standard: Starts at $76 per month
Professional: Starts at $152 per month
HubSpot
HubSpot is one of the most comprehensive free CRM starters.
Pros:
Assign leads to sales representatives
Customer interaction centralization
Many add-ons available for purchase
Cons:
Limited customization capability
Free CRM is basic, so you'll quickly want an upgrade
High price point
Pricing:
HubSpot CRM: Free offers a free plan.
Starter CRM Suite: Starts at $45 per month
Professional CRM Suite: Starts at $1,600 per month
Enterprise CRM Suite: Starts at $4,000 per month
Pipedrive
Pipeline is an operational CRM dedicated to teams looking to prioritize their sales pipeline.
Pros:
Total email synchronization
Gmail integration
Automate repetitive tasks
Unlimited number of contacts
Cons:
Notifications easily get lost
Internal emailing platform missing
Pricing:
Essential: $14.90 per user/per month
Advanced: $24.90 per user/per month
Professional: $49.90 per user/per month
Enterprise: $99 per user/per month
Freshsales
Freshsales is a frontline product from the Freshdesk app stable.
Pros:
Easy to use
Track customer engagement
Sales process flexibility
Customization functionality
Cons:
Not enough integration options
Limited free version
Does not have the most accessible UI
Pricing:
Blossom: $12 per user/per month
Garden: $25 per user/per month
Estate: $49 per user/per month
Forest: $79 per user/per month)Insightly
Insightly, an excellent operational CRM to work with real-time data and contact management seamlessly.
Pros:
Microsoft 365 and G-Suite integration
Business intelligence features
Real-time data reports
Cons:
Limited customer field maximum
Somewhat outdated UI
Pricing:
Free plan for up to two users
Plus: $29 per user/per month
Professional: $49 per user/per month
Enterprise: $99 per user/per month
Salesforce
Salesforce offers countless integration options with third-party tools and an ideal platform to streamline marketing efforts, collaboration, and sales processes.
Pros:
Advanced automation
Centralized contact and sales information
Personalized task management systems
Cons:
Advanced tool, so you may need to train your team
No offline capability
Salesforces teams aren't always around to help
Pricing:
Essential: 25€ per user/per month
Professional: 75€ per user/per month
Enterprise: 150€ per user/per month
Unlimited: 300€ per user/per month
SuiteCRM
SuiteCRM is an open-source operational CRM perfect for streamlining workflows.
Pros:
Cross-departmental data visibility
Easy to use
Custom layout functionality
Cons:
Highly variable response time from in-house team
Pricing:
Pricing is currently unavailable on the website. You should contact the vendor to get accurate information.
What makes operational CRM platforms different?
There are three main types of CRM platforms: analytical, collaborative, and operational. An operational CRM platform's well-balanced tools for a wide range of business functions make it stand out a bit more than the other two.
An analytical CRM is handy if you're looking for a service that stores, organizes, and analyzes all your customer information. It will help you make better business decisions and develop a process.
A collaborative CRM will be useful for teams to exchange information between departments, delegate tasks, and share workloads. Collaborative CRMs guarantee fast and easy company-wide communication.
In both cases, an operational CRM will act as a next step or complement. An operational CRM will provide the tools to implement the strategy you developed thanks to your analytical CRM. It will ensure that none of the seamless communication channels built with your collaborative CRM become bottlenecked.
Operational CRM: your takeaways
When you sign up for a CRM platform, you want to make sure that you know exactly what you want to get out of it. In most cases, a basic CRM platform will help you get the data you need to start making the right decisions.
If your company has more CRM maturity, you will want a more robust solution to keep your customers satisfied, understand your customer journey, and provide your team members with the most up-to-date option for cross-departmental work.
That's why operational CRM software is probably one of the most comprehensive options for your business.
Remember everything you identified as a company need when you chose to develop a CRM implementation strategy. This will help you select the correct operational CRM.
Remember also that an operational CRM is designed to provide your marketing, sales, and customer service teams with all the necessary tools to make their jobs easier.
An operational CRM is your gateway to automated tasks, streamlined communication, and pertinent lead conversion.
Best tools for you