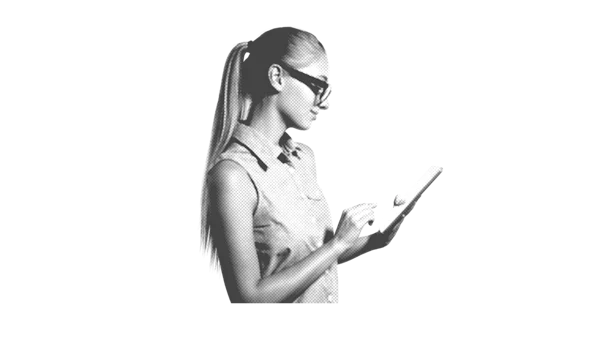 The history of CRM: the prominent tool for customer and business
CRM has definitely been that tool to have blessed companies. Because business has shift to customers' importance, choosing them as the main focus, sales have skyrocketed, revenue has multiplied while expenses have decreased.
But, everything has a journey and CRM and its process is no exception. CRM has not always been as advanced, technical as it is today. CRM has gone through a bit of changes over the last four decades to become the recommended tool it is today.
Let us take a look at its origin and evolution over the years.
What is the history of CRM?
Traditionally, early customer relationship was a one-to-one process between customers, business owners and employees. Every transaction was recorded on pen and paper as well as dependent on the employee's motivation, which created an obstacle for retaining customers.
Because as business grew, so did the pile of business updates and information files which employees had to track. It became extremely taxing even though, Rolodex, a rotating business card file was invented. People would dedicate their time to entertaining customers by presenting new astounding products and services and focusing more on the customer lifecycle; they were ready to work overtime to grasp more and more customers to extend business.
This eventually created customer satisfaction and customer loyalty up to a certain extent, but in the end, when it really came down to it, there was no thorough bonding or relationship to pursue.
In the 60s, sales executives would call customers, with no true follow-up, but in the 70s basic communication, proved not to be enough and had to evolve with technology and the invention of the first computers which aided with customer tracking. Businesses were able to register names, address of their customers on digital databases, simplifying customer outreach and contact.
In addition, because their demographics are available, businesses can aim at the right targeted customers with personalized offers and follow their customer journey.
It was not until the 80s where true digital marketing took off, which led to the initial introduction of CRM.
When was CRM first introduced?
In the twentieth century, the CRM as we know it, started in the 1980s by the pioneers Robert and Kate Kestnbaum, both focusing on direct marketing, which automatically analyzed customer data to identify which one would be receptive to marketing campaigns.
Though the term CRM is recently known, one could say that it already existed way before the official word was used.
During the great Egyptian era, the predominance of ancient Rome or even the Middle Ages, merchants and craftsmen, without applying very advanced CRM techniques, tried to take care of their customers. They looked to figure out their expectations, to respond to them the best way possible.
And if you take into account, the way merchants dangerously traveled by horses or on ships in storms, you could say that they were the skilled ones in sales, marketing and customer service.
Thus, a blacksmith or a baker was keen to serve his customers as well as possible to build loyalty and also to ensure that the image of his business was enhanced.
But of course, its downside was the amount of time it took to send or bring products to the customers. It became too much of a long process. So, something had to be done, change was needed and swiftness for customer retention was the focal point.
How did the concept grow?
What is CRM's evolution?
With the birth of digital marketing, the traditional ways of customer acquisition and retention had to change. Pioneered by Robert and Kate Kestnbaum, database marketing collected and analyzed customer information to help customize communications with other prospects.
In 1986, ACT!, the digital version of Rolodex with a built-in contact management tool, was introduced to the business world, so they could use contact management software. ACT! allowed you to efficiently store and organize customer contact information. Thanks to this, it paved the way for other vendors to develop software and to also release CMS programs throughout the 80s.
But it was not until the closing of the 80s and the start of the 90s that the true CRM system was introduced. Because of Brock Control Systems, data marketing features now emphasized on the likes of tracking and analyzing customer data. Mundane tasks were automated, morphing into Sales Force Automation (SFA).
In 1993, after Tom Siebel left Oracle, he founded his own business solution named Siebel Systems. His company reigned and became the most popular SFA provider of that period.
Two years later, Sales Force Automations (SFAs) were on an automation roll and efficiently converting customer leads, which drove to the use of the term Customer Relationship Management or CRM. You could say he designed the first CRM product.
But with status, comes competition, which pushed CRM vendors to up their game and CRM features as other companies wanted to follow the trend and were offering the same CRM solutions.
In 1999, Tom's company released the first mobile CRM called Siebel Sales Handheld into the market. It was also the year that Salesforce hit the scene with the CRM affordable cloud-based platform.
Then, ironically, it partially saw its demise in the new century by the burst of dot.com and was only resuscitated by Paul Greenberg's book "CRM at the Speed of Light" which gave a better understanding approach to CRM.
It followed suit with the evolution of technology. CRM focused more on social interaction than transaction thanks to ComcastCares. With mobile computing and Big Data, CRM had to be fit to cater to any company size, be integrated in any platform for customer and business satisfaction.
Today's benefits
Better knowledge of customer, you can store data and observe a customer journey with your brand. That stored data also gives you key information about your customer's demographics, like their job, industry, age, location etc.
Better customer segmentation: Firms can customize their sales to suit the individual tastes of their customers.
Anticipation of needs: thanks to the storage of customer journey history, company can predict customer habits
CRM application helps companies improve customer relationship and satisfaction, which in turn leads to
Customer retention and business revenue growth: a customer will stay loyal to a company that treats them well
Marketing optimization: By understanding your customers' needs, you can send out the right campaign to the right customer, particularly for email marketing. Plus, it is cost-effective.
Customer relationship management (CRM) has always been a part of human interactions for decades. And from then to now, it was always about delivering the best service to secure prospects, customers for future business. There is no secret as to why CRM keeps gaining popularity. Your company's success mainly depends on your customers, so why not give CRM with a reputation of myriad results, a chance to understand their true needs like you would wish another to do for you.
Best tools for you