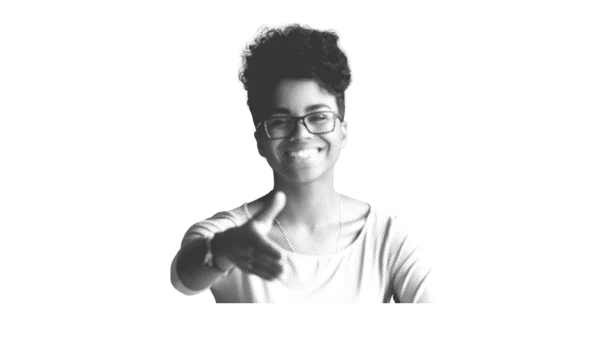 5 steps for a successful CRM process
Can't seem to retain existing customers or have problems building long-lasting customer relations? Follow these 5 steps of the CRM process to implement an effective strategy and increase your profits by improving brand loyalty.
A CRM strategy is a key player in retaining customers and building long-lasting or effective client relationships, the whole company's functions must be aligned to it.
Before starting to detail the 5 steps of the CRM business process, first, you need to understand the meaning of the CRM system and what it entails.
Bonus: We thought you might like our brand new guide about Lead Generation co-branded with ZoomInfo!
What is CRM?
Definition
Customer Relationship Management (CRM) is the approach to how companies manage customer relationships or what is known as the "customer life cycle" in order to build long-lasting relationships that go above a single shopping experience.
This approach looks for permanent entry into the customers lifecycle by implementing brand loyalty, with the goal of increasing customer retention and upgrade; thus enabling the brand to build awareness, increase sales opportunities, profits and concretize its brand name.
Importance of CRM
Effective CRM can lead companies to not only increase sales process outcomes but also their brand name. This is one of the most important goals a company has because brand positioning allows companies to maximize their margins and be proclaimed as the leader of a business section. It also enables companies to attract more clients and expand their business portfolio.

This approach should not only be a company's function, it should also be its motto; which is why we are here to help you reach an effective CRM process.
What are the 5 steps of the CRM process?
1. Introduce them to your business
The first step on how to introduce prospective clients to your business is by building brand awareness through effective marketing campaigns. To start this step, you should segment audiences by analyzing their consuming habits and qualities, such as:
age,
gender,
hobbies,
salary, etc.
Thus, you understand them and have a clear perspective on their likes and needs to captivate them when contacting them for the first time.
Having issues in generating lead? Here you can find our guide about Lead Generation Co-branded with ZoomInfo
💡 Tip: for the overall CRM process, data compilation is the most important part, since it allows the marketing and sales team to have a picture of their targeted users. This allows them to make better-informed decisions according to the needs of their audience.
2. Engage them
Following the marketing campaign, the engagement part can and must be made via all communication channels in a unified way: mail, SMS, telephone, social networks, etc. However, being multi-channel does not mean replicating your communication on all media. It is a question of adapting one's communication according to the different spaces of exchange.
💡 Tip: users feel more engaged with the brand when they make quick responses or comments on social media. Ex: friendly banter, daily jokes, sudden offers, etc.
3. Converse them
This is the step where you actually see the profits of an effective CRM approach. The purpose here is to convert an audience or lead to an actual client. For this step, you must be very cautious and do extensive research on future clients, in order to offer a quality service.
💡 Tip: a very important part of customer satisfaction is the whole service experience. Every day, it is more difficult to achieve customer loyalty, because of new competition. This is why offering a unique value experience becomes imperative.
4. Provide quality customer service
This is the step where you should really use CRM as a motto instead of a function. After the conversion period where clients received their goods or services, it is of extreme importance to know the client's user experience in order to optimize your offer and understand what changes to make for the improved customer journey and customer experience.
💡 Tip: this is an imperative step for maintaining consumer relevancy, a measure that, if not taken to account, can lead companies to bankruptcy and overall profit loss, due to a lack of innovation and not understanding consumer trends, making users lose the interest in what they have to offer.
5. Invest in Loyalty and Upgrading
Finally, the key step in the CRM process is the support you provide to your customers. By definition, customer relations are cyclical: your objective is to reduce your attrition rate (loss of customers) to a minimum by offering customer support. When it is responsive and when requests are well managed, it can be a strong brand loyalty factor, making the customer feel valued and grateful for the special attention you' have given them.
In addition to retaining customers for increasing profits, another way is to focus on upgrading their purchasing order by switching their shopping habits to more luxury products or services. This way you are offering the users a unique and valued experience while increasing customer spending.
Solutions for efficient CRM
Because data recompilation is the most important key player in understanding consumer habits, it is imperative the use of adequate tools that will provide all departments with automated and optimized information for better decision making.
Nowadays, companies are seeing the effects of effective CRM software, because:
Average returns from companies that invest in CRM technology are $8.71 for each dollar spent.
Meaning that by following some simple steps and using the adequate CRM tools you can implement the best practices that will eventually improve your customer relations and increase your turnover.
Best tools for you