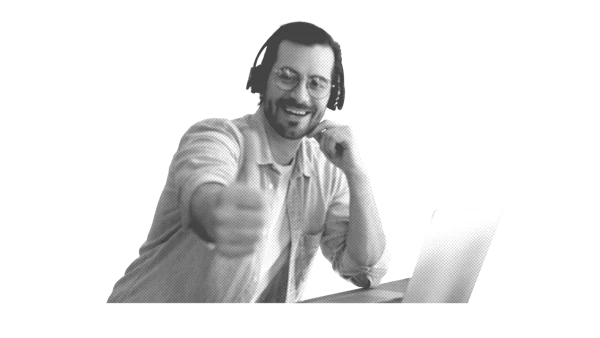 B2B prospecting is essential to growing your business: without an efficient sales funnel to generate fresh sales, your company will soon go out of business. Acquiring new customers is becoming harder by the day, as leads and prospects are increasingly bombarded with sales approaches and solicitations.
In this hyper-competitive environment, your prospecting strategy must be thought out carefully, and your sales team equipped with the right tools. What are the best techniques to attract leads and qualify prospects? Learn more about B2B sales prospecting with our guide!
What is B2B prospecting?
Definition
Sales prospecting is the process of identifying potential customers or leads, reaching out to them and nurturing your prospects to convert them into a sale.
The goals of sales prospecting include:
creating and maintaining a lead database using lead generation strategies
qualifying these leads, in other words determining whether these leads could be viable prospects
nurturing these prospects to convert them into new customers
Though B2B prospecting and B2C prospecting share these same objectives, B2B businesses face different challenges and have specific ways and tools to facilitate B2B sales.
The challenges of B2B prospecting
Selling to B2B buyers entails its own set of challenges to overcome for your sales reps.
The B2B sales prospecting process is often longer than in B2C, for companies need to make sure all the decision-makers are on the same page before making a purchase decision.
In the case of more complex or larger businesses, it can be difficult to determine who is in charge of making the decision, meaning your business could have trouble finding the right contact within the target company, therefore limiting its access to prospects.
B2B prospects often require a more personalized approach: their needs are more specific, thus concluding a B2B sale will take more time and effort. However, they also tend to place larger orders and be more loyal to your business.
How to define your B2B prospecting strategy: the prospecting plan
To ensure sales prospecting is conducted effectively, you should first define a coherent prospecting strategy. In other words, you will need to build a comprehensive prospecting plan before reaching out to your prospects.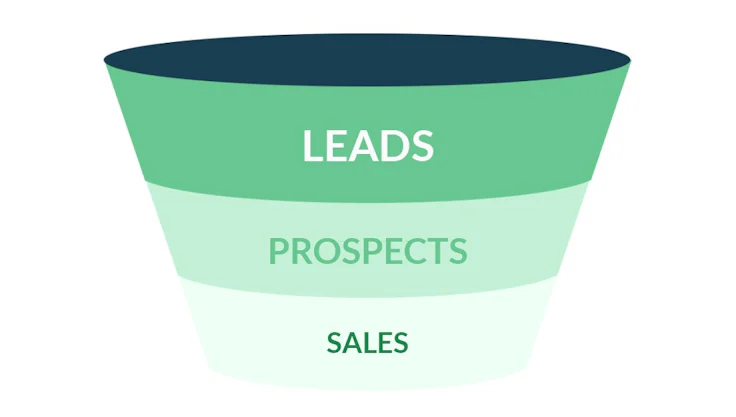 © Close
Follow the steps below to create your own prospecting plan.
1. Set sales objectives
Before taking any action or undertaking any prospecting, you should first ask yourself what objectives you want to achieve. These goals will help you give an orientation to your sales teams, track your progress, and take corrective action if necessary.
To be effective, these objectives should be SMART goals, meaning:
Specific or Simple
Measurable
Achievable
Relevant
Time-bound
For example, you could set goals such as :
growing revenue
raising the share of new customers relative to your customer base
converting a set proportion of prospects into customers (conversion rate)
gaining new customers in specific geographic zones
2. Define your buyer persona
Customer segmentation, or the process of dividing your target audience into related groups, does make sense in B2B marketing. To adopt a more personalized strategy and more effective sales approaches, you should understand what types of companies your business should target.
Ask yourself questions such as:
What is the business sector target companies operate in?
How much is their revenue or margin?
Where are your prospects located?
These should help you define segmentation criteria, and in turn, understand the needs of your target on a deeper level. If your business is already established, use your existing customer database to gain insights into your ideal customer profile.
3. Choose your prospecting channels
Now that you know who your prospects are and why you want to target them, it's time to think about how to launch a successful prospecting campaign.
Just like with marketing or sales strategies, this means picking which prospecting channels to use during your prospecting campaign. These should be in line with:
Your prospecting budget: if it's limited, focus on prospecting channels with the best Return on Investment (ROI). If not, launch an omnichannel campaign to maximize your reach.
Your target audience: use the channels your audience is most likely to use or the one prospects would prefer to be contacted through.
Your objective: they should help you project the right image to your prospects and reach the right goals.
4. Write your sales pitch
In order to entice your leads and convince your prospects to make the jump and adopt your product or service, you should develop a set of arguments to explain how your solution will suit their needs and solve their problems.
This sales pitch should focus on bringing solutions to your prospects' pain points, countering their objections and highlighting your unique selling point (USP).
If you have taken the time to define your buyer persona, thinking about their needs and motives should come naturally to you.
5. Nurture your leads
Acquiring a sizable list of potential customers is the first step, but it's not the goal. To convert leads into prospects and later customers, your sales team will need to provide value and establish a lasting bond with your prospective customers.
This means delivering the right information, at the right time, to the right prospect. But how can you be sure to not waste your time and only focus on the most qualified leads? Solutions exist to facilitate follow-up, lead nurturing and lead scoring. Keep reading for our picks of the best tools and techniques for B2B prospecting.
The best B2B prospecting tactics & tools
Below are 5 of the best B2B prospecting methods you can use to generate and nurture leads.
Sales intelligence
Sales intelligence solutions provide a great set of tools to answer the needs of B2B businesses. Prospecting efforts and lead generation can be made easier thanks to the integration of relevant information about your target companies so you don't have to spend hours looking for the identity and contact details of qualified B2B leads.
🛠 Zoominfo is one of these sales intelligence solutions. Thanks to its precise data, your sales reps can identify, engage and close decision-makers. They have the world's leading business database with 95M+ company profiles, 63M+ direct dials, 100M+ direct emails, and 4.3M+ C-level contacts. Also with ZoomInfo, your CRM and Marketing Automation data will always be accurate and up to date.
Phone prospecting
Phone prospecting is a quick way to approach prospects. Due to its ease of use, it is often one of the preferred methods of outbound B2B prospecting.
However, this lead generation tactic can be seen as intrusive and cold calling can take up a large portion of your prospecting team's time, without delivering great results if your leads are not qualified enough. Sales intelligence can help you find leads that are relevant to your activity with their B2B lead databases.
🛠 To avoid losing valuable time making phone calls, use call center software such as Ringover. These greatly increase the efficacy of your phone campaigns by integrating analytics tools to monitor the performance of your sales teams. CRM integration makes it possible to access data about prospects to deliver personalized care and update their information during a call.
Inbound marketing methods
Inbound marketing is designed to arouse interest and engage leads upstream of the sales funnel. By creating valuable content, your company can capture the most qualified leads to your website and raise brand awareness.
Blogging, writing whitepapers or holding webinars are great ways to connect with your potential customers and get them interested in your offer. Inbound marketing takes time, but it can allow you to be one step ahead of your competitors by targeting future prospects at an early stage.
The leads generated by a successful content marketing campaign are more qualified and easier to convert, as they have shown previous interest in your company and have already benefited from your expertise and been exposed to your values.
Emailing
Emailing campaigns can be a great way to reach out to a wide array of leads in one click. But collecting emails can be tricky, and databases purchased online sometimes contain irrelevant addresses that could end up flagging your campaign as phishing.
To use emails to the best of their potential, think of this tool as a step in your sales funnel: you can leverage email marketing to nurture your prospects and convert them into customers by pushing relevant content and valuable advice in their inboxes.
🛠 Marketing automation software like Charts Guru can turn your email campaigns into a powerful nurturing tool. Enticing email templates associated with email scheduling mean you can design scenarios to guide prospects through each stage of the sales process. Thank them after they've signed up for an offer, or push personalized content after they've shown interest in one of your products.
Social selling
Social selling consists in using social media to promote your value proposition. Professional social networks regrouping companies are ideal for B2B businesses, with LinkedIn being the website of choice for most B2B sellers to reach out to B2B prospects.
However, be careful not to seem disingenuous and only interested in concluding a sale: your communication should showcase your professional skills and knowledge, not just your latest offer. Answer questions and provide advice to people. You could share your expertise on websites such as Quora for example.
Summing up
Let's face it, B2B prospecting requires effort and dedication. However, new technologies and SaaS solutions can help your sales team deliver great results and achieve their sales objectives without wasting valuable time.
Devise a comprehensive prospecting plan to get started in the right direction, and leverage the power of prospecting tools such as sales intelligence or marketing automation to streamline your sales process.
Is your business already exploiting the opportunities offered by smart B2B prospecting solutions? Embrace the digital transformation to convert B2B prospects into sales, and you'll be on your way to success!
Software quoted in this article