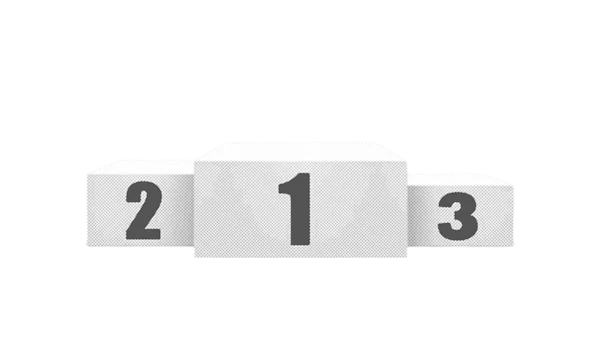 Top 3 of the best SaaS ERP software for your company
SaaS ERP software: you have heard about it and want to implement it in your company, but you are not sure where to start your search? We will help you step by step in your process.
Management software are often referred to as ERPs, for Enterprise Resource Planning. This integrated management software package (ERP) allows you to manage all your company's activities thanks to a single software environment. It is both time-saving and productivity-boosting.
To discover our ERP comparison, the advantages of this tool and, above all, which software to choose, read on!
What is a management software?
An integrated management software package is a tool which helps you manage your business and day-to-day activities. It is composed of several modules, or software applications, but is based on a single database. In short, an ERP is:
An overview of the management of your company,
An increase in productivity,
A decision-making tool,
The traceability of operations.
The modular structure of the ERP takes into account all aspects of your company's management:
Sales and customer relationship management (CRM),
Accounting management, including discussions with your accountant,
Invoicing (management of quotes and invoices),
Payroll management,
Purchasing management,
Stock management,
Product management, etc.
ERP solutions are now collaborative so that access to information is shared, and each employee can quickly and independently find the data they need.
The advantages of management software packages
Task automation
Automating tasks saves you a lot of time. Therefore, with the extra time, you will be able to refocus on issues with a higher added value and on your core business.
For operational teams, utilizing an ERP solution means faster task execution and increased efficiency. For management, it is an essential decision-making aid.
Process optimization
Streamline and optimize your processes with management software. A unique tool is the promise of data centralization. The enhanced performance allows you to reduce the costs associated with managing your business.
Centralization of the company's activities
Thanks to an integrated management software package, all the company's business lines are integrated around the same tool. Your employees have access to a single work environment which offers a shared view of data and enhances interaction between businesses.
Differentiation in the market
ERP systems not only improve your productivity and profitability: it is a real lever that contributes to the company's growth. You increase your quality of service and better meet your customers' requirements, by offering them a better commitment.
How to choose your management software?
Identify your needs
Functional requirements vary from one company to another. Know how to identify the features you need and which ones will be optional. The advantage of ERP and its modularity is that it allows you to work with a solution that can be customized and adapted to your use.
Define your company profile
The size of your company and the sector of activity in which you operate are two criteria to consider when choosing your management solution. Some solutions are designed more for very small businesses and SMEs while others are designed for large groups.
Example of a free management software Dolibarr, the open source ERP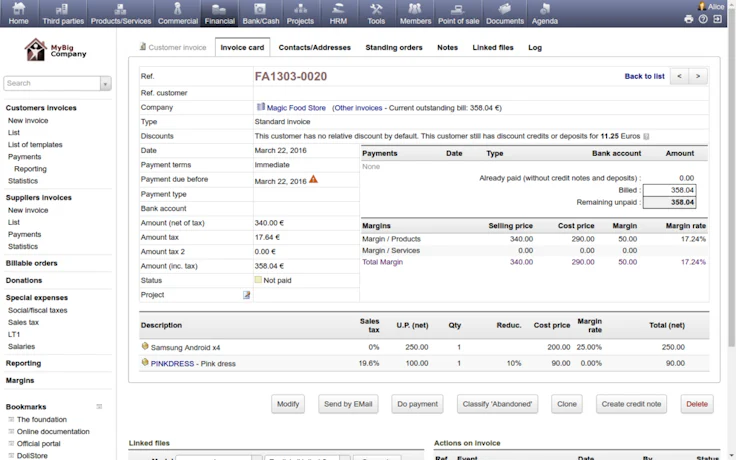 Dolibarr is aimed in particular at small businesses, self-employed entrepreneurs and associations.
Dolibarr management solution is modular: you only activate the modules you need. You are therefore using a fully customized and customizable solution.
This tool emphasizes simplicity:
Of installation
Of use
Development, to make changes and adapt it even more to your company
The limits of free solutions
Hidden costs
No software is ever completely free. It is only to a certain extent. To take full advantage of a so-called free solution, you will encounter paid options, such as hosting in SaaS mode, or paid upgrades, for example.
Reduced functional scope
Free tools do not always offer all the features, but only the basic ones. The additional functionalities, to have a powerful tool, are optional.
Lack of support
Do you have a problem installing, using or updating your free software? You will probably need to turn to a forum or community of users to find the solution to your problem. Unless you want to subscribe to a paid assistance contract?
Comparison of 3 professional SaaS ERP software
Below we present a comparison with the best business management software, many of these have free trial periods which makes it easier to familiarize yourself with it before making an investment:
Comparison table
Exact ERP system solutions, the ERP system for business processes
Manage and monitor the pace of your business with Exact ERP. Its intuitive dashboard allows you to quickly view current orders, revenue trends, tasks to be performed, etc.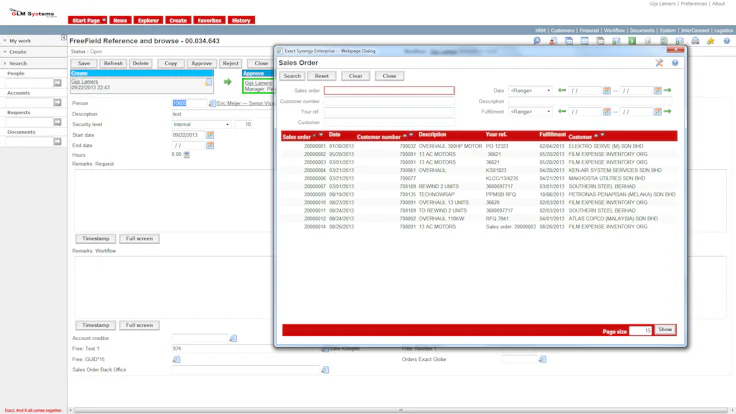 From inventory management to sales, delivery and invoicing, this online solution allows you to optimize your margins and react in the event of unforeseen events. Integrated CRM makes customer relationship management easier for you. User-friendly, transparent and intuitive, Exact is also accessible on a phone thanks to its mobile-friendly interface.
Exact adapts to your business with specialized solutions: Exact for Industry, Exact for Project Management and Exact for Trading & Distribution.

Exact pour Commerce & Négoce
Commercial management and stock monitoring software
Learn more about Exact pour Commerce & Négoce
Microsoft Dynamics
Who's it for? Companies of all sizes.
Microsoft Dynamics offers a modular management solution: you only have to activate the modules you need. You can focus on your sales and customer relationships because the tool does the work for you. Therefore, you will be using a totally customized and, at the same time, customizable solution!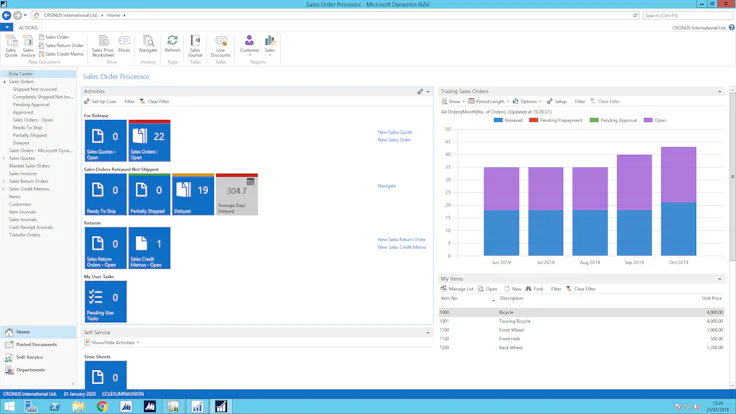 This tool provides the following functionalities:
Sales optimization (CRM, sales management, etc.).
Process organization (stock, purchases, orders).
Project performance analysis.
Secure data storage and transmission.
Financial and operational management.
Marketing management.

Cloud-based CRM and ERP combining 200 apps
Learn more about Microsoft Dynamics 365
Sage 100cloud business management, the solution designed for SMEs
Don't be fooled by the name of this solution: Sage 100 c business management is a global tool for your business management. You can focus on your sales and customer relations because the tool optimizes:
The management of quotations and invoices,
Electronic document management (EDM): dematerialize, store and send all your documents securely,
Customer relationship management (CRM),
Purchasing management,
Inventory management,
Communication through a native tool and interconnection to your social networks, etc.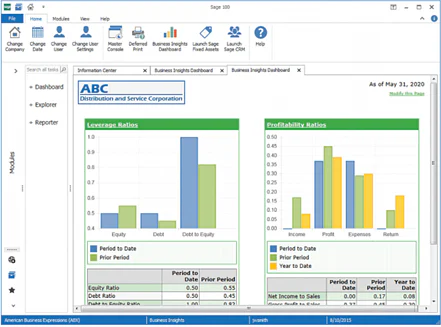 Sage 100 c business management allows a sharp access management to share data, but restrict access according to employees, for the most sensitive data.
Manage your business proactively with management software
Business management solutions are very efficient tools that allow you to potentiate the performance of your company because they optimize and improve all the processes of your business in an integrated way.
Don't wait until the activities and growth of your business force you to implement an ERP. Take the initiative and optimize your business now! This type of tool is a real development accelerator for your company, available at very affordable prices, with simple and intuitive platforms and adaptable to the size and need of your business.
What software solution will you implement in your company? Share your thoughts with us!
Best tools for you