Ease.space: in summary
Ease.space is an online tool for centralizing and sharing your company's passwords. Today, employees are taking their productivity through the roof with web tools (cloud, purchasing, communication, sales, billing...). However, this situation multiplies their passwords on a daily basis.
As a result, keeping passwords strong, different, and changed regularly has become too time consuming. In addition, the company lacks visibility and control over who knows what passwords. Security should not be at the expense of productivity.
With this tool, the company's passwords are secure and accessible by the right people easily, employees work more efficiently as they do not need to remember the company's passwords. The entire team follows a security policy consistent with the needs of the company, without even knowing it.
Organize your company's passwords with Ease.space
On Ease.space, the company's tools are grouped by usage (marketing, development, design, acquisition, administration, HR ...) and shared easily. Ease.space helps to keep real-time visibility and control over who has access to what tools.
When a new person joins the team, she has direct access to the correct passwords and knows which account she needs to create. When someone leaves the team, Ease.space provides a complete list of passwords to change and accounts to delete.
When a new tool is used, the right people are aware directly. When a password is changed, it is automatically updated in the people who need it.
The platform is collaborative, for an employee, to request new access is done in one click, an administrator accepts the request and the password is automatically transferred.
Create and apply a security policy
Schedule password renewals. Control their strength. Allow your teams to request access to the passwords they need. Share and store passwords encrypted 24/24 and 7/7.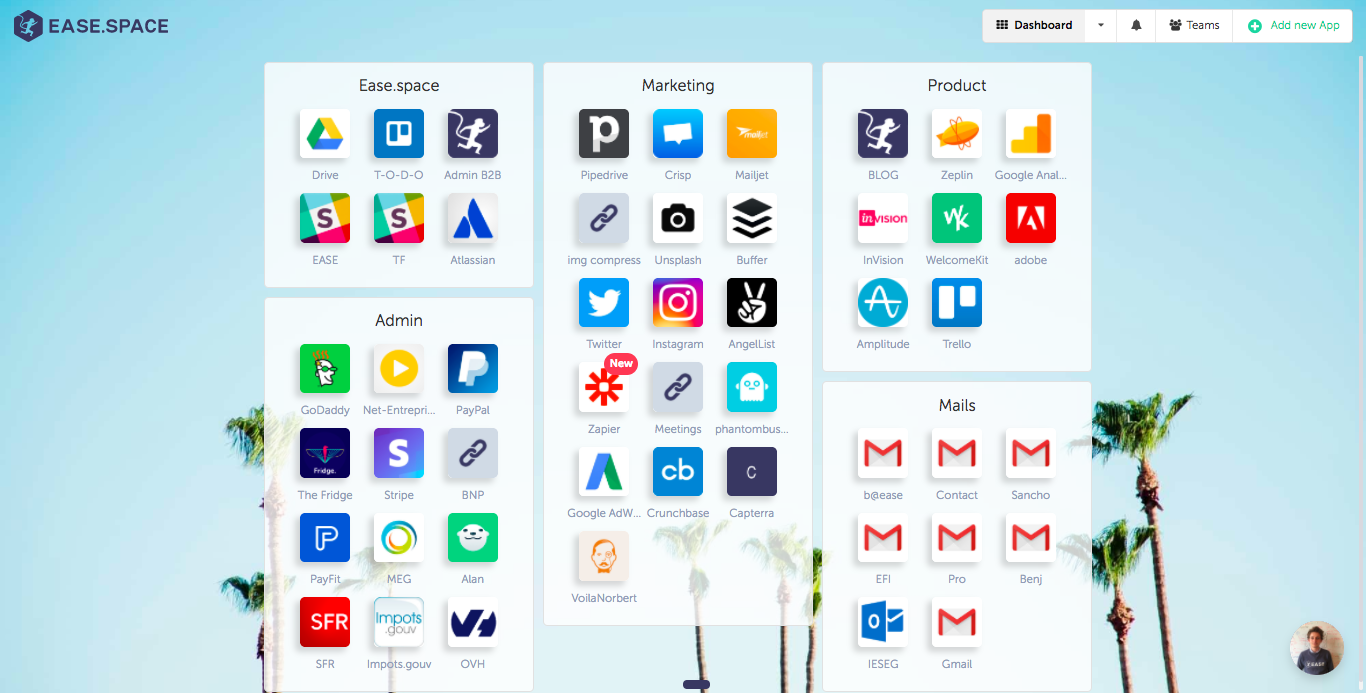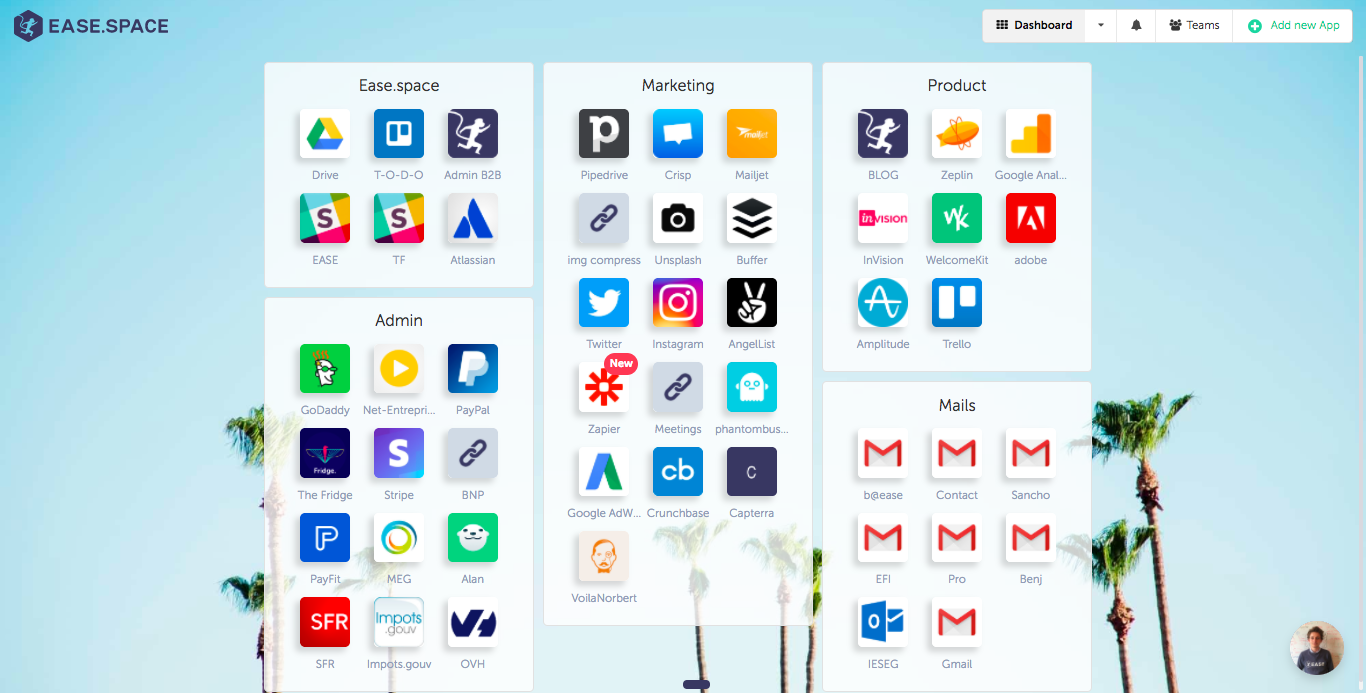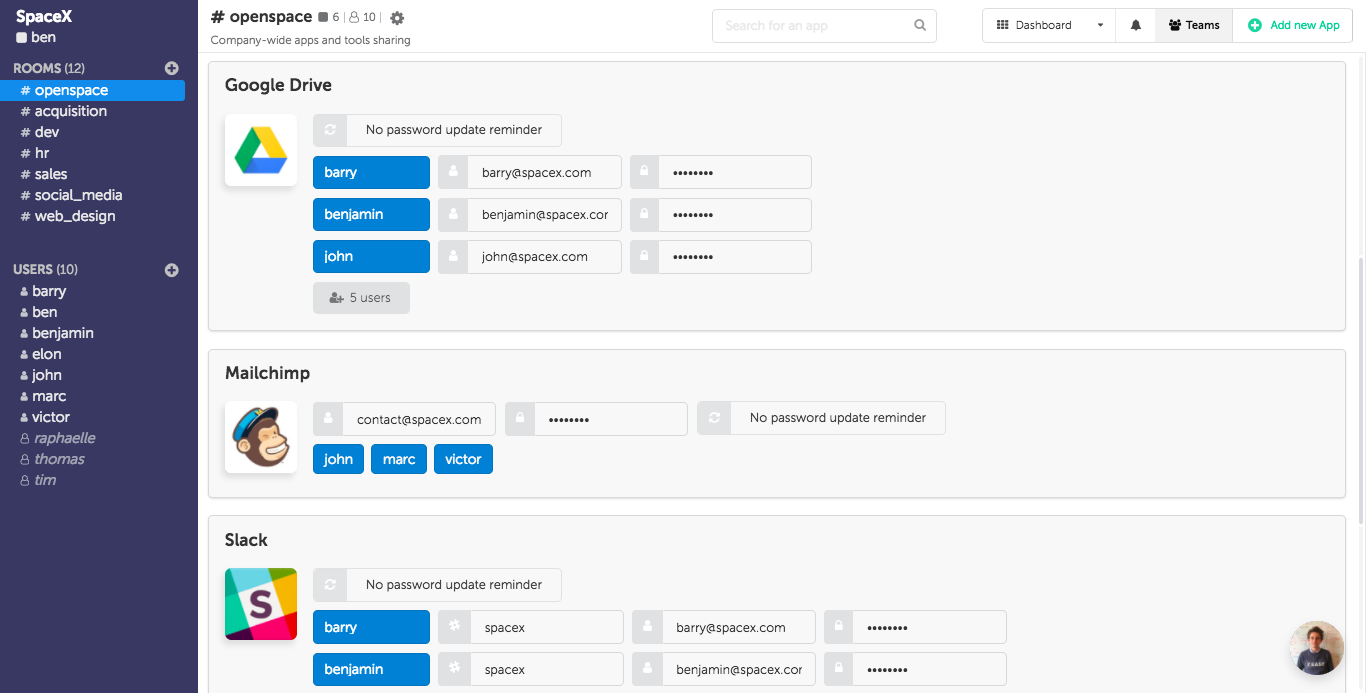 Ease.space: its rates and features
| | | |
| --- | --- | --- |
| | | |
| Automatic Login to Accounts | Automatic Login to Accounts | Automatic Login to Accounts |
| | | |
| | | |
| | | |
| | | |
| | | |
| | | |
| | | |
Appvizer Community Reviews (0)
The reviews left on Appvizer are verified by our team to ensure the authenticity of their submitters.
No reviews, be the first to submit yours.