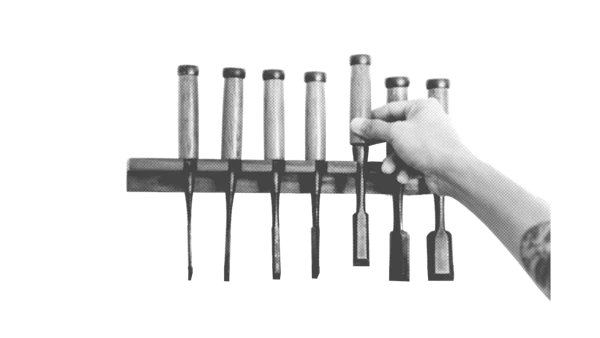 Best free invoice software for businesses' financial success
Starting a business is no easy feat and because small businesses don't have the necessary hands or means to hire an accounting team and compete with what's on the market, their invoices are left at the hands of the bosses, which could be tricky.
It is why something that can prevent the insane amount of time you have to fill out an invoice manually is necessary. Hence, the creation and use of software known as invoice apps or even better free invoice apps, to keep your revenue made through sales up to date, to help you gauge your profits and cash flow.
At Appvizer, we pride ourselves in supplying you with applications that not only will help you remain successful while tracking your finances, but with ones that will avoid breaking your piggy bank.
Invoicera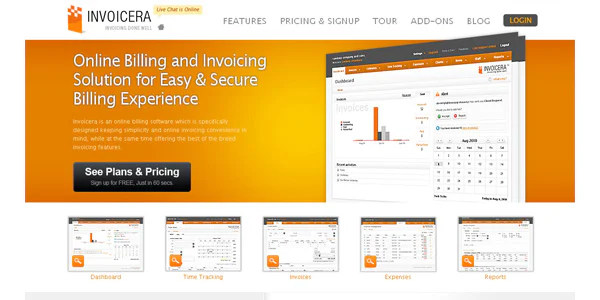 For whom? Invoicera is a cloud-based invoice software which caters to small businesses, enterprises and freelancers.
What is Invoicera?
Invoicera is the relief small businesses needed to track their invoicing data. It is an online invoicing software, which allows you and customers to manage payments, relations and negotiations with vendors, buyers thanks to the analytics report feature its system provides.
Features:
AR & AP management

Subscription billing

Integration with ERP, CRM, PayPal and more

Expense report
Benefits
There are many benefits to implementing Invoicera in your business, like the fact that it is:
Free trial and free plan: You can sign up, get started for free, just like 3 millions users have chosen to do because they trust them.
Cloud-based invoicing software: Every information, such as invoices, is visible in real-time. No more stacks of piles of papers, your data is saved, locked and secure and is easily accessible.
Reduced manual process: You can focus on other tasks while the software keeps everything organized. You can choose to receive reminders of payments and late fees, so money issues never go amiss. Therefore,
Quick payments' reception: They dispose of auto-bills' profiles and a tracking system for easy online payments' transfers.
Currency and language conversions: adaptable to any client's background, with any currency on the market available. This option allows you to also translate invoices into any language, while respecting tax rules for EU countries and every business.
Why we recommend it?
We recommend Invoicera because you can have access to your invoice anywhere, anytime. They are available in 14 languages, simplifying relations amongst companies across borders. You get to grow your business internationally without an issue. Easy manage your global clientele.
Invoicely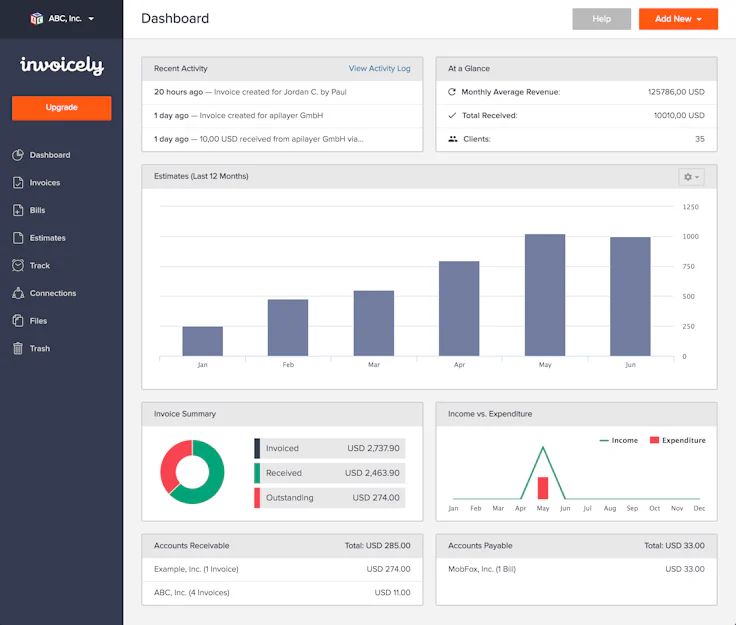 For whom? Invoicely is an invoicing software for freelancers and small businesses
What is Invoicely?
Invoicely is an affordable cloud-based invoicing software as a service (SaaS) application, which streamlines business billing invoices.
Features
Impeccable invoicing:

Dashboard

Multi-currency

Online payments:

Multiple businesses' management: that you can set up, with each possessing their own team and client.

Notification of Automatic reminders
Benefits:
Invoicely possesses many benefits. You have:
A free subscription option: Sign up for free.
Invoicing platform: Thanks to the platform, your invoices are automated, favoring an easy workflow. You get to create and customize invoices by changing and adding logos of your choice to your documents. Estimates are transformed into bills, and the list goes on.
Impeccable invoicing: Extremely customizable, design estimates to your liking and unlimitedly deliver them to your clients and customers at full pelt for free. It is time saving when it comes to recurring invoices, you no longer have to refill customer's information as the customer's profile is saved.
Online payments: Happy to say that you will be pleased to have access to your invoices in any currency, anywhere, anytime while respecting tax and shipping regulations. Not forgetting Invoicely's integration with renown payment gateways like PayPal, Stripe and more. There is no need to be present to pay for services as this feature of Invoicely accepts a variety of online payments such credit cards, bank transfers…
Track time, mileage and expenses: Every mile and expense can be quickly converted into invoices to keep track of your compensation. In addition, you get to manage incoming and outgoing invoices. Thanks to its all automation and simpler method, you can quickly send reminders of payments along with, just a simple click, sending estimates to turn into invoices.
Why we recommend it?
We recommend Invoicely because they nailed a spot on the Software advice's FrontRunners for Recurring bill software. They believe in the true essence of a small company's success.
Invoice ninja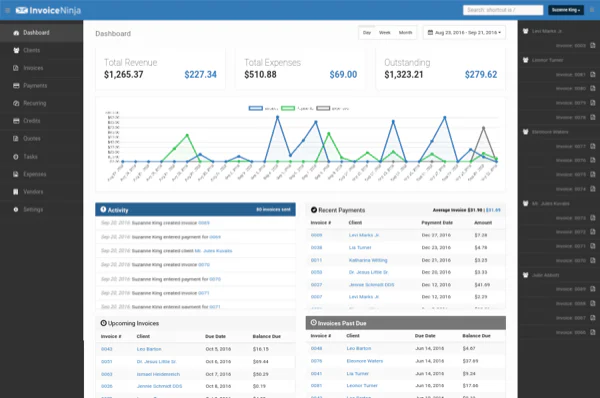 For whom? Invoice ninja is an invoicing and payment tool suitable for freelancers and small businesses.
What is Invoice ninja?
Invoice ninja is a 100% free online invoicing payment software, which simplifies invoicing, receiving payments and endless free program to users.
Dashboard

API

Billing and invoicing

Integration

Multi-currency

Notifications

Real-time data & analytics

Workflow management
Free invoice creation: It respects small business's budgets, allows you to create 4 free invoice templates while getting paid, might we add!, send unlimited invoices and quotes to up to 100 clients.
Easy quote conversion: Create quote that clients can and simply convert into invoices.
Payment online: You can make and collect your payment online with a simple click.
Payment gateways: The software possesses up to 40+ payment gateway. I think this, alone, says how much Invoice ninja is trusted and supported by other companies.
Set up of recurring invoicing: So that the habitual clients' information changes, if any, are automatically updated.
Client portal password optional: While other client portal password is usually very limited, at Invoice ninja, the client has the choice to, or not, to make the portal accessible to other clients.
Why we recommend Invoice ninja?
It is integrated with 40+ online gateways. You have a fully effective customer support and customer service thanks to their quick reactivity. For any questions of "how to", Invoice ninja offers a thorough Knowledge Base. Finally, it has highly affordable pricing plans.
Invoice generator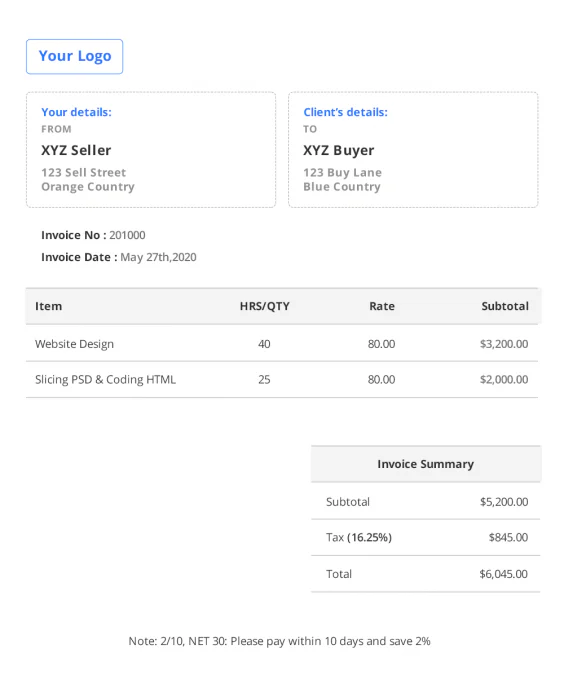 What is Invoice generator?
Created by Invoiced, Invoice generator is a website that provides invoice templates for you to configure. What you need to do is fill in your info, and you and Invoice generator does the rest for you.
Features
A "send" invoice feature

A "download" invoice feature

Clean interface equipped with API
Benefits
Create quick invoices: With an already made invoice, all you need to do is fill in the template with your details. Once done, you can either choose to download or send the invoice, no cost!
Integration of payment gateways: like PayPal, Venmo and more.
Option to save templates: The template will be automatically filled in the next time you want to create an invoice, your information like the address, logo, terms, etc. will be saved.
Stored invoices: Invoice generator remembers your invoices, while, of course, making your privacy a privilege. They do not keep any copies, you can clear your history, as you please.
Instant invoices: You don't need to sign up to create or download invoices. Get one for free immediately on the web browser.
Why is it recommended?
It is trusted by millions. It is 100% free and unlimited and only takes 60 seconds to create and send invoices. Likewise, it is very effective for the price it does not cost. You can't go wrong.
PayPal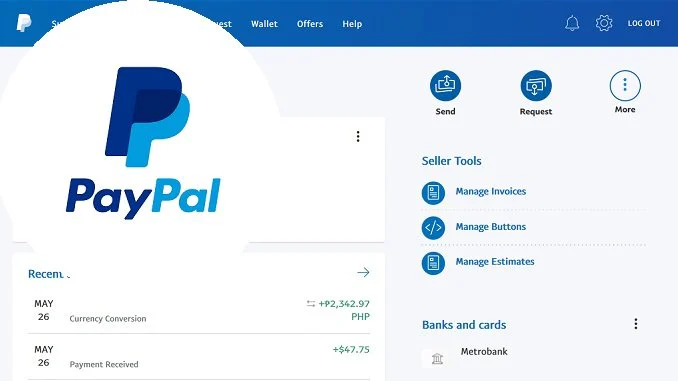 For whom?
PayPal caters to all company sizes from small to medium, large enterprises, as well as, freelancers. Not forgetting regular clients.
What is PayPal?
PayPal is a multinational online financial service or payment platform which allows you to make or receive payment while securing your financial details.
Features
Payment online

Online invoicing

Inventory tracking

Easy to use payment options

Virtual terminal: Without swiping your credit card, you can pay and accept payments whenever you want, wherever you are.
Benefits
Of course, as the leading online invoicing platform, PayPal offers too many to list advantages.
It is free to create and sign up for a PayPal account, to download the PayPal app to receive and send money to other PayPal users.
High security: PayPal has the latest technology to protect your personal information. Your data is encrypted to prevent frauds. Furthermore, you can register your credit on their app or website without fear and apprehension.
One-touch feature: Thanks to this feature, you can avoid re-entering your credit card information. With "just one touch" you can easily check out and finalize payments.
Free invoice templates: Thanks to their pre-built templates, you can customize your invoices to your taste.
Contact sellers: It is the icing on the cake because if you have a problem with a payment, order, PayPal directly takes charge and contact the sellers. And I might say that it is quite reassuring to know your money didn't go to waste.
Out of the box functionality: you don't need any installation or configuration to use PayPal.
Transaction: Transaction are free, especially most personal ones, that is to say amongst friends and family, once it is in the same currency.
Cost: The best part about PayPal and the services that it offers, is that they are free! You have no membership fees, no service charges. You absolutely have to pay for nothing.
Discounts: Check out their shopping.paypal.com, which allows you, thanks to their discounts, to afford a little shopping spree at your favorite retailers.
Why we recommend PayPal?
The great thing about PayPal is that it allows you to use your credit card with a peace of mind. You don't have to take it out to pay for anything, reducing the risk of people seeing your credit card numbers. A person doesn't have to give you his or her credit card number to send a payment. With just a simple phone number or email, you can instantly send money to anyone around the world.
Square Up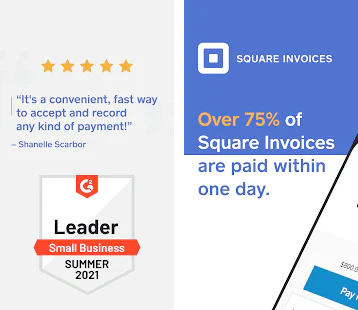 For whom? Square Up is for small to medium-sized businesses.
What is Square Up?
Square Up is a financial and digital payment software.
Features:
POS system

Invoices

Inventory management

Virtual terminals

Customer management

Real-time tracking
Square Up provides lots of benefits.
Great analytics: For a clear visual representation, "Square Up" has a feature where photos of items purchased are displayed and included on receipts.
Provides built hardware: that they have designed, such as, the square terminal, which takes payments and print receipts. You have the square reader for contactless credit card payments and much more.
Invoice tracking: Track invoices and estimates that you send from anywhere. Set up reminders for current payments and invoices.
24/7 payments: Customer can pay online, from their mobile device.
No long-term commitment or monthly fees: You are able to send endless invoices, estimates and contracts without having to pay every month. You can have as many users and customers as you like. You pay for card processing.
Mobility: You can accept payments 24/7 as it is accessible anywhere.
Why recommend Square Up?
To start off because they actually have the physical gadgets (POS features) a business needs when dealing with customers, plus the online tools once that sale is made.
Wave financial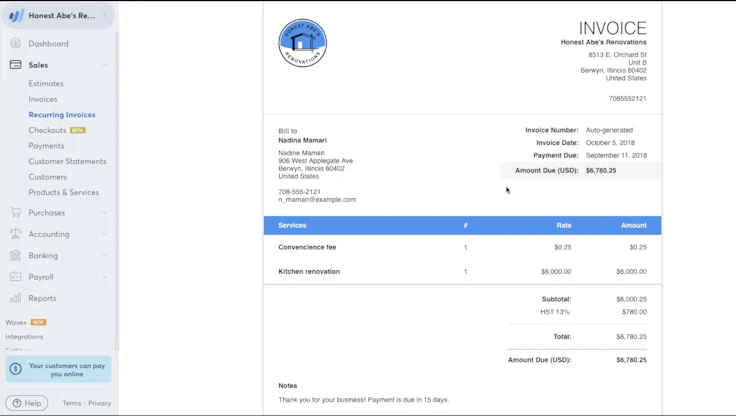 For whom?
Wave Financial caters to small businesses.
What is Wave Financial?
Wave financial is an award-winning financial and accounting software that caters to entrepreneurs of small businesses.
Features
Recurring billing

Invoice template

Credit card payment

Pricing

Free software
Benefits
Creation of free professional invoices: Thanks to recurring bills, you can easily create and send invoices.
Invoices customization: With an array of free templates to choose from, you can create and personalize your own invoices.
Recurring billing: If you handle the same customers, it is more practical to set up recurring invoices, to avoid re-entering the same bank details. You can even automate credit card payments to eliminate late payments
Solution for your business payment: Due to credit card and bank payments that you will have accepted for your invoices, your fees will only be as much as 1% per transaction.
Bookkeeping for free: You get to track income and expenses, as well as connect your bank account for tax purposes. You have no additional set-up fees, no extra charges, much less monthly fees. If you wish, you even get to tap into accounting.
Why we recommend Wave financial?
Not only is Wave an award-winning company, they scored a 9.1 out of 10 on the TrustRadius' list based on professionals they've worked with, who chose to leave reviews. This score says a lot about the importance of their relationship with their customers. They believe in the simplicity of finances to give their customers the confidence they need to run a business.
Zoho invoice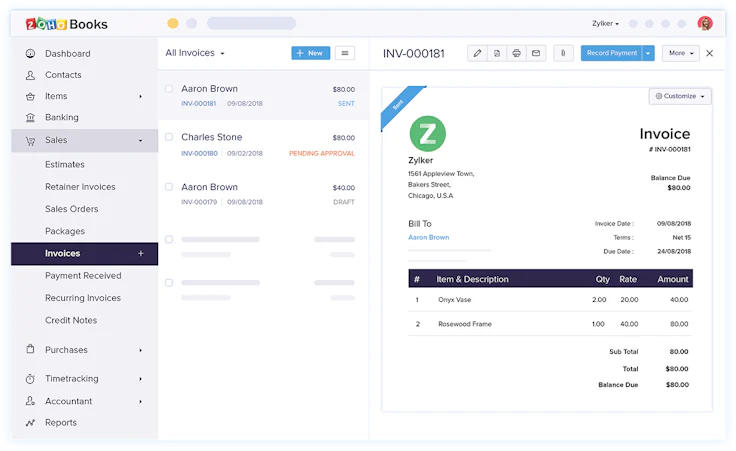 For whom?
Zoho Invoice is particularly valid for freelancers, but can be suited for small to medium-sized companies.
What is Zoho invoice?
Zoho invoice is a free online invoicing software that helps you craft professional invoices, send payment reminders, track expenses and log your work hours
Dashboard

Invoicing

Client portal

Expense tracking

Multiple currencies

Time tracking

Report

Contact management

Project management
Multiple currencies: You can pay in over 170 currencies in and send invoices in 14 languages.
Security: Zoho invoice has a good encryption, which prevent viruses and hacks. Its data is backed up onto multiple servers.
Client portal: It is said that Zoho invoice has one of the best client portal. Clients have access to their dashboard, estimates and invoices, while making payments via the portal. You are informed, thanks to notifications, of when people have seen your invoices and estimates.
Expense tracking: Transaction and bank account information can directly be imported to the dashboard. Even being able to track your project.
Contact management: You get to save your client's details and their payment preferences, such as annexing any currency and any language to them. It helps to avoid asking the same questions and re-integrating the same info every time.
Review features: Customer can clearly see information about best-selling products and easy-going payments to show the efficiency of their system.
Time tracking: You can track your payments with Zoho invoice time estimation feature and graphs.
Easy integration: Zoho invoice API facilitates integration as it is cloud -based system, which makes it mobile and available on many devices.
Why we recommend it?
Zoho invoice is great for small to midsized businesses because it is a forever free plan. In addition, it has a great client portal, is multilingual, invoices are available in many languages to which you can add your own logo by customizing them accordingly.
Hopefully, this Appvizer article will have been useful for you, gave you a hint or reassured you of the software you plan to go with.
Don't forget to let us know which one you choose. We'd love to know how it worked out for you.
Best tools for you