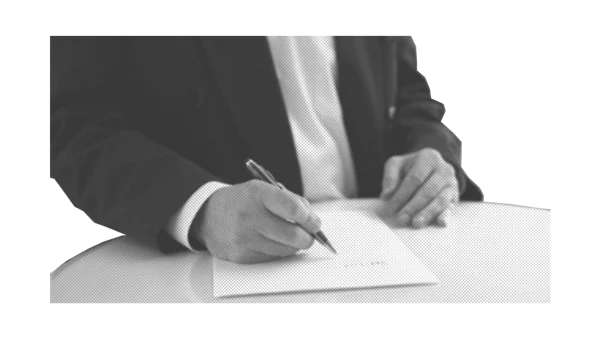 How to create a Digital Signature in 4 steps? Tools & Best Practices
Electronic signatures have become crucial to current businesses. More and more companies are now moving towards this digitized alternative. This easy to use and a time-saving solution is perfect for optimizing tasks that previously slowed down your workflow. However, depending on your sector, a more Advanced Electronic Signature (AES) might be needed for it to qualify as sufficient proof in court. Indeed, electronic signatures aren't all legally binding.
Example: A CEO is on a business trip and has to sign a document for a process to start in the company. Meaning, the company will have to wait several days for the CEO to send the papers back with their handwritten signature. With an electronic signature, the CEO will have the papers signed and sent in a couple of minutes, saving time and money.
According to the Electronic Signatures in Global National Commerce (ESIGN) Act, electronic signatures have the same legal status as handwritten signatures throughout the United States.

E-signatures are defined as:
An electronic sound, symbol or process attached to or logically associated with a contract or other record and executed or adopted by a person with the intent to sign the record.
The Validity of Electronic Signature
Traditionally, a handwritten signature has been defined as the only way to authenticate a document. With the rise of electronic commerce, commercial and business law have had to evolve to accommodate paperless contracts.
With the application of the (ESIGN) Act, Congress has clarified this issue and states that:
Electronic signatures are valid and serve as a means of authenticating a document in the United States.
However, this is a federal act that only applies to a number of transactions, mainly across states and foreign nations. But according to the UETA, each state has some leeway to define specific guidelines regarding e-signatures validity.
Exclusions
The Uniform Electronic Transaction Act (UETA) provides each state with a legal framework to enact state law for the use of electronic signatures. This means that each state has the option to adopt or reject the guidelines presented in the act.
Even though both acts have the same basic principles, there are some exceptions to the use of electronic signatures in the UETA Act.
Traditional signing methods are still to be used for:
Birth, death, and wedding certificates
Wills, codicils, and testaments
5 Criteria That Define the Legality of an Electronic Signature
Both the ESIGN Act and UETA regulations detail 5 main criteria that must be met in order for an electronic signature to be legally binding:
Intent to Sign: the signer must show a definite intention of wanting to sign the agreement electronically
Consent to do business electronically: most states require the parties to sign an agreement stating consent for the commercial act to be done electronically
Opt-out clause: in case the signer opts out to sign electronically, there must be a clear provision detailing instructions to proceed to the manual signing of documents
Signed Copies: all parties should receive a fully signed copy of the agreement
Record Retention: validate the existence of the exact agreement in a public record, as well as enabling its reproduction
Electronic vs Digital Signatures
Even though electronic signatures are a very popular and easy way of signing an agreement without the need for physical intervention, some are not safe and can lead to forgery.
This is where digital signatures or advanced electronic signatures (AES) come into play. These allow for a more secure transactional operation thanks to the use of a certificate-based digital ID. These methods use cryptography to secure the transaction. , they allow the user to be notified if any person tries to tamper with their signature.
Since both advanced and qualified eSignatures adhere to the strictest legal regulations, most countries in the world recognize these signatures. They comply with international security standards of signers' trust and assurance and have a solid legal foundation. Thus, this option is used by large companies looking for the most secure way to conduct international trade.
How to Obtain a Digital Signature
Here are the 4 Steps to obtaining a digital signature:
Find a Trusted Service Provider (TSP), certified in the relevant field. Scroll down for a list of recommended TSPs. These fields can be:

Governmental transaction
International agreements
Private in-state company
Out of state negotiations

Fill out the necessary paperwork for the TSP of your choosing
Pay the attached fees
Obtain your digital signature certificate
These trusted service providers are companies that are themselves certified by qualified authorities such as:
Federal PKI Management Authority (FPKIMA)

Federal Common Policy Certification Authority (FCPCA)
Federal Bridge Certification Authority
European eIDAS regulation
SAFE-BioPharma standard
Keep in mind that a TSP must be certified by a Certifying Authority (CA) depending on what type of business they are focused on. The TSP will have to choose the authority by which they want to be certified in order to follow the best standard practices for their business area.
How to Recognize a Trusted Service Provider
This company must provide its Certifying Authority (CA) license of compliance upon request.
This certificate confirms that this trusted third party meets all the requirements, namely:
Compliance with the highest standards of security (X.509 standard) and confidentiality
An integrated signature timestamp with probative value (date and time)
Its inclusion in the approved list of Certificate Authorities (CA) relevant to the state or country
Trusted Service Providers or Certification Authorities
These trusted third parties, certified by their corresponding authorities guidelines, issue electronic signature certificates with probative value: their digital tracking system confirms the validity of commercial transactions and customer signatures.
The data`s safety is guaranteed by the unalterable qualities of the signed documents and the legality of signatures and transactions reinforced by encryption standards, secure storage, and record procedures.
Here is a list of recommendations for Trusted Service Providers (TSP) known for being accredited with the highest security standards and international regulation adaptability:

Yousign
Approved by Fintech and Legaltech, Yousign provides electronic signature certificates from countries all over the world whose line of work specializes in the European market.
Companies such as BpiFrance, Verspieren (insurance broker), Allianz, FCA Capital France, Auchan, FMA assurances, and Cadis Formation use the platform to digitize their workflows using electronic signatures, as well as to e-sign HR documents and financial documents.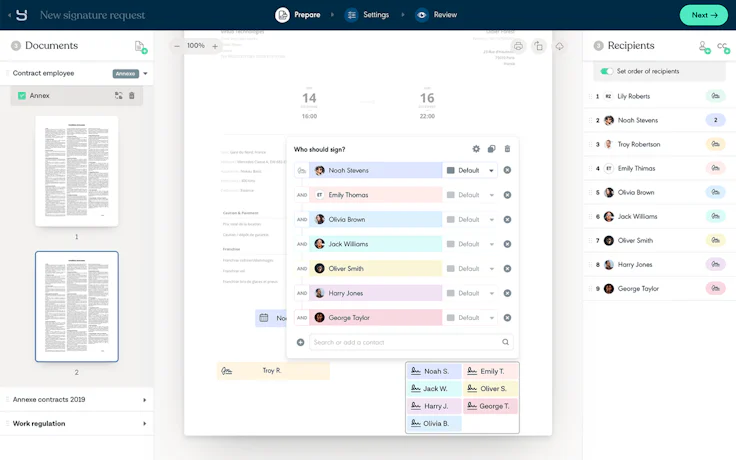 Yousign provides a high standard of quality to ensure that an electronic signature has the legal value that is beyond reproach:
The tool is eIDAS qualified, with a certificate of conformity in support
The solution benefits from a qualification and compliance certificate issued by ETSI
The platform also holds the RGS conformity certificate issued by LSTI, a certificate attesting to compliance with French, European, and international safety standards
ANSSI has also included Yousign on its list of trusted service providers holding the Security Visa
An electronic safe is directly integrated into the software to store and archive signed documents
DocuSign
Market-leading solution for companies electronic document management, with more than 100 million users in 188 countries; Docusign enables companies an easy to use and accessible software solution for document transactions in a secure manner. This way replacing the use of printers, fax machines, scanners, and piles of paper documents that end up taking space.
With this tool, companies can not only create a digital signature certificate, but it also serves as an interface where employees are connected, making signing agreements and documents an easy task, due to the notification system and efficient document sharing tool, implemented in this platform.
Certified with the most secure and quality standards:
eIDAS,
ISO 27001,
ANSSI,
GDPR
Best tools for you