The legal value of an electronic signature is admissible when an electronic signature certificate can guarantee the identity of the signer. According to the law, only a trusted third party certified by an eIDAS accreditation can issue such a certificate.
The dematerialization of documents and contracts concerns all professions and service providers, such as banks and brokers, insurance companies, mutual societies, legal or recruitment professionals (HRDs), companies specialising in event organisation and sales departments.
This article lists the conditions to be met and the important notions for each of your clients' electronic signatures to constitute evidence in the eyes of justice:
Developments in Electronic Signature Regulations
Traditionally, a handwritten signature on paper has been defined as the only authentic act to sign a document. With the rise of electronic commerce, commercial and business law have had to evolve to enable the digital economy to execute a paperless contract within a given legal framework.
In the UK, this same act applies. At first, many companies have had doubts about the admissibility of an electronic signature due to the Electronic Communications Act 2000 because it does not explicitly provide details on this subject.
However, with the application of the European eIDAS Regulation, the Law Commission has clarified this issue and in fact confirms that electronic signatures are valid and serve as a means of authenticating a document.
Application of the European eIDAS Regulation
eIDAS (Electronic identification and trust services) is a regulation whose objective is to standardise the rules concerning electronic signatures at the European level, in order to create a climate of lasting trust between public administrations, companies and individuals.
This law sets higher standards for an esignature to have the same legal value as a handwritten signature. We will discuss the criteria further on in the article.
Let us discuss the guidelines of these standards.
5 Criteria That Define the Legal Value of an Electronic Signature
According to the European eIDAS regulation, 5 criteria must be met for an electronic signature to hold legal value:
Criteria 1: An electronic certificate must be used by the person signing to authenticate his or her identity.
Criteria 2: The digital signature process must be compliant and meet high security standards; the process must be certified as compliant.
Criteria 3: The author cannot dispute his signature, it is irrevocable.
Criteria 4: The signed document must not be altered, cannot be modified; its total integrity must be respected.
Criteria 5: The obligation to keep signed documents in a secure electronic safe for ten years must be respected.
How to Obtain an Electronic Signature Certificate
The creator of a digital signature can only obtain their electronic signature certificate from a certified body called a trusted third party.
These trusted third parties are companies that are themselves certified by qualified authorities such as:
ETSI (European Telecommunications Standards Institute) the European standardisation body in the field of telecommunications
ANSSI, the French National Agency for Information Systems Security
LSTI, Cyber security and Trust Service Providers conformity
How to Recognize a Trusted Third Party
This company must provide you with its eIDAS certificate of compliance at your request.
This certificate confirms that this trusted third party meets all the requirements, namely:
compliance with the high standards of security and confidentiality required by eIDAS
the application of the RGS repository to encrypt signatures, in particular by cryptography
an integrated signature timestamp with probative value (date and time)
Trusted Third Parties or Certification Authorities
These trusted third parties certified in accordance with the eIDAS guidelines issue electronic signature certificates with probative value: their digital tracking system confirms the validity of commercial transactions and customer signatures.
The integrity of the data is guaranteed by the inalterability of the signed documents. The legality of signatures and transactions is reinforced by encryption standards, secure storage and retention procedures.
Signable
Signable was established in the United Kingdom for high performance quality and advanced technology. A highly user-friendly digital signing tool, Signable offers everything needed to satisfy your expectations.
Some of the companies that trust Signable are BMW, The Body Shop, Krispy Kreme and Hertz.
Some of the features include:
Maintenance support
Software as a Service (SaaS) model for storage outsourcing
Electronic Signature Validation
Electronic Document Signature
Document Time Stamp
To send an electronic signature:
Upload the document online
Fill in the requested information
Indicate the email address to which you wish to send it
The document will be sent along with a link to where the e-signature can be inserted
Signable is in compliance with the eIDAS regulation concerning digital identification and authentication in EU Member States. Therefore, any document that goes through Signable will be legally binding.
SignNow
SignNow is designed for signing, sending and managing documents from virtually anywhere with any device. This electronic signature application simplifies the management of administrative documents within companies.
SignNow supports major platforms such as Salesforce, G Suite, Netsuite, Oracle and Office 365.
This tool makes it easier to manage commercial documents. There is no longer the need for printing out documents, signing them, scanning them and sending them all back to the recipient who then has to do the very same procedures again.
Features:
Option to request additional information
Send an email for document signing to multiple recipients at one time using templates
Option to have recipients digitally draw their signature to Esign rather than to have it typed
Option to request payments on documents online
Option to CC additional people
Yousign
Approved by Fintech and Legaltech, Yousign provides electronic signature certificates throughout Europe.
Companies such as bpifrance, Verspieren (insurance broker), Allianz, FCA Capital France, Auchan, FMA assurances and Cadis Formation use the platform to digitize their workflows using electronic signatures, as well as to e-sign HR documents and financial documents.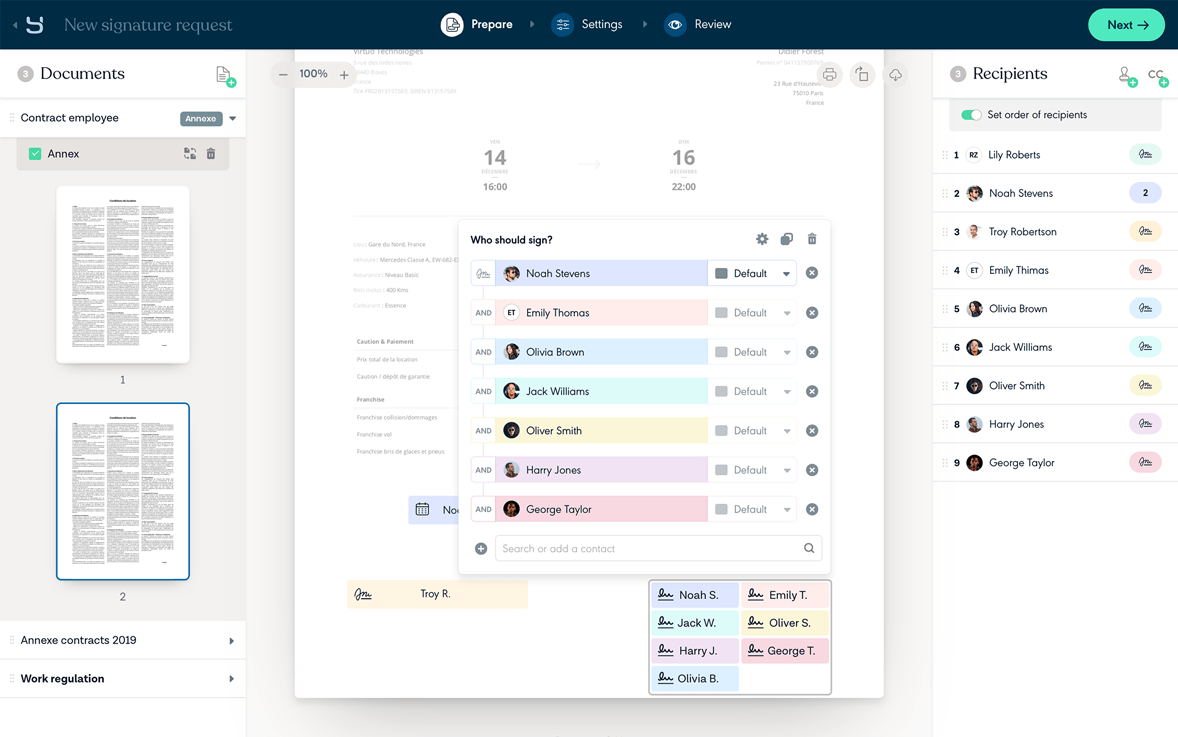 Yousign provides a high standard of quality to ensure that an electronic signature has legal value that is beyond reproach:
The tool is eIDAS qualified, with a certificate of conformity in support
The solution benefits from a qualification and compliance certificate issued by ETSI
The platform also holds the RGS conformity certificate issued by LSTI, a certificate attesting to compliance with French, European and international safety standards
ANSSI has also included Yousign on its list of trusted service providers holding the Security Visa
An electronic safe is directly integrated into the software to store and archive signed documents
The Keys to Creating a Legal Signature on a Contract
The legal issues of an e-commerce site are at the heart of digital issues: the digital signature must be reliable and the recognition of the signatory must be authenticated.
What is the validity of a scanned signature?
The legal value of a scanned signature is low: it is only the start of legal proof that must be reinforced by other evidence such as proven consent between the two parties of a contract.
The scanned signature can be contested and is not sufficient on its own as the only indisputable legal evidence: the free interpretation of the hierarchy of evidence is then left to the court judge.
How valid is an electronic signature on a PDF?
The legal value of an electronic signature on a PDF is fully acceptable when the document has been signed electronically using a certified tool that allows:
To identify the signatory through the electronic signature certificate
To guarantee the integrity of the PDF document
To identify the date and time of the signature through time stamping
To offer document tracking (conservation and secure archiving)
Only the procedures used by trusted third parties certified by eIDAS can guarantee the legal value of an electronic signature.