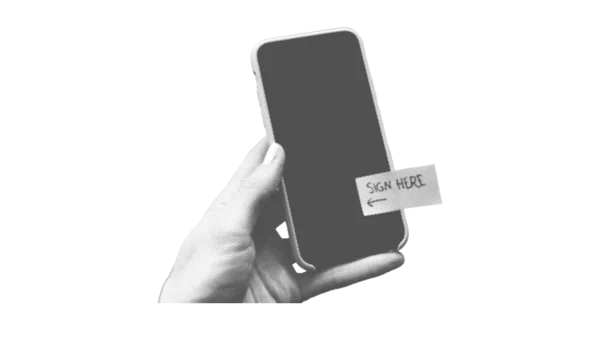 Digital Contract Signing: From Pixels to Paperless Agreements
Once upon a time, we'd use a fountain pen to sign paper contracts. Sealing an agreement meant using a fountain pen on paper.
But the digital age has arrived! Shifting from ink to clicks is more than a tech trend; it's a pivotal shift in efficiency. This transition signifies a fundamental shift in how we manage agreements and documents.
In today's digital age, the process has evolved with digital contract signing and electronic signatures. Let's explore virtual agreements and the world of digital contract signing. 🖋️
Mastering the Ins and Outs of Digital Contract Signing
From Paper Contracts to Digital Agreements
Understanding the transition to digital contracts is critical for making the leap yourself. Digital contract signing represents a significant shift in how business is done. Here are the nuances of this transformative shift:
Rethinking the Blueprint: Digitalizing contracts isn't attaching them to emails. ☝️ It's a complete rethink of the contract lifecycle, from drafting to e-signatures. It's a dynamic, adaptable, easy and real-time approach tailored to the global business landscape.
The Paper Chain: Paper contracts have well-documented defects. Need a last-minute revision? Waiting on couriered documents? Contracts lost in transit? Too bad. 😰
Elegance in the Digital Era: Welcome to digital contracts. It's how multiple parties collaborate on documents in real-time. They can correct errors or make changes with a few clicks. And the best part? They can finalize that agreement in seconds.
Globalization and Instant Gratification: When you can order a burrito, chat with Mom, and stream movies to your phone simultaneously, waiting weeks for a signed contract feels medieval. Digital contracts bring the same 'now' culture to formal agreements, turning potential weeks of wait time into hours or minutes. Great for your brand too!
Perfecting Digital Contracts
Creating digital contracts combines art and science.🎨 So, how does one craft these digital masterpieces? By using:
Specialized Software: Think of this as your digital canvas. Specialized tools guide you through creation, providing the tools to sculpt your terms, conditions, and clauses. And to have legally valid signatures!
Agreement Templates: Just as painters have stencils, digital contracts have templates. Why start from scratch when you can have a ready-made foundation?
Pre-filled Data: Fill in names, addresses, and other company details automatically to save time and avoid errors.
Electronic Tags: Placing stickers to mark where signatures are needed is a game of "Where's Waldo" in lengthy documents. Digital contracts use electronic tags to guide signors to precisely where to leave their mark.
Efficiency and Flow: With these tools, your contract approach becomes a benefit, not an obstacle. Reduce mistakes, increase efficiency, and close important deals fast with digital contracts!
Crafting digital contracts is effortless when using the right tools. Their precision, clarity, and convenience will literally write your digital contract success story. 🌟
How to Execute a Digital Contract in 4 Simple Steps
From start to finish, executing a digital contract is incredibly structured. With secure links and esignatures in play, here's how the process unfolds:
Secure Sending: After drafting your digital contract, send it to the signatories via a secure link. Only those with the link can access it. 🔒
Review and Revise: Once shared with the signatories, they can review and propose amendments. The revision process allows changes and agreement on every clause before affixing signatures.
Global Sign-offs: Digital contract signing allows signatories to sign the contract from anywhere electronically.
Goodbye, Physical Presence!: No face-to-face meetings, paperwork, or fuss. Cross-border collaborations are now as breezy as next-door negotiations.
The true beauty of executing digital contracts? Regardless of location, it allows everyone an equal, fast, and efficient path to agreement. 🚀
3 Considerations to Prepare for Digital Contract Signing
Are Digitally Signed Contracts Legally Binding?
For digital contracts to hold water, e-signatures must meet strict criteria. What makes a digital contract signing legally valid?
Authentication: A valid digital signature verifies the signer's identity. It proves that John Doe on paper is John Doe online.
Integrity: Once signed, future changes to the contract will invalidate the signature. What you've signed off on remains unchangeable. No sneaky afterthought additions.
Non-Repudiation: This fancy term means no going back once you've signed. Signers can't deny endorsements later.
Traceability: Think of this as the signature's unique digital fingerprint. Platforms with this feature create an audit trail for each step in the signing process.
On paper or online, trust is everything. Globally, regulations dictate how e-signatures match the gravitas of inked ones. By following these standards, businesses can execute secure and enforceable digital contracts. 👮🏻‍♀️
The Global Legal Landscape for Digital Signatures
The digital realm of signatures is like stepping into a global courtroom. A mosaic of local legislation, each defining the 'do's and don'ts' of digital contract signing. In the U.S., the ESIGN Act is your guiding light. Across the pond, the Europeans dance to the tune of the eIDAS regulation.
But here's where the plot thickens: even in our pixelated era, some documents still require ink signatures or a notary's seal.
So, if you're headed for the digital signature highway, ensure you've brought a legal roadmap. Let's review regulations for the territory your business might transact in.
Automation and Accuracy in Digital Contract Signing
Automation in digital contract signing is like a barista who sometimes gets your latte order slightly wrong: incredibly efficient, but not flawless. Automation whizzes through contract lifecycles, provides consistency, and sends timely nudges about deadlines.
But, as we toast to automation's brilliance, a word of caution: don't take what you get without a thorough review of the contents.
Tech glitches? They're like that unexpected coffee spill. The solution? A mix of automation, human vigilance, and a smidge of regular quality checks. Let's face it: while our robot pals are awesome, there's no replacement for the good old human touch in deal-making. Here's to finding that perfect blend! ☕
Top Tools for Digital Contract Signing in 2023
Are you taking the digital signing journey? Equip yourself with the top-notch tools that the industry swears by. Let's dive into the best of the bunch. 🛠️
DocuSign
If you're wondering 'Can I use DocuSign for a contract?', the answer is yes! DocuSign is a frontrunner in the digital signature world, known for its user-friendly interface and robust security measures. It is widely adopted and offers features like multi-party signing, audit trails, and mobile compatibility.
Pricing starts with the "Personal" plan at $10/month.
PandaDoc
PandaDoc 🐼 isn't just about signing; it's an all-in-one document automation software that allows users to create, send, and track documents. Its intuitive design editor, document templates, and CRM integrations promote a smoother end-to-end contract management process.
Their "Essential" package starts at $19 per user/month.
DropboxSign
Dropbox, known for its file storage feature, has ventured into the digital signature space with Dropbox Sign (formerly known as Hellosign). This tool provides simple and efficient electronic signatures integrated with Dropbox's storage capabilities.
Basic plans start at $9.99/month.
Zoho Sign
A part of the broader Zoho suite of business apps, Zoho Sign offers digital signature solutions tailored for businesses of all sizes. It integrates seamlessly with other Zoho products and provides audit trails, multi-device support, and more.
The "Standard" edition is $10/user/month, but a limited Free plan is available.
signNow
signNow offers e-signature solutions aimed at enhancing document workflow efficiencies. Its mobile-friendly design and integrations with popular apps like Salesforce and NetSuite make it a versatile choice for many businesses.
Their basic Business plan is $8/user/month.
Choosing Your Digital Contract Tool: Key Selection Criteria
The variety of options can be overwhelming when selecting a digital contract signing tool. Knowing exactly which features and specifications you need is crucial to making an informed decision. Here are the top considerations:
Technical Specifications: 🛠️ A good solution should be compatible across multiple devices and platforms. It should also integrate easily with your existing business tools and software.
User Experience: 😍 Contracts are complex, so the process of digitally signing them shouldn't be. The software should offer intuitive navigation, clear prompts, and streamlined workflows. Tutorials or support for first-time users is a welcomed bonus.
Security Measures: 🔐 Arguably the most critical aspect, your solution should adhere to stringent security standards. Features like end-to-end encryption, multi-factor authentication, and secure cloud storage are essential. A transparent audit trail, recording every action taken on the document, further enhances credibility and accountability.
4 Best Practices in Digital Contract Security
Concerned about safety and security?🛡️ Here's a quick directory to private and secure contracts.
Privacy Basics
Privacy means your sensitive info stays confidential. Tight access controls make sure only the right eyes see your contract.
Security 101
Beyond privacy, security is about protecting your data from threats. Think encryption, authentication, and secure storage to keep sneaky cyber-attacks at bay.
Legal Rules
GDPR or CCPA? They set the gold standards for data protection. Good digital signing platforms will follow these rules to the letter.
Risk Checks
Spotting potential security issues and having plans to handle them. Think of it as your digital contract's safety net.
💡 Bottom line: Digital contracts should be in a safe and private space. Ensure you have the right tools and knowledge to keep them that way.
Signing Off On Digital Contract Signing
Digital contract signing has become indispensable, transforming old methods into efficient, modern solutions. The shift from paper-based contracts to electronic versions offers increased access, speed, and security when transacting business worldwide. 🗺️
With the proper knowledge and tools, signing digital contracts can be fast, legal, and profitable for you and your organization. Don't wait up!
Best tools for you