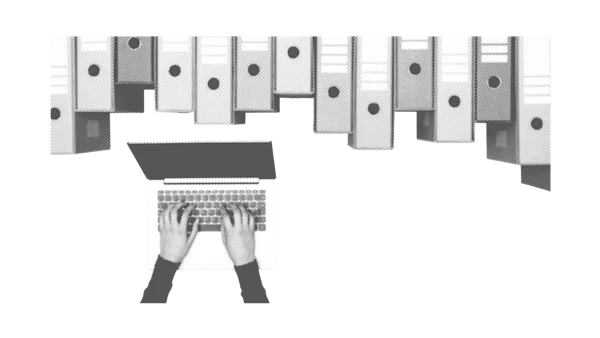 Top +45 essential HR KPIs that will change your business: Examples and explanations
Nowadays, companies need to analyze and measure their performance. KPIs, or Key performance indicators, allow for effective management of an organization and facilitate decision-making. Especially in HR management, building relevant HR KPIs and scoreboards is essential to managing your activity and monitoring the evolution of internal teams efficiently.
In this article, we will tell you everything you need to know about HR KPIs: what they are, how to set them up, and the top 45 relevant HR KPIs examples you need to keep track of.
Let's get right into it!
What are HR KPIs?
The concept of HR KPIs or HR metrics began to develop in the early 1970s. An HR KPI is a measurement tool that provides a global and synthetic view of one or several key data points of a company. For most companies, relevant KPIs are strategic metrics based on the HR outcomes and business goals.
One of the most important key resources of a business is first and foremost their employees. Nowadays, Human Resources is not only an administrative department but the heart of the company's performance. The HR department must analyze different KPIs to adapt their strategy and make their business perform. The KPIs are often defined prior to the launch of a campaign, whether it is for recruitment, communication, or loyalty.
Today, companies need several HR KPIs that they group together and summarize in what is called an HR dashboard. The key metric dashboard allows the department leader to monitor all their KPIs in real-time.
Top 45 KPIs for HR
There are lots of relevant key HR KPIs, but we can divide them into 4 principal categories: Compensation KPIs, culture KPIs, employment KPIs, and performance KPIs.
Compensation KPIs
1. Percentage of Cost of Workforce: The cost of workforce indicator measures the cost paid by companies to compensate the production factor labor within a given period.

2. Salary Competitiveness Ratio (SCR): This metric is used to compare the average salary of your organization and the average salary of the rest of the industry.

3. Health Care Expense per Current Employee: This KPI shows us the health care cost per employee. To calculate it, we divide the entire cost by the number of employees.

4. Benefits Satisfaction indicator: Using this key KPI, companies have the ability to measure the link between employee compensation and the benefits they offer. We can find this out through a questionnaire.

5. Employee Productivity Indicator: Productivity measures the efficiency of a company. Using this formula to calculate the employee productivity rate:
Productivity per employee = total business turnover/number of employees, we can have a tangible number showing an individual employee's performance.

6. Return on Investment (ROI): This relevant KPI (usually in percentages) shows whether a marketing operation was successful in terms of turnover. In other words, the money earned is compared to the money invested.
Culture KPIs
7. Employee Satisfaction Index: By using this KPI, companies have the ability to measure the link between employee satisfaction and customer experience. The results can range from 0 to 100, where a higher score indicates that an employee is happier at work.

8. The Number of Employee Satisfaction Surveys: This metric is used to know what the organization can do to improve overall employee happiness.

9. Percentage of Employees Trained in Company Culture: This metric helps the company know if their employees are aware and understand the organization's culture, overall goals, and purpose.

10. Percentage of Vacation Days Used: This KPI measures the percentages between the vacation days used and those unused. The goal is to know whether employees can balance their work and personal life.

11. Net Promoter Score: This KPI measures the compensation of your employees, and therefore their commitment. For example, we can measure it by answering a single question: "Would you recommend your organization to someone you know?"
Employment KPIs
12. Absenteeism Rate: This indicator, which is monitored by dashboards, reveals the well-being of employees in an organization. To measure it, we divide the number of lost workdays due to absence by the number of available workdays.
13. The Number of Full-Time Employees: This KPI helps the company follow and measure the evolution of the number of full-time employees overtime.

14. Number of Contractors: This KPI examines the growth of the organization's workforce over time and is compared with the number of full-time employees.

15. Average Tenure: The average time that the employees stay in the organization. This KPI is also heavily linked with the Employee Retention Ratio.

16. Voluntary Termination Indicator: This KPI shows the percentage between the total resignations and the total layoffs of your organization within a given period.

17. Retirement Rate: This shows the number of employees who have retired in the organization in order to reorganize the workforce plan.

18. The Average Age of Retirement: This KPI is calculated by dividing the average age of retiring employees by the number of retiring employees.

19. New Hire 90-Day Failure Rate: This KPI is used to measure the efficiency of talent acquisition in the hiring strategy. To calculate it, you have to divide the number of hires within the first 90 days by the number of new hires during the same period.

20. First Year Voluntary Termination Rate: This KPI shows the engagement level of new hires at the end of the first year in the organization.

21. Average Time to Fill a Job Vacancy: This KPI shows HR's efficiency in looking for and filling vacant jobs. To calculate it, you have to divide the job open days by the number of job openings within the same period.

22. Hiring Process Satisfaction Indicator: This KPI reveals the overall happiness and satisfaction of new hires during the hiring process.

23. Cost Per Hire: The budget needed for acquiring the best talent (marketing or HR cost, for example). It's important to abide by a budget, saving money for more important and pressing tasks. That's one of the reasons why this KPI measures the amount of money spent per new hire.

24. Effectiveness of Engagement: The efficiency of training courses and engagement of new hires. Determine what they have learned after training and what they potentially need to improve.

25. Training Cost Per Employee: The budget needed for training courses and engagement per employee.

26. Percentage of Employees Trained: This KPI measures the engagement time of new hires. A high percentage means that the employees are ready to contribute to the company's workforce. The manager has to balance the time required to finish the training course and the skills that the employees have to gain.

27. Diversity Rate: This KPI helps leaders and managers get a sense of if they're including a wide range of under-served and represented communities and groups in their organization.

28. The Number of D&I Initiatives Implemented: Diversity and inclusion are major themes in human resources management and CSR orientations in companies. This KPI tracks how an organization fights against discrimination in working place.

29. Turnover Rate for Highest Performers: This HR KPI shows the turnover of the best-performing employees in a company. This can be measured by dividing the entire high performers who left the previous year by the number of high performers identified.

30. Average Time to Find a Hire: This KPI displays the efficiency of the hiring strategy. To measure it, you have to answer 3 questions: How long does it take to find a candidate? How long does it take to move the candidates in the process? How many resources do you need to find a hire?

31. Candidates Interviewed Per Hire: This metric shows the link between the number of candidates interviewed and the number of applicants.

32. Yield Ratio: The percentage of applicants remaining after each step of the hiring process. The final number you get from this KPI is highly personal to each company. A lower number may indicate that you're too selective, and therefore leaving out underrepresented groups, while a higher number may mean you're not being selective enough. It's up to you and your HR department to decide.

33. Knowledge Achieved with Training: This KPI tracks if the candidates have the necessary knowledge for their position. This can be examined in different ways (test, training score, for example).

34. Acceptance Rate: Using this indicator, you can gauge the difficulty of the hiring process, and the level of selectivity of the HR department. To measure it, we divide the number of acceptances by the total offers.

35. Employee Productivity Rate: The capacity of evolution in production and human capital. To calculate it, follow this formula: The employee productivity rate = total output/total input.

36. Employee Engagement Indicator: The engagement rate is seen as a KPI linked to the business's performance. This rate is predictive of the organization's performance.

37. Employee Innovation Indicator: This KPI is linked with the employee engagement rate. It's used as a measure of innovation among employees.

38. Involuntary Turnover KPI: Employee turnover occurs when an employee is fired for reasons or behavior that are unacceptable for the company: counterproductive behavior, serious misconduct, poor work performance, for example. To avoid involuntary turnover, candidates are subjected to aptitude tests that are consistent with their position.

39. Voluntary Turnover KPI: Voluntary turnover is the result of employees' personal choices. They decide to leave their work for their own reasons: they are not satisfied with their working conditions, they have accepted a more interesting offer, they have decided to make a career change, for example. This KPI shows the result of a botched interview when the candidate's personality is not well understood by the hiring manager.
Performance KPIs

40. Rate of Internal Job Hires: This KPI shows how a company organizes to develop talent.

41. Rate of Internal Referral Hires: This KPI is about measuring the number of employees that were hired, as a result of a current employee's referral or recommendation. This kind of word-of-mouth hiring can be very helpful in finding and attracting new employees.

42. External Hires: External recruitment is when an organization hires employees who are not part of its workforce. An external recruitment strategy may be necessary, especially when the business is growing strongly.

43. Internal Promotion Rate: This KPI shows HR a rate of how many people have been promoted, presumably for good work. This can be a good gauge of the overall department or company performance.

44. Suggestions per Employee: Using this KPI, we can measure the participation of employees in improving their working environment.

45. Cycle Time to Process Payroll: This KPI measures the time needed to finish the payroll process (error reporting, progress updates, for example)
How to define good HR KPIs?
Peter Druck has said: "If it can not be measured, it cannot be managed". It is true, defining good KPIs is essential for the management strategy of every business.
A good HR KPI must be :
relevant (it must answer a real need);
simple and understandable,
easy to obtain.
Choose a limited number of HR KPIs
It can be tempting to use a wide variety of KPIs to measure and monitor many elements. But the risk of spending a lot of time on them for little impact is high.
It is important to think carefully beforehand about what metric you want to measure, and especially why you want to measure it.
The choice of relevant HR KPIs must be based on very specific goals. For example, to increase employee compensation, reduce absenteeism, or improve talent retention.
Contextualize HR KPIs
The other point is the contextualization of KPIs. The goal of relevant KPIs is to analyze and to come up with an action plan. Be careful not to track your KPIs in a biased way.
Also, do not hesitate to go a little further in an analysis by combining several data points. To do this, compile your KPIs in a KPI dashboard. This is a true decision-making and management tool that provides an overview of HR actions and the goals achieved.
Digitize your strategy by using software
The best way to quickly and easily manage the calculation of HR KPIs is to automate it with HR data analysis software or an HR solution that integrates the tracking of specific KPIs (such as recruitment software, for example).
These tools are specially designed to make human resources management easier by integrating business intelligence, which provides decision-making support tools.
You don't know how to choose the best solution for your business? Discover more HR data management software to manage your human resources.
How to implement HR KPIs with scorecards?
A KPI scorecard is a measurement tool composed of performance indicators. It allows you to manage key KPIs, in a synthetic way, according to the size, the sector, and the strategy of the organization. The relevant KPI is based on the organization's goals and its performance from an HR point of view.
The main objective of the KPI scorecard is to increase efficiency in decision-making and communication, evaluate HR strategy, and measure the contribution of the HR strategy to the achievement of the organization's goals.
A KPI scorecard should never be fixed in time. The scorecard must be flexible in order to integrate or measure new HR KPIs.
💡 Do you know that the KPI dashboard and all the data that make it up can be automated thanks to an HRIS? It is a complete HR solution, designed to make human resources management easier by dematerializing and automating traditional processes. Thanks to this tool, the HR department will be able to collect KPIs in just a few clicks!
Key takeaways
In sum, an HR KPI makes it possible to measure the performance of the various human resources actions and processes and to reveal drawbacks and strengths. HR KPIs include 4 key factors: compensation KPIs, culture KPIs, employment KPIs, and performance KPIs. Choosing relevant HR KPIs leads to good decision-making.
Best tools for you