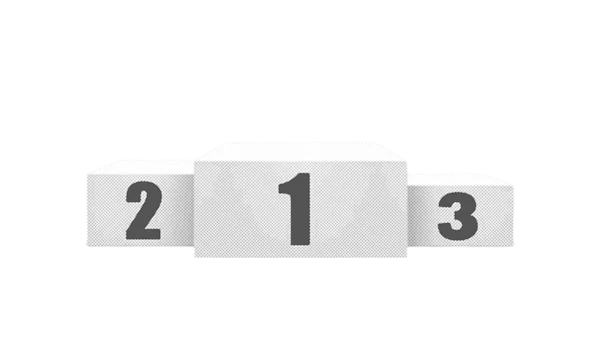 Top 11 best payroll software you shouldn't miss
Choosing the best payroll software for your business is no small feat. And for good reason, there is a wide range of offers on the market, including a range of varied features. From a simple salary management solution to platforms integrating additional HR modules (talent management, expense reports, etc.), what to choose?
Good news! We have put together a comparison of the best payroll software for your business. Our goal? May each business find the tool that will optimize its payroll processes as much as possible and ensure full regulatory compliance, regardless of its size and the level of support it needs.
Let's go!
What is payroll software?
A payroll software (or payroll processing) is an IT tool that allows you to manage and automate all the human resources processes (administrative processes relating to the business's payroll, from the entry of employees to when they leave) and therefore allows a complete payslip to be drawn up, as well as the mandatory declarations.
A payroll solution, therefore, ensures all the management relating to payroll, and also the administrative management of staff. A payroll solution is intended for businesses that want to manage their payroll processing in-house.
What should you look for in payroll software?
When choosing your payroll solution, you can use criteria, including: ease of use, features, support, pricing, and data protection.
Thanks to the upstream work of assessing needs and defining the budget, the business chooses between several payroll solutions, the one that will be the most suitable. Some basic features are essential, others allow the advantages of flexibility and control of the payroll feature. Often, the dual management of personnel administration and payroll is facilitated within the same tool.
In order to facilitate the work of HR teams and to ensure that the payroll complies with the legislation, make sure you choose a payroll management tool that offers the following features:
Payroll calculation;
Calculation and collection of the SAP;
Editing the payslip;
Production of the various compulsory social declarations;
Production of compulsory documents;
Payroll reporting and control documents.
At the same time, the solution you choose should adapt to your level of expertise in salary processing. In other words, prioritize ease of use, especially if you are new to it. This goes through:
a user-friendly and intuitive interface,
easy handling and configuration,
a high degree of automation,
optimal support, whether within the solution itself or by a team of experts.
What selection criteria?
To prepare this comparison, we have ensured the presence of certain features that we consider essential, at least for certain business profiles:
edition of the payslip,
dematerialization and archiving of payslips,
electronic declaration of the Nominative Social Declaration (DSN),
management of leaves and absences, etc.
Another essential criterion to constitute a good payroll solution: the updating and automatic integration of the latest legal developments or relating to collective agreements. Indeed, this is one of the strengths of these tools, which relieve HR teams and payroll managers of this tedious job of monitoring while ensuring the compliance and security of their actions.
Finally, we have taken care to diversify the solutions offered, to meet the requirements of all sizes of business. A VSE or an SME, for example, will above all need an easy-to-use solution, or even full or partial support or outsourcing of payroll processing.
Larger organizations, on the other hand, will probably want to rely on greater functional coverage and a tool for steering the overall HR strategy. As for multi-site and/or multinational entities, they need to be able to manage payroll by nature more complex and include many variables.
Top 11 best payroll software
ADP
Software promises
With 70 years of experience, ADP has developed comprehensive human resources management software, with a particular focus on payroll processing.
The solution is aimed at all types of businesses and sectors of activity, since different formulas are available, covering the needs of very small businesses as well as those of SMEs, mid-cap businesses, and large businesses.
Its goal? Save as much time as possible for HR departments, so that they can focus on tasks with higher added value.
Regardless of the formula chosen, the software is regularly updated to incorporate the latest legal developments relating to payroll or HR management in general. You gain peace of mind in the processing of your salaries.
ADP guarantees data preservation and adapts to all security and confidentiality standards around the world. For each offer, the software offers dashboards to analyze your activities and make the best decisions.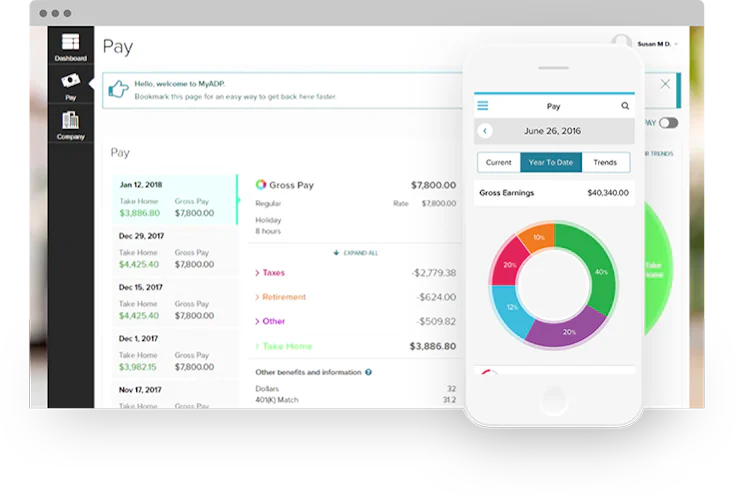 Simple and Secure Payroll Management
Learn more about ADP
Features
The different offers adapt to all sizes of business, and therefore to all budgets so that you only pay for what you need:
ADP PEGASE, for businesses with 1 to 50 employees. The solution focuses on payroll and allows smaller organizations to increase productivity while benefiting from the support of experts:
autonomous payroll implementation, in particular thanks to a reference file of national parameters (social regulations, assisted contracts, and last legal obligations, etc.),
payment of wages,
social data declarations, etc.


ADP DECIDIUM, for businesses with 50 to 5,000 employees. This formula goes beyond just payroll management, and offers a flexible tool to be modulated according to the evolving needs of SMEs and mid-cap businesses:
payroll management in full compliance,
automation of time and activity management,
talent management,
management of HR indicators,
scalability, especially for payroll outsourcing, etc.


ADP LINK, for businesses with more than 5,000 employees. This offer notably supports multi-site organizations (with all the different payrolls that this configuration implies) and more complex HR needs. All while ensuring time savings, compliance, and reduction of financial and social risks:
consideration of general standards,
the high degree of customization to adapt to each structure,
overall HR strategy optimization, etc.


ADP CELERGO, for businesses operating internationally with up to 100 employees per country, and ADP GLOBAL VIEW PAYROLL for multinationals with at least more than 1,000 employees in a country:
payroll implementation in several countries using a single information system,
taking into account all the peculiarities and specific regulations thanks to the support of local expertise,
unification of national reporting, etc.
Dayforce
Software promises
Dayforce, powered by Ceridian, is a global human capital management (HCM) platform that uses modern technology and services to transform the employee lifecycle management experience.
Dayforce is a comprehensive cloud payroll software that helps businesses in human resources, payroll, benefits, workforce management, and talent management all in one solution.
Additionally, Dayforce offers training, implementation, management, and professional services such as payroll processing, benefits administration, or compliance management to help ensure success and improve performance. Dayforce experience for any type of business, from small businesses to large corporations.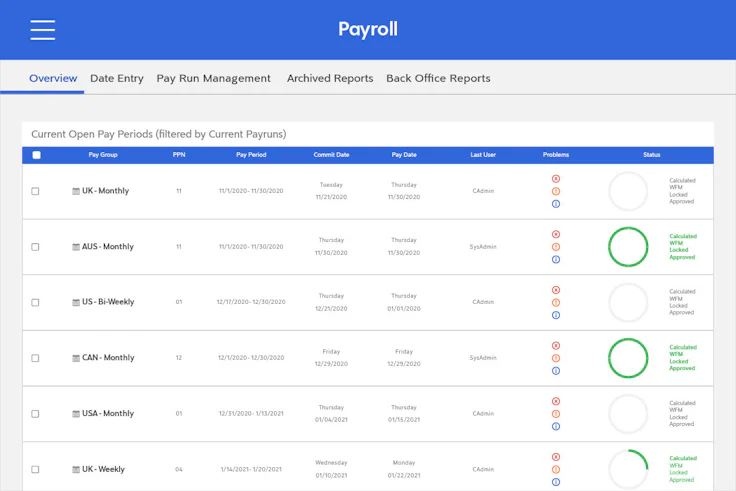 Features
Different from traditional payroll, Dayforce users can have access to data and work on payroll immediately at any time during the day. Furthermore, continuous calculation of data throughout the day helps businesses reduce batch work.
The main features and specifications of this payment system include:
Salary calculation
Off-cycle checks
Email notification
Compliance data (COBRA, OSHA, etc.)
Workflow
Organizational chart management
Professional experience
Job profiles and administration
Assistance
Organization and location management
Online technical support
Management of reimbursements
Alerts - notifications - reminders
Support for external payroll providers
Tax filing
Dayforce HCM is software in SaaS (Software as a Service) mode: it is therefore supported by all operating systems (Windows, Mac, OS Mobiles, etc.) because it is accessible from an Internet web browser (like Chrome or Firefox) ...
The Dayforce HCM cost is available on request (this cost may change depending on the number of users, options activated, etc.).
Gusto
Software promises
Gusto offers fully integrated online human resources services: payroll management, benefits, and everything in between.
Gusto offers wages, benefits, and human resources to modern businesses, managing payments for employees and contractors, and electronically managing the documents needed to help businesses comply with tax, labor, and labor laws in immigration.
Gusto, the all-in-one people platform serving over 100,000 small businesses with payroll, benefits, and more. Gusto (formerly ZenPayroll) offers payroll, benefits, and compliance features.
In addition to being very rich, Gusto payment software promises maximum automation of processes, free up bandwidth for human resources departments, and guarantees the security of their operations.

Seamless Payroll Mastery: Automate, Simplify, Thrive
Learn more about Gusto
Features
The main features and strengths of the Gusto payment system include:
Assistance
Tracking process
Securing data
24-hour accessibility
Payroll management
HR management
Authentication
Data encryption
Online technical support
Reporting
Tax filing
Gusto can connect to other software like When I Work, WorkOS, FreshBooks, Pingboard, Secureframe, TSheets, Xero, Deputy, Promoter.io, Boomr, Freshbooks, Breezy Pilot CRM.
With Gusto, you have real HR management tools. You have access to all the necessary data thanks to customizable reports (powerful query tool). You also anticipate future developments (budgetary assumptions, changes in the payroll, etc.). That's why Gusto is more than payroll management software; it is a real HR management tool!
Gusto includes many features (talent management for example), promotes collaboration, and facilitates the alignment of human resources operations with the overall strategy of the business. This is why Gusto solution is particularly suitable for large structures, which need a powerful platform capable of unifying the HR vision despite the complexity of their organization.
​​Gusto's cost is $39 per month and per user (this cost may change depending on the number of users, options activated, etc.). Software vendors often offer discounts based on the number of user licenses, resulting in savings of 5-25%. Trial versions are also often limited in time/feature.
Free trial
Standard: $39 per user and per month
Professional: $149 per user and per month
OnPay
Software promises
OnPay is a comprehensive tool for managing payroll and human resources. It supports all types of businesses: very small businesses, SMEs, mid-caps, or even large businesses.
OnPay is a payroll solution that allows you to automate all the tough tasks and make payments to your team at the right time. With OnPay, you can run your payroll even from your smartphone within a second by entering hours, reviewing, and approving each payroll.
OnPay can easily manage federal, local, and state taxes through warranty calculations without making mistakes. It's time to collect each book in one window and say goodbye to the puzzle of double data entry. Furthermore, OnPay includes Xero that is flexible accounting integrations and manage data extractions in Excel. This tool will help you keep the books in good condition and save your precious time.
The report designer allows you to verify all the data that you import. Especially, you can custom freely your payroll reports (highlight the important information). The platform also offers self-service for employees (sign HR documents, request a PTO, check-in, etc.).
In order to adapt to the COVID period, OnPay offers COVID compliance, a cloud-based and mobile app. Your team can stay organized and manage their workflow even they are at home.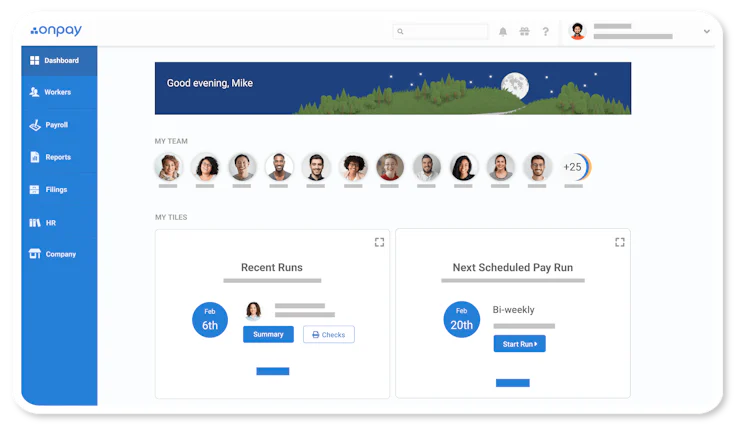 Payroll and HR tool that keeps your business running
Learn more about OnPay CRM
Features
The strengths of OnPay payroll software include:
Accounting and time tracking
Garnishments
All tax filings and payments
Multiple pay rates and schedules
Payroll for small businesses such as restaurants, farms and agriculture, churches, and clergy
Accountant dashboard
Pull paystub, employment doc, tax forms
Integrations: Xero, Deputy, When I Work, Humanity, Mineral (formerly Think HR), PosterElite, Gusto
Free account migration
Weekday support by phone, email, chat
Creation and sending of payslips: you can create, print, and send by email compliant payslips for any type of employee and any type of contract.
Automatic tax calculation: OnPay automatically manages all taxes on payslips to avoid errors and save time.
Complete payroll solution: the tool allows you to manage all the essential steps: hiring an employee, social declarations, paid leave, end of the contract, payroll journal ...
Employee management: it is possible to create files containing the main employee information (last name, first name, title, remuneration, etc.) and to assign schedules with weekly schedules.
PTO calendar and reminders
Custom paid time off policies
OnPay offers you a free subscription and set up for the first month. The paid plan starts from $36 per month plus $4 per user. Especially, you are only billed for workers who are paid in a month.
Patriot
Software promises
Patriot Software, headquartered in Canton, Ohio, offers Patriot PAY, its benefits' administration, and payroll software for businesses and professionals. This software package is commonly used by SMEs and VSEs, as well as by businesses in the Services or Tertiary activity sectors.
Patriot PAY offers APIs to integrate with other computer applications. These integrations make it possible, for example, to connect to a database, exchange data, or even synchronize files between several computer programs via an extension, a plugin, or an API (application programming interface).
Patriot is a SaaS software, so it is therefore supported by all operating systems (Windows, Mac, OS Mobiles, etc.). This software package is also accessible remotely (office, home, on the move ...) from many mobile devices such as an iPhone tablet or smartphone (iOS platform) or Android, and undoubtedly has a mobile application available on the Play Store/App Store. To use it, it is important to have a correct internet connection and an up-to-date browser.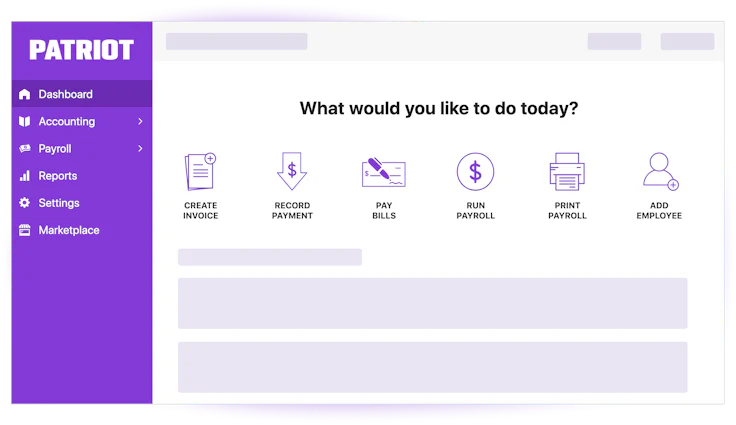 SaaS Software: Affordable, User-Friendly, Comprehensive
Learn more about Patriot Payroll
Features
The payroll features of Patriot include:
Free expert support
Free payroll set up
Free direct deposit
Unlimited payroll
Customizable hours, money, deductions
Time-off accruals
Repeating, additional money types
Paying contractors in payroll
Tax filings at the end of the year
Optional 1099 e-Filing
HR tool integrations
The solution is very easy to use and easy to learn by payroll managers. The interface is nice and modern. Besides, the tool emphasizes security. In particular, you can choose to set up a one-time code when downloading bulletins.
The cost of Patriot PAY is available on request, but this cost is subject to change because different options are offered by the publisher of this SaaS software to meet the needs of its users: number of licenses, additional features, add-ons, etc.
Paycor
Software promises
Paycor is a payroll software that is designed for every type of business. The Paycor software package is often used in the Employment - Human Resources sectors, by Key Account/ Mid-cap business, and for Finance - Management/ Administrative professions. Paycor offers intuitive cloud-based software for HR, payroll, and timing.
Paycor offers payroll services, HRMS, candidate tracking software, time and attendance management solutions, personalized reports, tax returns in all jurisdictions in the United States, 401 (k) retirement services, and workers' compensation benefits. Paycor offers recruiting, hiring, benefits administration, payroll management, tax compliance, and time tracking capabilities. Furthermore, we can connect easily Paycor to other platforms such as Gusto, Zapier, Paycom, Namely, Zenefits.

Payroll, Human Resources Solution Software
Learn more about Paycor Perform
Features
The features of Paycor include:
Salary calculation
Track all physical assets
Email notification
Organization and location management
Workflow management
Organizational chart management
HR assistance
Professional experience
Online technical support
Job profiles and administration
Issue management and asset transfer
Compliance data (COBRA, OSHA, etc.)
Alerts - notifications - reminders
Off-cycle checks process
Self-service
Tax filing
Paycor focuses on simplifying payroll processes by automating the related tasks as much as possible, such as the calculation of payrolls or the grouped edition of bulletins. It's easy to use and intuitive, plus you get optimal support to help you use it.
Dashboards allow you to better manage your payroll and see what tasks to perform. The software is flexible and scalable. Add in a few clicks additional options to build a solution perfectly aligned with your needs and their evolution.
Rippling
Software promises
Rippling is a great payment system for businesses to manage their human resources and IT departments, from payroll and benefits to employee computers and applications, all in a modern system.
In just 90 seconds, a business can set up (or turn off) an employee payroll system, health insurance, a work computer, and third-party applications, such as Gmail, Microsoft Office, and Slack. Discover a single platform that truly unifies every employee system and automates all administrative tasks.
It is therefore an attractive tool for human resources personnel, but also:
For employees, who can access all their information in just a few clicks (newsletters, vacation pay, etc.) and make their vacation requests easily;
For managers and senior management, who have an overview of their workforce at a given time, guaranteeing optimal management of activities.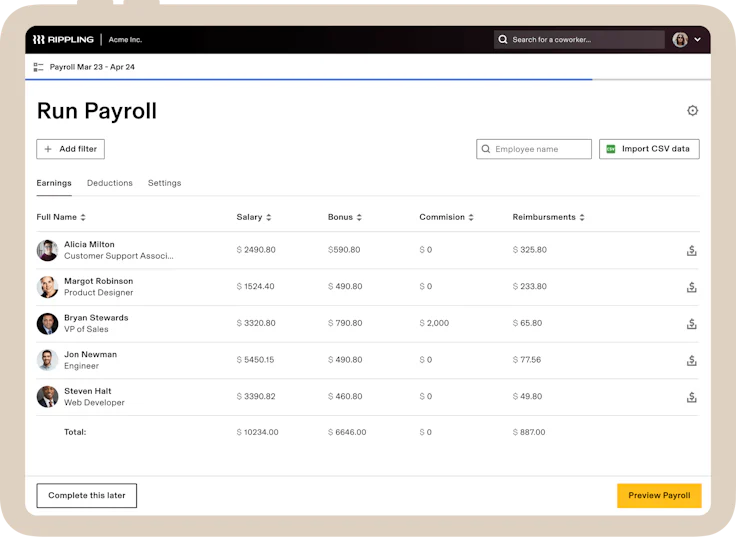 The modern recruiting solution
Learn more about Rippling ATS
Features
The list of the main qualities of this SaaS software includes:
Automatic compliance
Automatic tax-filing
Pay people across the world
Manager monitoring tools
Tasks management for new employees
Automated workflows
Electronic forms
Background check
Online document storage
Online surveys
The tool focuses on intuitiveness and ease of use. Throughout your operations, it accompanies you via help messages to inform you and avoid the risk of errors.
Also benefit from: personalized reports in order to follow the important data of your business (evolution of salaries, charges, parity, etc.), and a single personnel register. Rippling guarantees your security: data encryption, data backup, etc.
SurePayroll
Software promises
SurePayroll is a payroll software specially designed for VSEs and SMEs with one to 100 employees. The SurePayroll software is particularly recommended for the Administrative, Accounting, and Finance - Management professions.
SurePayroll introduced online Software as a Service (SaaS) payroll and payroll tax filing for small businesses interested in outsourcing their payroll. Paychex acquired SurePayroll. Easy Online SurePayroll is committed to providing easy, convenient, and accurate online payroll service at an affordable cost for small business owners.
Small businesses across the country trust SurePayRoll to help them take control of their payroll. They rely on us to automatically calculate, classify, and pay federal, state, and local payroll taxes.


Simple payroll Software
Learn more about SurePayroll
Features
The features of Surepayroll include:
Mobile payroll app
Same-day and next-day payroll
Cancel payroll
Auto payroll
Support for 1099 Workers and W-2 Employees
Taxes Paid and Filed Guarantee
HR management
Software integrations: time clock integration, Xero, Less Accounting, Gusto
SurePayroll offers APIs to integrate with other IT applications like AccountEdge. These integrations make it possible, for example, to connect to a database, exchange data, or even synchronize files between several computer programs via an extension, a plugin, or an API (application programming interface). SurePayroll software can connect to at least 2 software platforms to facilitate data exchange between applications, improve your workflow, and increase productivity.
SurePayroll also offers private label and co-brand services for accountants and banking partners, as well as effective online solutions to manage 401(k) plans, health insurance, workers' compensation, employee screening, and more.
Workful
Software promises
Created in 2017, Workful is the go-to payroll system for small businesses with 3 to 20 employees. All the payroll features are included, you don't have to choose. Workful allows you to:
Manage time and absences, onboard employees, communicate with your team, categorize federal and state taxes, process payroll, and generate reports and analysis from one easy-to-use dashboard.
Set up Workful in just a few clicks and access your entire payroll system from any device, anywhere.
Very successful in terms of payroll management, the software has a powerful digital safe to support businesses that go digital and take the path of dematerialization. Moreover, the software performs automatic updates in order to incorporate the latest legal and conventional developments. You don't have to worry about it anymore when editing your payroll.
Customizable dashboards allow you to monitor relevant indicators on the payroll (absenteeism, turnover, etc.). So you make informed decisions. At the same time, the presence of the safe, as well as the high level of automation and customization of the solution, help to greatly streamline your processes. In short, Workful is the promise of a significant gain in productivity.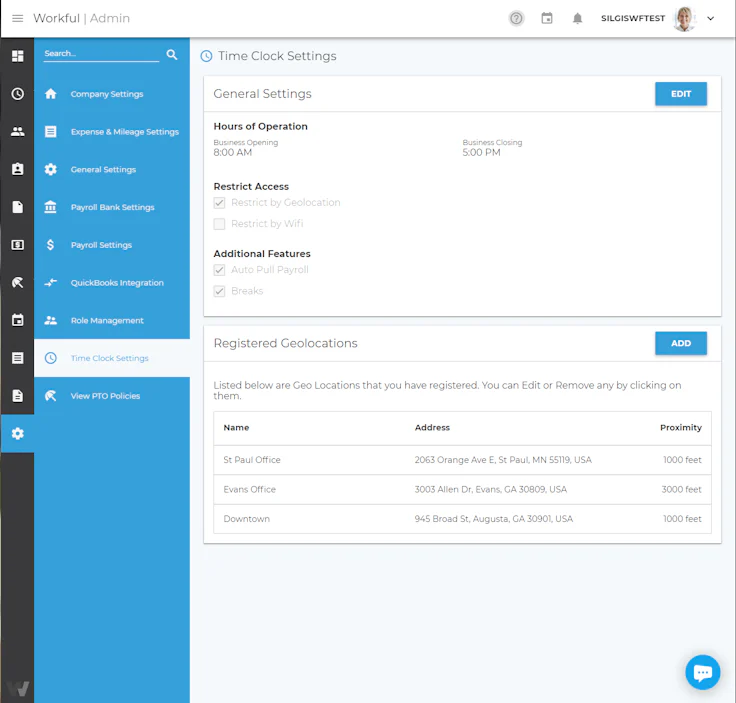 Best payroll software for your company
Learn more about Workful
Features
The features of Workful include:
Manage payroll: Expense and mileage, payroll register detail, tax liability, time off, timesheet
Create and view report
File federal and state forms: Annual W-2 Wage, Tax Statements, Form 941 Employer's Quarterly Federal Tax Return, Form 940 (FUTA tax)
The solution has an electronic signature tool to facilitate the administration of employment contracts. It also supports:
Talent management (recruitment, training, etc.),
As well as time and activity management (absences and holidays, working time monitoring, etc.).
Workful, this is the guarantee of a 100% secure electronic safe for your payslips:
encrypted data,
secure servers,
authentication system, etc.
Workful offers an all-in-one solution within one setup and one cost. The subscription cost is $25 per month and $5 per user. The paid plan includes all the payroll and HR management features.
Workfull is the software that focuses on streamlining processes. Indeed, it promises to effectively support HR departments, even those who do not know about payroll management.
Xero
Software promises
Created in 2006, Xero is cloud-based payroll and accounting software, designed for small and mid-sized businesses looking to increase their accounting efficiency. You can access the service from virtually any browser, as long as you have Internet access.
Xero payroll software offers you much accounting and reporting features. The most advantageous thing is that Xero allows unlimited users bonuses for each plan. Not every payroll software has this.
Xero has a modern, attractive and simple interface. It's easy to navigate and responsive design to the mobile version, and you can access the platform any time, anywhere, and on any device, even on your Apple Watch.
The particularly well-worked ergonomics of Xero makes accounting tasks pleasant, unlike much other software. This online application also enables better collaboration and better advice to clients, avoiding too frequent meetings between accountants and clients. Xero effectively eliminates unnecessary administrative paperwork.

Payroll management and online accounting
Learn more about Xero Payroll
Features
The features of Xero include:
Pay bills
Claim expenses
Bank synchronization and reconciliation
Accepts payments
Track projects progress
Integration: Gusto
Contact management
Data management
1099 reporting
Send invoices
Purchases order and invoice
Tax filing
Xero's User-Friendly dashboard turns resource overuse, time-consuming tasks, manual invoices, purchase order creation, and expense report management into enjoyable activities. These activities support accountants in their daily tasks and free up time for entrepreneurs.
Xero also offers outsourced payroll management features for its clients in the United States and Australia.
Summary table of the best payroll software
Payroll software
Target
Main assets
ADP
VSEs, SMEs, ETIs, and large businesses
Payroll outsourcing, autonomous payroll implementation
Dayforce
VSEs, SMEs, ETIs, and large businesses
Compliance data (COBRA, OSHA, etc.), Workflow, Organizational chart management, tax filing
Gusto
VSEs, SMEs, ETIs, and large businesses
24-hour accessibility

Payroll management

HR management

On pay
VSEs, SMEs, ETIs, and large businesses
Pull paystub, employment doc, tax forms

Integrations: Deputy, When I Work, Humanity, Mineral, PosterElite, Gusto

Patriot
VSEs, SMEs
Free expert support

Free payroll set up

Free direct deposit

Paycor
VSEs, SMEs, ETIs, and large businesses
Job profiles and administration

Issue management and asset transfer

Compliance data (COBRA, OSHA, etc.)

Tax filing

Rippling
VSEs, SMEs, ETIs, and large businesses
Automatic compliance

Automatic tax-filing

Pay people across the world

Surepayroll
VSEs, SMEs
Same-day and next-day payroll

Cancel payroll

Auto payroll

Workful
VSEs, SMEs
Encrypted data,

Secure servers,

Authentication system

Xero
VSEs, SMEs, freelancers
Claim expenses

Bank synchronization and reconciliation

Accepts payments

Track projects progress
Some tips for choosing your payroll software
Good payroll software guarantees your business savings by certifying that the correct amounts of remuneration will be paid to your employees and by preventing the formation of disputes.
It also allows you to save time and focus on more strategic and value-creating tasks for your business, such as recruiting or training your employees. But then what criteria should you use to choose between the most used payroll software in order to avoid making mistakes? How can you ensure every month that each employee receives the remuneration due to him on time? Here are 8 tips to consider before choosing payroll software:
1. A scalable solution that follows the growth of your business
The tool must be able to quickly adapt to the needs of a business and grow with it. It needs to be able to handle the influx of new employees as your business grows, no matter how big the phenomenon.
2. Reliability and regular updating of legal and regulatory information
Your payslips and social declarations remain free of defects even the day a reform, even the most minor, takes effect.
3. Automatically edited payslips
From the moment you have filled in your collective agreement, it must act as a guide in how you are going to fill in the payroll variables (gross wages, overtime, holidays, etc.).
4. Automation of your social declarations
If you can opt for payroll software that automates the creation and submission of your social statements, do it! The time saving is considerable!
5. Simplicity is the watchword
First, it greatly facilitates payroll operations if you are not an expert and the task is on you. Then, the interface of the solution you are going to choose should be intuitive. This simplicity has the effect of increasing the speed in the processing of payroll in order to save you time.
6. An all-in-one payroll software with the management of leaves and absences, working hours, expense reports
The best is to have software in which you will find HRIS features that will integrate and complement the payroll module.
7. Export of strategic data and summary tables
Also make sure that your payroll software allows you to export data such as net salaries, gross salaries, salary costs, employer contributions, staff, working time, holidays, etc. In short, a Business Intelligence tool is directly integrated into your payroll system.
8. Licensed software or SaaS?
The first takes the form of software installed on your business's computers and is governed by a system of licenses whose number of accesses is determined at the time of purchase. However, you may have to pay an additional amount for each update.
In the second case, the access is done online and no specific application has to be installed on your computer park. It's a subscription plan, and you can access it anywhere from any device with an internet connection, which is a plus if you're on the go often.
Best tools for you