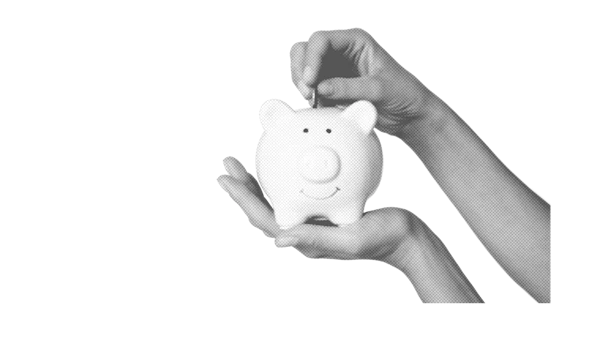 Top 6 Best International Payroll Software: Comparison and Reviews [2022 Edition]
Choosing the best international payroll software for your business isn't an easy task. Furthermore, there is a wide range of offers on the market, each of which includes a variety of features.
From simple international payroll software to platforms that integrate additional HR modules (talent management, expense reports, etc.), what should you choose?
The good news is that we have put together a comparison of the best international payroll software in 2022. Our goal? To help each company find the tool that will optimize its payroll processes and ensure full regulatory compliance, regardless of its size and the level of support it needs.
What are you waiting for? Let's discover them now!
What is a global payroll system?
Global payroll software is an online tool that facilitates all processes related to payroll management on an international level. This software responds to the demand of companies that are looking to manage their payroll on a global scale, from a single SaaS solution
Global payroll software can help you manage:
your employees' pay stub,
the creation of administrative documents,
salary payments and other social contributions,
the transfer of payroll entries into your accounting system.
International payroll software can adapt to the needs of any type of company, from VSEs, and SMEs to large companies.
Why use international payroll software?
Controlling the payroll process: Yes, but on a global scale!
Choosing payroll software is a real solution to manage the financial aspects of your company. If your company is international, why isn't your payroll? This software allows you to:
Avoid the need to hire an external service provider or to hire a person dedicated to managing this task.


Facilitate the distribution of pay stubs but also the calculation of required payment declarations. You no longer need to worry about calculating expenses such as paid vacations. Everything is done automatically. You can manage the process from the beginning of their leave to the end without any external intermediary.


Avoid any mistakes you could make if you were doing the payroll yourself without any support. The software will point out the errors and notify you of them so that you can quickly rectify them.


Simplify international payroll thanks to optimal local adaptation and compliance management. Most international payroll software on the market can adapt to the language and the regulatory changes of each region, as well as accounting for changes in foreign currencies
Assistance in learning how to use the software
When you use international payroll software, you will have the opportunity to get a quick training on how to use it. It is crucial that you are able to ask questions and grasp all the functions of the software so that you avoid mistakes later on.
To make sure you don't end up with any issues, ask any employees that manage payroll or work in HR to attend the training. This way, users will be able to take advantage of the payroll software and if an employee is absent or on sick leave, your company won't have to worry about waiting for pay stubs to be issued.
On top of that, many software providers offer telephone assistance to help you or solve any potential problems or issues that could arise.
The features of international payroll software
International payroll software must include a certain number of functionalities allowing you to handle the payroll of your employees from A to Z. It should also effectively manage the administrative and social aspects of your business.
Keep in mind that normal payroll software is different from international payroll software. International software has to update more regularly and adapt to any regulation changes that happen in each country.
Here are some of the main features that we can find in almost all international payroll software:
Entry of payroll variables (salaries, bonuses, various expenses, etc.)
Distribution, Digitalization, and archiving of pay stubs
Production of HR administrative documents
Workforce and talent management
Follow-up with employees (absences, leaves, etc.)
Automatic integration of accounting entries
Dashboards for HR reporting
Top 6 international payroll software solutions in 2022
ADP
ADP provides payroll and human resources management solutions to its clients. With a worldwide presence, ADP has a vast network of payroll experts, regardless of the size of your organization. Whether you're a small business or a multinational, ADP can help you focus on your core business with innovative tools that are tailored to your needs.
ADP is not only a simple payroll software, it is also an HR and talent management platform. ADP has lots of integrations such as Quickbooks, Wave, Xero, ERP (Workday, Sage, SAP, etc.), recruiting and onboarding platforms, etc.
🚀 The features include:
ADP PEGASE: PEGASE is a complete payroll outsourcing solution designed for small and medium-sized businesses. Once connected, all you have to do is enter your employees' information. A dedicated team of managers will then take care of drawing up monthly pay stubs, managing employee events, and making your social contributions. An extension of PEGASE allows you to manage payroll independently if you wish.


ADP DECIDUM: DECIDUM is available in two versions, for companies with 50 to 500 employees and companies with 500 to 5,000 employees. From complete outsourcing to complete autonomy, you decide on your level of support. This subscription has lots of functionalities that are very user-friendly for companies such as automatic payment processing, payroll tax calculation, regulation updates, data security, client support 24/7, flexible payment options, etc.


ADP Link: Bigger company, higher demand! For companies with more than 5,000 employees, ADP Link offers a complete integrated management solution for complex entities. From payroll management to digital warehousing and the most efficient HRIS tools. You can manage your business your way, surrounded by a team of accounting and legal experts thanks to the powerful features such as advanced pay options that can handle any pay scenario, automatic tax calculation, reporting, mobile app, integration with any third-party platform that you want, full-service payroll outsourcing, etc.
👉 Pricing: must be quoted and is available upon request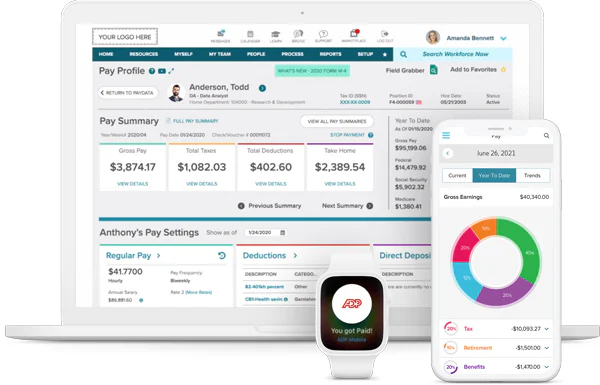 Deel
Are you ready to go international and meet talented employees around the world? If so, Deel will accompany you on your adventure!
Deel relies on a team of experts who are always looking for more innovative functionalities to offer complete and efficient solutions. Deel not only helps you get in touch with the talent market from the four corners of the world but also runs your global payroll.
The Deel international payroll software goes beyond the simple creation of pay stubs since it can meet all HR needs in terms of social management.
By choosing Deel international payroll software, you benefit from comprehensive support. You will benefit from personalized training courses and a dedicated hotline for all your questions concerning legislation.
Regardless of the sector of activity or the number of employees, this multi-company software will be particularly suitable for companies that want to keep control and mastery of payroll management.
🚀 The features:
Hire employees: Recruiting employees around the world is not a difficult task anymore! With local legal entities in over 60 countries, Deel can handle the hiring process by taking care of compliance, payroll, administration, etc.
Run global payroll: With Deel, you can pay your employees faster without any fees in one click. The invoice will be sent automatically to you. There are many payment options available such as fixed payments, milestone payments, or pay-as-you-go.
Integrations: Deel has integrations such as Quickbooks, Xero, Netsuite, etc. but you can also integrate your favorite platform with the open APIs too!
Data security: Data security is a big Deel, especially when it comes to payroll! Deel is committed to GDPR compliance. The network traffic is run over SSL/HTTPS ensuring cybersecurity and data protection.
👉 Price: must be quoted and is available upon request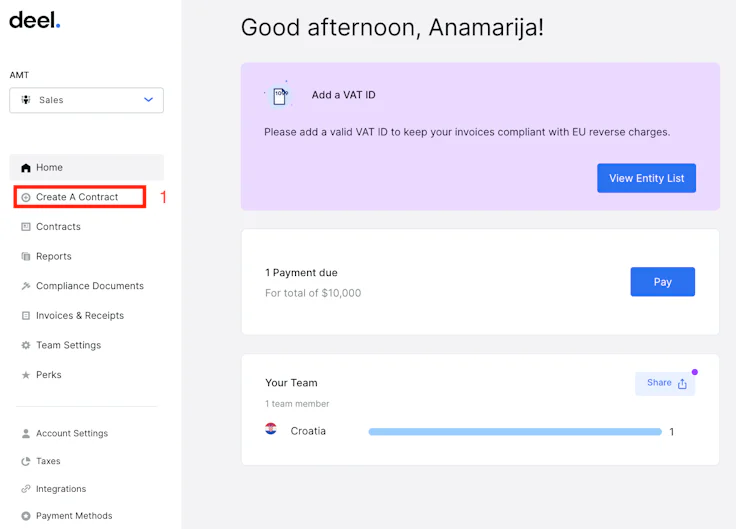 Remote
Remote is a leader in developing, managing, and supporting globally distributed teams, The software helps companies recruit and retain the world's best talent, no matter where they are located. With experts located in more than 60 countries, Remote provides all the tools and support companies need to manage onboarding, payroll, benefits, relocation, and other services for their employees.
Remote is a trusted software publisher and offers a complete and integrated software package:
complete payroll management: issuing pay stubs for local employees, benefit administration, etc.,
manage legal obligations related to payroll since they are already integrated into the software,
automatic updates to keep up with current legislation,
data hosted in a highly secure manner.
🚀 The features:
Remote has local legal entities in 60 countries. This means that no third party is involved with your employees, finances, or sensitive data.
Remote IP Guard: This functionality allows you to protect your intellectual property and invention rights globally.
Local compliance and international tax: With local entities around the world, Remote can adapt to each country where they operate and update their policy.
Freelance recruitment: Remote is not only a payroll software but it is also a recruitment platform helping you hire global talent.
Employee records: This feature allows you to manage full-time workers around the world by adapting to the regulations of each country.
Customer service available 24 hours a day, 7 days a week.
👉 Price: must be quoted and is available upon request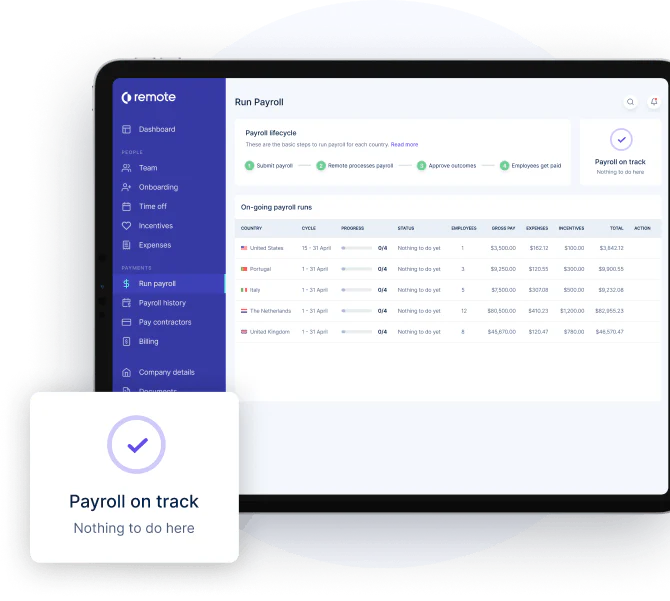 SAP
SAP offers several payroll packages and many associated modules from financial management to HR management, including business intelligence, workforce and customer relationship management. Because SAP's offer is so modular, your company will be able to access a wide range of features based on your specific business needs.
Compared to other global payroll software such as Payfit or Papaya, the aspect that makes SAP different is its ease of use. The interface is intuitive and customizable so that teams can set it up to fit their work style.
Its strengths:
adapts to all sectors of activity,
infinitely configurable and adaptable to your organization,
visualize payroll information over several years,
benefit from training to help you get started.
🚀 The features:
management of all accounting processes: account entries, cash receipts, and disbursements, etc;
management control: cash flow management, budgetary control and cost monitoring
fixed asset management;
bank reconciliations;
financial analysis and reporting.
👉 Price: must be quoted and is available upon request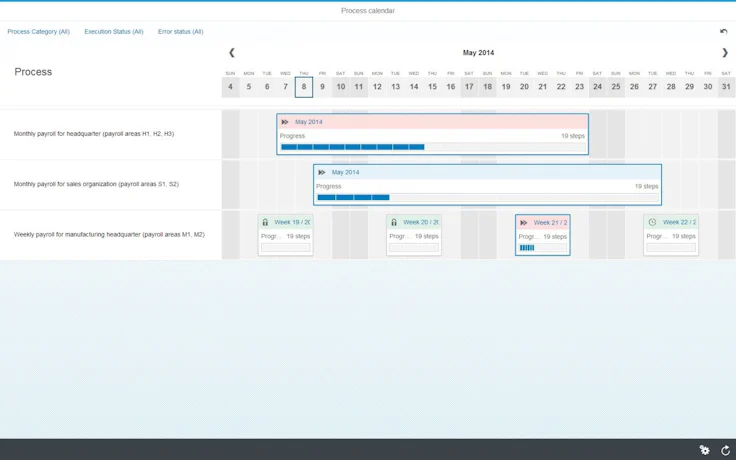 PayFit
PayFit allows you to automate the distribution of your pay stubs and social contributions. Its interface is very intuitive and its customer support is reactive so that your business can get help when needed.
Your data and information are encrypted and saved, guaranteeing their integrity, traceability, authenticity, and confidentiality at all times.
Telepayments can be scheduled in advance as well as automated newsletter emailing to workers. Employees also have access to a dedicated space where they can modify their information and enter their expense reports and leave requests.
🚀 The features include:
pay stubs: automated payroll, HMRC RTI & pensions submissions for UK based employees, and software integrations.
administration: streamline your HR management processes, give access to employees, assign responsibilities to managers.
employee leave and absence management: easily add leaves and absences, request the validation of managers, get an overview of the days of absence.
expense reports: provide dashboards and customizable reports, synchronize your data from different sources.
👉 Pricing: must be quoted and is available upon request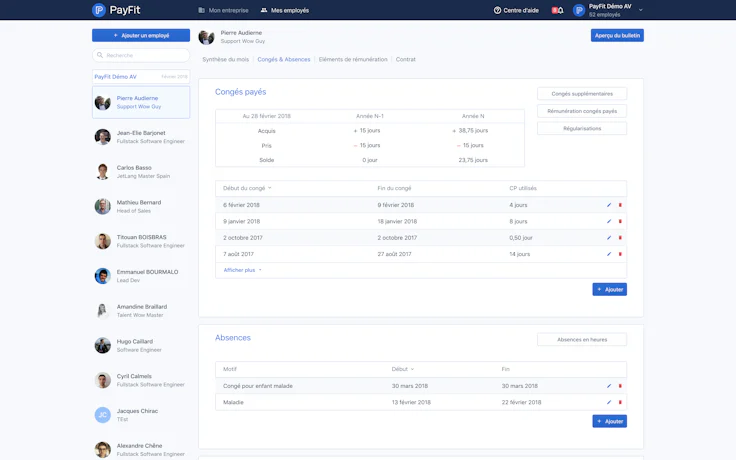 Payoneer
Payoneer is an online international payroll software that helps you send and receive international payments to and from companies and marketplaces in different countries.
This software is designed for business owners, professionals, freelancers, etc. With over 4 million customers, Payoneer allows businesses to pay all your contractors in +20 countries in the local currency with low transfer fees!
🚀 The features:
Get paid:
Local receiving accounts
Request payment from clients
Connect to different marketplaces and networks such as Upwork, Airbnb, Fiverr, 99Designs, and iStock
Manage your funds:
Easily transfer funds to your company's bank account
Manage various currencies at the same time
Make international purchases
Have an overview of your global e-commerce
Payroll:
Pay all your collaborators
If you're doing business in Europe, easily pay EU VAT with low transfer fees
Set up automatic payments for employees
👉 Pricing: must be quoted and is available upon request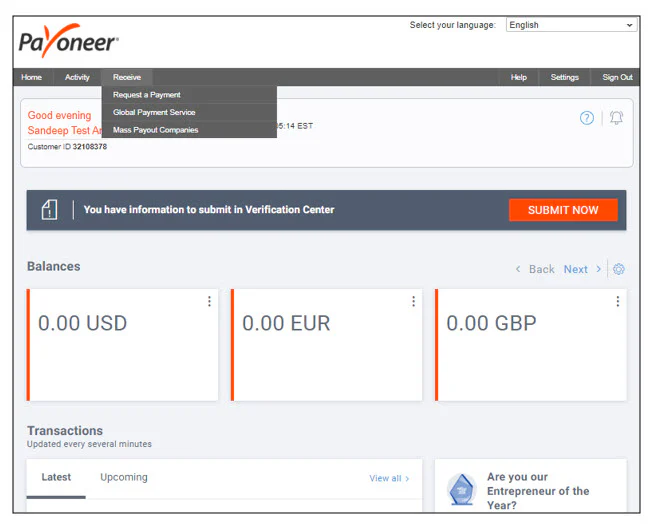 This comparison table goes over the main advantages of each different software options. It will help you summarize the target and the main asset of each software.
Best practices: How to choose the best international payroll software
You still don't know which software to choose to manage your international payroll? Here are some tips to make your decision-making process easier!
Know what you need
There are several elements to consider in your search, such as
the size of your company,
your sector of activity,
and of course, your budget. There are some very high-quality free solutions, especially if you manage a small company.
Don't forget to take into account the hidden costs of these solutions: training, paid options, reduced number of employees covered, etc. On the other hand, professional solutions offer a wider functional spectrum and guarantee legal compliance.
Ease of use
The payroll software must be intuitive and easy to use. It is essential that you can easily integrate your data and that you can easily edit your pay stubs.
The integration cost
The cost of an on-premise software may seem reasonable at first. But you must also budget for the numerous updates that will be essential. Otherwise, while purchasing an online payroll software, you pay a monthly subscription fee and do not have to pay for updates.
Software update
In the accounting or human resources field, there are frequent changes that can occur to work regulations and legislation. International payroll software must be updated very regularly to maintain a legal framework for establishing salaries. Therefore, when choosing payroll software, make sure that the supplier offers these updates consistently.
Key takeaways
Sometimes, it is much more interesting to invest in paid software for a lower cost in the long term. It can save you a lot of time, which is not a negligible resource either.
Make sure that your solution can evolve and scale according to your growth ambitions. This evolution starts with its capacity to manage an increasing number of employees if necessary.
The choice is up to you!
Best tools for you