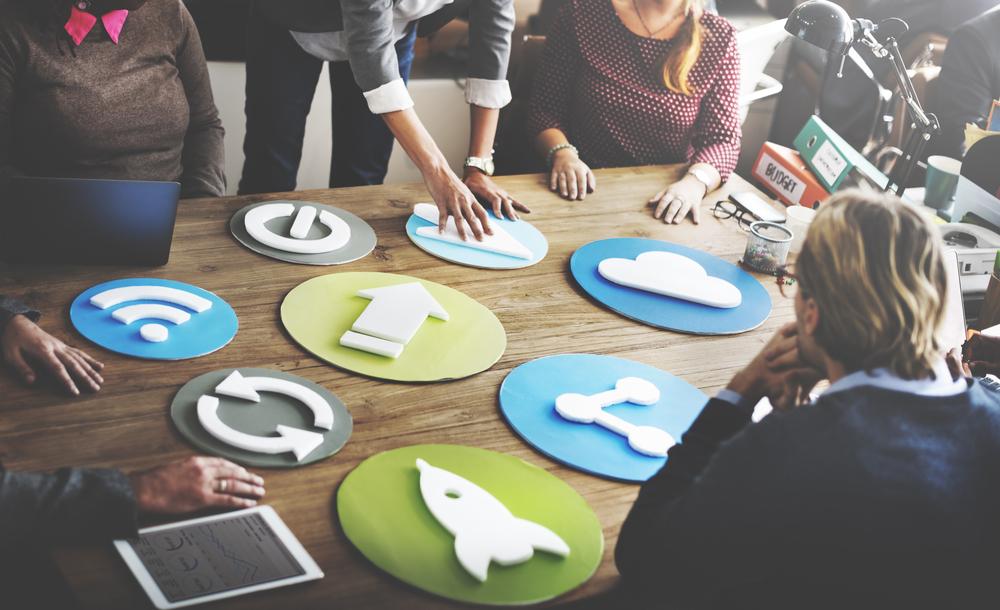 OpenProject
Presentation of OpenProject
OpenProject is a SaaS software, with advanced technology and features that was designed in the United States. It is an open-source project management software, complete with many practical features for the proper functioning of a company.
Plan your projects efficiently
For an activity to run smoothly, it is essential to have a good level of team mission planning. OpenProject provides all the necessary functionalities for the management of your teams' tasks.
Optimal visibility on all your tasks thanks to a functional dashboard

Plan transparently by including all stakeholders

Analyze the required activities and create a detailed plan that shows how and when the project will provide deliverables.
OpenProject is a great tool to support agile product development and methodologies such as Scrum and Kanban. Use agile boards to organize and prioritize your work with your team.
Inform teams quickly and easily
OpenProject is a web-based software, so it allows all project team members to access all information at any time

Collaborate and communicate to ensure that all activities are recorded in the system

Set up meetings and inform others about them in a few clicks
What are some advantages of using OpenProject?
Data is collected at OpenProject, so usage is secure on a daily basis. This project management SaaS offers functions such as project planning, as well as project visualization and tracking. OpenProject is available on any operating system, through a browser, since it is a software as a service or SaaS application. Updates and maintenance will be performed by OpenProject so that your company can always benefit from the latest versions of the software.
Pricing
OpenProject has straightforward pricing with five different plans that fit your company size. The software can either be hosted as a Cloud-based service or On-premises with monthly or annual payments available for the Cloud and annual payments only for on-premises. Multi-year payments also will receive discounts based on the duration of your contract. The pricing for plans is calculated per user per month, although paying per month incurs an extra $1.25 per user.
Community - Free (doesn't offer premium features)

Basic - $7.25/user (5 minimum users)

Professional - $13.50/user (25 minimum users)

Premium - $19.50/user (100 minimum users)
Corporate - On request (250 minimum users)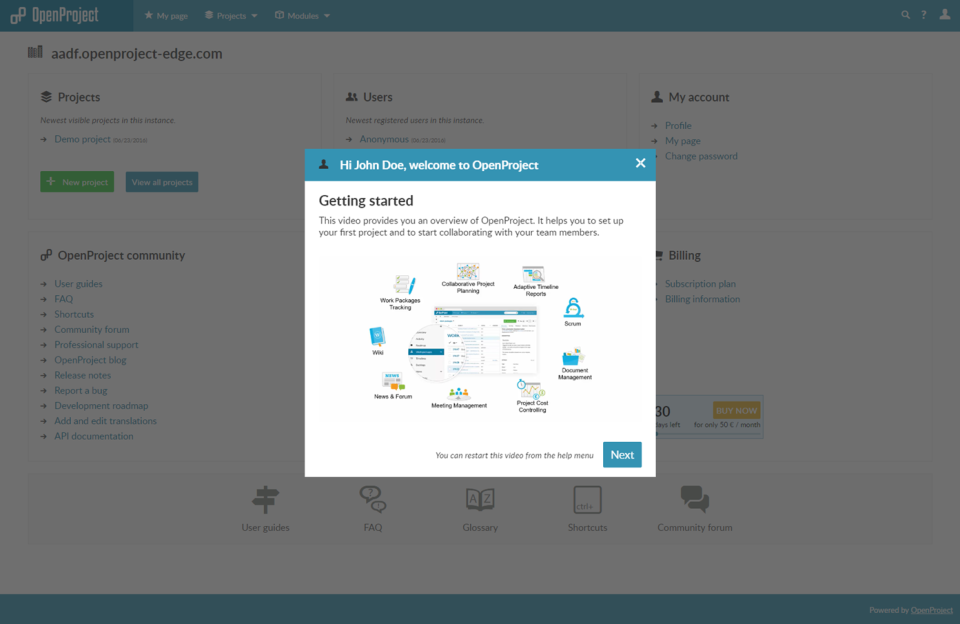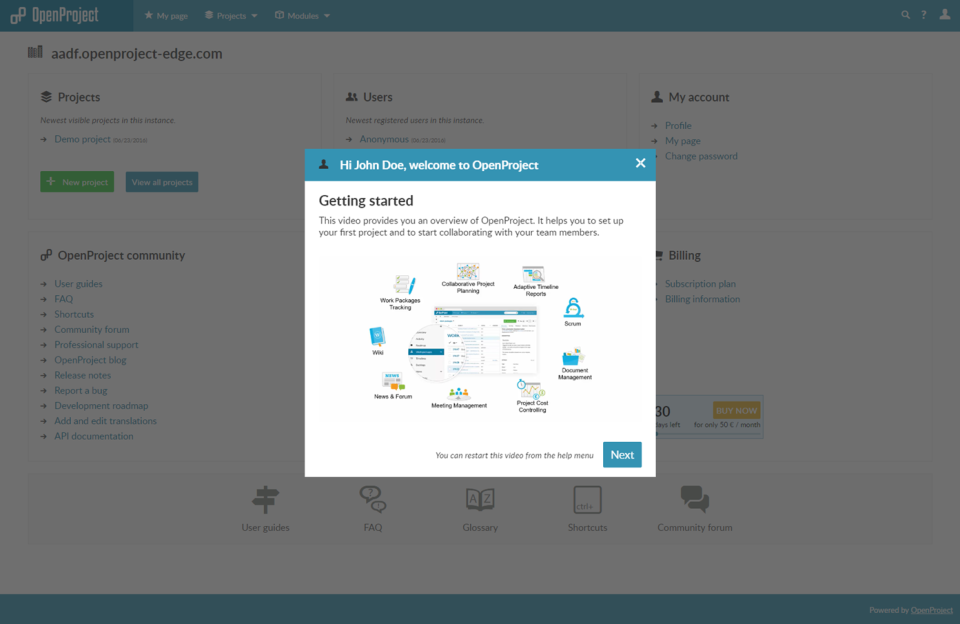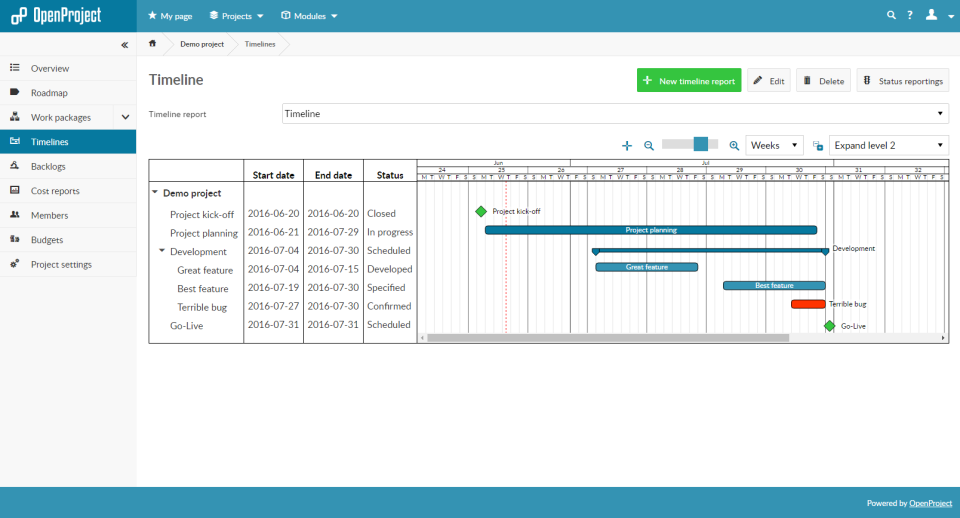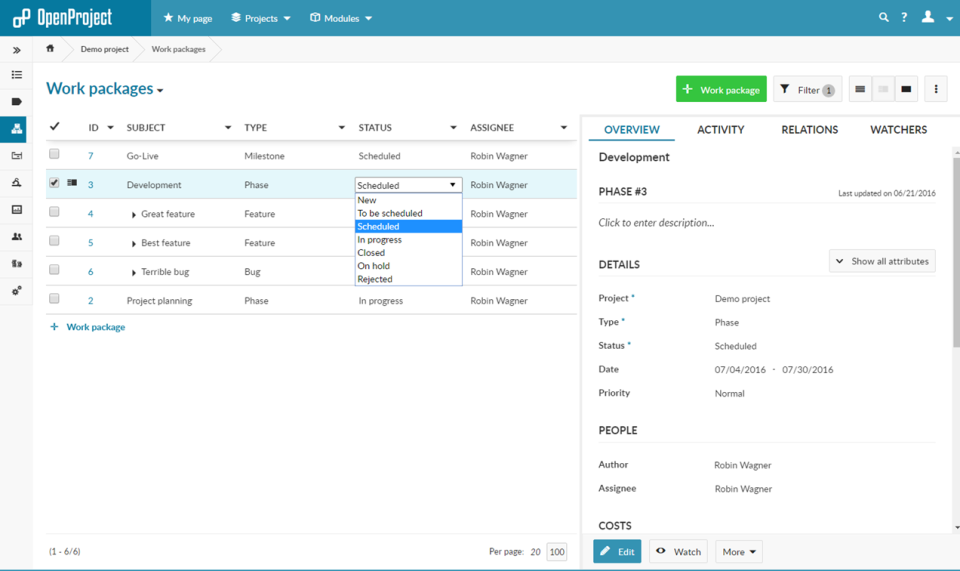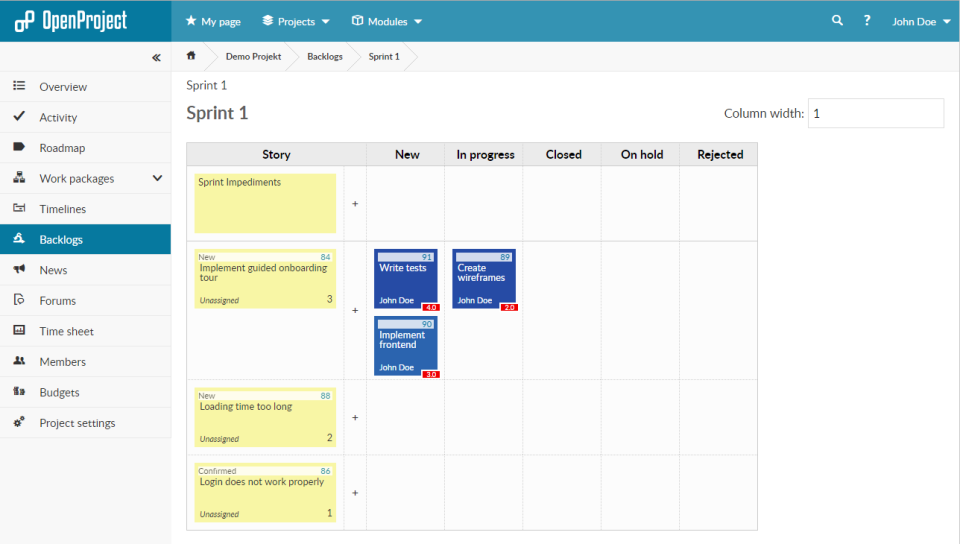 Prices and features of OpenProject
Project Management
Macroplanning & Reverse planning
+ 15 other features
Customer reviews about OpenProject (0)
No reviews, be the first to submit yours.
Our test on OpenProject
What is OpenProject?
OpenProject is an open-source project management system that will allow users to work in a secure environment. Projects can be managed classically or by using agile or hybrid methods. The software allows you to plan and schedule projects while tracking responsibilities and progress.
Beyond project planning, scheduling, and agile project management some of the most common uses for the software are task management, time tracking, cost reporting, budgeting, product roadmaps, release planning, and more.
The OpenProject software is meant to work in a variety of industries and businesses to provide efficient project management. This includes industries such as Construction, Education, IT, Healthcare, Engineering, Banking, and more.
How does OpenProject work?
OpenProject has tons of functionalities that will help you on your way through any project that your team chooses. We'll go over some of the most essential functions and features that OpenProject offers to help you determine if the software is right for you. Main functions include project planning, task management, agile development, time tracking, product roadmaps, workflows, and more.
Project Planning
Create projects with templates and get overall project views with dashboards

Schedule using work packages (tasks, features, phases, milestones, etc.) and view project work through calendars and Gantt charts
Task Management
Create dynamic task lists with specific assignees and watchers

Keep up to date with notifications, comments, and activity history on work packages

View the information you need with filtering, grouping, and multi-project views
Agile Development
Work using agile development with agile boards and Kanban boards

Visualize work better with Work breakdown structure, Team boards, Version Boards, Backlogs, and Taskboards
Time Tracking
Easily track time on specific work packages or projects with time reports

Efficiently complete cost reporting and budgeting with assigned pay rates to visualize labor costs
Product Roadmaps
Analyze different versions or projects with metric-based overviews

Schedule and plan product timelines with product features and tasks
Workflows
Define work package workflows with customer themes and actions

Create and manage groups and assign them to various project aspects with various roles and permissions
OpenProject Pricing Plans
OpenProject has five different plans that grow in user size for your company's needs with a free 14-day trial. The five plans offer mostly the same features while differing in the number of minimum users for each plan as well as increased support for higher plans. The community plan, unlike the others, does not offer premium features such as:
Project boards (Agile, Kanban, Team, Version, Subprojects)

Custom forms and fields

Intelligent workflows

and more…
The software has two hosting options:
Cloud (Monthly or Yearly subscriptions available)

On-premises (Yearly subscriptions only)
Prices are calculated per user per month, while monthly contracts will incur an extra $1.25 per user. If you require more users, they can be added in increments of 5. Multi-year payments are discounted based on the duration of your contract (5 months free for 2 years, 8 months free for 3 years, 11 months free for 4 years, etc.).
Community

- Free (doesn't offer premium features)

Basic

- $7.25/user (5 minimum users)

Professional

- $13.50/user (25 minimum users)

Premium

-

$19.50/user (100 minimum users)

Corporate

- On request (250 minimum users)
Reviews
The OpenProject management software has an average rating of 4.2/5 on major testing platforms. Most users tend to enjoy the fact that there is a free plan even if it doesn't offer all the features, but some do have some difficulty with the user interface.
The Advantages of OpenProject
Deployment Flexibility
Software options today don't always offer flexibility when it comes to how to implement a software solution. OpenProject caters to the needs of companies that want an on-premise system, meaning that your business will be able to have full control over your software and data.
Open Source
The open source nature of OpenProject is an advantage for both the community of users and the security of the software. Since the code is open, it can be reviewed by others more easily and potentially decrease the chance of bugs or issues that could instead be caught by others.
Agile Projects
The various views and boards that OpenProject offers is great for more efficient project management. Whether you're using the classic view, Agile boards or Kanban boards, your company will have a wide variety of features that make your projects easier to complete while promoting speed and collaboration.
OpenProject Disadvantages
User Interface
One of the disadvantages of OpenProject is a user interface that isn't completely intuitive. It may take users some time to understand all the different features and capabilities of this project management system. Although, once you've passed the slight learning curve, you'll be on your way to easily planning and finishing your next project.
Integration Support
Although there is an API available as well as some integrations, it might not have everything that your team requires. OpenProject currently has limited integration with software such as Slack, GitHub, Toggle, Microsoft Project for synchronization. Which means that unfortunately some of your favorite tools might not integrate with OpenProject.
Our opinion on OpenProject
OpenProject management software can be a great choice for companies that want to improve their project management for a reasonable cost. The features that are included outside the community plan can be very useful for any type of industry or project. Even for free users, there are great functionalities available to plan, schedule and get an overall view of your projects.