Taiga: in summary
Taiga is an Agile project management tool
Taiga has a rich and complete feature set with extensive customization options, at the same time it is very simple to start with through its intuitive user interface.
Whether your team uses Scrum, Kanban, Scrumban or just want to track issues, Taiga an ideal tool. Its features include an intuitive backlog and sprint planning, a sprint board with swim-lanes per user story and a sprint dashboard with a burn down chart, fully customizable Kanban boards with WIP limits, Epics, sub tasks, issue tracking and a Wiki function. Furthermore, you can specify different team roles, estimate story points per role and move unfinished user stories to other sprints.
The project timeline and projects dashboard provide an easy overview of activities while the sprint and team performance dashboards are focused on closed tasks, points from completed user stories and specific elements like issues reported and Wiki pages edited. There is also a unique estimation game to determine (relative) size of different user stories.
What makes it stand out is the intuitive user interface. This makes Taiga particularly useful for multi-functional teams and/or client teams. The zoom function for the Kanban and Sprint boards allows to easily move from overview to detail view and back and the tool is available in over 30 languages.
Integrations with Slack, Hipchat, GitHub, Gitlab, Mattermost are pre-configured. A lot more integrations are possible through easy to configure webhooks and an extensive API set. If you are currently working with Trello, Asana, Jira 7 or Github, you can seamlessly import your project data.
Taiga offers a 30-day free trial (no credit card required). The Premium plan costs $7 per month per user for unlimited private projects.
Its benefits
Taiga is easy and intuitive yet powerful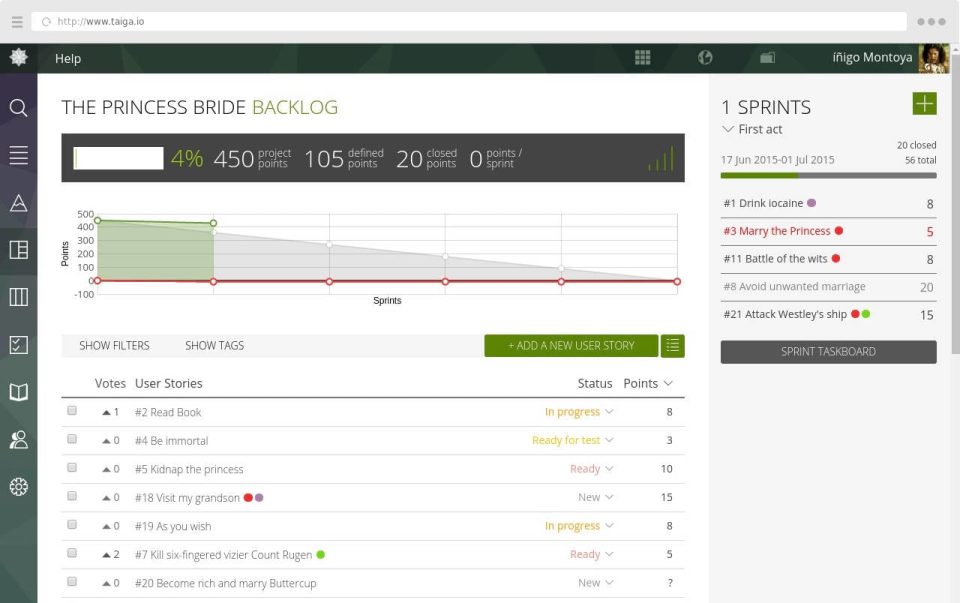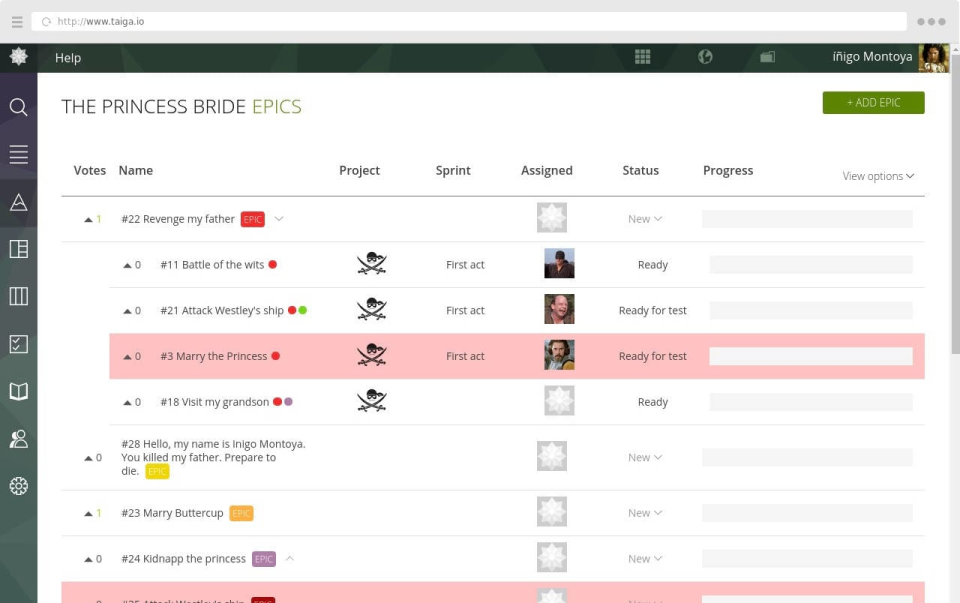 Taiga: its rates and features
| | | |
| --- | --- | --- |
| | | |
| | | |
| Integration & Interoperability | Integration & Interoperability | Integration & Interoperability |
| | | |
| | | |
| | | |
| | | |
| | | |
| | | |
| | | |
| Assessment of Tasks to Be Completed | Assessment of Tasks to Be Completed | Assessment of Tasks to Be Completed |
| | | |
| | | |
Appvizer Community Reviews (0)
The reviews left on Appvizer are verified by our team to ensure the authenticity of their submitters.
No reviews, be the first to submit yours.