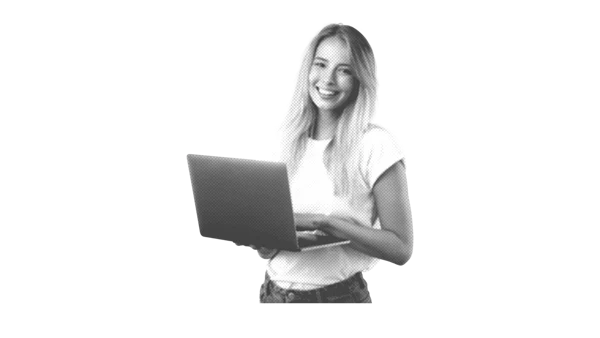 Which Accounting Software Should your Company Choose for its Bookkeeping?
Choosing the right type of accounting system is an important decision for the bookkeeping in your business. How can accounting software be of interest to your company and what benefits can it provide? What criteria should be used? Accounting is often perceived as a constraint but it is nevertheless the key to successful business management. Therefore, choosing the right software is not an easy decision.
The range of accounting software is very extensive in the market and the functionalities are very diverse. Are you confused? To choose wisely, start by defining the functionalities you expect from your tool, the budget you can allocate to it and by taking into account your business sector. Some software is more oriented towards small business accounting while others are more suitable for large business accounting.
This article guides you in your quest for the ideal accounting program. What if, at the end of the reading, you had found it?
What is Business Accounting Software?
A business accounting software program allows you to maintain your accounts and automate accounting tasks. It centralizes your company's accounting data within a single tool and streamlines processes. It covers all aspects of business accounting:
General accounting: input/output, generation of accounting entries, budget preparation, budget management, accounts, balances, journals, general ledger, etc.
Billing and invoicing: quotation and invoice management, purchase orders in a few clicks; supplier management
Tax return and payroll taxes
Capital asset management, etc.
However, not all accounting software integrates all these aspects of accounting. Read on to find the software that best suits your needs based on your use.
Such software also allows you to better monitor your accounting through performance indicators and dashboards to manage your activity.
Why Should You Use Software to Manage Your Corporate Accounting?
Do you think Excel is enough to manage all aspects of your accounting? Have you always done this and do not have any interest in changing? It is time to professionalize your accounting management.
In many ways, accounting software is an essential tool for managing your corporate accounting.
Reduced risk of error
Forget manual entries that increase the risk of error (entry, pointing, etc.) and the time spent correcting them.
Process automation
Finance software automates your tasks (sending invoices, VAT management, for example) and saves you time.
Legal compliance
Automatic updates allow you to always be in compliance with the law, such as the anti-fraud law that came into effect on January 1, 2018.
Anticipation
You have better visibility into your accounting reports, allowing you to plan your company's strategy more accurately.
Criteria for Choosing Business Accounting Software
Appvizer guides you through the criteria to consider when selecting the accounting software that best suits your needs. To further explore your options if you are uncertain about where to begin, you can ask your accountant for help. They will be able to guide you through the business aspects to be taken into consideration when making your decision.
To put it simply, you have two main questions to ask yourself:
What is my budget? (Will I switch to free or paid software?)

What features do I need?
If we go into detail, here are some examples of questions to ask to make sure you make the right choice:
What is the size of your company? Certain accounting solutions are more oriented towards VSEs, SMEs or large companies.
Do you need a specific software for your sector of activity?
Do you use a certified public accountant? If so, how to manage communication with them?
Should the application only handle accounting or other management functions (invoicing, collection management, etc.)?
Should your accounting software be connected with your existing tools?
Would you like to manage your accounting via a dashboard?
How many users are going to be accessing the data?
What level of data protection do you require?
Are you ready to learn how to use a tool or should you start using it immediately?
In any case, keep in mind that these accounting systems often provide free trial offers. You can then try the tool and decide whether or not to invest in it.
Final piece of advice to help you in your decision. Check that your accounting software:
Has a functionality for exporting the accounting entries file. This file is to be submitted to the tax authorities in the event of an audit. Avoid unpleasant surprises…
Complies with regulations regarding the security, conservation and inalterability of financial data.
Accounting Software Advantages and Disadvantages
Advantages
Cost optimization
By automating your accounting document production, and your accounting in general, you save time that you can reinvest in higher value-added tasks. For example, manual entries are replaced by automated tasks, which also reduce the risk of errors.
Reduced risk of errors
Using software rather than an Excel spreadsheet, for example, reduces errors related to duplicates, incorrect entries, obsolete formulas, confusion (HT versus TTC), etc.
Automatic updates
Updates, whether functional or legal, are automatically carried out in online accounting software. These changes are not noticeable to the user as they have no need to manually update their tool. In addition, you are guaranteed to use software in accordance with the regulations in force. Be careful, however, not all free accounting software includes it in their offer, as opposed to professional software.
Free accounting software, the cost-effective solution
There is free software that may be more than enough to meet your needs. They are more suitable for VSEs and startups and even SMEs. They are free of charge and are a strong incentive if they offer all the features you need.
Easy to learn and use
Accounting software in SaaS model offers a quick and simple way to learn the basics through careful ergonomics.
Collaboration integrated with accounting software
Collaborative work is now also a matter of accounting. Share your accounting data with your colleagues, with the possibility of setting the rights for each one (reading, modification), as well as with your accountant to facilitate exchanges.
Take your accounting with you wherever you go
Some solutions offer a mobile application to access your accounting on smartphones or tablets. Cloud solutions allow you to work wherever you are as soon as you have access to the Internet.
Disadvantages
Limited number of files managed
Free and simple accounting software offers the management of a single accounting file. Depending on your company's needs, this may not be enough.
Accounting skills required
Some tools require accounting knowledge for optimal use of the solution. Find out about training needs or hire a certified public accountant, if necessary.
Are there really free accounting tools?
Some so-called free software has hidden costs: paid options, need for training to get started with the solution, number of additional paid files, etc. It may be that upon entry, your free software is no more advantageous than a professional solution, so be careful.
Comparison: The Best Accounting Packages
There are many affordable and professional accounting software packages on the market. We have selected six solutions to help you choose.
Comparison table of accounting software:

| | | |
| --- | --- | --- |
| Software | Companies Affected | Main Principle |
| Freshbooks | VSEs | Time Tracking & Invoicing |
| Gusto | Small Businesses | Payroll, HR, Benefits |
| NetSuite | SMEs & Large Companies | Lifecycle Management |
| Sage Accounting | All Enterprises | Structural |
| Zoho Books | All Enterprises | Integration |
FreshBooks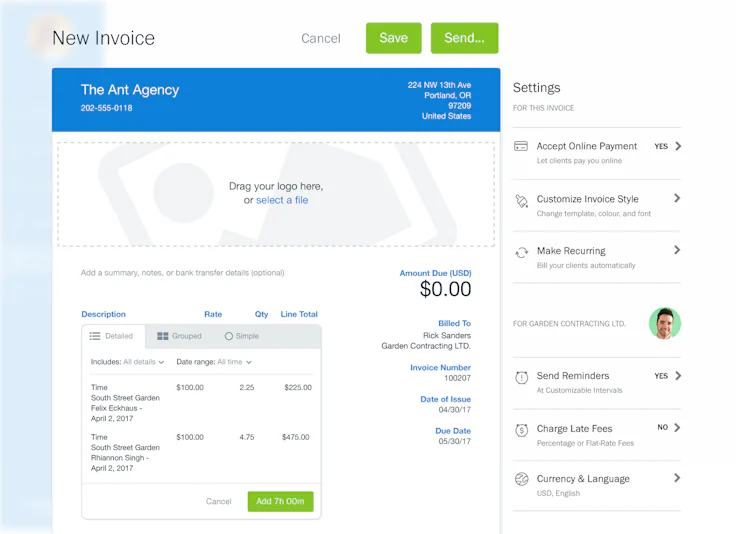 FreshBooks assists you with sending as well as managing invoices electronically. This accounting management software is very user-friendly and is particularly suitable for those who do not like to be involved in administrative tasks.
Advantages:
Only requires a few seconds to create
You will be able to save working hours and have them automatically entered in an electronic invoice
All files and feedback will be kept in one central location
Mobile app lets you stay connected with clients from anywhere

All-In-One Small Business Invoicing and Accounting Solution
Learn more about FreshBooks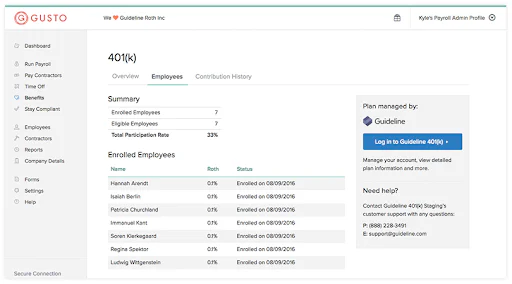 Gusto is a complete platform for managing payroll, benefits administration and compliance. It is intended for smaller companies across the US in order to supply the necessary resources for managing the fundamental HR requirements of time tracking, onboarding, training, and more.
Advantages:
Employees can complete the required personal information in the system themselves
Automation of HR payroll transactions
Employees have the option of donating a portion of their salary to charitable organizations
NetSuite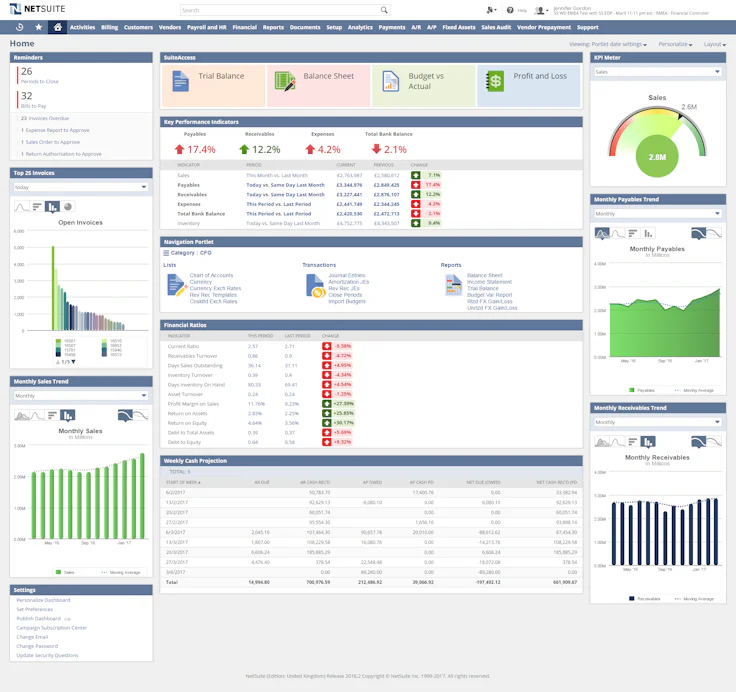 NetSuite software is the only full web CRM solution that addresses the entire life-cycle of customer relationships. This software solution lets you monitor your business opportunities, orders, sales follow-up, additional sales and parallel sales. It also enables you to manage all critical components of your business such as the control of your company's growth, personnel management, marketing, and financial management of your company. Essentially, this CRM delivers extensive and detailed reports that include all your customizable KPIs.
Advantages:
Simplify operational procedures to provide the necessary tools to accelerate business development
Integrate information into a single graphical view to produce significant and manageable market intelligence
Conveniently enhance and personalize features
Sage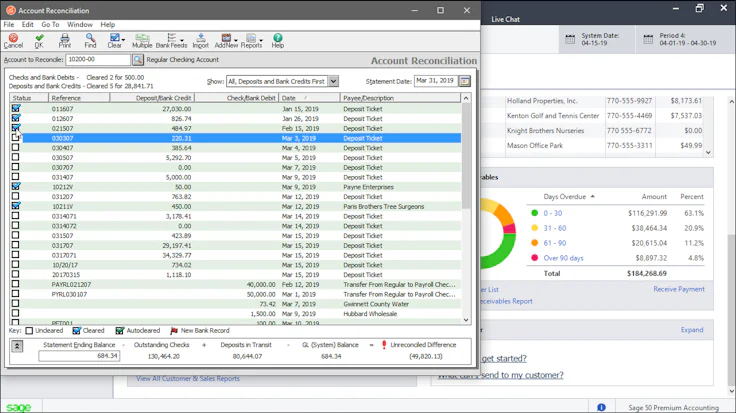 Sage Online Accounting makes your accounting procedures easier. You can increase productivity by speeding up the entry of your accounting data. This software offers ready-to-use files as well as configurable writing templates. You can control your activity by monitoring your cash flow, any delays from your customers, etc.
Advantages:
Wizards simplify data entry
Comprehensive monitoring through key performance indicators
Modular functionalities to adapt to your business
A mobile application to manage your accounting wherever you are
Tailor-made services for your needs
Zoho Books

Zoho Books has many features including general accounting, cash flow monitoring and balance sheet management making it one of the most efficient software solutions on the market. Zoho Books follows a SaaS model meaning that the software will be within your reach minimizing storage constraints, backup and security. This software will overall assist you in making smarter business choices and will help you maintain control of your business.
Advantages:
Automatic updates offer the latest software
Connect Zoho Books to your bank and get a real-time update on your cash flow
Monitor transactions and categorize them instantly

Intuitive Cloud Accounting Software
Learn more about Zoho Books
What is the Right Accounting Solution for your Company?
Comparative table of accounting software:
FreshBooks
Quickbooks
NetSuite
Sage
Zoho Books
Gusto
Criteria 1: Updates
Yes
Yes
Yes
Yes
Yes
Yes
Criteria 2: Getting Started
Webinars
Support
Discounted Training/ Educational Resources
Customizable Services
Webinars
Help Center Articles
Criteria 3: Interactions with CPA
Yes
Yes
Yes
Yes
Yes
Yes
Criteria 4: Support
Online Assistance
Unlimited
24/7 Critical Access
Assistance 24/7
Online Assistance
Online Assistance
Criteria 5: Collaborative Tool
Yes
Yes
N/A
Yes
N/A
N/A
FreshBooks
Quickbooks
NetSuite
SAge
Zoho Books
Gusto
Criteria 6: Data Hosting
United States
United States
United States
Ireland
N/A
N/A
Criteria 7: Mobile Application
Yes
No
Yes
Yes
Yes
N/A
Criteria 8: Pricing

$15/Month (Lite)

$25/Month (Plus)

$50/Month (Premium)

Starting at $10/Month

Price includes 50% discount that is now available at appvizer

N/A
Starting at $25/Month

$9/Month (Basic)

$19/Month (Standard)

$29/Month (Professional)

$6/Month/Person + $39/Month Base (Core)

$12/Month/Person + $39/Month Base (Complete)

$12/Month/Person + $149/Month Base (Concierge)
Bonus: New Tools for Small Businesses
Comparative table of accounting software for small businesses:

| | | |
| --- | --- | --- |
| Software | Enterprise Size | Principle Factors |
| azopio | VSEs-SMEs & Startups | Organization of financial documents |
| sevDesk | SMEs | Digitization of documents |
| MoneyWatch | Small businesses, startups, entrepreneurs, associations, clubs, etc. | Create chart of accounts using templates |
Azopio
Azopio is an online solution that automates the collection, filing and processing of invoices & bank transactions from any location. Very simple and efficient for SME's and startups, it relieves them of repetitive administrative tasks, ensures healthy administrative procedures and enables them to save productivity and time.
Advantages:
Retrieve and organize your electronic banking documents automatically as well as their essential data
Simply connect cloud storage and accounting platforms
Safely transfer documents to other users
Transfer emails as well as attachments straight to the Azopio platform

Collect and Connect your documents to the Cloud
Learn more about Azopio
MoneyWatch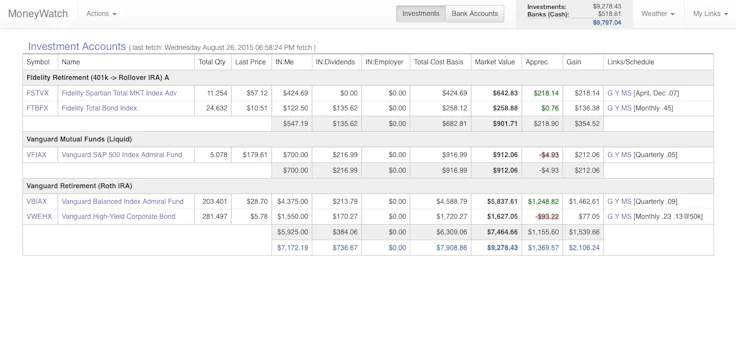 MoneyWatch is a cloud-based accounting software application for small businesses, entrepreneurs, startups, etc. Quickly build a chart of accounts from templates, maintain existing and new accounts, keep track of all users, and generate initial entries.
Advantages:
Build your accounting chart from samples
Manage accounts and leads
Generate journal entries and customize statements
Easy transfer of financial information
sevDesk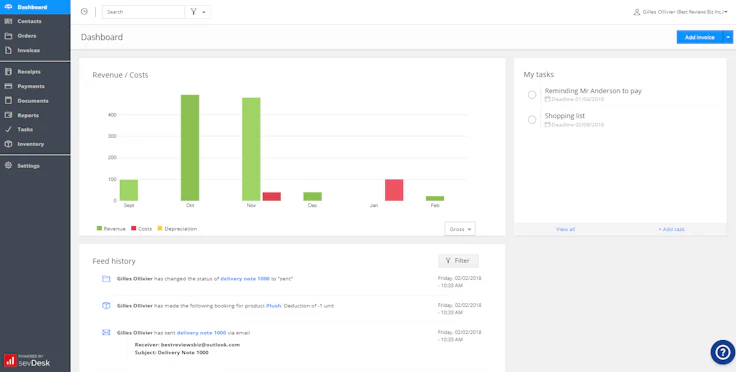 SevDesk is a web-based billing and accounting software that can be upgraded to a full management system. SevDesk enables entrepreneurs to perform their daily accounting tasks simply and without any prior expertise. They are able to dedicate time for their primary work and accounting expenses.
Advantages:
Digitizations of receipts
Generate professional bills
Create a cancellation statement quickly and easily
With online banking, you can access your banking information right from your account
Ready to Automate Your Accounting?
Accounting software is abundant on the market. So how do you choose the one that suits your company's needs? Does your budget force you to use free software or can you move to a more complete pro software? Which features are essential to you and which ones are not?
Depending on your accounting knowledge, and therefore your training needs, you will prefer a software that is easy to use, such as Itool Accounting, or a more complex software that offers training to users.
Accounting software is now collaborative and accessible from anywhere on the Internet. Their functionalities are extensive and may also include management functions.
Whichever software you choose, it will allow you to optimize your accounting processes and produce accounting entries with greater efficiency. All you have to do is try a free trial version!
Best tools for you