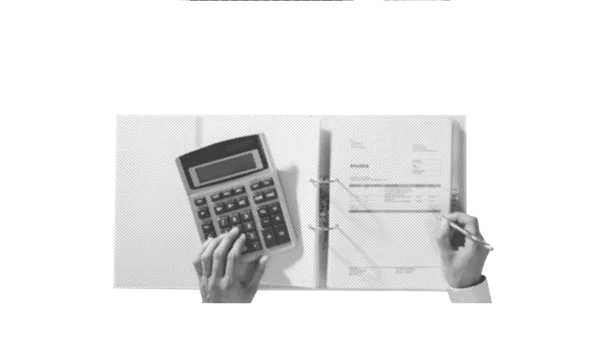 10 Best Free Accounting Software That You Need To Try!
If you're looking for the best free accounting software, you're in the right place.
As your business starts to gain momentum, you are probably considering using software to manage your accounting. The goal? Save time, so you can focus on your core business. But, cash flow doesn't always follow.
The smallest organizations are therefore quickly tempted to look for good free software to minimize their costs while benefiting from the essential accounting features. But, is there actually effective free software? Can open-source options be a relevant alternative?
There is a wide range of good free accounting software on the market, now you just have to choose the best one for your business. Don't worry, we'll help clear things up with our comparison of the best free accounting software.
Free accounting software: Which criteria should your business look for?
To compare the best free accounting software, we studied various criteria, including:
the reputation of the software,
its differentiating elements and its value proposition,
the targeted sector of activity, and the target company size.
In addition, free software was of course the guiding factor in our research. But, it can be complicated to find complete accounting software that is totally free.
Consequently, this article will sometimes deal with free software that is limited in functionality, but interesting for a small organization, especially in terms of invoicing and pre-accounting management.
You can also check out open source accounting software, which generally offers very complete alternatives.
💡 Good to know: Open source software is often free, using code that is made available to the public so that anyone can read, modify or redistribute it.
In this comparison, we will discover the 10 best free accounting software:
Akaunting
BrightBook
CloudBooks
GnuCash
QuickBooks
SlickPie
Sunrise
ZipBooks
Zoho Invoice
Wave
Comparison table of the best free accounting software
Akaunting
What is Akaunting?
Akaunting is a free, open-source, and online accounting software designed for small businesses and self-employed professionals. This free software helps you manage everything from invoicing to expense tracking and accounting. All for free! There is no limited or free trial, it's completely free.
Akaunting is an online software, so everything is in the cloud. You can access your information anywhere, anytime, and on any device. Furthermore, as a free open source software, you can modify the software as you want without any fees. Your data security is also a priority in this program.
Keeping track of your financial health can't be easier thanks to Akaunting!
Features
Akaunting is a feature-rich software. Discover all its free features:
Create unlimited cash and bank accounts
Manage the accounting of multiple companies
Analytics and reporting
Client portal
Set up recurring reminders
Customer summary
Tax management
Provide discounts to clients
Unlimited attachments
Create categories for income, expense, and items
Dashboard and widgets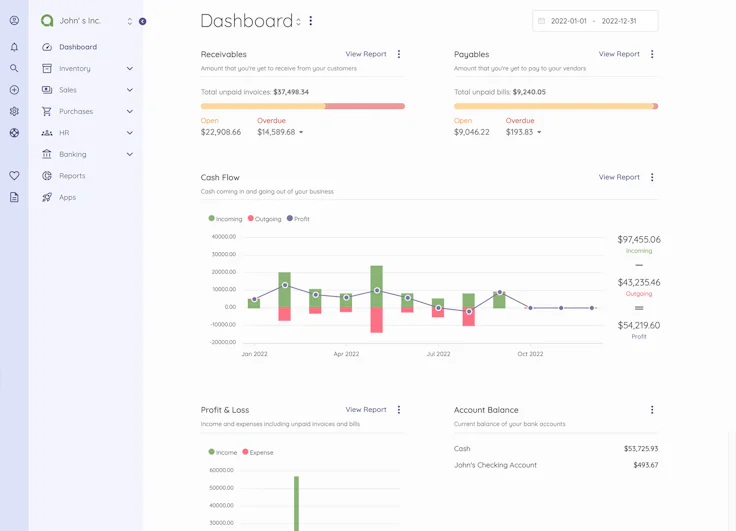 BrightBook
What is BrightBook?
BrightBook is an online free accounting software used by professionals and companies worldwide. You don't need to have accounting experience to be able to use this free software. It is a compelling, easy-to-use, and secure solution. BrightBook helps automate all the accounting processes, so you can focus on developing your company.
Lots of freelancers and self-employed individuals around the world use BrightBook not only because it is free, but also because it has powerful features such as financial report management, billing and invoicing, and accounting assistance. The only inconvenience is that this software doesn't have a mobile version like most other free accounting software on the market.
Otherwise, we can't deny the pros of this free software:
You can benefit from a complete feature package without any fees
Have an overview of your financial health thanks to analytics and reports
Easy to use
Features
What are the features that make BrightBook one of the most popular free accounting software for many small businesses?
Billing and invoicing
Instant financial insights
Import bank statements
Data backed up daily
Profit and loss and tax reports
Multi-currency functionalities
Expenses and income management
Online payments accepted
Unlimited users
Accounting management for multiple companies from a single admin panel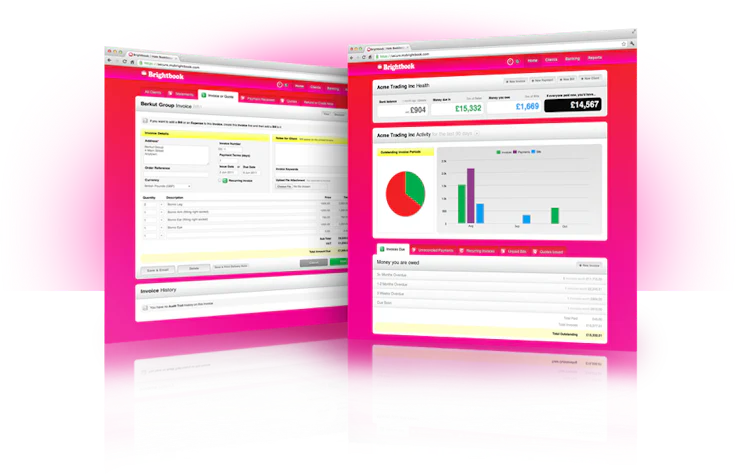 GnuCash
What is GnuCash?
GnuCash is a free accounting software dedicated to the self-employed. You can easily manage your quotes and invoices, and get an accurate view of your revenues and expenses to better anticipate your cash flow. GnuCash automatically prepares your account book from the data entered when invoicing your customers and from your bank data thanks to statement synchronization.
The functional coverage of the tool is very good, if you're just becoming familiar with free accounting software. In addition, GnuCash offers many possibilities, even for small companies whose business activity is already well underway. Otherwise, the only cons are that GnuCash does not have the most modern interface compared to other free accounting solutions on the market.
A mobile version is available for both Android and iOS. You can download the app on Google Play or Apple Store. The main weakness is that GnuCash has a smaller interface, but it is large enough to cover all the key accounting information.
Features
Here are GnuCash's free product features:
Double entry bookkeeping
Account management
Recurring transactions
Reports and charts
Reconciliation statements
Income/expense management
Track stock portfolio and manage mutual funds
Transaction searching
Data privacy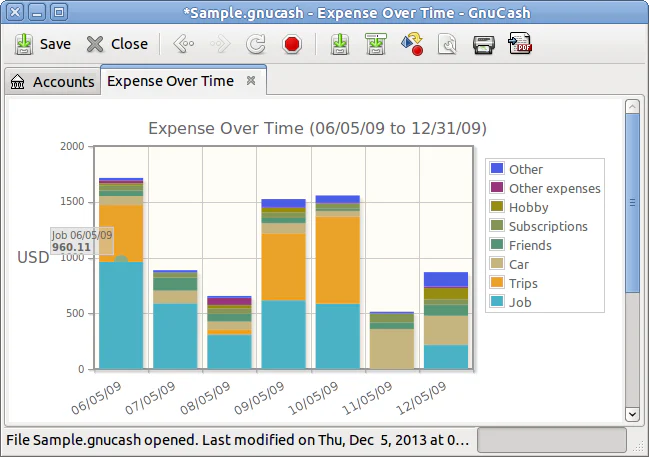 Lendio
What is Lendio?
Lendio, formerly Sunrise, is free cloud-based accounting software that helps you create quotes and estimates, track expenses, simplify tax reporting, and more. This free software provides lots of powerful features from invoicing, and financial report generators to good integration support (for example Gusto).
You can use Lendio for free but if you want more functionalities, Lendio offers two paid plans with unlimited features and users. The paid plan starts from $19/month.
Lendio is definitely an ideal tool for small businesses and entrepreneurs who need to track invoices, sales tax, and payments, manage billing and expenses, and create financial reports. All the accounting processes will be done automatically, so you can spend time on other important missions.
Lendio is a good solution for:
Freelancers
Users looking for assisted accounting
Companies looking for free accounting software
Multi-entity companies
Features
Here are Lendio's free features:
Financial health tracking
Cash flow management
Customize invoices
Generate financial reports
Expense and income tracking
Effortless payroll with Gusto integration
Submit and send quotes and estimates
View unpaid invoices
Efficient client support
Tax management
High-level data security
The main cons of Lendio are the lack of inventory accounting and project accounting. If you want these functionalities, QuickBooks might be a good alternative.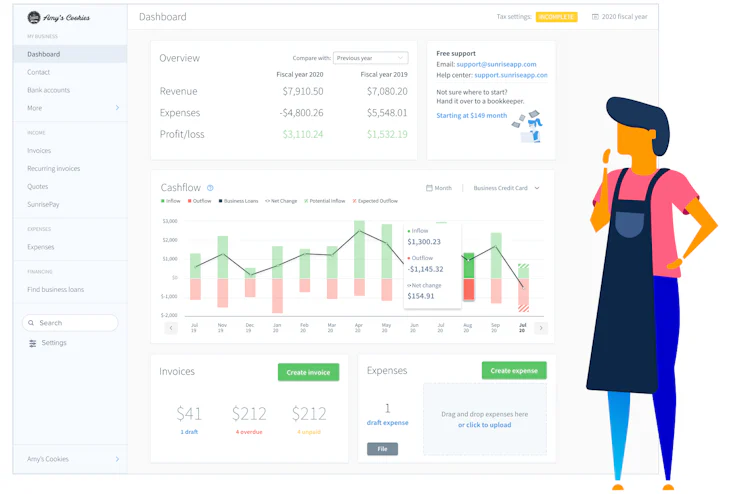 NCH Software
What is NCH Software?
NCH Software is not the best-known free accounting software, but it is quite powerful. NCH Software offers all the essential free functionalities for small to medium-sized business accounting management. With NCH Software, you can manage your accounting journals and your cash flow with ease.
NCH Software even allows you to manage several currencies, which is ideal if your business is international. Managing several bank accounts is also possible.
Features
NCH Software has a lot of good features, including:
Bookkeeping organization
Sales and accounts receivable
Financial analysis and reports
Inventory management (Inventoria)
Multiple currency support
Automatic integrated backups
Bank reconciliation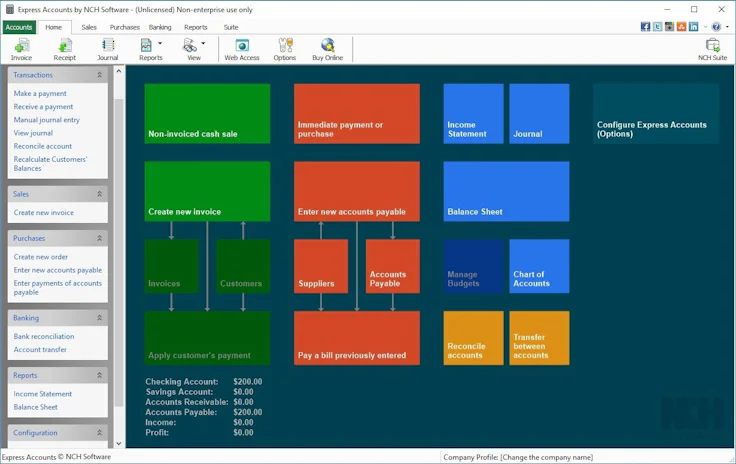 QuickBooks
What is QuickBooks?
QuickBooks is not a free accounting and invoicing software. Despite this, the software is suitable for both the simplest invoicing needs and the most advanced accounting needs for small to medium-sized companies.
More than free accounting software, it allows you to, among other things:
follow your cash flow,
pilot your commercial management,
carry out your bank reconciliation,
synchronize your accounts,
or track your payments.
The big plus of QuickBooks is that it has a lot of features. The software covers all the needs in invoicing and accounting while still being simple to use. The included customer service is efficient and responsive if you ever need support. The platform also offers help in getting started and very practical training.
Features
Here are QuickBooks' features:
See what makes money and what costs you
Expense tracking
Create professional invoices
Manage bills online
Inventory management
Create and file 1099s for contractors
Free mobile apps
Analytics and reporting
QuickBooks is not a free accounting software, but for less than $15/month you have access to accounting software as well as an invoicing and cash flow monitoring software, and a lot of peace of mind!
Quickbooks offers many features without being overwhelming. The available prices are very interesting even for freelancers and small businesses compared to the services offered. The software also has a pleasant and easy-to-use interface!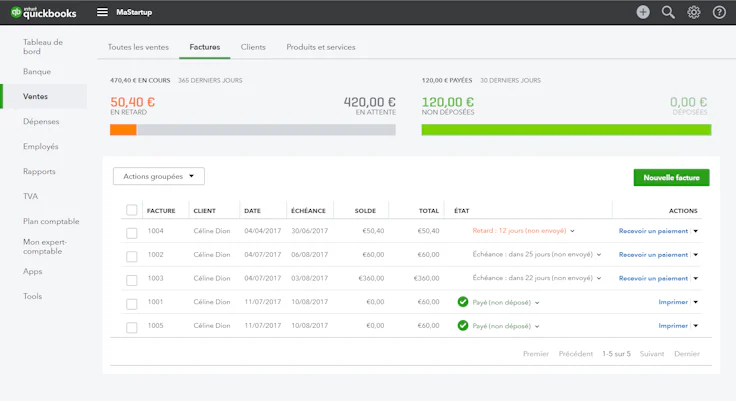 SlickPie
What is SlickPie?
SlickPie is a free accounting management software. It is suitable for all small businesses and freelancers. This is an easy and effective free accounting software to manage online invoicing, live banking, automated data entry, and financial reporting. The good news is that you can integrate this free software with a Chrome extension.
This free solution comes with many features such as Magic Bot which is simply an automated receipt data entry tool. This tool allows businesses to streamline their expense tracking by extracting information from receipts automatically to convert them into digital data.
The platform is easy to use thanks to its simple and intuitive interface. Furthermore, the mobile version has an intuitive and elegant design that makes it simple to use.
SlickPie is a fully free online software. All you need is a computer or tablet and an internet connection to access your SlickPie account. Their mobile application also allows you to enjoy all the features of the software from anywhere.
Features
Here are some of SlickPie's free features that you should try:
Send online invoices and quotes
Accept different payment methods: Credit card, PayPal, Stripe, etc.
Bill and expense management
Connect different bank accounts
Tax management
Set automatic payment reminders
Responsive client support
MagicBot: Automate your receipt data entry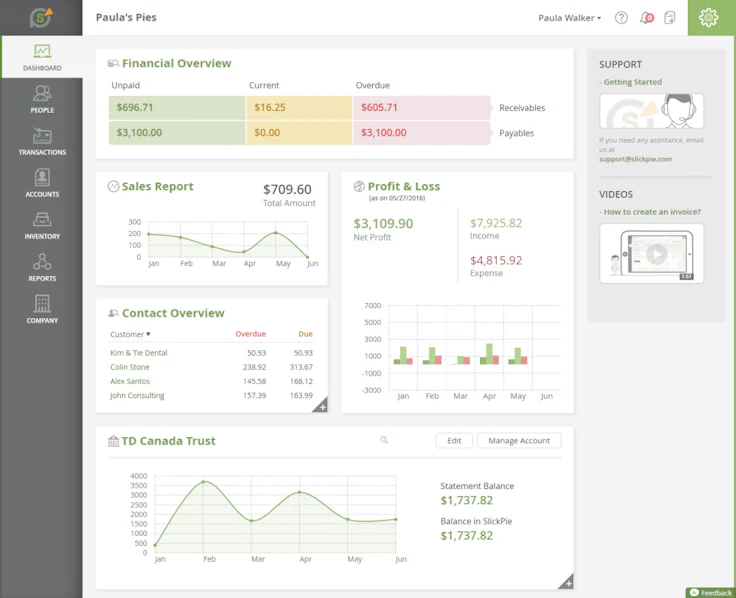 Wave
What is Wave?
Wave is completely free, yet it offers as many features as paid software. It is one of the best free accounting software on the market. For example, it allows you to
Get bill reminders;
Track income and expenses;
Manage multiple companies from a single account;
Accept payments in foreign currencies.
Wave will connect to your bank accounts (which support over 10,000 banks over the world) to extract relevant data, and you can add as many accounts as you want. Business health analytics give you an overview of what's going on in your business by automatically generating reports. It also helps you understand cash flow sources and choose a budget.
Wave is generally easy to use or navigate and is a safe accounting software for managing a business with confidence. Adopting Wave's free accounting software simply empowers your business to have a complete picture of the company's success.
Features
Wave has many good features that help you track your invoices and expenses seamlessly for free:
Unlimited bank and credit card connections
Tax tracking
Data security
Cashflow management
Business health analytics
Balance sheet and financial statement management

ZipBooks
What is ZipBooks?
Free software is easy to use but lacks many features. Do you want something more extensive but still free? Let's try ZipBooks!
Like most free online accounting software, this software also provides small and medium-sized businesses with professional invoicing tools to edit your invoices in just a few seconds. It also comes with an automated payment reminder tool.
Zipbooks is a software choice that makes bookkeeping and accounting easy. This free software also helps make accounting management more fun thanks to its intuitive interface.
Features
Here are ZipBooks' free features that make it different from other free software:
Connect different bank accounts
Default chart of accounts
Transaction follow-up
Tax tracking
Time tracking
Business reports
Vendor and customer management
Client support
Mobile app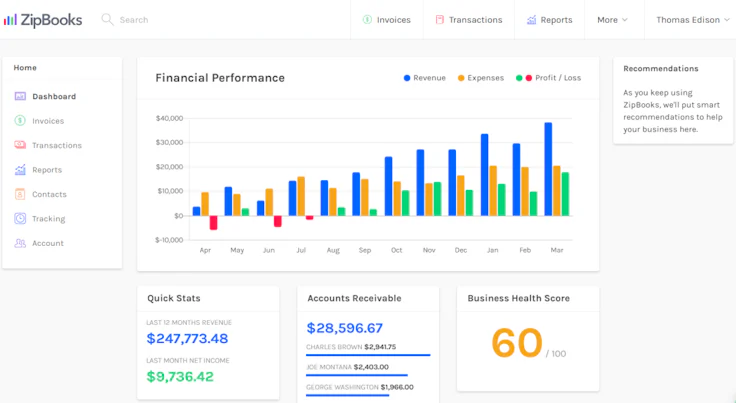 Zoho Books
What is Zoho Books?
Zoho Books is a free accounting software that primarily targets small, medium, and large businesses. What makes Zoho Books special is that it is very customizable. To use it well, you have to go into detail and understand all the settings options.
Zoho is a free SaaS software, accessible from your web browser. You don't have to install any software on your computer, and you don't have to worry about hosting. Thanks to its numerous functions such as general accounting, cash flow monitoring, and balance sheets, this free software is one of the most efficient on the market.
Ergonomics is not really Zoho's strongest point. The design from one screen to another is not always consistent, and sometimes there is too much information displayed on a page. Zoho Books may seem a bit dated if you have used other SaaS software before.
Features
Discover all of Zoho Books' free features:
Create customized invoices and get paid online
Generate quotes automatically and convert them into invoices at a glance
Client portal
Expense tracking
Bill management
Bank reconciliation
Project management
Inventory management
Sales & purchase order confirmation
Tax management
Online payments
Automate business workflows
Store documents and files
Vendor portal
Mobile app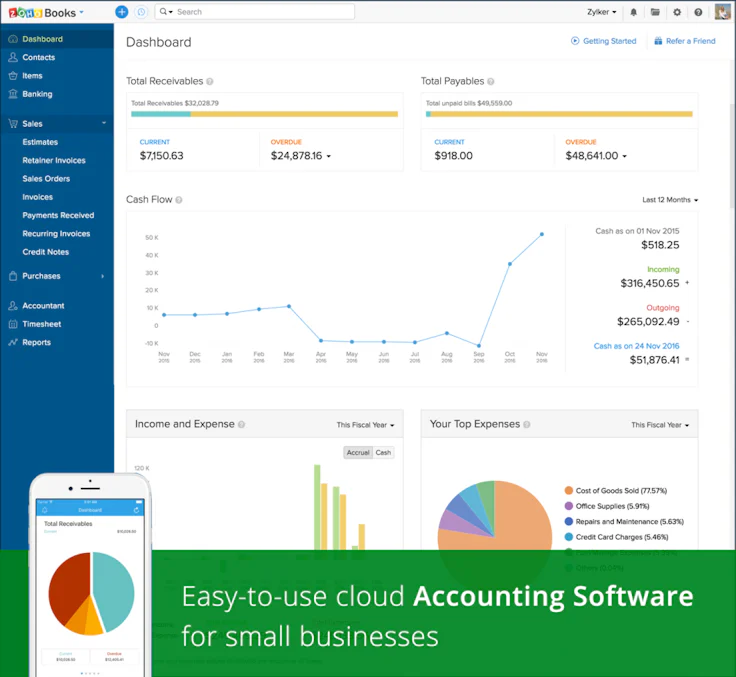 Best practices for choosing the best free accounting software
That's it for our comparison of free accounting software, but as you've seen in this article, this free software has a price. The options presented are often limited in terms of functionality, and flexibility, or require technical skills for deployment.
To choose your next free accounting software, it's essential to evaluate your business needs beforehand. But, we also recommend that you ask yourself about the future of your company, and your objectives, in order to choose the software that will best evolve with you. For example, will you need to easily switch to an upgraded version, or integrate additional modules like a CRM?
Finally, keep in mind that if you don't want to suffer from the limitations of free software, there are powerful paid software packages available... and they're perfectly suited to small business budgets. Check out other accounting software and compare prices to find the one that will help you face all your challenges.
🚀 Nowadays, there is a wide range of paid accounting software on the market, check out our comparison of the best accounting software for bookkeeping now!
Best free accounting software: FAQ
What is the best free accounting software for a small business?
The best free accounting software is the one that suits your needs the most. For a small business that lacks a big budget, you can start with these 10 best free accounting software with lots of good features:
Akaunting
BrightBook
GnuCash
Lendio
NCH Software
QuickBooks
SlickPie
Wave
ZipBooks
Zoho Books
Is there something like QuickBooks for personal use?
Yes! There are lots of good free alternatives to QuickBooks on the market including Xero, FreshBooks, Sage, Zoho, and Wave. These five software options all have free basic plans and include features similar to QuickBooks.
The main asset of each free software:
Xero: intuitive and beautiful interface
FreshBooks: all-in-one software, good idea for freelancers and self-employed professionals
Sage: sophisticated feature package including CRM and inventory management
Zoho: the premium and basic plans are full-featured and half the price of QuickBooks
Wave: simple to use and budget-friendly, good idea for freelancers
Should I upgrade to paid accounting software?
When starting off, free accounting software is obviously more affordable for small businesses or freelancers. But, as the company grows, you have to adapt to its needs.
Keep in mind that upgrading to paid accounting software will give you more powerful features and better storage. Don't worry about the price, there is a wide range of paid accounting software to choose from at a good price. Find out more with our comparison of top accounting software for small business!
In conclusion, there isn't a single best free accounting software on the market. Each free solution has its own pros and cons. Equipping free software has many advantages, but, it is important to understand what you need, the future of your company, and if you have the resources to purchase paid software.
Best tools for you