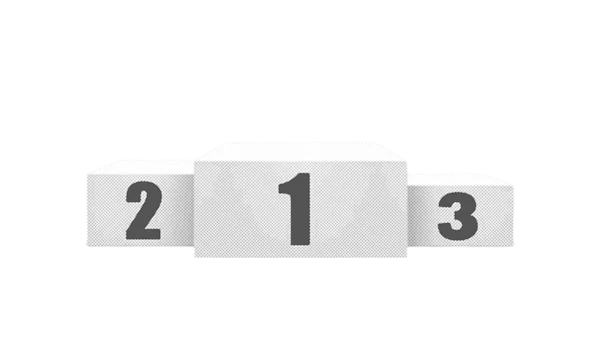 The Best Accounting Software for Consultants in 2021
Consultants and independents rely on accounting software to ensure compliance and run their daily operations smoothly. So much so that these programs have become an essential component of their profitability and efficiency. But it can be hard to choose the best solution to keep your records up to date and track revenue.
This comparison will help you choose the accounting software that best suits your needs. Discover our picks for the best accounting solutions dedicated to consultants and freelancers.
Are you ready to find the best accounting software for consultants? Keep reading to get a sense of what the right bookkeeping software can do for you!
The benefits of accounting software for your consulting businesses
Accounting is vital to any business, even smaller ones. While some consultants may think they don't need one, or that their limited company resources forbid them from enjoying the benefits of such solutions, they could not be more wrong.
No matter the size of your company or its business sectors, compliance and efficiency is key. Keeping clean records and filing correct tax returns are essential tasks but can be very time-consuming. To allow you to focus on running your business, accounting software exists and has become a very popular option for small businesses.
Accounting systems allow you to enjoy the benefits of tax automation, meaning doing your taxes will be easier than ever!
These can help you:
Gain time by taking care of recurring accounting tasks for you and simplifying data entry (bank reconciliation, invoicing...),
Ensure compliance by managing accounts payable and receivable or preparing tax reports,
The features provided by these handy solutions allow you to:
Manage your bookkeeping more easily and avoid mistakes by checking for errors automatically. Double-entry accounting is the backbone of such software and this allows you to keep an eye on your cash flows in real-time.
Improve customer experience and reduce payment delays by providing a convenient way to pay directly from invoices sent via email. Templates can be used to save time and various payment methods are supported depending on the software.
Moreover, additional features can be supported via add-ons or third-party app support. Payroll management is one of the most common add-ons, but specific features can be included, such as advanced analytics and forecasts, time-tracking and more.
The top 3 best accounting software for consultants
FreshBooks
FreshBooks is a solution for self-employed business owners with all the tools to stay in control of their accounting. This simple yet powerful accounting software for small businesses allows you to reduce payment delays and streamline your processes without a steep learning curve.
Creating invoices has never been easier and quicker: you can create and send customized invoices directly to customers without leaving your bookkeeping solution.
Keep track of your income and expenses with powerful sorting options and search or filter transactions to find what you're looking for in seconds.
Automatic bank feeds imports update every day so you have a real-time overview of your cash flow and finances. Take pictures of receipts to import them in a snap.
Get reports that are both easy to understand and truly insightful. All the information you need is available from your dashboard, including your income, who owes you or which bills are due.
❤️ Strong features
A powerful invoicing system that calculates sales tax and totals automatically, can be accessed from your phone, provides ready-to-use templates with rich customisation options.
A wide range of payment options including credit and debit cards and Apple Pay.
Project accounting tools to help you store and manage invoices, quotes and budgets related to your projects. Get comprehensive reports to track your progress and reach your goals.
Allow your accountant to help you and collaborate seamlessly with secure access management.
🤔 Areas of improvement
Only 5 different clients can be billed in the Lite version.
You will need the most expensive plan to remove the FreshBooks branding from your invoices, project proposals and quotes.
💰 FreshBooks pricing
The Lite plan starts at $15 per month. This affordable plan doesn't include bank reconciliation and is limited to 5 billable clients.
The Plus plan is available for $25 a month and unlocks 50 clients, project proposals, accountant access and project accounting features.
The Premium plan is $50 a month and allows for unlimited clients and project accounting features.
All prices can be discounted by 60% for the first 6 months. Discounts are also available if you subscribe for 1 year. A free 30-day trial period is available. A custom plan is also available for more complex businesses, with advanced features and dedicated support.
Software button
Kashoo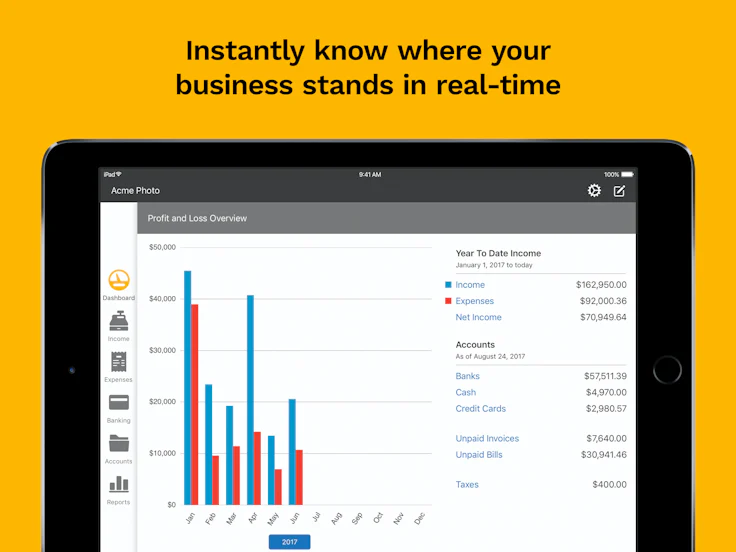 Kashoo is a cloud accounting software solution developed for small businesses and sole traders. This online solution provides flexible options for even the smallest businesses and individual consultants with its Trulysmall brand. Invoice clients for free and upgrade to a full-fledged accounting solution whenever you need!
Avoid redundant, time-consuming tasks altogether thanks to automatic bank reconciliation. More than 5,000 US and foreign institutions are supported to lift the weight of manual data entry off your shoulders.
Get paid faster and improve the experience of your clients by allowing them to pay directly via the invoice. This service is powered by WePay by Chase.
It allows you to get real-time cash flow charts and gives you access to analytics and reports. Track invoices and expenses in real-time.
You can send personalized invoices via the use of templates or starting from scratch. Customers can then pay you directly from the email, just with one click.
❤️ Strong features
Adopt the accounting solution you truly need: from simple invoicing to advanced bookkeeping with analytics and reports, this solution adapts to your needs so you always pay for what you actually use.
Ensure compliance with the latest IRS standards and simplify sales tax calculations and make filing taxes much easier than ever before.
Track your inventory, manage projects and even payroll with the most advanced version: you will never outgrow this adaptable software.
Use a dedicated mobile app to keep an eye on the state of your business, even while you're away from the office.
🤔 Areas of improvement
The invoicing only version doesn't let you access advanced reports or the dynamic dashboard.
You will need the accounting option to sort invoices and expense reports automatically.
💰 Kashoo pricing
Trulysmall Invoices is completely free to use. This base version allows you to send customized invoices and process direct debits and credit card payments.
Trulysmall Accounting adds bank reconciliation and advanced reporting and sorting features for $20 per month.
Kashoo lets you manage payroll and your inventory, use multiple currencies and track your projects for $30 a month.
All versions offer a 14-day trial. Trulysmall also offers free invoice templates if you don't need a software solution just yet.
Wave Accounting
Wave Accounting is a reliable solution that is easy to understand and works hand-in-hand with you, every step of the way. This free accounting software provides you with a straightforward way to manage the finances of your business.
Organise your income, list expenses, track payments and send invoices through an intuitive interface to help you get things done more efficiently.
All your data is updated in real-time to give you an up-to-date snapshot of the state of your small business.
Get timely reminders and never forget to pay a bill or claim an unpaid invoice. Your dashboard helps you see what's owed or due at a glance.
You aren't limited to only one business: you can add multiple businesses (such as those of your clients, collaborators or team members) to your free Wave account.
❤️ Strong features
Get started in minutes: simply create your free account and get instant access to an overview of your business you can access anywhere, anytime.
No need for specific training or accounting knowledge! Wave Accounting avoids obscure jargon altogether to deliver an experience tailored to small business owners.
You're always ready to submit your tax returns: financial statements can be generated on the fly and are always complete with the latest data.
You can send invoices in any currency and let customers pay their due with one click with a bank and credit card.
🤔 Areas of improvement
Online payments are charged on a pay-per use basis in the form of a fixed fee plus a commission on card payments.
The money won't be transferred to your bank account immediately: transfers take 7 business days.
💰 Wave Accounting pricing
Wave Accounting is free to use. Pay £0 a month for unlimited transactions and clients.
Online payments are charged on a pay-per-use basis.

For European-issued cards: about £0.20 per transaction + 1.4% of the amount excluding taxes
For non-European-issued cards: about £0.20 per transaction + 2.9% of the amount excluding taxes
How to choose the easiest accounting software for your consultancy?
Before narrowing things down, you should know that there are two main types of software:
Desktop accounting software
Online accounting software
Cloud accounting software has been on the rise since the advent of the Internet and mobile. This type of solution is hosted remotely and is accessed online: in other words, it is available on all devices with an internet connexion.
This characteristic makes it more mobile and allows for your accountant to access your data securely or for your team to work on the go.
It is also more flexible. The vendor is the one in charge of maintenance, updates and ensures customer support, which means IT costs are greatly reduced. The SaaS model consists in a month-by-month subscription service instead of a one-time payment.
This allows you to add or remove features from the package easily as your needs change by simply changing your subscription plan, as well as accessing dedicated customer service and support. These cost-savings and flexibility are what make SaaS accounting software extremely popular with growing small businesses such as start-ups… or successful consultants.
Supercharge your consultancy with the best accounting software
This overview should help you define your needs and compare the best options available to consultants and freelance workers. If you need an even wider pool of solutions, feel free to browse our directory full of the best accounting software!
Be sure to ready your company for its digital transformation and stay on top of your accounting processes with these helpful tools. Online accounting software is just what you need to stay compliant and file corporate tax easily.
Did you find your next accounting solution in this article? How has your experience been with accounting software? Feel free to share your thoughts below!
Best tools for you