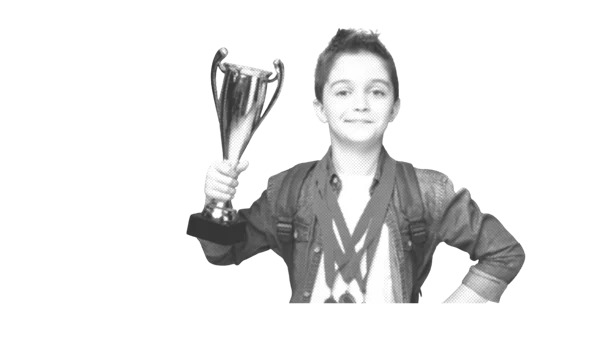 Which Subscription Billing Software Suits You The Best?
Are you looking for the best subscription billing software? Whether you are a startup with a small volume of invoices to process or a big company in full development, know that there is always a solution to match your needs.
Subscriptions are a real plus in a commercial offer as long as they are in line with your customers' expectations. These expectations are also changing, which means companies might want to renovate their subscription billing process.
That's why we did this comparison of the best subscription billing software in 2022, adapted to different types of companies and with various functional coverages: from the simple modification of estimates and invoices to accounting through CRM or inventory management, and more.
What is subscription billing software?
Subscription billing software or recurring billing software is a type of online business management system that allows companies providing subscription-based products to create and save invoices, quotes, orders, delivery notes, and credit notes safely and securely.
This software is also a solution for managing your customers and schedules. It helps improve your invoicing and billing process by switching from a physical process to an automated method which is more convenient and efficient when sending documents to customers.
Generally, subscription billing software is intended for entrepreneurs, SMEs, and also big companies. The objective is to support accounting missions and give a detailed vision of the financial state and health of the company. Sales departments can also use this type of software to determine best-selling products and modify their offer to adapt to sales trends.
Why should companies use subscription billing software?
Companies should use subscription billing software for its various advantages. Here are the top 5 benefits of subscription billing software that you should know!
Benefits of subscription billing software
1. Time-saving
First of all, the timing of electronic invoice delivery is faster than traditional delivery, and the creation time for invoicing documents is shortened with the possibility to store them online for easy and organized access.
2. Data security
In terms of security, your financial data is automatically backed up on servers. You minimize the risk of losing your information and documents even if your free or paid accounting software malfunctions.
3. Cost control
Among the ultimate advantages of subscription billing software is cost control: no hardware installation is necessary, and your business will just install the software or access it online. The subscription payment allows you to use the various features of the software. This way, companies pay for the functionalities that they require, limiting wasted money on unused services.
4. Increase productivity
Subscription billing software can be operated from any computer connected to the Internet while sharing access and information with your employees and your accountant. This solution allows you to optimize your productivity and reinforce collaboration between the different departments of your company, especially the marketing department and the post-sales team which are strongly impacted by this software.
5. Better customer retention
Better service and better customer retention! Subscription billing software helps companies plan flexible payments, send coupons and invoices on time to the customer, and avoid errors. The goal is to provide the client with efficient service and improve the relationship with the customer. When a customer is satisfied with your service, this will lead to higher revenue.
2023 State of Subscription Industry Report How subscription leaders are investing, winning, and growing customers in the Retention Era, by Chargebee
Download the Report
Main features of subscription billing software
These are the main features that you'll find in almost every subscription billing software.
Automatically generate recurring invoices, in particular through the management of subscription contracts and customer estimates;
Issue reports allowing an effective follow-up on customer accounts, and thus of recurring invoices;
Automatically add information on invoices and subscriptions.
Easily create invoices with a personalized design;
Include links to invoices for online payment;
Generate dashboards showing the status of your subscriptions, so you can better control your recurring billing.
Manage promotions and gift coupons effectively.
Now that you know the advantages and main features of subscription billing software, it's time to choose the one that suits you the most. Keep reading to discover the top choices! 😉
Billsby
What is Billsby?
Billsby is a subscription billing software for any type of business. This platform is trusted by hundreds of companies around the world for its ease of integration and customization features.
It is simple to use: Once the customer signs up for your service, they have access to a self-controlled account full of possibilities. If they want to leave, Billsby will help you keep them thanks to its client retention tool.
Features
Here are the features that make them different from other software on the market:
Create your own platform: Billsby gives you the opportunity to offer your own products adapted to your needs with advanced pricing models, advanced billing options, flexible add-ons and allowances, discounts and coupon push, etc. Billsby respects your brand identity. It also allows you to update brand elements and customize your platform at a glance.


Integrate with other tools: If you are not a multitasker, don't worry! You can easily integrate other accounting solutions such as Freeagent, QuickBooks, Xero, etc., and more than 2000 applications into Billsby with no extra fees. You can also add Billsby to your website to better handle technical problems by using their own WordPress plugin.


Reporting: All the statistics you need to manage your subscription are in one place! Billsby offers a dashboard that collects all the information on activity summary, taxes, and exit reasons to help you stay on top of your subscription management.


Obtain and retain customers: Regularly improving your service is the best way to keep customers. Understanding this need, Billsby provides customers with a simple and flexible checkout to make their subscription easier than ever. Furthermore, Billsby also manages sales tax and compliance, in-life account management, and churn reduction by using the accounting management tool.
When it comes to pricing, Billsby has two offers: The core plan costs $35 per month with unlimited users and the custom plan depends on various factors and requires a quote from the Billsby team.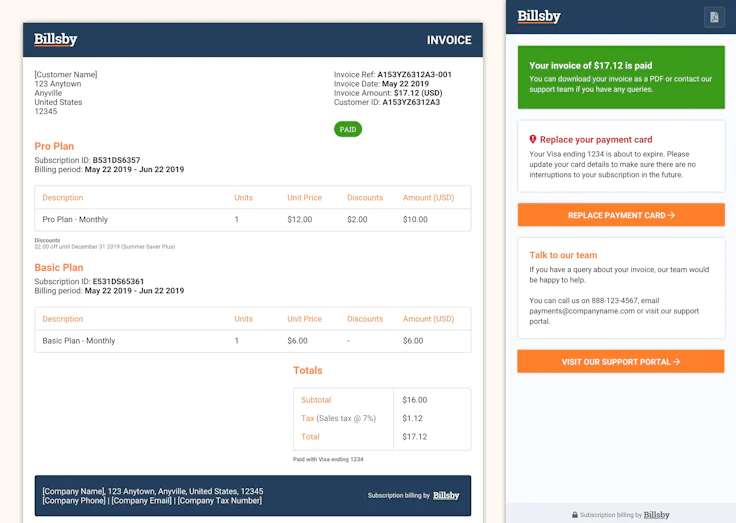 Chargebee
What is Chargebee?
Chargebee is a subscription billing software that doesn't stop at billing and invoicing. It goes beyond and gives businesses full possibilities to scale strategies as much as they want even on a global scale. More than 4500 partners around the world trust Chargebee for its powerful features and efficiency.
Features
Here are the great features:
Subscription management: Chargebee gives you the possibility to plan and price the way that you want. The subscription plans can be changed rapidly and automatically with a flexible billing rhythm. You can use Chargebee for subscriptions, but also for discounts and coupons push, dunning management, bill management, checkout, and a self-serve portal for customers.
Billing automation: All you need to do is focus on your SaaS business strategy, and leave the rest up to Chargebee. Everything is digitalized. The software streamlines your recurring billing and eliminates manual errors. You can also structure customer accounts as Parent-Child relationships to better manage them.


Recurring payment: You can accept subscription payments from anywhere around the world using any payment method (credit card, digital payment platforms such as Google Pay, Amazon Pay, Apple Pay, etc.). Chargebee supports 23+ payment gateways and 100+ currencies. When common payment failures occur, you can recover them easily with Chargebee.


Accounting and taxes management: Not only for subscription billing management, Chargebee also handles tax management. It regularly updates the tax regulations for each country, EU-VAT complications, and GAAP-compliant accounting standards. Furthermore, Chargebee integrates with other solutions such as Sage Intacct, Oracle NetSuite, Xero, and QuickBooks in order to optimize your work as much as possible.


Reporting and analytics: Reporting helps you know where your business has to improve. Chargebee gives you great tools such as subscription churn reports, acquisition analytics, deferred revenue reports to manage the churn rate, and custom reports.
In terms of pricing, Chargebee offers a freemium plan for 3 users for your first $100k revenue. Once $100k is invoiced, you will be auto-converted to $99/month with a 0.5% average fee (if your revenue is more than $25k/month).
Pricing also increases based on the number of users. There is a custom plan if you want to get a platform tailored to your company's needs.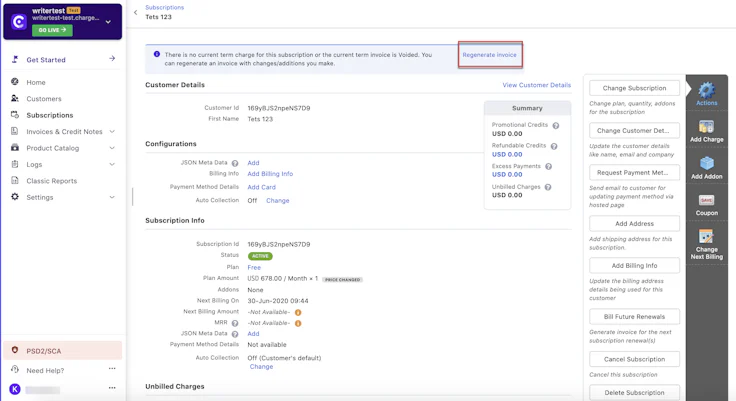 Chargify
What is Chargify?
Chargify is a subscription billing software for fast-growing B2B SaaS companies. Many big companies choose to use Chargify as their main billing solution because it helps them simplify their billing process. The software also provides blogs, webinars, and guidance to accompany companies in their setup and usage process.
Features
Here are Chargify's great features:
Billing: Chargify gives you the possibility to create different billing scenarios. For example, a freemium plan to increase adoption and drive traffic, a targeted promotion plan to drive new lead acquisition, and keep existing customers. Beyond that, Chargify also can help you make a personalized offer and modify your offer portfolio at a glance.
Subscription management: Enhancing the relationship with your customers is always important. Chargify simplifies the billing process from the sign-up step to the payment step. Your customer is always informed about any changes, renewals, promotional offers, etc. These simple actions will make the client experience better than ever!


Accounting: More than just a subscription billing software, Chargify is also an accounting management solution that works with any go-to-market model. It allows you to configure your revenue recognition, calculate journal entries, build financial reports, and integrate your financial system.
Data analytics: With the help of stream, an event streaming & analytics platform, and business intelligence tools, you can fully manage all the analytics and get real-time reports to improve the services you offer.


Integrations: Chargify integrates with more than 36 CRM, sales, marketing, workflow, and accounting tools such as Salesforce, QuickBooks, Zendesk, Hubspot, etc. to optimize your work.
Unlike other software on the market, Chargify's pricing is quite high. The paid plan starts from $599/ month. But the price accounts for the high quality.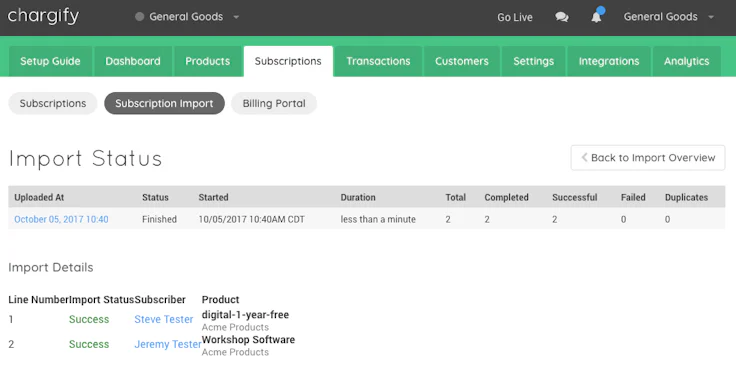 Invoicely
What is Invoicely?
Invoicely is a free online subscription billing software specially designed for small businesses. More than 250,000 companies use and love Invoicely not only because of its freemium plan but also because of its intuitive interface and great features.
Features
Free software with great features:
Seamless invoicing: Create professional invoices and estimates within seconds with Invoicely. You can send unlimited invoices to your clients and require subscription payment without paying extra costs. Moreover, Invoicely makes it easy to customize an invoice and create a financial statement.


Online payment: Invoicely accepts online payments from anywhere around the world, in any currency, and from any client. You can pay with PayPal, credit card, or any other popular payment method. The taxes, discounts, and shipping fees will be added automatically to customer subtotals.


Tracking: With a click of a button, you can track time, expenses, and miles and convert them into an invoice. All you need to do is follow two simple steps: send invoices and get paid.


Branding: Add a piece of your brand to the platform by customizing the interface with your own color codes and logo. Businesses can then personalize not only the interface but also invoices and their business domain!


Teamwork: Invoicely makes teamwork more efficient than ever. You can set up multiple businesses, set permissions for each member, view employee's activity status, and manage your customers from anywhere.


Reporting: Always stay on top of your finances by accessing an overview of your financial health. Use monthly and annual reports of your estimates, invoices, and bills to keep track of every account and track every step of your business activities.
Concerning the pricing, besides the free plan, Invoicely also offers good paid plans that start from $9.99 per month. The professional plan costs $19.99 per month and the enterprise plan costs $29.99 per month with unlimited users.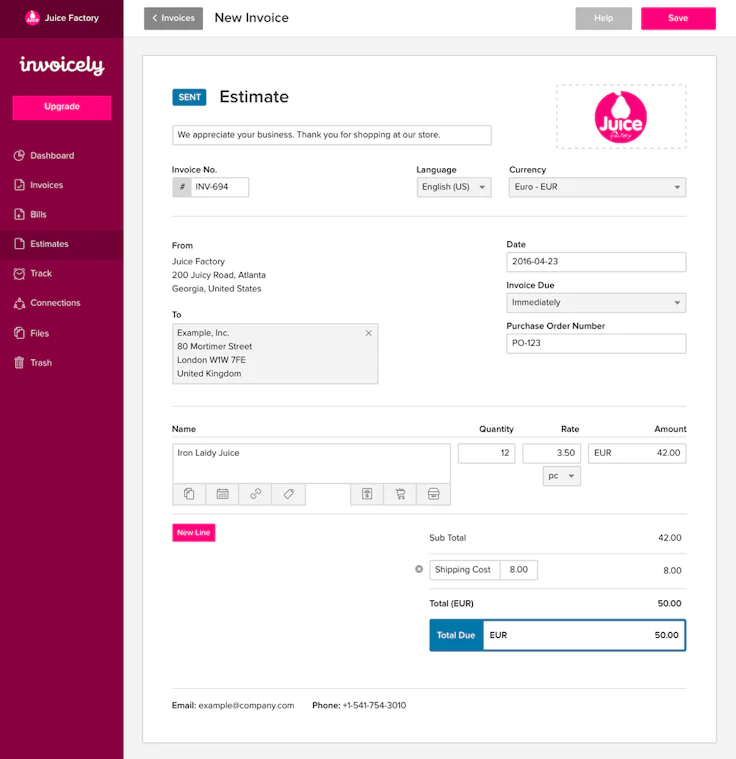 Sticky.io
What is Sticky.io?
Sticky.io is a full-stack subscription billing software designed for commerce and e-commerce. With Sticky.io, you don't need to download various plugins or any additional software to set up. This subscription billing tool will help you go beyond just the "buy" button and stay on top of your e-commerce: Fights fraud, reduces churn rate, provides insights and reports, and renovates the customer's purchase experience. Thousands of businesses trust Sticky.io and use it every day to skyrocket their billing and orders.
Features
Sticky.io has lots of features for e-commerce subscription billing:
Flexible subscription: Sticky.io accepts any subscription billing model and payment option. It gives the client convenience and flexibility. Moreover, this software allows you to create promotions, discounts, and surprise gifts for clients in order to decrease the churn rate. Clients will also receive product recommendations at checkout as an upselling strategy.


Billing management: You don't have to worry about subscription payments because Sticky.io will manage them for you. It facilitates the customer's payment by integrating with worldwide leading payment gateways. In case of failure, the client can be paid back and remake the payment.


Client retention: Client acquisition is hard, don't let them leave just because of a failed payment or a complicated payment process. To avoid that, Sticky.io regularly updates the customer's information and sets payment reminders based on the customer's behavior data.


Customer management: Sticky.io helps customers stick with you! This software gives the customer all the freedom they need: They can manage their own subscription (update, cancel, or skip a payment), and your company can reward them for their loyalty, accompany them if they change their location, and give customers free templates.


Data analytics and reporting: Reporting will help you visualize where you have to improve for better service. It gives you information about revenue, customer behavior, taxes, etc.


Integrations: Sticky.io has more than 400 partners in e-commerce, CRM, payment processing, and HR such as Salesforce, Shopify, Big commerce, etc. You can integrate this software easily with the other tools that you use.
In terms of pricing, Sticky.io doesn't offer public pricing on the website. You'll have to provide further information to request a quote.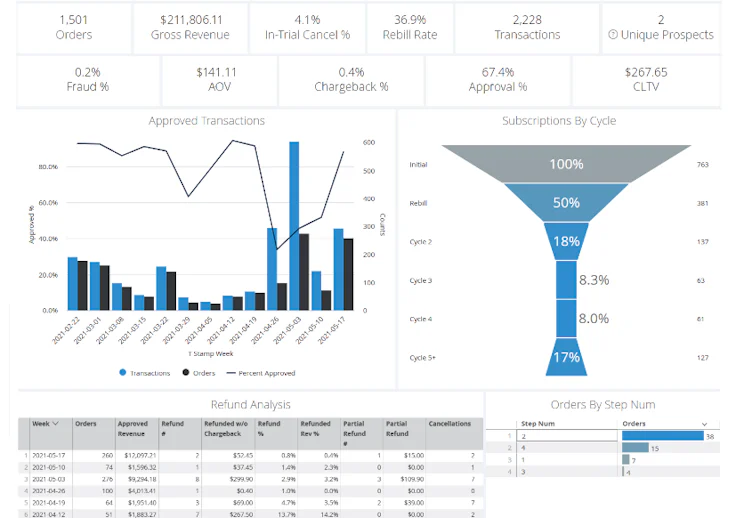 Stripe Billing
What is Stripe Billing?
Stripe Billing is a heavyweight in the online subscription payment world, with much more experience in the field. Stripe Billing is a complex and great solution designed for developers, but fortunately, there are third-party plugins and applications that allow you to benefit from Stripe's services without having to code.
One of the advantages of Stripe Billing is the wide variety of languages, currencies, and payment methods accepted, including local payment methods specific to each country. Stripe is, therefore, a good solution if you sell services or products all over the world.
Features
Here are the 3 main features of Stripe Billing that can explain why it is a big name in the subscription billing software market:
Accelerate your integration and deployment: In fact, as an API, Stripe Billing is a tool that can be easily integrated into your website. So whether it's on your website, on a mobile application, or even on a customer relationship management system, it can be easily integrated. The API is modifiable, so any developer who wants to customize the billing can do so as they wish.


Modify invoices: The invoicing process is simplified as well as the possibility to modify these invoices. Moreover, most currencies are taken into account which is very useful. This feature allows you to save time by not having to change the currencies each time for each payment made.


Customer management: Stripe Billing offers your customers the possibility to pay invoices on the dates they want. Thanks to this feature, you can create punctual invoices. This will reduce the abandonment and rejection rate of your customers' shopping carts. After creating your account, you will be able to check, review, and design all invoices and subscriptions. In addition, you will have detailed reports to monitor everything that is happening.
Pricing for Stripe Billing is tailored to your usage and the functionality you need. If your company processes a high volume of payments or has a unique business model, you have to contact the client support team.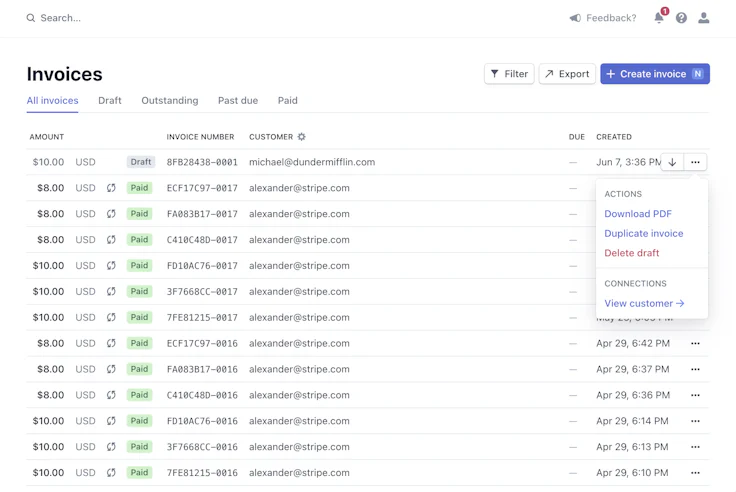 Wave
What is Wave?
It is not always easy to find good and free subscription software, but Wave is an exception. This software is completely free (financed by advertising banners), hosted on the cloud, and therefore does not require local installation on a server or a workstation. The interface has a modern style and is generally easy to navigate and use.
Features
Wave has a lot of great features:
Optimize your revenue, monetization, and reduce churn: It helps you understand the dynamics of your business and visualize where you need to focus your efforts. You can explore subscription data, including MRR, MRR movements, MRR breakdown, net cash flow, etc.


The Live Chat service is very responsive, if you need help you can ask them questions directly in the application. However, the service is currently only in English.


Waveapps interface is super ergonomic and very easy to understand. Like other invoicing platforms, you will also be able to do your tax remittances and accounting through the application. Waveapps is not as extensive as Quickbooks in this respect, so it is essential to check with your accounting department to see if it has all the features your business needs.


Also, Wave allows for several integrations with CRM systems. You can therefore easily automate processes and use other tools to optimize the performance and efficiency of your business.
This software is 100% free with lots of good features including a possible add-on for payroll management which is a very good option for any size of business. Payroll ($20/$35), and advisor support ($149/$329) come at additional monthly costs.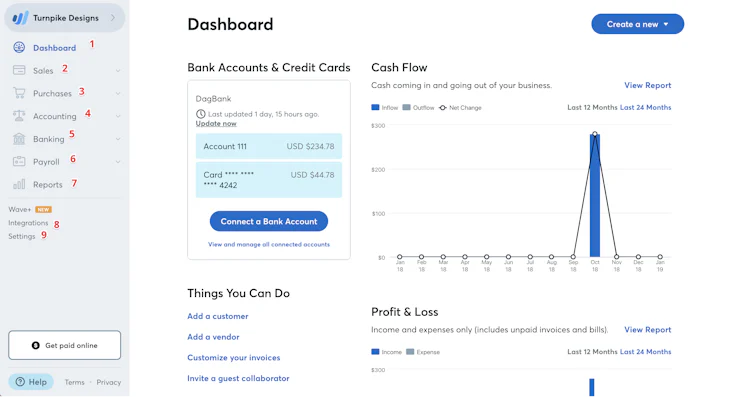 Xero
What is Xero?
Xero is a cloud-based subscription billing software with a multitude of accounting management features, including over 800 integrations, numerous reports, and unlimited users. There are more than 2,000,000 users who trust and use Xero for their subscription management, making it the number one subscription billing solution.
Features
Here are the features of Xero:
Streamlined transactions: Take advantage of its multiple approval model and two-factor authentication to minimize the possibility of financial fraud.
Reporting: It comes with an easy-to-use dashboard that allows you to easily track the status of invoicing across the company.
Easily control purchase orders, classify invoices as written, or pending approval, and view the invoice payment status.
Effectively compare your finances with interactive charts.
Integration with a wide range of tools: It offers reliable integration with many popular third-party solutions including Kabbage, ZenPayroll, Evernote, Deputy, Vend, Stitch Bill, Labs, Synergy, Mogul, Workflow Max, Carbon Analytics, among others.
Inventory Management: Track your inventory and maintain detailed records. These records include purchase costs, descriptions, committed quotes, tax status, and more.
Speed up invoice production by using existing invoice templates and defining recurring invoicing.
Integrate a "Pay Now" option into your online invoice to allow the customer to make instant payments.
Xero offers a great customer experience with a free trial. The paid plan starts from $12 per month and can go up to $65 per month. This is great for businesses and professionals looking to try the solution before making their final purchase.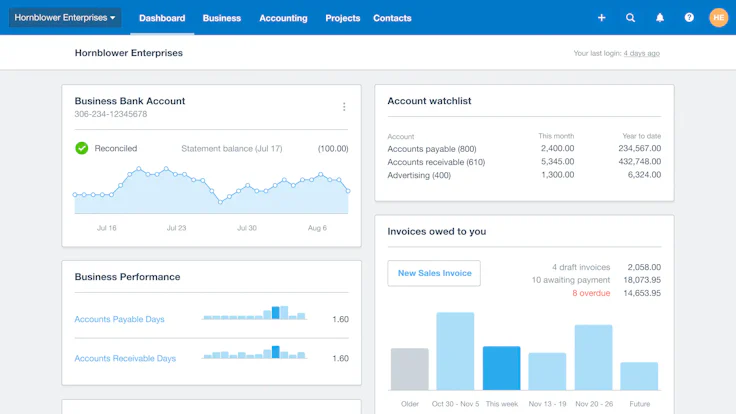 Zoho Subscriptions
What is Zoho Subscriptions?
Zoho Subscriptions is a complete SaaS subscription management system designed by Zoho. Embedded in Zoho Books for its billing features, it is the solution that frees companies from the burden of billing and collecting numerous recurring payments. This service offers a module for subscription management, as long as the subscription plans are available for sale on the company's website.
Features
The features of Zoho are undeniable, Zoho Subscriptions's features are even better:
Automate your recurring invoices: Optimize the billing of your company's subscription sales by offering an online subscription solution to your customers. Businesses can also manage invoice tracking and recurrence, send them to customers with an online payment link, and automatically activate the main related tasks.


Set up your subscription catalog: Create products, best-in-class pricing plans, and add-ons as you design them and manage the entire subscription lifecycle in Zoho Subscriptions from billing to payment.


Optimize customer payments: Choose the payment methods best suited to your target customers to help them pay for their online subscriptions: checks, credit cards, online payment, and even local methods in other countries.


Analyze key subscription metrics: Get key information about the status of your subscriptions on your homepage. With Zoho Subscriptions, you can measure your net revenue, churn rate, MRR, new activations, free subscriptions, and cancellations.


Offer a portal to your customers: Provide your customers with easy access to their subscriptions, invoices, and payments. They will be able to cancel their subscriptions directly, modify their contact information (billing and shipping addresses) and forward their invoices to other people to activate payment.


Integrations: Take advantage of integrations with third-party solutions such as CRMs, accounting management platforms, etc. With Zoho or Zapier, you can connect your subscriptions to more than 1,000 web applications on the market.
Pricing is available on demand. You have to request a quote so that Zoho can help choose a plan that suits your needs.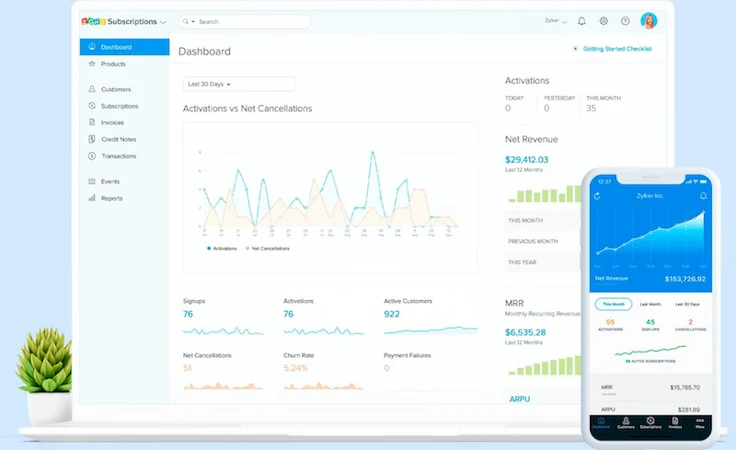 Zuora
What is Zuora?
Zuora is software for managing subscriptions, memberships, and recurring payments used by many companies around the world. Zuora is designed to help companies manage subscription billing and financial operations. This allows businesses to serve their customers, add new products to the market, and increase sales. It is a SaaS solution and one of the leading global service providers in the subscription billing software market.
Features
Here are Zuora's features:
It provides a complete subscription model allowing you to manage your recurring invoices easily
It integrates links to the invoices to make payments online
It generates dashboards representing the status of your subscriptions; thus you can better control your recurring invoicing
It automates and simplifies many billing processes, including complex transactions and unpaid processing
It offers a secure and easily configurable recurring billing mode
It offers a number of options to personalize the management of your recurring invoices as much as possible (contract duration, manual or automatic contract renewal, billing frequency, etc.)
It has an ergonomic, responsive, and easy-to-use interface
It allows you to customize your subscription
It issues reports allowing an efficient follow-up of customer accounts, and thus of recurrent invoicing
It allows you to automatically add information on invoices and subscriptions.
Pricing is available upon request. It is also possible to test this software package for free (with limited functions, or a limited time period).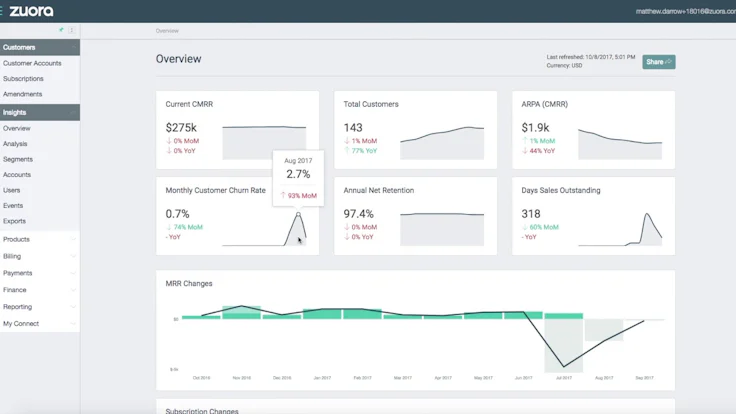 Key takeaways
Making recurring invoices goes hand in hand with subscription management, but it can be more complicated than it seems. A mistake or an oversight has a double consequence: not only does it cost you money, but you also lose credibility with your customer.
Therefore, it is necessary to proceed with a rigorous follow-up of invoices, which is greatly facilitated by the use of subscription billing software. There isn't a single best software, you have to choose the one that suits your business the most. Remember to compare your needs and your budget before choosing a subscription billing platform.
Free content
2023 State of Subscription Industry Report How subscription leaders are investing, winning, and growing customers in the Retention Era, by Chargebee
Download the Report
Best tools for you