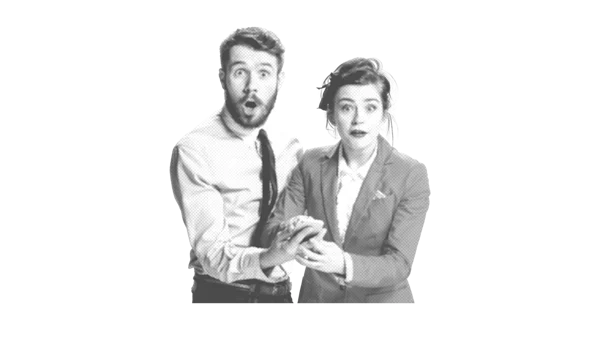 Best Payroll Software for Your Small Business- Pay Up or Shut Up
As a small business, most aspects of running a business usually fall on one person. This can be especially tricky with something as technical as HR, and in particular payroll. Even though you might not have many employees in your business, following all the laws and regulations when it comes to payroll can be tricky for anybody. So why not alleviate some of the burden by automating with payroll software? Keep reading to see our top picks for your small business.
Payroll- Why Automate?
When you work in or own a small business, you wear many faces, so sometimes knowing all the specifics about a subject in particular is unrealistic. The same goes for payroll, depending on where you live, there are different regulations and rules you need to follow. If you live in New York, you're not going to pay the same taxes and deductions as somebody living and working in Miami. Big businesses and corporations can do this all in house because they have the resources to hire big HR departments, which obviously isn't the case for small businesses. One way to compensate for this is to automate payroll with a software program. In the long run it will save you and your small business a lot of time and money.
Why We Chose These Programs?
The software programs that you'll read about were chosen because we believe they're the best at what they do. We decided that due to a combination of factors, including: features, integrations and value. Take a look at the best programs for a small business like yours!
Gusto
Gusto is a HR operating system that has a dedicated payroll management system embedded in it. Gusto's payroll system is extremely easy to use, and it's incredibly intuitive. It makes paying your employees so much easier, so you can focus on more pressing matters. Gusto makes payroll easier with features like:
Features
Automatic payroll tax filing, after an automatic calculation
Integrated features like health insurance, 401k, workers' comp, time tracking, PTO, and more
Tax compliance, state tax registration in all 50 states, employee I-9 and W-2 database
The ability to pay contractors in more than 80 countries
Mobile app
What We Like
What we like about Gusto is that it has everything a small business would need. It's an end-to-end solution for payroll, no more stressing about things like tax compliance and employees' W-2's anymore.
HR.my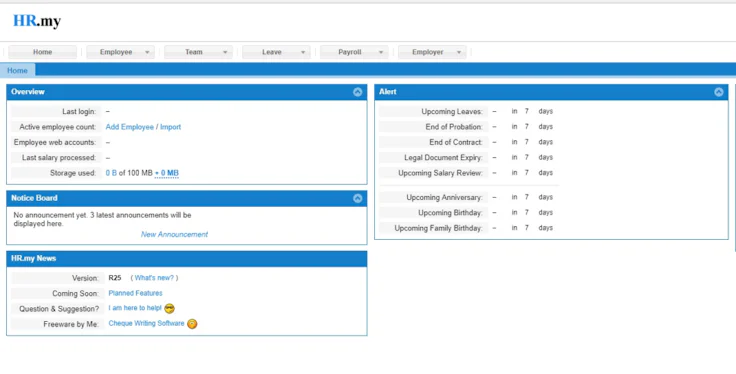 The only completely free solution on this list, HR.my is a perfect payroll solution for small businesses looking for a complete system for free.
Features
In addition to its price, HR.my offers a wide range of features that you usually wouldn't find on a free program:
Payroll and salary management modules- allows you to track individual employees
Employee space, where they can access things like their payslips
Mobile app
Payroll reprocessing
Salary adjustment
What We Like
HR.my is the only completely free program on this list, making it the perfect option for any company looking to cut costs. What's more, even though it has no cost doesn't mean it has no features, HR.my keeps up with the big boys in terms of all main features.
Onpay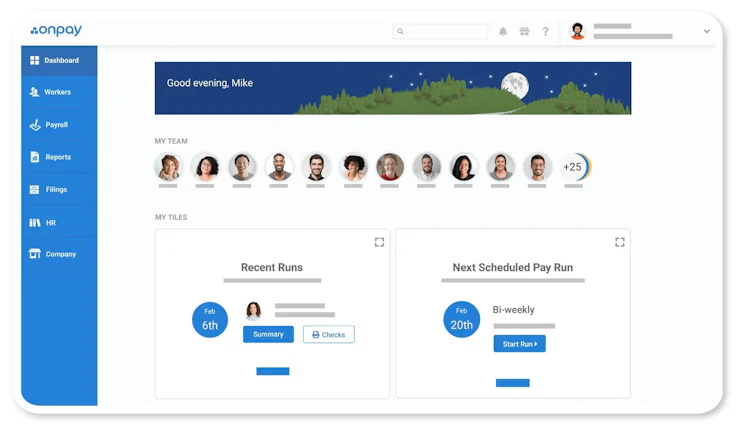 Onpay, with its over 30 years of tax and payroll experience, is one of the most comprehensive programs on this list. With integrations and automations, Onepay is an all-inclusive end-to-end payroll solution that you should look at for your small business. Some of the features that make Onpay so impressive are:
Features
Automated taxes- even with local and state taxes, taxes are calculated and then filed all directly on the platform
Accounting integrations with platforms like Quickbooks and Xero
Payroll reporting and analytics
Direct deposit to employees
Workers' comp and benefits
What We Like
We like Onpay because it's a no-fuss payroll and HR software program designed specifically for small businesses. Everything in their program is designed to make the lives of small businesses and their owners easier, and it works.
ADP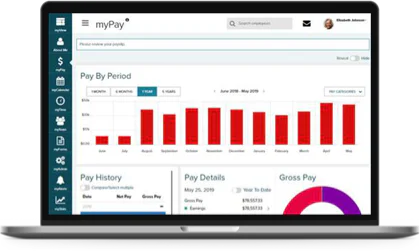 Get your payroll and tax filing done faster and easier with ADP, the software program that's backed up by payroll experts at the tip of your fingers. In addition, ADP is a full fledged HR management system so it has every possible relevant integration for payroll. Some of the features that make ADP so unique are:
Features
Automated online payroll
Payroll taxes
Federal, state and local compliance
HR and time tracking integrations
Self-service app for employees
What We Like
ADP is a global payroll and HR solution that also works very well for small businesses. Having other solutions in HR allows them to effectively cover all the bases of payroll, so you don't have to worry about them.
SurePayroll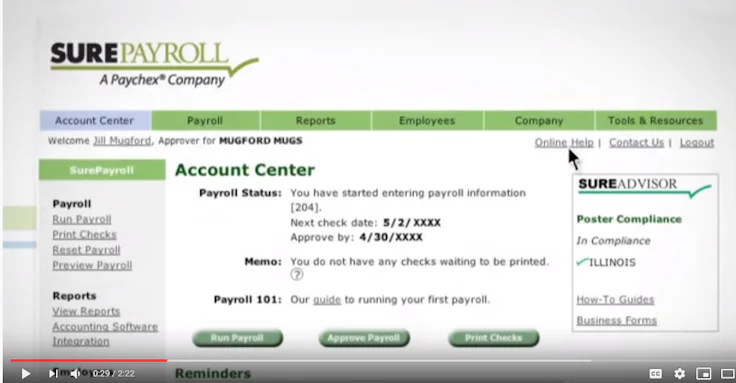 With 20 years experience, SurePayroll knows small businesses and their payroll. SurePayroll knows that payroll and taxes aren't the first thing small business owners think of when they get started. That's why SurePayroll makes filing taxes and paying your employees super easy, so you can focus on the things that matter most.
Features
SurePayroll makes payroll super easy through a combination of innovative features such as:
Same-day or next-day payroll, making it faster than ever to pay your employees
Automatic payroll
Mobile app
Built-in integrations to HR management and accounting features and programs
Auto-payroll
Cancel payroll, if you ever make a mistake
What We Like
Like some other programs on this list, SurePayroll is a no-frills payroll solution, designed for one purpose, to make payroll easy and fast for small businesses. And with all things considered, they succeeded. All of their features and integrations make payroll a quick and painless process for small businesses.
Paycor Perform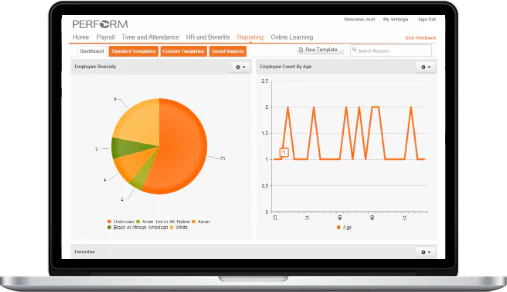 The easiest and most powerful payroll software tool on the market, according to Paycor, Paycor Perform makes your life a little bit easier by automating and taking care of payroll. Paycor Perform guides you through each step of the payroll process, and automates all the essentials, so you don't have to worry.
Features
Some of the ways Paycor makes your life easier is through:
Allowing you to make custom workflows and pay-on demand and other features
Automatic reporting and analytics, even on specific employees
Custom pay stubs and grids
Integrations with other software programs
Employees can access have their own portal that they can access, allowing them to fill in their own information
Workers comp
What We Like
Paycor Perform is an end-to-end full solution for small business payroll that is trusted by a wide spectrum of companies, small to big. It's ease of use is unmatched on the market. What's more, unlike other programs Paycor allows you to customize the way you do payroll through custom workflows that fit the needs of your business.
Patriot Payroll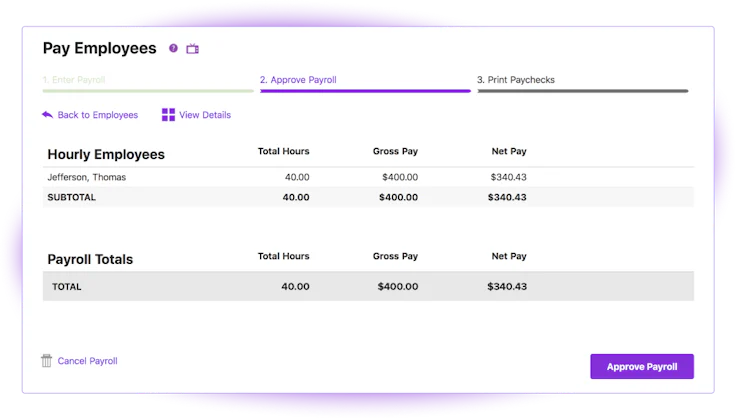 Like many of the other programs on this list, Patriot Payroll is specifically designed for the US, hence "patriot". Meaning that you'll find more targeted features than say another program designed for multiple markets with few country-specific features.
Features
Some of the Patriot Payroll's best features include:
A simple three step payroll process, Enter hours, Approve payroll, Print checks
Quick and accurate payroll reporting and analytics
Comprehensive reports that save companies thousands of dollars each year
What We Like
We really like Patriot Payroll because it's the perfect software program for any American small business looking to automate payroll. They include all the features necessary to file, report, and analyze payroll in an easy and quick way.

SaaS Software: Affordable, User-Friendly, Comprehensive
Learn more about Patriot Payroll
Paychex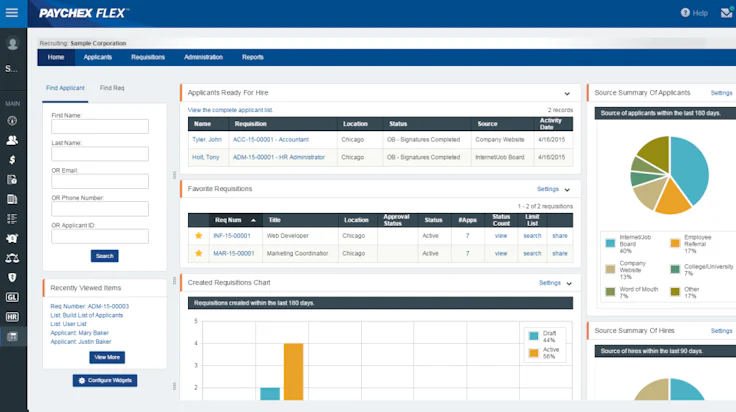 Trusted by over 700,000 customers, Paychex knows how to manage payroll. Payroll is only one facet in their wide array of digital HR services, allowing them to cover all the bases of payroll.
Features
Some of the ways Paychex does this is through:
Automatic payroll administration
Regularly updated tax rates
Time and attendance
Integrated HR services
Retirement services
Workers' compensation
Thorough reports
New-hire reporting to government agencies
Online employee self-service
What We Like
Paychex, besides being a leader in payroll software, is a giant HR software developer, meaning that everything you need when doing payroll is there. From retirement bookkeeping to time and attendance and workers' compensation, everything is there for you and your business.
Payroll Software- One Less Thing to Do
As we said before, payroll sometimes can be a pain in the neck. Having to know all the up to date regulations, exemptions, etc. sometimes just isn't possible for small businesses. You need something that will be quick and easy, and will let you focus on things that actually matter to your business. The software programs on this list do all that and more.
Best tools for you