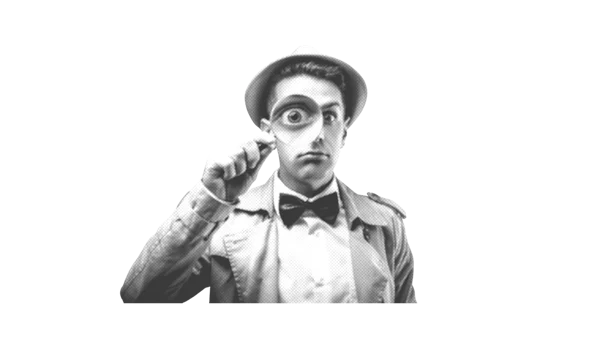 4 B2B Solutions to Generate and Track Leads on the Web
B2B web tracking is a digital marketing approach that involves identifying the visitors of your website to view their behavior. Companies detect the hottest prospects and drive targeted product or service providers.
Using a web tracking solution is one of the best ways to organize and generate leads from your site. It is a Powerful prospecting tool to help your sales representatives be responsive and sign more customers. Need a guide? appvizer shows you the ways:
Web Tracking Explained: Definitions
To help you get started with B2B web tracking software , we provide a few definitions through a basic list of terms. Understanding web tracking and its solutions shows you the full value of investing in such a tool.
Definition of Web Tracking
Web tracking is a digital marketing technique that allows you to:
Detect lead opportunities not captured by online forms.
Identify the visitors of a website.
Observe their browsing behavior on the site.
Analyze the links clicked and the pages visited.
Measure the time on each web application.
Qualify their interests by gathering information.
Perform statistics of visits, interest and navigation.
Segment the different marketing targets.
Score each visitor, assign a score in the purchasing process.
Offer visitors a personalized experience and commercial offers.
Streamline marketing and sales efforts.
B2B web tracking works through a process called a website tracker , which allows for cookies and the IP address of a visitor to be tracked. Technically, it is a tracking code that is installed on each of the pages of your web apps, or Javascript code.
Benefits for Digital Marketing
When used with relevant, B2B web tracking offers a whole Range of Solutions That are helpful to the company, both, in terms of marketing and sales .
Here are the main benefits provided by B2B web tracking:
Behavioral scoring
It is possible to observe their behavior through the client's side and, depending on the situation, to determine their behavior and maturity.
The qualified lead file
The prospects identified represent new business opportunities that can form the basis of your prospecting file, or complete it
Detection of business signals for salespeople
Sales forces receive a notification as soon as possible.
Email retargeting for lead nurturing of cold prospects
Some visitors who have left their email addresses are not yet ready to buy; an automation marketing scenario (emailing suite) feeds and supports the maturation process in a targeted and personalized way to accompany it until the purchase decision.
Optimization of online advertising campaigns
By analyzing the keywords of your site reporting traffic (in terms of search engine optimization or natural referencing in Google search engine results) and cross-checking them with the data collected on the behavior of your visitors (conversion, purchase, download, etc.), you identify the most profitable queries for your advertising investments.
The use of retargeting with advertising
Retargeting allows you to offer an advertisement with a personalized message to a visitor who has left your website without buying anything to continue to make them grow into a decision.
Updating your CRM database by cross-checking contact information
Many CRM applications let you create duplicate detection rules by using a security measure. Some software systems may include detection rules that warn you when you are trying to upload a pre existing contact.
Are B2B Web Tracking Systems Compliant with State Laws?
In the United States, data utilization is not restricted by one specific law. Instead, the legislation governing these regulations are based on more state-specific laws. Most states, however, have passed the same legislation, such as the Privacy Rights Act.
The state laws ultimately have the same responsibility in the end:
To safeguard against unwarranted access, abuse or destruction of personal records.
Use reasonable efforts to safely dispose of documents that contain confidential information in a manner that makes them impossible to read.
For encoding private information when sending data on the web or storing it on mobile devices.
Notify in writing to any person of the access to or acquisition of their confidential information.
4 Tools for Tracking Visitors to Your B2B Website
Here are some tools to help with your workflow and successfully track new prospects onto your website.
Leadfeeder
The Leadfeeder tracking system is responsible for data storage and SaaS itself. The Lead Scoring, Lead Management and Contact and Population Segmentation functions necessary for Lead Management users are also present within this web app, making it a real must-have on the market.
The high adaptability of SaaS software is an undeniable quality, and Leadfeeder can therefore be used on Mac, Windows or Linux, as you will be able to access it through the web.

More than 30,000 sales representatives, marketers and sales offices are using Leadfeeder to optimize their performance.
Leadfeeder users include very small business, SMEs and large companies with a workforce such as WeBrand, TactikMedia, Prescreen, Ozmo and more.
Key features that the Leadfeeder online tracking platform offers:
Increase the visibility of sales leads that are ready to buy
Contact leads before your competitors
Know what your prospects are looking for before even speaking with them
Link your lead list to Google Analytics
Integrate with tools that your company already uses:
LinkedIn Sales Navigator
Pipedrive
Mailchimp
Salesforce
Hubspot
Zoho and more
Mintigo
Mintigo
Mintigo is a well thought-out lead management system that has everything to be of use for recruiting in your business. It allows marketers to succeed and achieve the outcomes they desire each step of the way as well as assists marketers in the deployment of their application development and to identify the quickest way to generate sales.
There is no more need for storage, as Mintigo has the capabilities of storing all the data in your software. It is one of the best practices to accessing your data and simplifying your processes.
This tool offers various functions enabling you to implement Lead Scoring, Lead Management and Contact and Population Segmentation to enhance performance. Due to SaaS features, Mintigo will be easy and practical to use on a day to day schedule. Updates and assistance will be processed by Mintigo without any requests from you so that you can benefit from the most up-to-date software at all times.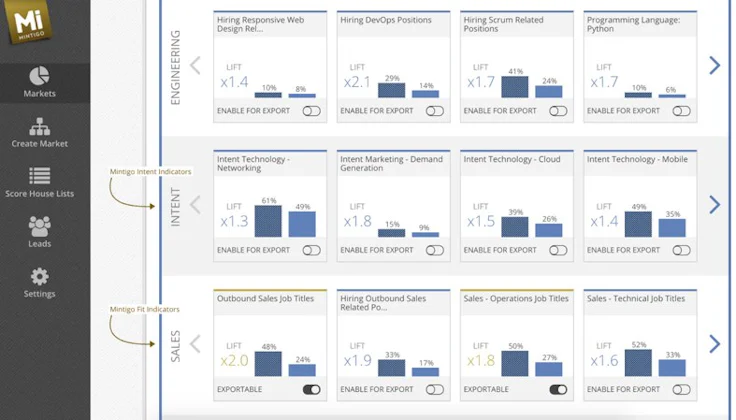 Mintigo simplifies the use of AI with its fully automated solutions that will give you quick results throughout the entire lifecycle. Some of the features included with this AI Marketing platform include:
Finding unfamiliar leads that you may not have ever found yourself
Setting the focus on leads
Finding the target audience for your web content
Delivering lead overviews that allow for the creation of the appropriate contents
Giving you purchasing signs to make sure you can make a timely entry into the ecommerce market
Providing insight into the purchasing process of every customer profile
Pipedrive
Pipedrive is an online CRM software that provides you with both a framework for prospecting and features to help for more efficient operations. Pipedrive works very easily: sales people may simply expand and upgrade business activities at an early stage of the pipeline and according to each step of the way (first meeting, assessment of requirements, presentation, signature).
Pipedrive makes it easy to follow events with a prospect or client. There is accessibility to the event history for each contact (calls, sales offer, email message to/from, etc.). This gives you an immediate understanding of the client's situation so you can properly define the offer despite having to handle about 100 prospective customers during the process.
One of Pipedrive's undeniable assets is that it connects directly with your previous CRM to recover your complete database with no effort and no technological complication. So it is easy to upgrade from one of the following CRMs to Pipedrive:
Batchbook
Capsule CRM
Highrise
NetSuite CRM
Salesforce
SugarCRM
ZOHO CRM
Insightly and more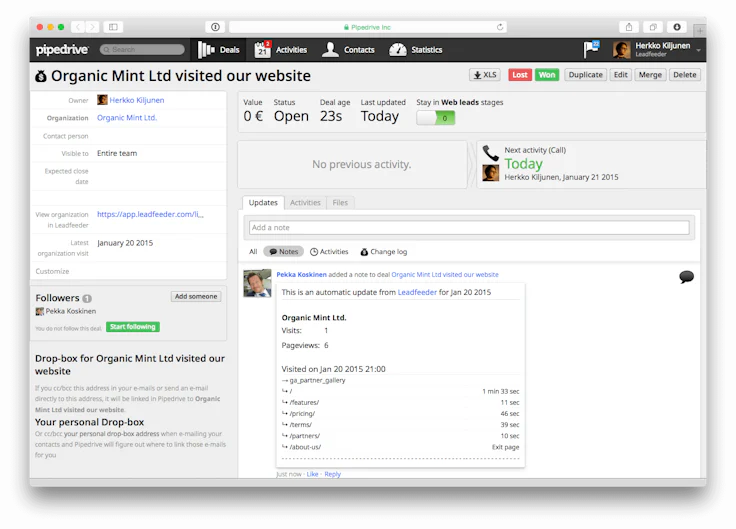 For Pipedrive, a key feature of its network connection is its ability to integrate seamlessly with Google Apps, MailChimp, Zapier and more in all of its web applications.
Sparklane
This B2B web tracking tool includes a predictive lead scoring engine based on artificial intelligence. Predict by Sparklane reports leads' performance according to the outcome you receive from the sales department. That is, as you make greater use of the system, the benefits will become clearer.
Predict by Sparklane saves you time in monitoring as well as evaluating your prospects' content and optimizing the commercial process.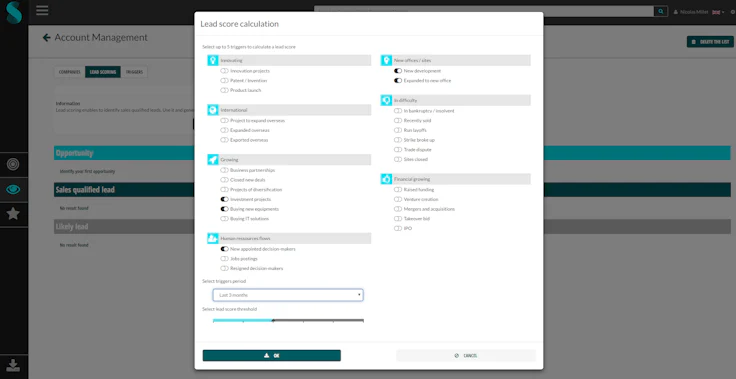 Sparklane users include SMEs and large companies with a workforce of 5,000+, such as Jaguar, Samsung, Toshiba, Oracle and more.
A Few Strong Points to Know about Predict by Sparklane:
Global market exploitation: Targeting automation, identification of the entire existing customer database, integration of your information in one place
Time saving: Predictive scoring, an automatic scoring system, enhanced capacity to convert your accounts, an advanced account recommendation search tool
Improved conversion rate: Sales signals, personalized marketing procedures, more effective handling of complaints
Reduction of the sales process: Comprehensive and in-depth knowledge, more targeted customer requests, more reactive sales efforts
The Marketing Automation Suite is highly interactive with CRM solutions including Salesforce and Microsoft Dynamics.
Comparison of B2B web tracking tools
Comparison of B2B Web Tracking Software
Tips for Increasing the Engagement of Your Target Audience
To obtain results in terms of conversion, the company must work on ways to engage its target audience on its website. The purpose: for visitors to fill in their contact information using the form.
Regardless of the industry and trade, professionals need information and resources to be guided. Communication on your website should therefore focus on the concerns of your potential customers.
To the top of the page, you need to know more about it, you need to know more about it, you need a testimonial, a newsletter with good practical advice, etc.
The best lead generation is thus based on a successful marketing strategy (marketing by content) and becomes more effective combined with web tracking techniques.
Example of an action to be implemented to start tracking on the web:
Offering contextualized content (related to the content of the web page) on a company blog such as a white paper to download or a personalized audit takes the user a step further in their purchase journey and encourages them to complete the form where they can leave their contact information.
Best tools for you