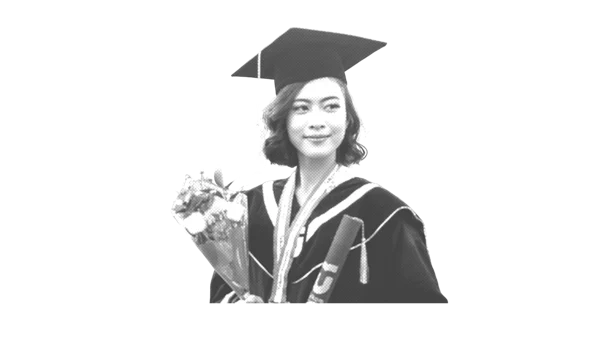 The perfect webinar - this is how you create it in 13 steps!
How do you make a good webinar? appvizer has the answer. Just follow the 13 most important steps to creating the perfect webinar and choose the right tool to make it a success.
Before the Webinar: Prepare your strategy according to your audience
A webinar to improve your brand image is good. A webinar to attract customers is better. So you should prepare your online video conference (just like your digital strategy) by addressing the concerns of your audience.
Step 1: Adopt an inbound marketing approach
Any inbound marketing agency would recommend the following:
focus on the expectations of the target audience,
set goals,
respect the willingness of customers to purchase.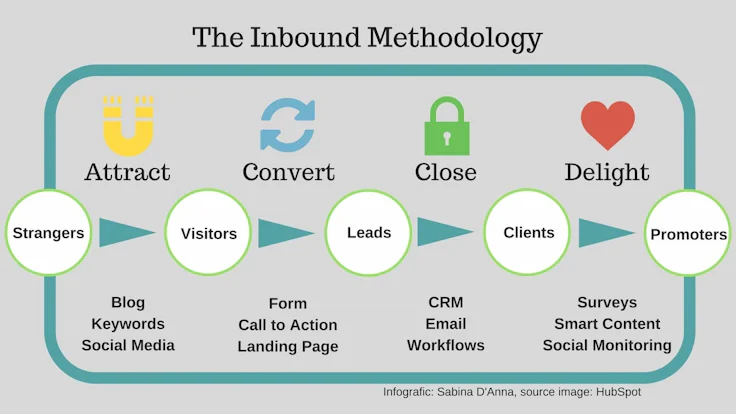 © HubSpot
To define the theme of a webinar that will attract the right prospects, we should consider what kind of concerns our prospects encounter and address them, according to their progression in their purchase journey.
The following table lists the different stages a decision maker must go through before making a purchase and the answers he expects at each step:
Define the goal of the webinar according to the needs of the participants
| | | | |
| --- | --- | --- | --- |
| Needs of the participants | Buyer Readiness Stage | The objective of the webinar | Content |
| To understand | Cold: Participants should become aware of their needs | Acquisition of potential customers | Inform, explain, spread the word through market-related news, introduce a study with key data, advice and best practices. |
| To identify solutions | Lukewarm: They should find the right answers to their doubts | Turning prospects into qualified leads | Give concrete answers to concerns based on some of your references. |
| To choose the best solution | Hot: He must be convinced of your offer before buying | Conversion of qualified leads into customers: Completion of the sale | Detailed argumentation and demonstration of your solution with customer case studies and numerical results |
Step 2: Choose a format that fits your audience and your goals
Which webinar format should I use? The following table provides some examples according to your audience:
Examples of webinars according to audience
Target Audience
Objectives
Types of webinars
Prospects
Demonstration of the capacity and relevance of your offer
Product-Demonstration
Customers
Training of customers

Identification of difficulties

Autonomy of the customers

Strengthening of customer relations

Training on your product or service
Customers or employees
Improvement of the skills of the participants in the webinar
MOOC/online training courses
Influencers or prospects
Giving the floor to one or several experts

Attracting a wider audience

Raising awareness

Interview/Webcast
Prospects or Customers
Acquisition of qualified leads

Raising awareness

Broadcasting a live event

Announcement of a new solution, a new offer or services

Convincing

Live events/Web conference
Prospects
Demonstration of expertise

Sharing some expert secrets

Live Reply

Argumentation

Convincing prospects

Question and answer session
Candidates
Presentation of your company

Expression of your needs in terms of vacancies and job profiles

Making the first contact

Improving your employer brand

Tracking down talents

Recruitment session
Employees
Distributing important information to all employees

Raising awareness

Enrichment of a seminar

Private Webinar
Step 3: Create the content, the main element
The perfect webinar script must be carefully prepared! It is a matter of organization, but not only.
You have to work on a good presentation:
You need to get your audience interested in the content, so deliver content that focuses on the issue and provide the answers.
As far as form is concerned, you have to take care of the PowerPoint presentation and deliver only one idea per slide, at the risk of losing the participants.
The playful aspect is important, as an audience learns better when they have fun. So you should use techniques to keep your audience focused, like adding a bit of humor to your speech.
Oral training is essential, you need to work on your voice and tone sequences.
The crucial element: Choose the right title!
The best title for a webinar is the one that your target audience understands and that creates a concrete benefit for that audience in memorable language.
Step 4: Test your presentation
If you rehearse your presentation first solo and then in front of a benevolent audience, you can check beforehand whether you have mastered all the criteria for success, namely:
you know your topic well,
you anticipate trick questions,
you control the rhythm of the presentation and its duration,
you know the transitions of the lecture by heart,
you can overcome the stress,
you smile, stay friendly,
you avoid monotone voice,
you manage breaks, time-outs, silence,
you know how to arouse curiosity,
you master the use of your webinar tool or platform before you start.
Step 5: Promote your webinar
Ready to captivate your audience? Now is the time to attract the maximum number of participants, especially participants who are interested in the topic of your webinar!
It is essential to set and communicate date and time: choose a date and time that are appropriate for those of your target audience.
How can you promote your webinars or online conferences?
Useful tips & tricks:
Announce your webinars one month in advance.
Communicate dates regularly on social networks such as LinkedIn, Twitter, Facebook, Google+.
Invite qualified prospects and customers by email, depending on the topic.
Create a landing page where people can register for the event.
Collect and qualify the contacts registered via this landing page (company size, contact data, segmentation, etc.).

If you have a content marketing strategy, write and publish at least one blog article announcing each webinar on your website.

If you have an email marketing strategy, announce the date of your webinar in your newsletter.
Ask other websites to talk about your webinar.
Include a link to the website presenting your webinar in your email signature.
Set up a marketing automation system to send out reminder emails, to encourage non-registrants to join, and to remind registrants of the date 15 days and 7 days before the D-Day.
During the webinar: Leave a lasting impression in the minds of the audience
Many small or large details enrich the broadcast of your webinar: Ready to leave an impression on the audience? What is the secret of the best webinars?
Answer: Animation!
Step 6: Apply the right broadcast techniques
Capturing your audience during a web conference is an art that requires the application of techniques such as:
using professional equipment (camera, microphone) to ensure good quality sound reproduction;
making sure that everyone can hear you properly;
creating a strong bond, closeness, to gain the trust of your audience;
heating the room to break the ice and ask the guests why they are attending your webinar;
dividing your presentation into short phases to control the duration and give the webinar air to breathe with short pauses;
relying on professional webinar software.
Step 7: Offer an experience
Involve your audience! Immerse them in an extraordinary experience, surprise them! Live Webinar makes it easier: participation is much more engaging than passive listening and generates sympathy.
Here are a few interaction tips to achieve this:
use the chat to invite participants to ask questions,
share your screen, reveal an exclusive document or live video,
start live voting,
bring a surprise guest with you,
give the floor to a participant if he or she gives the audience interesting feedback,
allow 10 minutes at the end of your webinar to answer questions.
Step 8: Know how to communicate, but also observe
This is essential if you want to improve the way you work: you need to leave room to gather opinions and comments from the participants.
In order to go further and (pre-)qualify your potential customers, i.e. the contacts that should be resumed as a priority, you need to know how to recognize them.
To identify these people, observe their behavior and reactions, their oral and written answers (surveys, opinions), the number of interactions before (for example, exchanges and comments on social media or on your website), and during the webinar.
Step 9: Say thank you, and above all "see you soon"
That's it: your webinar is over, and we move on to the last slide that summarizes your presentation. Your audience can view a short summary of your presentation.
You have thought about integrating a CTA (Call To Action) that invites people to contact you, the expert in the field: an email address, a web address, a phone number.
Be polite and thank everyone who has given their time and attention.
And just before you say goodbye, you need to draw attention to yourself and encourage the audience to come back to you. This is called customer retention to better turn prospects into customers.
After the webinar: Stay in touch with the participants
The goal is to gain the loyalty of your webinar audience, use it to generate more attention, and trigger the final phase of closing with prospects who are about to purchase your solution.
Step 10: Evaluate the quality and measure feedback
User feedback is important in many ways. KPIs (Key Performance Indicators) are there to be used!
Here are some useful tips to evaluate the actual quality of your webinar as well as the interest of the individual participants.
To evaluate the satisfaction of your audience:
Count the number of people who leave your webinar in the first 10 minutes; if the shrinkage rate is no more than 15%, they are the ones who chose the wrong topic; otherwise, re-evaluate the quality of your tone and presentation.
Count participants' interactions in your chat or when answering a survey; if participation is very low, consider other types of surveys, such as fun quizzes.
To identify potential leads:
Look at the registrants' contact information, such as:
first name,
last name,
email address,
phone number,
registrant's job title,
company, industry,
size of the company.
Identify the most effective sources to attract qualified leads to your webinars by using web addresses (URL) with tracking; this way you can see which sources are most used by your hottest prospects (emailing, social networking, blog, etc.).
Measure each participant's behavior in relation to actions on a particular CTA; for example, when asked for feedback, the participant is more advanced in their buying process than when asked to download content.
To measure the registration rate for your webinar:
Thanks to the tracking URLs you can see how many people arrive at your landing page and how many actually register. You can calculate the total registration rate in relation to the total number of visits and also calculate the registration rate per communication channel (social networking, e-mailing, direct, etc.).
To measure the actual participation rate:
A registered user is not a real participant yet! In fact, you risk losing people along the way between registration and participation. Hence the importance of the choice of date and time. Do not panic! Participation rates are extremely rare, especially in B2B: decision makers have to manage priorities all the time.
Tip: Send them a "catch-up e-mail" inviting them to watch the replay!
Step 11: Put the replay online
All your participants and those who could not attend your webinar on D-Day are eagerly waiting for your webinar to be repeated.
Putting your webinar online is an opportunity to satisfy everyone and you as well:
You strengthen the loyalty of your participants.
You get back in touch with registrants who did not attend.
You reach a new audience of non-registrants.
You qualify new prospects thanks to your exclusive content.
Remarkably, in on-demand webinars, you can exponentially increase your participation rate by offering multiple dates to attend or repeat the webinar.
Step 12: Publish an article in your blog
But what for? Publishing an article (or updating your article announcing your webinar) is part of a content marketing logic or more globally in an inbound marketing strategy.
The interest is in attracting visitors, turning them into prospects and then into customers. Your article will reach your existing audience, but can also attract new readers, new Internet users, especially if you mention positive feedback from your participants. Also if they share their experiences on social networks or recommend your webinar to their friends and family!
Consider your article as a contact point with potential perspectives. Therefore a link to the replay registration page is essential!
Step 13: Send an email to enhance the experience
It is above all a thank you email: Your listeners have given you their time, it is important to thank them for their interest. Secondly, you take the opportunity to attract a new audience and "start selling" to those ready-to-buy.
In an inbound logic, it's always about staying in touch with your participants, and especially with the most qualified prospects, i.e. those closest to the purchase.
For this reason, it is necessary to segment your database and personalize your emails according to the contacts:
the coldest contacts need more information; you need to direct them towards qualitative content that completes their information, like a White Paper;
you can offer a face-to-face meeting to your hottest prospects; the goal is then to convince them to use your services; this is the final phase;
people who have registered but have not attended should at least receive an email inviting them to watch a replay of your webinar; the goal is to get those contacts who seem to be interested in the topic back on track.
Best tools for you