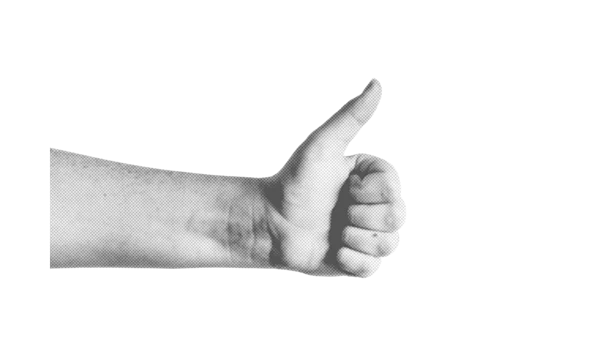 6 tips to improve your internal communication
How can you improve the internal communication of your business? And, how can you share information internally to foster a good work environment and help your employees achieve their goals?
In this article, appvizer lists 6 tips to improve your internal communication, as well as a list of internal communication tools that you can use to optimize your information management.
Are you ready to boost the productivity of your employees and create a real corporate culture? Let's get started!
The role of internal communication in a workplace
What is internal communication? What are its benefits? And, what are the risks of a lack of internal communication?
Internal communication is informing and connecting employees through communication. The goal is to make sure that every employee is aware of the company's goals, values, and guidelines.
In reality, all companies already use internal communication, without necessarily realizing it. For example, exchanging important information to complete a project is a form of internal communication.
The challenge for companies is to maintain internal communication and optimize it.
What is the purpose of internal communication?
Internal communication is used to :
create and strengthen corporate culture,
reinforce the sense of belonging of employees,
value skills,
provide strategic information on a company's performance,
decompartmentalize a company,
improve collaboration within and between teams.
Internal communication in human resources
Internal communication plays a key role in human resources and helps to retain talent.
An employee who does not feel listened to or included in an organization would not want to stay there. Good internal communication can therefore indirectly reduce HR costs by reducing turnover.
➡️ Here are 6 tips to improve your internal communication.
Tip 1: Identify communication issues
How can a lack of internal communication manifest itself? How can it be identified?
What are the signs of a lack of communication?
There are several signs that may suggest there is a lack of communication in your organization:
people are frequently unavailable,
information is constantly lost,
there is a lack of adaptation to different communication cultures,
resistance to change,
a rapidly changing or unstable work environment.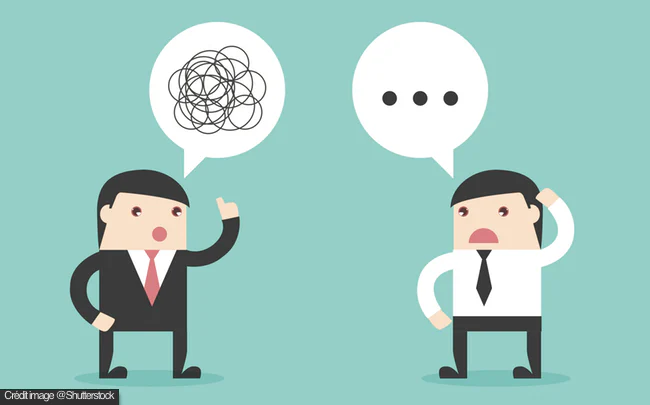 © Shutterstock
For example, a fast-growing startup or SME with a team that is constantly growing should not be overlooked. Don't ignore changes in internal communication, your goal should be to avoid creating tension.
Why should you use internal communication?
to boost productivity,
to centralize information,
to create a corporate culture and shared values,
to assemble and weld the teams together,
to avoid conflict.
What are the barriers to internal communication?
Here are the main sources for lack of communication in a company:
a strong hierarchy between superior and subordinate levels of the organization: information is not shared, each person evolves in their own world and doesn't understand others,
information filtering: listening is selective, we only retain information that is relevant to us at a given moment. And, we are unable to pass on other information received to other people,
a lack of harmony in terminology: everyone doesn't use the same words for the same concepts, the message does not get through and we do not understand each other.
💡 Corporate glossary is a good solution to the last problem. It is a single document that lists vocabulary specific to your company or your activities, your "jargon", to be used during exchanges inside of the company.
Tip 2: Create a corporate culture based on communication
It's all about creating a work environment that is beneficial to the well-being and productivity of your teams - both of these notions are interconnected.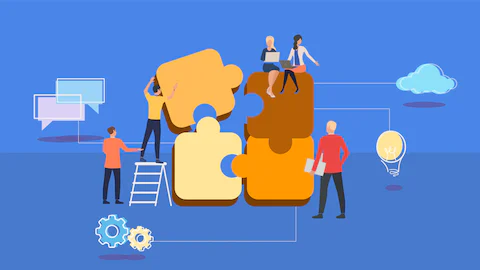 © New signature
Trust, care and time are three essential ingredients to make employees express themselves.
What's the bottom line? A sense of belonging to the company and a form of loyalty to the employer.
However, if your corporate culture is based on withholding information and compartmentalizing services and skills, there is bound to be a lack of communication. And, as a result, your projects progress less well and your teams are less involved.
💡 Celebrate important events for your employees: birthdays, anniversaries, weddings, births, completion of important projects, arrivals or departures of employees, etc.
Tip 3: Establish an internal communication strategy
The key steps to set up your strategy
To determine the best internal communication strategy for your organization, here are a few steps to follow:
identify the different targets,
adapt messages to the targets you wish to inform,
vary the types of content and communication media: website, internal newsletter, blog, newsletter/display, intranet, corporate social network, video, event, etc,
move towards a more flexible and caring type of management.
Improve cross-functional communication
Improving communication often means decompartmentalizing it: in other words, we want communication to become cross-functional, so that information flows vertically, not just horizontally. This is a recurring problem in SMEs.
👉 Management will be aware of operational changes, and employees will follow decision-making beforehand.
Tip 4: Use transparency to engage your employees
Heads up! Here is a pro tip: Do not only make announcements for good news or facts about a project or a customer.
Transparency is about communicating on all changes that are underway or to come: not knowing what's going on is worse and can be a real source of stress for some employees. Change of management, takeover, reorganization, new processes... Any information is good to share.
Explain clearly what is happening and the reasons for the change.
Have frequent meetings
Afterwork, breakfast, coffee break, lunch, evening event, annual seminar... There are many occasions to have exchanges with colleagues.
Having frequent meetings strengthens your employees' bonds, not to mention the amount of information exchanged informally!
Give constant feedback
Giving constant feedback has many positive impacts:
it values work that has been done,
encourages employees,
gives them visibility on their work to let them know what they are doing well and what has to be improved.
When giving feedback to your employees, you don't need to create a very formal appointment as you would do for a professional interview. You can give them feedback on a weekly basis on the work they did during the previous week.
If you already do this in your organization, you have already completed a major step. Congratulations!
👉 But you can go even one step further and reverse the direction of feedback: feedback is no longer just from managers to employees, but also from employees to managers, and even to management.
This way, you adopt a transversal and bidirectional internal communication that features:
feedback,
listening and taking into account the remarks of employees,
needs,
the emergence of new problems and proposals to solve them.
training can be a good means to this end.
Tip 5: Embrace collaborative communication
Collaborative communication is a form of team commitment. Your employees are active members of your company's internal communication. Moreover, they are vectors of information and not just recipients of messages.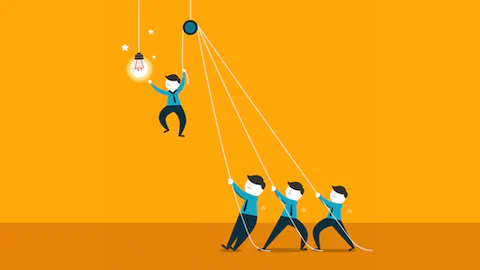 © The context of things
Today, many employees expect collaborative communication. They want to be more involved, and this is most often achieved through tools that can be used by the entire company.
The objective here is to encourage employees to communicate with each other, within a team, and between teams. This brings us back to the idea of cross-functional communication.
How can you establish an effective collaborative communication? The first step is to give all employees access to the same tools.
Tip 6: Use a dedicated tool
How can you communicate with easy in a company, without wasting time sorting through emails or documents to find the latest version?
With Enterprise Social Networks (ESN), you will be able to share information and encourage collaboration. This type of software offers a wide range of features: chatting, news feeds, schedules, electronic document exchange and management and much more!
An Enterprise Social Network provides personalized tools to improve the daily work of every employee, at the office or on the move via a mobile application.
Here is a curated list of the best Enterprise Social Networks that you can use to improve your internal communication:
Slack, a complete instant messaging platform
Slack is an instant messaging platform that revolutionized corporate communication by merging all communication channels into one unique chat.
Slack will allow you to communicate with people who prefer to communicate via Twitter, Asana, Google Hangouts, DropBox and many others. You will receive all of your notifications in one place and will be able to answer via this same channel, thus avoiding having to constantly switch between applications.

Incorporates all communication channels
Learn more about Slack
Workplace from Facebook: The world's number 1 enterprise social network
Just like the public version, users have a profile page featuring a photo, description, projects and skills, which are entirely customizable.
In terms of collaboration, Workplace allows you to create work or project groups. All of the standard administrative functions are included. And, employees can create RSS information feeds to receive notifications on updates and relevant information.

The world's number 1 enterprise social network
Learn more about Workplace from Meta
Yammer, the enterprise social network integrated with Office 365
Yammer is an Enterprise Social Network (ESN) used by over 500.000 businesses around the world.
Yammer offers all the classic social interaction features such as posts, comments, instant chats and offline messages. And, it can also be used daily as part of your Microsoft Office 365 suite.
The software can be perfectly integrated with SharePoint, Video Portal and Skype, allowing you to build value from the daily use of these tools. Furthermore, you can use Yammer's search engine to help you detect skills inside of your company that you may need for specific projects.

The enterprise social network integrated with Office 365
Learn more about Yammer
Solutions to improve communication at work
Communication and team spirit are interlinked: investing in one reinforces the other. Giving your employees a space dedicated to internal communication will make them more committed to your business, and, in result, boost their productivity.
Are you afraid that your teams will use the ESN for non-work purposes? You should trust them! This is also a challenge of internal communication: strengthening your corporate culture and sharing common values. And is it such a big risk compared to the time wasted searching for information or dealing with a lack of communication?
Do you have any other innovative ideas to improve your internal communication?
Best tools for you