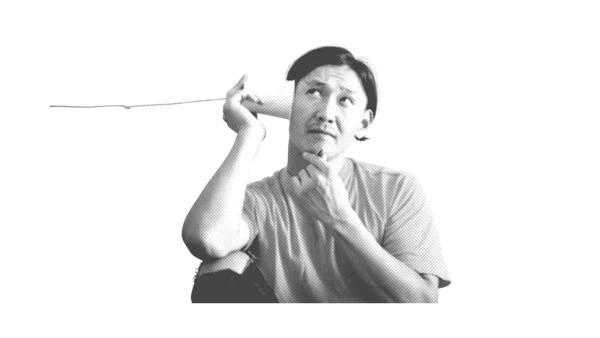 5 steps to boost the efficiency of your call center services
Call center services remotely manage the relationship between a company and its clients and/or prospects. Their goal is to improve customer relations services. To achieve it, they rely on prospecting, assistance, and support through incoming and outgoing calls.
Call centers are now facing new challenges: to keep the focus on both customers' satisfaction and revenues, they need to diversify their activities.
Let's look at how to better manage your call center services, and what tools to use to increase your performances.
What is a call center?
Definition
A call center is a service provider that handles several companies' communications. It is at the heart of customer relations: it is a key contact point; via phone, it establishes and maintains a link between a company and its customers and leads.
Forms and resources can be different in every center: you can find human operators, chatbots or both.
Customer relationship center, call center, contact center: what are the differences?
All these terms seem to refer to the same idea. Call centers, customer relationship centers, and contact centers refer to both the team who processes requests and the infrastructure that provides the means to process them.
These centers have the same goal - customer satisfaction, but they do not use the same communication tools:
call centers manage customer relations mainly by phone
contact centers and customer relations centers are based on different communication channels such as telephone, emails, instant messaging, social networks, etc.
What are the call center services?
What are the main tasks of a call center? In addition to incoming and outgoing calls management, there are various main functions performed by call center agents depending on the business.
Incoming calls include:
information: information and answers about the products or services (prospects)
after-sales service: after-sale customer relations and complaint management
appointment scheduling: planning of appointment requests, especially in B2B relations
customer support, etc.
Outgoing calls include:
prospecting: proposition of offers or services to win new clients
sales: convince customers to purchase products or services
satisfaction surveys: to identify the clients' needs.
Outsourcing a company's activities to a third party service must be part of a well-considered strategy and can be beneficial to your bottom line in terms of costs. On the other hand, by delegating part of the customer relationship to skilled service providers, you free up time for tasks with higher added value.
Types of call centers
The majority of call centers operate in the domains of telemarketing, sales, customer support, and data processing. You can find call centers specialized in:
customer support
products or services selling
goods production
information selling
Call centers are no longer just a matter of call management as they too have turned digital. We are seeing the transition from single-channel call centers to multi-channel contact centers.
[Focus] Multi-channel customer relationship centers
Changes in the business
While the telephone has been the flagship tool for customer relations for a long time, nowadays it is no longer the only star of call centers. CRM tends to diversify not only its activities but also its communication media. Call center agents have therefore seen their job evolve and they no longer spend all their time answering customer calls, even if the telephone is still a tool appreciated by these professionals.
With the rise of new technologies and NICs usage in our daily communication, the transition to a multi-channel contact center is becoming essential. It is a matter of bringing all channels together on the same platform.
The transition to an omnichannel strategy
Customer Relationship management tends to evolve with technology: social networks, chats, chatbots, etc. Today, it is essential to adapt to the needs of increasingly connected customers by offering them the possibility to contact the company, to use different communication channels.
Companies should be omnipresent on different channels to always leave a door open, whatever the tool used: a phone number, a contact form on your website, a page on social media, etc.
The switch to omnichannel multiplies the contact points and makes them interact: for example, Click to call or Web to call buttons to ensure a smooth connection from website to phone call. By removing barriers between different communication channels, the customer experience is smoother.
Goal: an optimal customer experience
And even more than this: offering more than just customer relations. The trend is to offer a qualitative experience to satisfy the customer and ultimately to build loyalty. Indeed, retaining existing customers costs less than trying to acquire new ones as explained by the rule 80/20 (also known as Pareto Rule):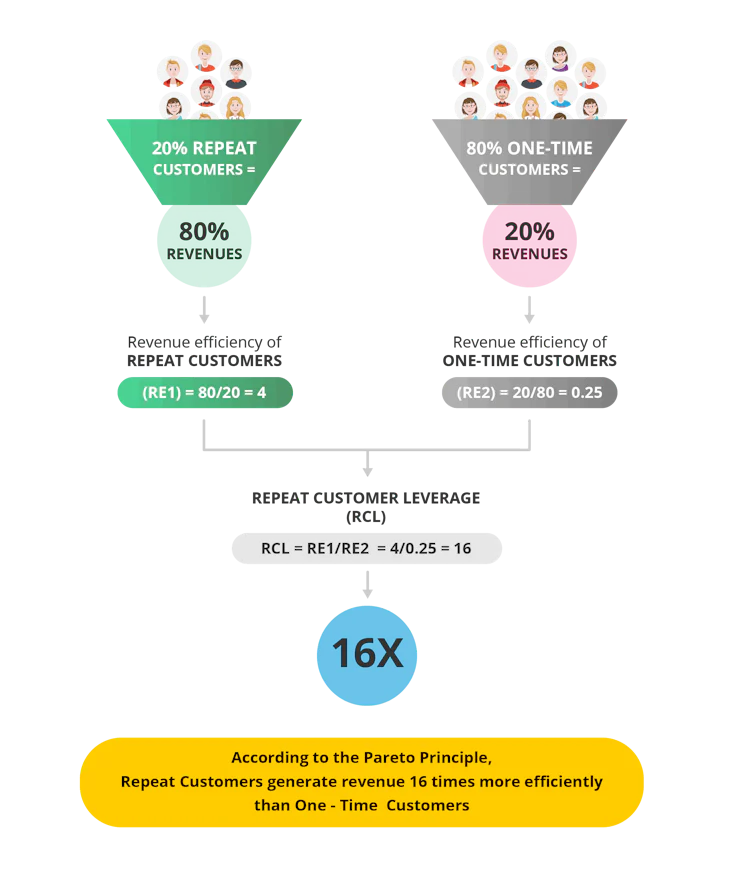 Keeping alive a commercial relationship over time is a source of sales opportunities for a company.
For example, a relationship marketing strategy to retain customers can be directly based on the customer relations center as a tool. It is a matter of getting customers to commit to a new purchasing path to generate future sales.
Customers themselves are seeking for more proximity and involvement from their contacts. The contact center is very appropriate in this customer-centric approach to create a link and commitment.
Thus, nurturing this relationship is essential, because this approach contributes to achieving the company's objectives. So how do you reconcile the different issues of a contact center, between customer satisfaction, productivity and cost rationalization?
5 steps to boost your call center services
Step 1: Identify your customers' expectations
To increase customer satisfaction, it is important to be fully aware of the expectations and issues your customers face: either before purchasing your product or service or during its usage. By accurately identifying the typical profile of your customers, you facilitate the personalization of exchanges.
To do this, you can gather as much information as possible through a centralized tool, such as customer relationship management (CRM) software. Thanks to such a tool, you keep track of the customer relationship. Furthermore, your agents can find the history of exchanges to take control quickly of a customer file and its context.
This customer-centric approach must be part of a more global business strategy: if the customer is at the heart of concerns, it will directly influence the decisions about the contact center management.
Step 2: Ensure your customers an expert team
Agents or customer service representatives are the first contact point with the customer: they must be fully aware of your offers, services, and processes. Since it is your brand image that is at stake, the quality of service must be nothing less than impeccable. Thus, depending on your priorities, an offshoring strategy is not always the most appropriate.
When you recruit your staff or plan your training and skills development program, you can focus on:
the company's business and process knowledge
listening skills: taking into account the customer's demands and expectations, being helpful and understanding, knowing how to reformulate the request
complaint management: knowing how to manage customer dissatisfaction while remaining courteous and professional and how to direct the customer to the right person
communication skills: knowing how to be welcoming, but also how to convey a message with clear speech, and this is all the more important when exchanges are at a distance
commercial and tactical sales methods
Beyond skills, customer relations staff will need to be equipped with the right tools to ensure service quality. Why not opt for an IP telephony solution that allows you to make and receive calls, regardless of the terminal?
For example, the 3CX tool adapts to call center requirements by offering the ability to communicate from an IP phone, softphone, smartphone or browser. Besides, the mobile application makes it easier for your mobile or remote professionals to work.
Step 3: Define a clear customer journey
You can go further than training agents in sales methods and think about a scripted customer journey. This involves setting up or improving the process by which the customer or prospect contacts the company: who receives the first call? Who takes care of the rest of the request and responds to its need?
From the simple user looking for information to the customer, all the different stages of the journey need to be considered. The lead has to be turned into a customer, then you need the customer to be loyal to perpetuate the relationship and even become an ambassador for the brand.
This should be done by identifying the problems that your customers face when they reach you: the person processing their request is not the right one, response times are too long, etc. Any difficulty encountered can affect the customer experience and lead to brand diversion.
Step 4: Proceed to automation
To make the customer experience as smooth as possible, you can, for example, choose a marketing or sales automation tool that is adapted to accompany your journey. Simple and recurring requests can be handled by robots (interactive FAQs, chatbot, etc.) and more complex or technical requests redirected to a call center agent.
By automating some of the low value-added requests responses, you free up time for your teams: they will be able to focus more on developing the activity and creating opportunities. To increase the efficiency of request processing, plan a scripted process including automatic call distribution (ACD) to a qualified call center agent to process a specific request.
Equipping your center with the right tool can help you to automate your processes and improve customer service. This is particularly essential for contact centers in the telecommunications industry, for instance, where competition is fierce: with many telephone operators in the market, differentiation is based on customer experience and customer service quality.
In this sense, a tool such as RingCentral Engage Digital helps increasing the retention rate of telecom operators' customers. Thanks to its automatic allocation of messages to the appropriate contact person, it improves the productivity of agents, who receive a relevant, contextualized and prioritized request. As a consequence, waiting times are reduced and responses are more accurate. Compatible with multiple digital channels, this multi-channel platform creates engagement and improves the customer experience without requiring additional resources.
Step 5: keep an eye on your performance indicators
To validate your customer relationship management choices, define relevant KPIs, aligned with the company's strategy. To better manage the customer relations center, you can rely on cost, performance, satisfaction rates indicators, for instance.
Regarding telephone calls, here are some indicators to observe:
the rate of abandoned calls (excessive waiting time)
the dropout rate
the rate of lost calls, etc.
This follow-up of telephone calls is necessary to improve the quality of service. Through this kind of analysis, you can highlight good practices and choose the right areas for improvement. Similarly, you can build an action plan and recommendations to refine your strategy.
Customer satisfaction is a crucial element to study. Use KPI that will tell you how well you are meeting the customer's expectations:
attendance rate of advisors at peak hours
average processing time
first contact resolution
match of the channel used to the client's necessities
mastery of new technologies by agents, etc.
To improve the efficiency of customer relationship service, a solution such as Kiamo could be what you need. It displays dashboards and compiles statistics, allowing you to get an overview of customer relationship activity. Through this cross-channel software, designed for contact center services, you are better able to take the necessary steps to ensure the quality of your services.
A central and scalable service
As a customer service manager or relationship manager, you are juggling many imperatives:
increase customer satisfaction, but also manage their dissatisfaction
guarantee an impeccable quality of service to build loyalty
ensure the good working conditions of the agents
increase performance, optimize resources and rationalize costs
To achieve your objectives by striking the right balance, you must master the equation of profitability, customer satisfaction and a healthy work environment for teams.
The strategy for satisfaction is now multifaceted: the role of these services is to facilitate contact between the company and the clients, using effective tools, training advisors and formalizing best practices.
But responding as fairly as possible also means adapting to changes in customer expectations. All your processes, services and resources must be evaluated, questioned and readjusted to ensure that you are always able to add value and strengthen the customer's trust in the company.
Best tools for you