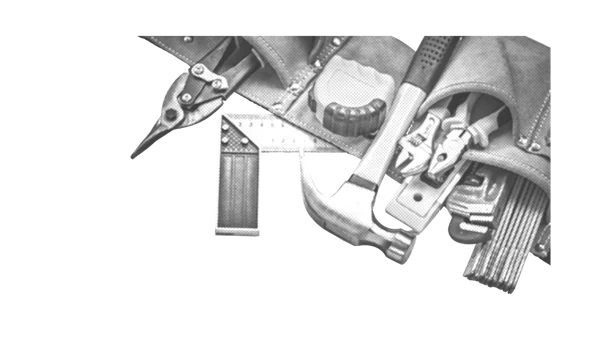 AI Recruiting Software- The Future of Hiring?
One of the major trends in technology is Artificial Intelligence or AI, shifting tasks away from humans towards smart algorithms that can substitute/complement human workers. This trend has now come to the world of HR, hiring and finding qualified talent can sometimes be a daunting task, combing through hundreds and sometimes thousands of resumés and motivation letters sometimes just isn't possible, this is where AI software comes in.
Recruiting Process- Finding the Right Candidate
There are multiple stages of recruitment, finding the candidate, evaluating their qualifications, and then interviews and then a final decision. The final stages are less time consuming for recruiters and HR departments than the first one. In order to get to an interview, you have to find someone who corresponds to the criteria you're looking for, depending on the size of your business and the scope of your offer, you could receive hundreds or even thousands of profiles and resumés. Digging and reading through every CV and motivation letter can't be done by only one person, that's one reason why companies have big HR departments. Companies can reduce the time invested in finding the perfect candidate by getting an AI recruiting software, it cuts the search time in half, saving you and your business a lot of time and money.
Smart Recruitment
Different AI recruitment software programs work in different ways, some have more features than others, but they all, for the most part, share a couple of key features. It lets you input the kind of profile you're looking for, and then the software does the rest by comparing that with all the resumés you get. It widdles down the pool of candidates, and shows you only the best candidates compared to the qualifications and profile you're looking for. As stated before, this saves you massive amounts of time, money and energy.
What Role Should it Play in Your Business?
With the growth of AI and AI software in everyday life and businesses, the role artificial intelligence should play in human tasks is being widely asked. So what role should it play in your business? Should software completely replace a human in looking for a qualified candidate? Is a physical HR department even necessary anymore?
Well… it's complicated.
The role software and in particular an AI recruiting software program should play in your business is up to you, and should take into account all the specificities of your business. However, replacing humans all together with an algorithm seems premature. Although these algorithms have come a long way, and are increasingly sophisticated in the things they can do and detect, they're still not designed to replace humans. The decision of whether to give somebody an interview should always stay with a human, not a software. The AI compares the profile you gave it with the profiles of people who applied. However, sometimes a recruiter connects with a specific resumé for some untold reason, and could be totally convinced that somebody who doesn't necessarily fit the ideal profile could be a good fit by reading their cover letter. The human element of the recruiting process, every step of the way, should not be replaced.
Features
There are multiple things that an AI software program can do, including:
Screening- besides the fact that the software can compare profiles to criteria, it can also do things like chatbot interviews. The bot would ask the candidate questions over chat, and then evaluate their answers. The bots can even answer potential questions the candidate may have about the job.
Video Interviews- some AI software programs have a feature where they give questions to a candidate and the candidate responds by video. Then the AI can evaluate the candidate's response compared to the criteria initially given.
Candidate Rediscovery- sometimes a candidate might not be a good fit for a role, but could be a good fit for a role down the line. The AI software can remember candidates who applied a while ago, and contact them for a new available position.
AI Recruiting Software Programs
Zoho Recruit

VIVAHR

Olivia by Paradox

Arya

XOR

Hiretual

For companies with more than 1 employees
For companies with more than 1 employees
For all companies
For all companies
For all companies
For all companies

Powerful source boosters, 24x5 free support, Fair price
Job posting, Social recruiting, Resume parser
Seamless Integrations

Promote your employer brand and corporate culture
Extend your reach and connect with top talents
Leverage your rich candidate database for insights

AI
Automatic Scheduling
Candidate Follow-up and Tracking

Sourcing
Candidate Engagement
Diversity

AI
Automation
Candidate Follow-Up and Tracking

Sourcing
Diversity & Inclusion
Engagement

Learn more about Zoho Recruit
Learn more about VIVAHR
Learn more about Olivia by Paradox
Learn more about Arya
Learn more about XOR
Learn more about Hiretual
Zoho Recruit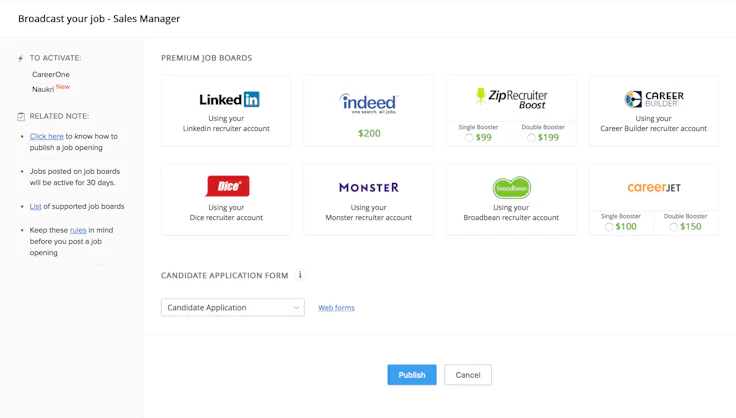 Zoho Recruit is a talent acquisition and applicant tracking system that uses modern tools like AI to find the best possible candidates for your business. Its applicant tracking system is designed to face challenges that recruiters face when trying to hire someone, like late replies, no follow-ups, etc.. Zoho Recruit also helps you source the best talent, instead of having to constantly be on multiple websites at the same time to maybe be able to find one qualified candidate.
Among the best features are:
Quickly publish your job offer to premium job boards
Source quickly with source boosters
Create a career's page on your website
Design pre-screening assessments
Analytics and advanced reports
Better engagement with candidates
Candidate interview stage tracking with Hire Pipeline
AI powered candidate matching
What We Like
Some of the features that we really like and feel are specific to Zoho Recruit are the powerful source boosters, fair pricing, the ability to quickly post job offers to multiple premium job boards in just a few clicks, the seamless and numerous integrations, the resume parser, and more. Overall, Zoho Recruit is a complete and effective tool for finding, interviewing and hiring qualified candidates.

An all-in-one recruitment management platform in the cloud
Learn more about Zoho Recruit
Olivia by Paradox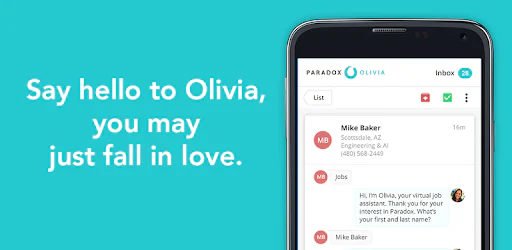 Known as Olivia by Paradox, Olivia is the AI assistant that finds, tracks, and answers potential candidates. Almost all powered by AI, Olivia is a unique tool unlike most of the competition. It's so unique that it's trusted by some of the biggest companies in the world including: McDonalds, Nestle, Unilever, among others.
Olivia by Paradox's features include:
Capture and convert candidates using AI powered texts
Automated interview scheduling
Candidate screening, Olivia screens candidates over text by evaluating their job history and qualifications against the job offer description
Olivia, the virtual AI assistant, can even find you qualified candidates, or conversely find candidates job offers that correspond to their profile
Olivia can also answer questions 24/7 in multiple languages
Host hiring events virtually
What We Like
Olivia by Paradox is a unique tool designed for modern day hiring. The fully integrated AI assistant can do anything from screening to answer questions 24/7. We really like Olivia cause it's nothing like the rest of the competition, in part, because it relies mostly on phones and texts. It's also simple and easy-to-use for companies and candidates.

The AI Assistant for Recruiting
Learn more about Olivia by Paradox
VIVAHR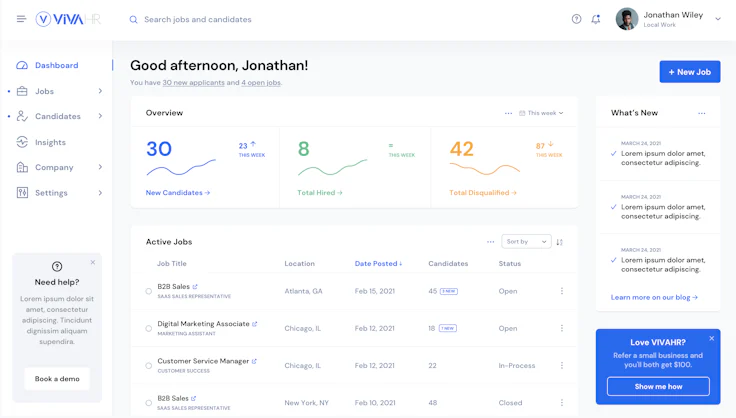 VIVAHR, which calls itself "the most innovative HR software on the market today" is definitely jam packed with modern tools like AI. Like other software programs, VIVAHR allows you to source and attract qualified candidates, effectively manage the interview and hiring process with features like candidate evaluation.
VIVAHR's features include:
The ability to post a job offer to over 50 job boards in one click
Social media job sharing
Candidate questionnaires
Email templates for customized and personalized communication with candidates
Hiring pipelines
Candidate scorecards, mixing AI and company opinion to rank candidates
Custom pipelines
What We Like
We like VIVAHR because it has all the features a company needs to find qualified candidates in one package. However, VIVAHR is a bit expensive for what it offers, especially since competitors offer very similar features for a much cheaper price.

Modern, simple, affordable hiring software.
Learn more about VIVAHR
Arya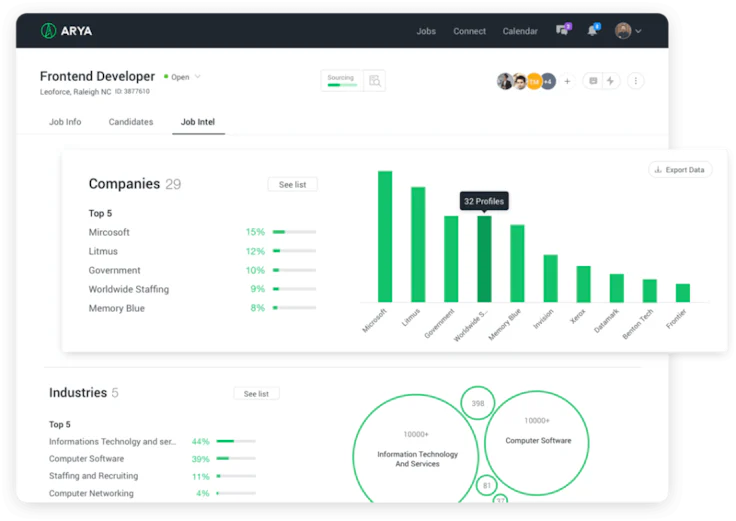 Arya, unlike most of the programs on this list, is a tailored experience for each business. Arya offers a huge amount of unique features, that as far as we're concerned, can only be found on their platform. Arya is made for all types of businesses, from small to large-sized.
Some of the unique features include:
A pre-qualified list of applicants who correspond to the profile of the job description
Candidates sourced from premium, paid sources
Actual recruitment experts shortlist candidates
Arya engages directly with candidates before you interview them
Candidates are also screened so they're ready to be interviewed
What We Like
Despite Arya's hefty price tag, it is by far the most comprehensive AI recruiting software on this list. Arya's combination of artificial intelligence and actual human experts to evaluate and screen candidates is unmatched by the competition.

Intelligence-Driven Talent Acquisition
Learn more about Arya
XOR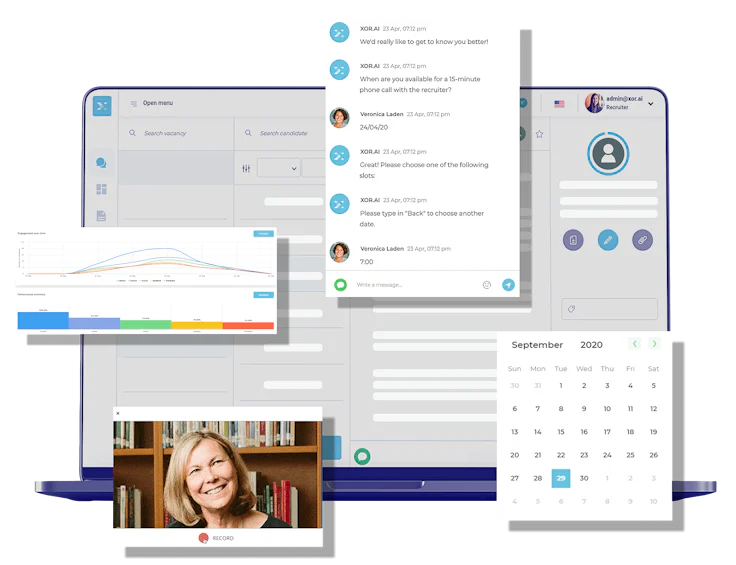 XOR is a fast and efficient way to hire qualified candidates that eliminates all the repetitive tasks of the hiring process, so you can spend time actually talking with candidates. They say that by using XOR you can increase your recruitment time by 33%, be 50% more efficient and have a 90% candidate satisfaction rate.
Some of XOR's features include:
Text recruiting through things like text campaigns, and encouraging a mobile first hiring experience
Track all of your communication with candidates in one place
Text to apply, through QR codes, letting potential candidates apply from anywhere
Host virtual career fairs
Chatbots and conversational AI, allowing candidates to be screened before interacting with them
Interview scheduling
What We Like
Although XOR's price is dependent on the amount your company hires, it is certainly worth it. XOR is an innovative and smart recruiting software program made for modern day hiring. Like it's description says, it actually does eliminate all the repetitive tasks of the hiring process.
Skyrocket Your Hires
Learn more about XOR
Hiretual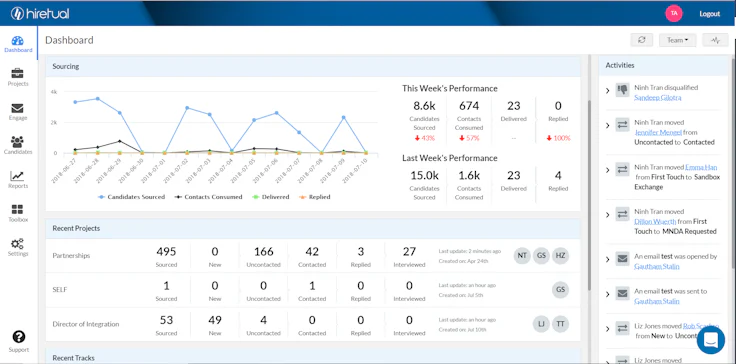 Hiretual allows businesses to build their workforce of the future, scaling organizations with intelligent sourcing, engagement, analysis, and integrations. Hiretual is trusted by over 5,000 organizations like PayPal, PWC, Accenture, Verizon, just to name a few.
Some of Hiretual's features include:
AI powered search filters that allow companies to find qualified leads, using specific sourcing criteria for past and current job titles, companies, diversity, industry expertise, etc.
Resume evaluation
Industry specific sourcing
Email campaigns and follow-ups
identify more underrepresented talent
Integrate existing tools used for recruitment
What We Like
Hiretual, like their slogan states, is building the workforce of the future with their combination of AI tools and smart ways of screening. Hiretual is one of the best value software programs for the price, it's filled with useful and intelligent recruitment tools that will actually help you find qualified candidates.

Take Recruitment to the Next Level
Learn more about Hiretual
Human vs AI
There's no question that AI and in particular an AI recruiting software is much more efficient at combing through profiles than a regular human. But AI can also have problems of its own. As mentioned before, sometimes overly strict adherence to an "ideal" profile can make you miss an ideal candidate. AI can also just be as biased as their human counterparts, there have been studies and cases of AI recruiting software discriminating on the basis of age, race, gender and other socioeconomic categories. This mostly comes as a result of the humans programming the software, but by completely automating the search, you might not be able to detect this because you won't see the profiles you missed.
Even if AI has its problems, humans do too, and overall, by implementing an AI recruiting software program, a company can save heaps of time and money in the search for the right candidate.
Implementation
There are many ways to implement an AI recruitment software, it all depends on the specific situation of your business. It's also going to depend on the expectations of your business. Let's say for example you're a small to medium sized business that already has a HR department. You probably won't implement a software program all the way and replace the HR department in the beginning stages of recruitment. So maybe for the beginning stages you might slowly integrate the software into your recruitment process, maybe only use it for certain job offers. Slowly integrating the software into your business will allow you to see if you like it and to get used to it.
The Future of Recruitment?
AI recruitment software may be the future of recruitment, but for the moment humans still definitely dominate the recruitment process. However, AI can still be a very handy tool in making the whole process easier, by going through hundreds and even thousands of profiles, and matching them to the ideal profile. If you want to get a better idea of what kind of software is out there you can click here.
Best tools for you