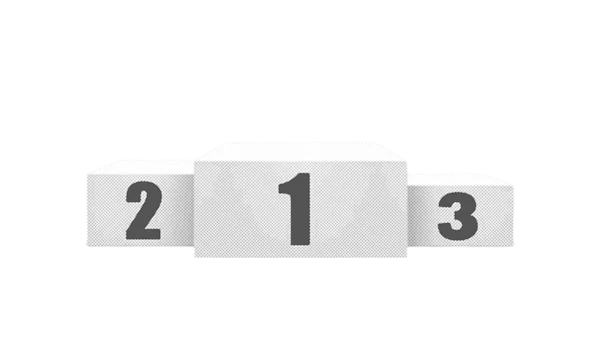 Top 14 SaaS Recruitment Software Programs [Comparison]
Looking for the best SaaS recruitment software? Well, you came to the right place. Recruitment is extremely competitive for most companies, but somehow it doesn't get treated that way. Recruitment should be treated with the same urgency and importance as finance, sales, and R&D.
Like all pillars of a business strategy, recruitment has to be supported by a set of methods and tools. That's why there's SaaS recruitment software, which is specifically designed to dramatically improve your human resources and employment processes.
What are the key features to look for and the best solutions on the market in 2022? Keep reading to find out!
What is SaaS recruitment software?
There are three principal types of recruitment software:
ATS
Recruiting

CRM
HRIS,

s

o,

how are they different

from one another?
An ATS, or Applicant Tracking System, is a recruitment process digitalization tool, made to manage applications and track candidates through the entire recruitment process. It dramatically simplifies candidate management and automates repetitive tasks.
Compared to an ATS, a recruiting CRM is a more proactive alternative to sourcing future recruits. It creates a pipeline of candidates, even if they didn't apply yet.
HRIS systems are slightly different, they offer additional modules to optimize essential recruitment, talent sourcing, and human resources organization processes.
What Are the Benefits of SaaS Recruitment Software?
Substantial Savings With SaaS Mode
SaaS systems are much more cost-efficient, have no acquisition costs, installation fees, and reduced energy consumption costs. It also allows you to predict costs more accurately than a traditional system. You can also easily optimize your business with regular updates.
Mobile Access
One of the main advantages of SaaS solutions, compared to the alternatives, is that it's more adaptable. You can access the program anytime, anywhere, right on your mobile device. Imagine going through applications on the bus, even before getting to the office.
Increased Collaboration
SaaS recruitment software also increases collaboration in your business. When candidates are visible to everybody, each member of the team can give feedback, and contribute to picking the best recruit possible.
Multi-Site Company Recruitment
Even if your company is spread out, whether that be different offices or remote facilities, SaaS recruitment software can manage it all. Team members, at all locations, have access to the same platform, making communication that much easier.
Top 14 SaaS Recruitment Software Programs
In order to effectively compare these programs, we looked at:
the

reputation

of the program, its time on the market,

the

ergonomics

of the interface and collaborative aspects, for teamwork,

the

essential features

for recruitment.
Breezy HR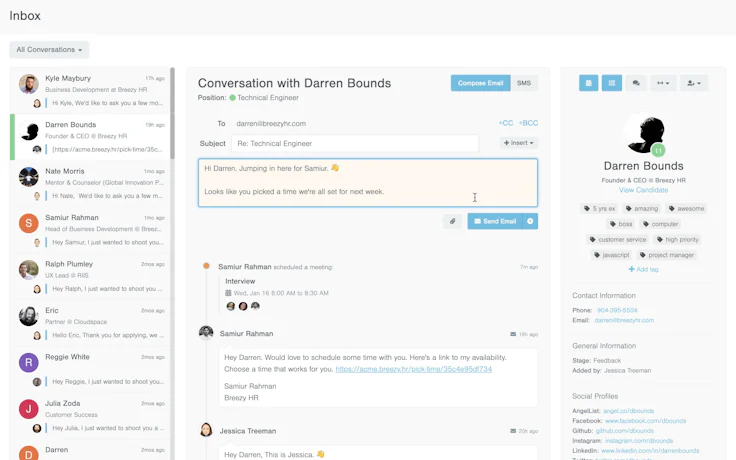 Breezy HR is an end-to-end SaaS recruitment solution, designed for small to mid-sized businesses, that helps you find the best recruits in no time. According to Gartner, Breezy is also considered the best-rated HR and Applicant Tracking system in terms of Customer Satisfaction. It simplifies key HR functions by automating and eliminating repetitive tasks. Thousands of users love Breezy's modern and easy-to-use interface.
Features
Some of Breezy HRs features include:
Candidate organization
Team collaboration:

unlimited numbers of users, applicant feedback and discussion, integration with Slack (a teamwork message application)

Job advertisement:

job boards like Indeed, Google for jobs, Glassdoor or Facebook, open jobs advertisement

Automated and customizable

email, SMS, scheduling, bulk communication
Sourcing:

talent search with millions of professional profiles, recruiting portal, referral portal, AI messenger

Reports and analytics
iOS and Android applications
Easy-to-use

interface
Pricing
The paid plan starts from $143 per month, if you're interested in the program, you can always try it out with their free trial.
Bullhorn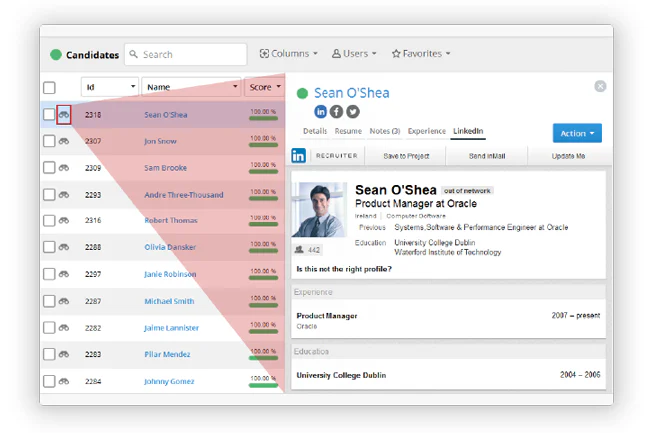 Bullhorn is a SaaS cloud-based ATS and recruiting CRM giving to users both solutions for CRM and employment processes. Bullhorn is designed for every type of business that needs to manage its tasks and candidates' profiles.
With Bullhorn, automation is a game-changer, everything is automated and makes your life much easier. It has an ease of use and friendly interface, so you don't have to spend time training your team. Bullhorn has solutions for every step of the recruitment process.
Features
These are the best features of Bullhorn:
Find talent fast

Streamline the recruitment process

Partner ecosystem

Applicants tracking

Recruitment automation

Onboarding

Report and analytics

Marketplace
Pricing
You don't have to pay for the basic subscription. The paid plan starts from $120 per month per user.
Chameleon-i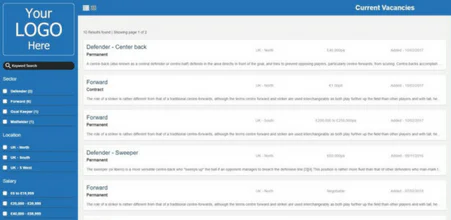 Chameleon-i is one of the most adjustable and flexible SaaS recruitment systems compared to other solutions on the market. They have all the necessary tools for an end-to-end commission process and a portable database to help you select the best candidates. It's a SaaS cloud-based platform that provides access anywhere, anytime, on any device.
Features
Chameleon-i has all the features that you need for your HR process. Here are some of the best features:
API

Ad hoc report and analytics

Candidate tracking

Automatic backup, formatting, and notification

Email, schedule, SMS synchronization

Geolocation

Jobs tracking, jobs board, LinkedIn contact research

Integrations such as Microsoft, Facebook, G suite, WordPress, …

Data backup
Chameleon-i promises: Increase HR team productivity, improve communication with candidates, and save time.
Pricing
There is a 30-days trial for you to test all the features. The paid plan starts from $40 per month with the Core User Licence.
Cloudrecruit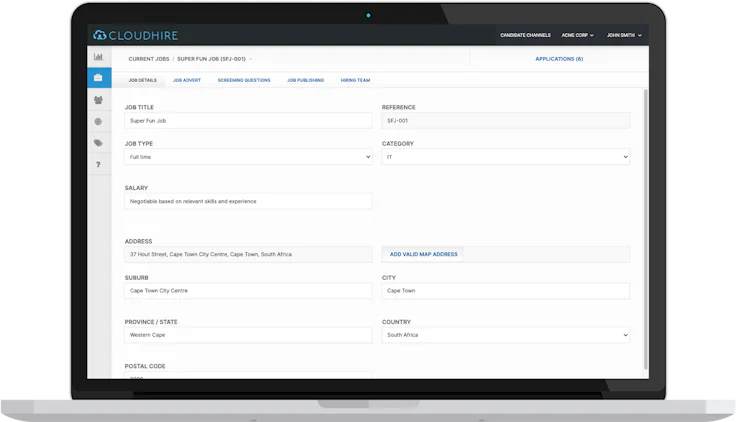 Cloudrecruit is a cloud-based SaaS recruitment software helping you improve your hiring need and recruit the best talents in an efficient way. The best thing is that Cloudrecruit is a very lightweight and easy-to-use platform. It is specially designed for small and midsize businesses.
Features
Cloudrecruit provides:
Talent pipeline

Job and candidate organization

Automated messaging and emailing

Selected search

Job marketing automation

Candidate tracking

Report and analytics
Cloudrecruit promises: Ensure data privacy, update regularly features, and deploy quickly.
Pricing
Cloudrecruit doesn't offer a free trial. The paid plan starts at $65 per user per month.
Graylink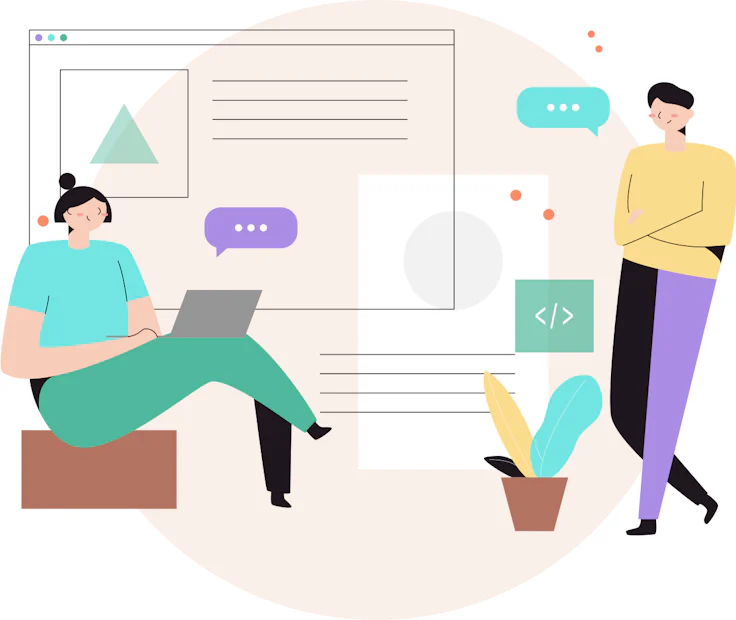 Graylink is a SaaS cloud-based ATS founded in 2002 in South Africa. This SaaS software accompanies businesses through their hiring processes by helping them realize their objectives through their people. Its vision is to offer solutions that find and keep the best employees for the business.
Graylink's values:
Get in the game

Teamwork

Break the distance

All for the benefit of customers

Take care of the result
Features
Graylink has 3 products for recruitment process support: Neptune, txthire, and txthr.
Neptune is a recruitment CRM. It has the following features: streamline job requisition, search engine, job board, talent pipeline, candidate tracking

txthire is a conversational chatbot helping your teamwork remotely anytime, anywhere

txthr is a chatbot for HR workload automation

Other features: Integration with SMS, Facebook, Messenger, Whatsapp, and other channels, ROI, client support.
Pricing
For the subscription, Graylink doesn't have a fixed cost. The business has to make a quote and deal for the price that matches their need the most.
Greenhouse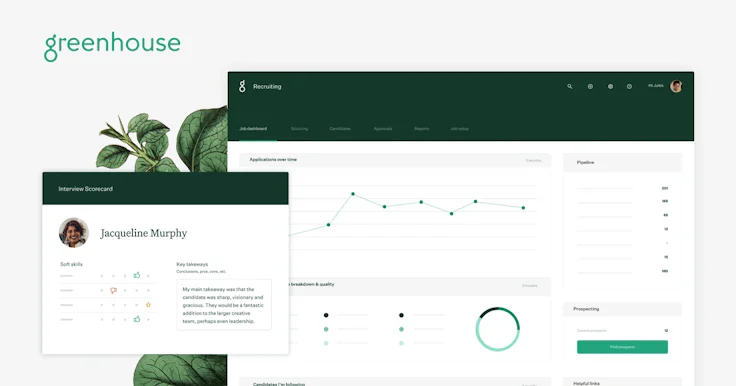 Greenhouse is an all-around and inclusive SaaS recruiting program that includes an ATS (Applicant Tracking System), CRM (Candidate Relationship Management), data reporting, analytics, and more. It's built for companies of all sizes and is used by businesses like HelloFresh, Booking.com, Lyft, and more.
Features
Some of the features that make Greenhouse so effective include:
Candidate sourcing and nurturing
Measurement tools

and in-the-moment nudges to

reduce unconscious bias

at every step of the hiring process

Better candidate experience

with targeted and impactful

interviews

,

career pages

, and customizable

email templates

Easily make

data-driven hiring decisions

Over

400+ integrations
Pricing
Your business is unique, and therefore has a unique set of needs. That's why Greenhouse's pricing adapts to your business needs. You can contact their sales department for more information and a demo.
JazzHR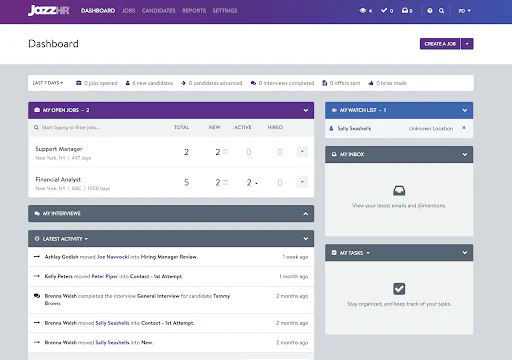 JazzHR is a SaaS recruitment system that can streamline the entire hiring process of your business with the most powerful tool such as talent sourcing, employee branding, interviews, and reporting, collaborative hiring.
Features
Here are some features of JazzHR:
Candidate tracking system

Candidate sourcing to identify the best candidates in the talent pool

Collaborative employment to stay connected with your recruiting team and the candidate

Custom branding to promote your employer

White label

Offer and signature online

Partnering with LinkedIn, Salesforce, Exchange, ...
Pricing
JazzHR doesn't have a free version. The paid plan starts from $39 per month on an annual plan.
Jobvite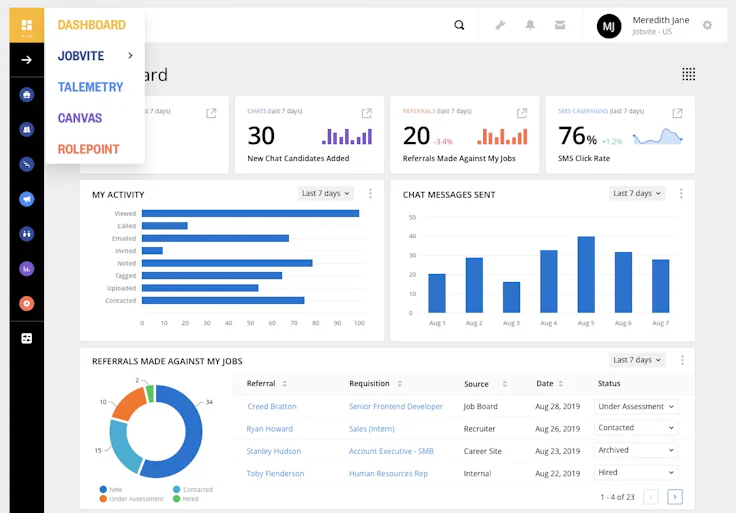 Jobvite is a complete end-to-end SaaS recruitment solution for every need from business, restaurants and food, education, government, energy to media, …. It provides agile tools and services to help recruiters hire the best candidates for their business. It is designed for every type of business from under 500 employees to more than 25 000 employees.
Features
Here are some features of Jobvite:
Candidate experience

Chatbot

College recruiting

Interviewing

Onboarding

Recruitment marketing

Reemployment

Virtual recruiting

Redeployment
Pricing
Jobvite doesn't have a fixed cost. The business has to make a quote and deal for the price that suits them the most.
Jobsoid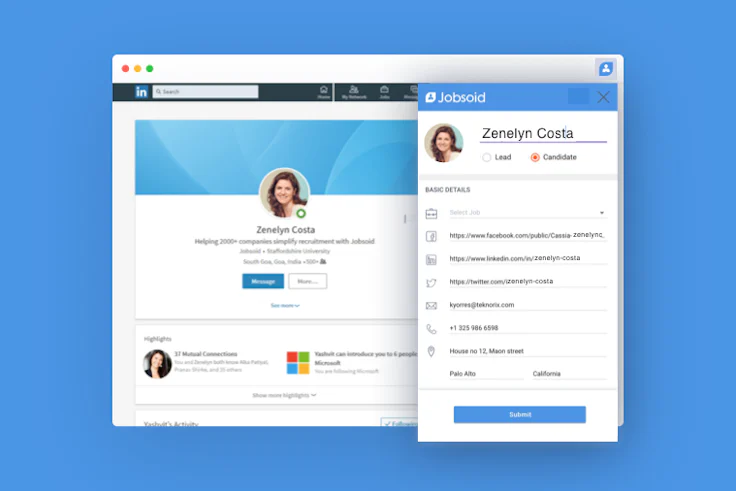 Jobsoid is a simple way to identify the best candidates in the talent pool and help your HR team stay productive.
To do this mission, Jobsoid follows 3 steps:
attract candidates

through a job board and social networks,

engage candidates

by sending them a personalized message,

and last but not least, they

approach the candidates

and give them feedback.
Features
Here are some advantages of Jobsoid:
Job advertising

Application management

Reporting and analytics

Candidates sourcing

Team collaboration

Interviewing
Pricing
There is a free version for beginners with all the basic tools. The paid plan starts from $49 per month.
RecruitmentWorx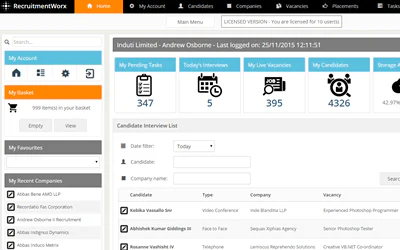 RecruitmentWorx is an online SaaS recruitment database software designed for recruiting agencies of any size. They help companies streamline and automate their recruiting process so that companies can focus on selecting the best candidates.
Features
RecruitmentWorx offers:
Candidate management:

Create automatic profiles using personal CV parsing, GDPR consent tracking, onboarding, …

Communication:

SMS, email, template, …

Technical

Job posting and advertising

Analytics/ insight

Automated set up
Pricing
RecruitmentWorx has a fixed cost for every business: £49 ($65) per user per month.
SmartRecruiters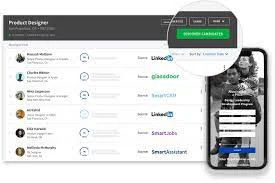 Founded in 2010, SmartRecruiters is the only SaaS recruitment system vendor that provides a powerful and intelligent cloud-based talent acquisition solution on the market at an under price. You can reach global talents everywhere in the world and keep them engaged with your HR team.
Features
Here are some of their features:
Candidates tracking system
Talent sourcing
Collaborate hiring
Offers advertisement
Mobile recruitment
Recruitment analytics
Cloud recruiting tool
Pricing
SmartRecruiters doesn't have a fixed cost. Pricing depends on your customized bundle and the number of employees. The company has to contact SmartRecruiters to make a free consultation and deal for the price that matches them the most.
Ultipro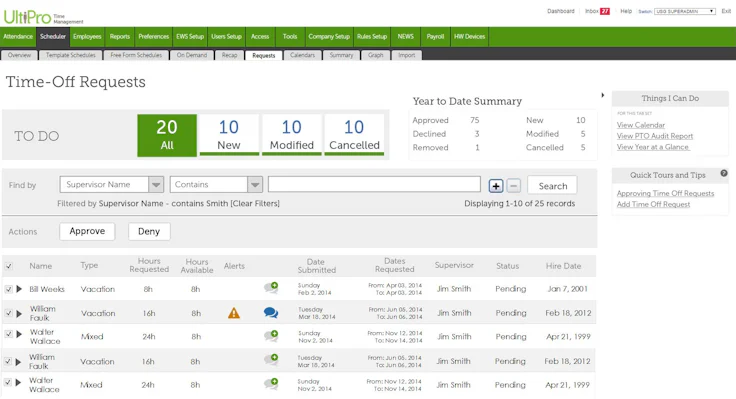 Founded in 1990, Ultipro is a product of the parent company Ultimate Pro and is a leader in HCM applications. Ultipro has a powerful human resources organization capacity. You can easily access your employee' data and track applicant information. Especially, the AI-assisted technology is developed on machine learning which helps you understand, predict, automate and personalize your recruiting process.
Features
These are the features of Ultipro:
Accounts and permissions
Compliance
Customization interface
Data privacy
Finance organization
UX optimization
Pricing
Ultipro doesn't fix their pricing, you can contact and make a quotation of the subscription that matches your budget and objectives.
Taleo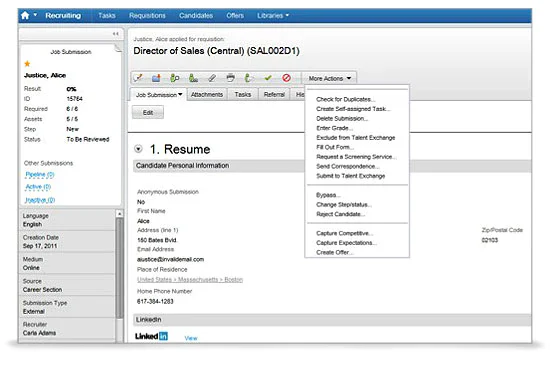 Taleo has an advanced suite of tools for all your need from sourcing, and employment to onboarding, all in one app. The best advantage of Taleo is the speed and the ease of use. You don't have to spend time training your team.
The key benefits:
Easy to use
Optimize database for decision making
The high connection between recruiters and candidates
Features
Here is what Taleo can do for you:
Recruiting: candidate attraction and engagement, onboarding, reporting and analytics, extensibility, guide
Human resources: end-to-end HR, on-demand information, workforce modeling, and predictive analytics, HCM controls
Talent management: integration with LinkedIn to reach the most candidates, job advertising, recruitment marketing, candidate experience
Workforce management: absence analytics, time and attendance, health and safety
Pricing
Taleo doesn't fix their pricing, all you need to do is contact them and make a quote of the price that suits your budget and your objectives.

Oracle Taleo Cloud Service
Applicant Tracking (ATS) Software
Learn more about Oracle Taleo Cloud Service
Workday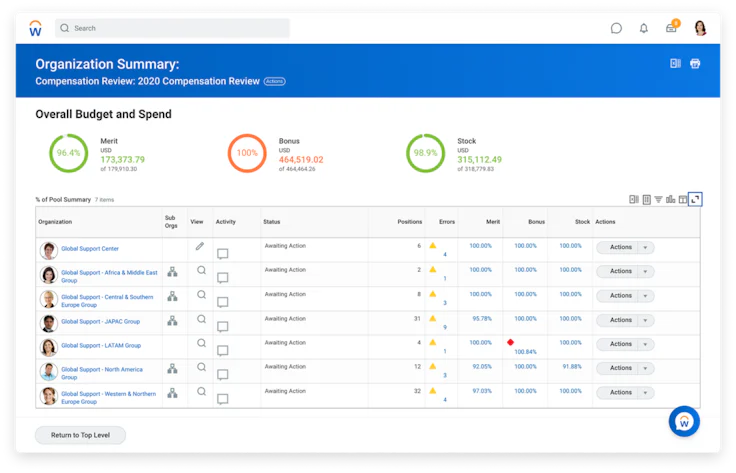 Workday is a SaaS recruitment system that helps you resolve all your business challenges including recruiting needs and find the best candidates for your business. They use a cloud-based friendly system, so you can have access anywhere and anytime.
Features
You can use Workday for:
Human resource organization
Staffing models
Onboarding and offboarding
Benchmarking
Benefits administrations
Worker profiles and skills evaluation
Reporting and analytics
Candidate support service
Pricing
Workday doesn't provide a fixed cost. Businesses have to make a quote that corresponds to their budget.
How to choose the right SaaS software for your business?
The SaaS software that supports this market is very dynamic and innovative: it allows not only to increase productivity, but also to attract the talents who will accelerate the growth of your business, while strongly engaging stakeholders in the process of recruitment (candidates, consultants, recruiters, managers, and employees).
Remember that there are 3 types of SaaS recruitment software on the market:
There isn't a software that is the best. The most important thing is that you understand the need of your business and choose the one that suits you the best. In general, specialized tools tend to be more innovative and generalist software more structuring.
What will be yours?
Best tools for you