Act!
Presentation of Act!
CRM & Marketing Automation Built for Small Business Success
Purpose-built for small businesses, Act! combines proven CRM with powerful Marketing Automation, providing you with the ultimate toolset to drive business growth.
The perfect fit for your small business, Act! can be tailored to meet your unique business and industry needs.
The proven and trusted choice, Act! is a recognised leader with millions of users worldwide.
Rich customer management
Keep rich contact details, emails, documents, notes, history, activities, and more in one easy to find place—the Act! contact record—for a complete view of your customer relationships.
Unlock the full potential of Act! with Custom Tables in Act! Premium Plus! Manage detailed, industry-specific data like insurance policies, service contracts, mortgages, or projects with ease.
Custom Tables & Industry Templates
Unlock the full potential of Act! using Custom Tables and Industry Templates in the new Act! Premium Plus. Custom Tables Manager provides maximum adaptability so you can bring complex data sets, unique business processes, and specialised industry practices together in Act! to manage your business. But unlike spreadsheets, you can associate individual table entries to Act! contacts, companies, groups, and opportunities for easy reference. Plus, you get the benefits of CRM to action on the data—create activities and to-dos, send follow-up emails, engage in informed sales conversations, and more.
Powerful Marketing Automation
Optimise all the ways you communicate with prospects and customers with Act! Marketing Automation to maximise engagement and drive business growth. Engage prospects and customers with response-driven nurture marketing campaigns—all sent to targeted lists in Act! automatically using criteria and triggers you define. Watch as Act! Marketing Automation turns real-time response metrics into sales actions—alerting you of new prospects, prioritising follow-ups, and delivering a composite view of customer engagement in a single solution. (Additional subscription required.)
Dynamic sales pipeline management
Manage opportunities using a simple, out-of-the-box sales process or one you configure to fit your business. Track products or services, status, days open, probability of close, documents, and more with every sales opportunity. See a complete, visual representation of your sales pipeline to project revenue, adjust your strategy, and quickly focus your efforts. In-context KPIs help you understand the health of your pipeline at-a-glance.
Actionable business insights
See dynamic, visual snapshots of real-time metrics with interactive, graphical Act! Insight dashboards covering individual, team, and business performance. Monitor sales, marketing, and business health KPIs for smarter decision-making. Dig deeper with one of 50+ preconfigured reports or create custom reports with the report designer. Export reports to Microsoft Excel, PDF, and email for further analysis or sharing with your team.
Act! Companion
Stay connected to key Act! details from wherever you are with Act! Companion, a native mobile app designed for iPhone, iPad, and Android — a valuable active subscriber benefit!
Act! Connect
Connect with hundreds of popular apps that extend the power and reach of Act! — a valuable active subscriber benefit! Get started with a few simple steps, then watch as Act! Connect automatically moves info between Act! and the apps of your choice.
Advantages of Act!
Certifications:ISO 27001, GDPR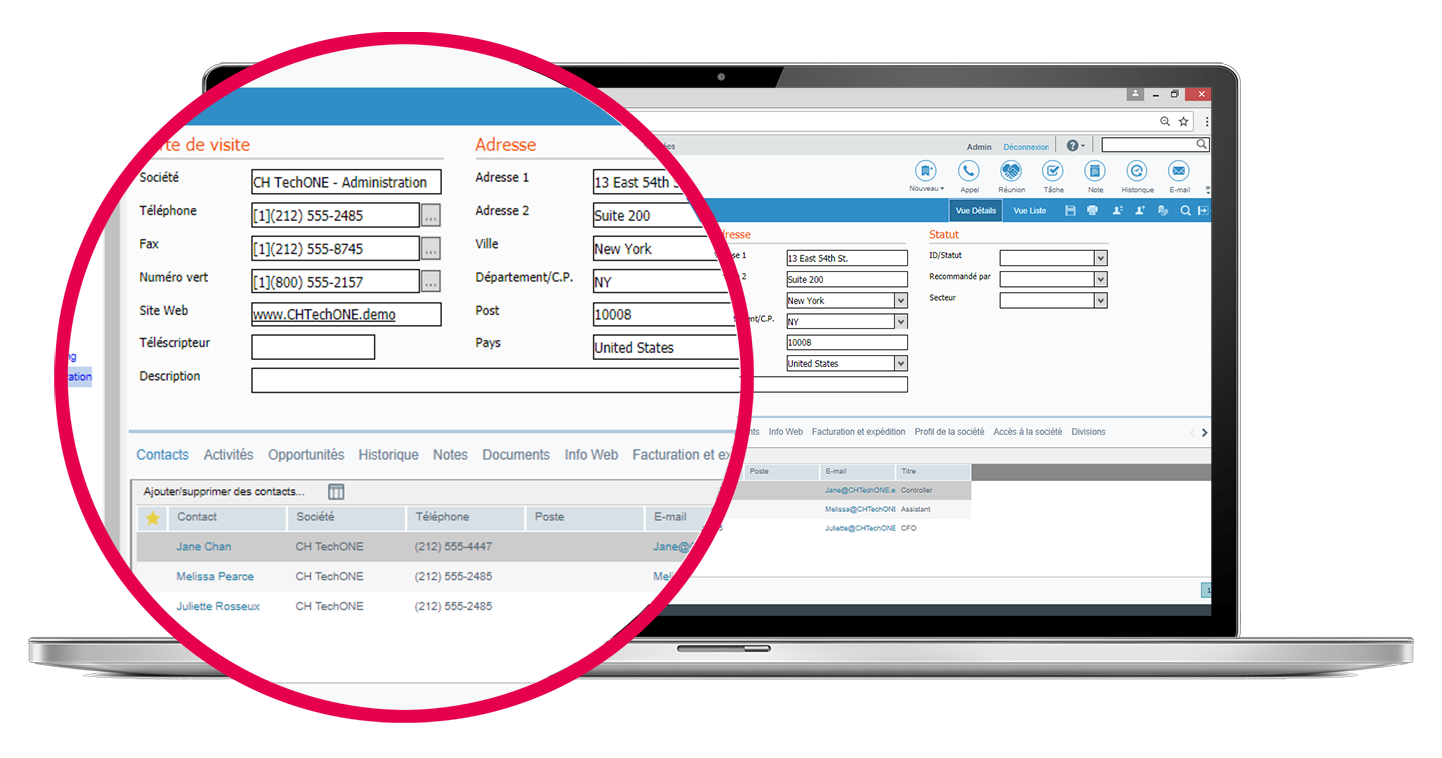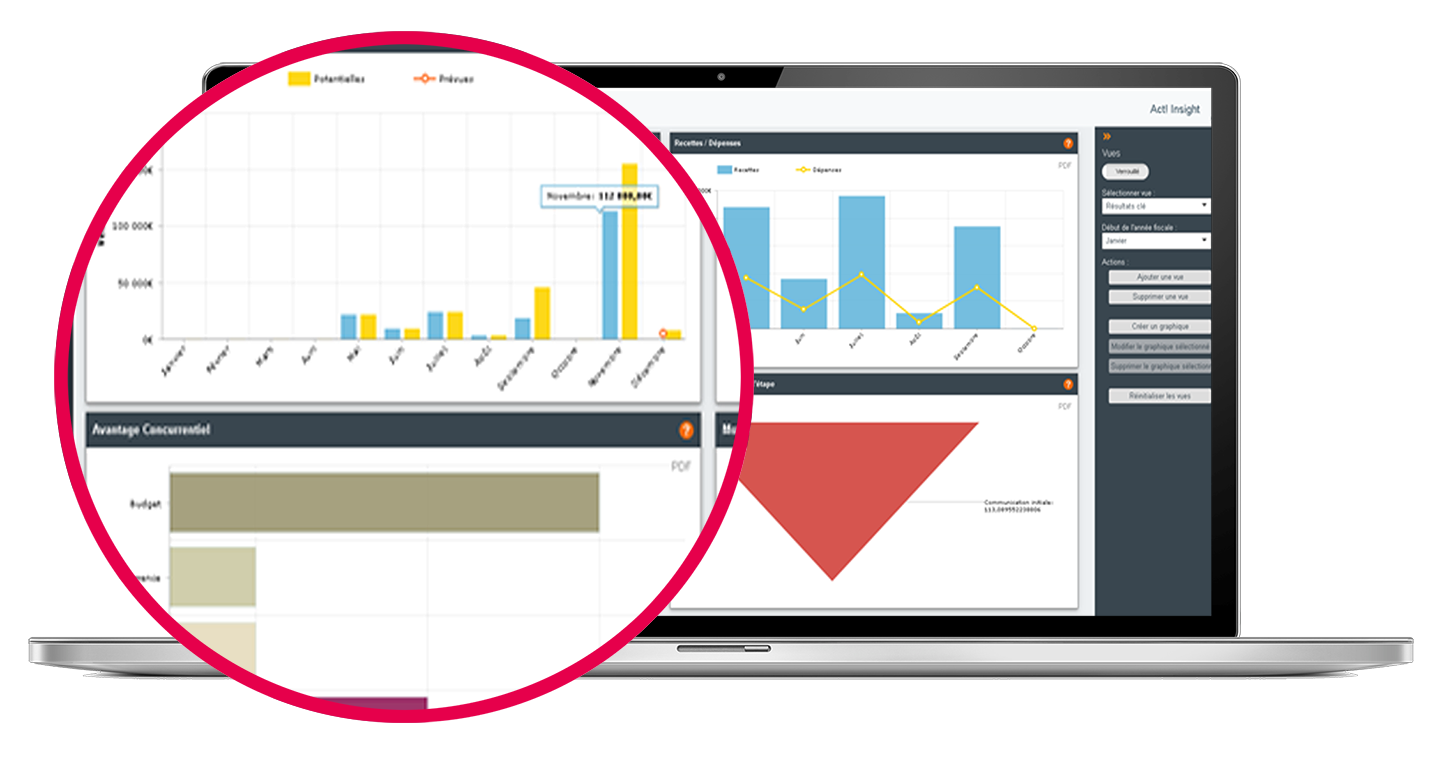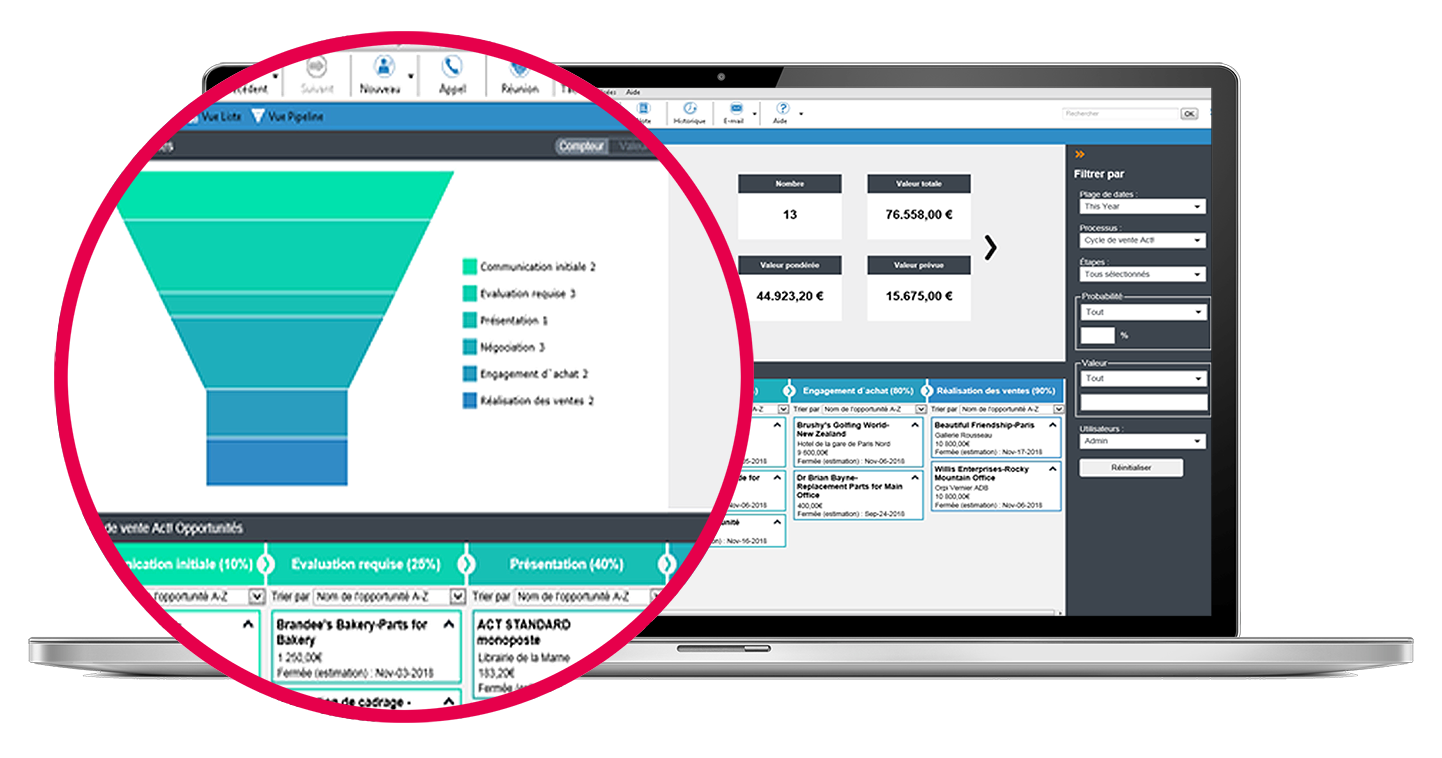 Prices and features of Act!
Suite Croissance Act!
€31.00
+ 50 other features
Customer reviews about Act! (0)
No reviews, be the first to submit yours.