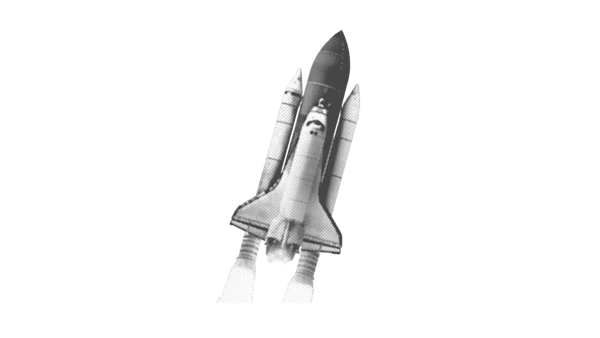 Take the Highway to Success with Lead Generation in Digital Marketing!
Lead generation in digital marketing has become a major challenge in sales management for any company and digital marketers wishing to grow their business.
According to SLN Web, 65% to 90% of B2B buyers make their own purchasing decisions, thanks in particular to Internet research. Moreover, 90% of decision-makers say they never answer a telephone prospecting call.
This is one of the reasons why Appvizer has got the winning lead generation strategy, that will help you boost your turnover thanks to sales and marketing techniques that embrace new consumer habits.
But how do you establish such a strategy? What are the steps to follow?
This article sheds light on the techniques and habits to adopt to convert your targets into quality leads!
Lead generation in digital marketing
Definition
Lead generation, in digital marketing, is the first contact initiated by a prospect with your brand whether it be by submitting personal information for an offer, trial, or subscription, etc.
💡 Hint! This is good news and means you have piqued their interest and curiosity.
Why generate leads?
A lead, by nature, has shown enough interest in your products and services to leave you their personal data, by filling out a contact form for example. This is your chance to test the waters by helping them learn about your brand which in turn increases brand awareness.
Lead generation in digital marketing is therefore an excellent business development lever.
But in order to qualify a contact and determine if it will be appropriate to develop, it is necessary to put in place a strategy whose ultimate goal is conversion.
Appvizer gives you all the tips to create the perfect lead generation strategy!
How to build a strong lead generation in digital marketing
Step #1: Set your business goals
Make sure the volume and quality of the leads you want to generate match with the objectives you set beforehand.
Before starting any acquisition campaign, you need to find a compromise between:
the investment to be made in lead generation and research,
the expected results.
Finding an effective way to attract prospects to your website
It is then possible to define a budget and calculate cac customer acquisition cost, as well as performance indicators to measure the return on investment (ROI). It's also important to know customer lifetime value calculation.
Step #2: Determine your target market
Identifying your persona
Working on the buyer persona allows you to gather relevant information about your potential buyer and target your audience:
age,
profession,
geographical location, etc.
their needs, pain points
their buying behavior,
their evolution, etc.
💡 To build your personas, some information research approaches are possible:
probe the multichannel database,
analyze external files,
study partner sites, etc.
Analyzing search intentions
Through the analysis of search engine intentions, through the pages positioned on a query, you identify the motivations of your targets.
Understanding the buyer's journey
Here is a visual demonstration of the journey: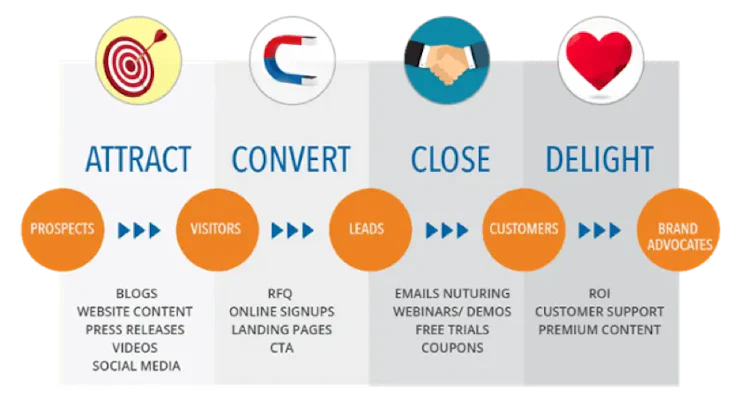 Understanding the buyer's journey and the importance of customer visits means knowing exactly how to approach them and which marketing content to offer them.
In other words, you will thoroughly understand their buying intention. You can examine the strategy adopted by your competitors. It can always be beneficial for your lead generation strategy.
And if you feel like there is too much information on the Internet, need an in-depth certified guidance, Appvizer has provided an official lead generation solution for you with the help of ZoomInfo's guidebook below.
Not only is it free, but it will help you capture signals of consumption patterns across the web to help you target when companies and leads want to buy.
Step #3: Develop a content marketing strategy
Promote it
Even though, they have initiated that first contact, it doesn't end there. To keep them interested, you must build long-term relationships with them. After all, they've made the first step and effort.
Offering quality content
Congratulations! You're already there because you were able to attract the right audience to your site. However, your pages must offer quality content, with high added value, to encourage visitors to discover your brand and, ideally, to leave their contact information.
This is one of the main techniques used in inbound marketing: to make prospects come "naturally" to your site and encourage them to discover your products or services. For this, a knowledge of the target audience, their needs and motivations, is essential.
💡 Have you considered the lead magnet? It is a free offer that you make available in exchange for information (most often contact information). It can be:
a white paper to download,
a contact form,
an online information request,
participation in an online event or training, etc.
Step #4: Nurture your leads
Even though, they have initiated that first contact, it does not end there. To keep them interested, you must build long-term relationships with them. After all, they've made the first step and effort.
Social networks
Engaging your audience is essential, especially in a digital context. With the now-widespread use of social media, it becomes essential, even for BtoB companies, to federate a community and create a bond with their customers.
💡 Beyond engagement, the social selling technique is now used to generate leads on Facebook, Instagram, LinkedIn, etc. Indeed, it aims to use social media to identify new prospects, and thus increase sales.
Email marketing
The importance of email marketing should seriously be considered. Not only, is it cost-effective, it is easy to share, send and measure.
In addition, if the customer has signed up to receive newsletter, it's a win-win here. It will allow for higher conversion rate because you know that the people you are sending them too, have already an interest in your brand.
💡 An important point is to always observe who has the most interaction with your brand, as you do not want to scare away the ones who have just signed up with their email, for example. Spot and focus on the ones who have repeatedly visited your website. It is evident that they may want something. They are usually the ones who have a great impact on sales.
Step #5: Conversion of your leads
To get the data that will turn your visitors into qualified leads, implement a number of actions directly on the pages of your site, once the previous strategies have paid off.
Don't neglect call-to-actions and landing pages
A call-to-action button (or CTA), inciting to click, redirects visitors to a landing page. On this page, there are fields to fill out in order to collect their names and email addresses.
These call-to-actions, as their name indicates, are intended to really incite the action! Visible on your site, your blog posts or your emails, at different stages of the lead conversion funnel, they must benefit from:
an impactful design,
a message that makes you want to take action. Example: Download your 100% free guide.
As for landing pages, they are no exception to these rules. In fact, they are often the first point of entry for Internet users on your site! That's why we recommend that you work on them to make them engaging, through contact forms that:
are well-designed,
correctly presented,
and provide a sincere answer to your audience's problems.
Work on the user experience
To complete your content strategy, it is necessary that your whole website offers an optimal user experience.
However, an attractive website is not the only prerequisite. Take an interest in its functional aspect, in order to make the interface pleasant and the navigation fluid to facilitate the search for information.
For this, it is necessary to know the profile of your target (identified earlier), and in particular its preferences and tastes. These will influence your design choices.
💡 To encourage your audience to act, it is important to:
grab their attention with engaging visuals,
prioritize the information in a clear and fluid way to remove any obstacle to action,
respond to their expectations, with a study conducted beforehand,
optimize navigation by taking care of the performance and the functionalities of your site,
avoid intrusive content or any feature that could be harmful to their visit to the site.
Step #6: Care for your leads relationships
Launch emailing campaigns
The principle is as follows: once you have obtained contacts, send information or promotional offers by email in order to arouse their interest and make them want to contact you again.
💡 This emailing approach carries the risk that the email will be filtered as spam or not considered, lost in numerous emails received every day. To avoid this, it is necessary to:
find a catchy subject line,
work on attractive content that answers the demand,
not neglect the call to action to redirect the prospect to your website or a landing page.
Adopt lead nurturing
Once a relationship has been created with your leads, and once you have obtained the contact information of a potential customer, don't risk letting people go!
To do this, plan to accompany them and maintain the relationship by taking care of them.
💡 Lead nurturing refers to all the methods that bring a new contact to the level of maturity required to make a purchase. Achieving this goal involves, among other things, advice and the desire to provide them with a real solution to their problems and needs.
Step 7: Analyze the impact of your generation lead process
To evaluate the impact of any strategy and improve its performance, it is necessary to analyze it and make reports.
Depending on the results, you may need to modify pages, messages or buttons to improve your lead generation performance.
Examples of indicators to track:
Conversion rate: this is one of the criteria to evaluate the profitability of a lead generation campaign. It is based on the ratio between the number of visitors and the number of qualified leads.
Costs: per qualified contact, per sale and for a given action, they also prove to be indicators of ROI.
Ready, Steady, Generate!
Ultimately, the lead management process contributes to spreading a positive image of your company to your potential customers. It guides them along a path that, in the best case, will end with a purchase.
But to transform your qualified leads into customers and guarantee a good ROI, don't hesitate to opt for an adapted software solution: the results will speak for themselves, so do the test!
And you, what actions do you take to boost lead generation in digital marketing?
Best tools for you