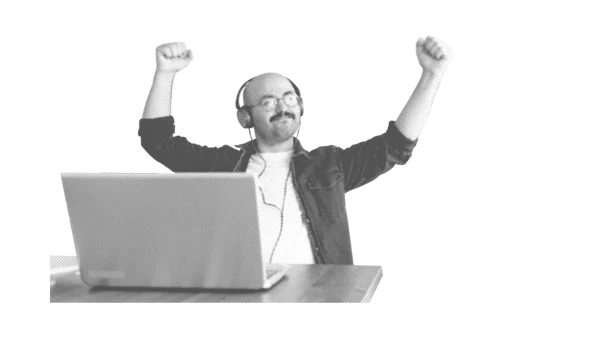 Customer Acquisition Cost (CAC)- One of Marketing's Most Important Indicators
Mainly used in the world of direct marketing and digital marketing, customer acquisition cost, or simply known as CAC, refers to the amount of money spent to acquire a new customer.
To be as representative as possible this indicator must take into account all the resources used and allocated to the transformation of a potential customer into an actual one. Several actions are a part of this process of turning a potential customer into a real client, this includes sales and marketing campaigns, which both have an assigned cost.
Why is Calculating the Customer Acquisition Cost (CAC) so Important?
"Where are our customers coming from?"
"Which means of communication and outreach should we invest more money and time in?"
Asking meaningful questions is the first step in finding meaningful answers for sales management. By calculating and analyzing the Customer Acquisition Cost you'll be able to find the answers to your marketing questions.
Generally, calculating the CAC allows businesses to better decide how much money can be spent, in a way that is profitable for the company for a specific period and use, on each client.
First, to hit revenue targets established by the company, the marketing management sets objectives of how many new customers it must acquire to hit that target. The CAC, in this case, is extremely helpful since it allows the marketing department to estimate how much they need to invest in sales and marketing campaigns to obtain a certain amount of clients and hit their objective.
Furthermore, this performance metric allows you to track the profitability of campaigns and marketing actions put in place to attract new customers.
In effect, thanks to a cost analysis, it is possible to identify the most profitable marketing channels where companies can advertise their product or service, for example, email, digital marketing, etc. Once identified your company can then decide which channels to focus on to optimize your marketing investments.
Moreover, the emerging dominance of digital marketing pushes companies to engage their potential customers with more interactive campaigns and actions. CAC corresponds perfectly with these new demands because it allows companies to analyze which of their actions is the most profitable and therefore focus on one in particular, or conversely identify the actions that have not been profitable and change them.
💡Note: Calculating the CAC is even more important for companies who specialize in BtoB business. Often the customer experience in the world of BtoB is long and often hard to track, unlike with BtoC. If you are in the BtoB sector, calculating the CAC can be a real tool to help measure the efficiency of your efforts and heavy financial investments like setting up for an expo. CAC allows companies to know if their b2b sales lead generation strategy is on the right way.
Tips: Check out our b2b sales cycle and b2b sales funnel to understand more the sales in b2b context.
Internally, what you pay to acquire a client, the CAC, makes sense when you compare to the lifetime value (LTV) of the client, meaning the amount brought in by a client over the entirety of their relationship with you.
💡Note: To do the customer lifetime value calculation, you multiply the average value of their purchases by the number of times the customer usually buys from you each year, and then finally by the average customer relationship in years.
In effect, this comparison is necessary to determine the real Return on Investment (ROI) of a client for the entire duration of the relationship with them.
All this to say that spending a lot on the acquisition of certain customers isn't necessarily a bad thing if it's made up by the fact that that type of customer will bring in a lot of revenue. Inversely, a low acquisition cost doesn't have much value if the customer has a low lifetime value.
CAC is also very important to investors, it allows them to see the average amount you spend to acquire new customers, and therefore evaluate the amount of difficulty you will have to accomplish customer objectives.
How Do I Calculate Customer Acquisition Cost?
The simplest way to calculate the CAC is to divide the total cost of sales and marketing actions by the number of customers acquired.
The equation looks like this:
Total Cost of Sales & Marketing/# of Customers Acquired
To determine the total cost made to acquire new clients, you have to take many different types of costs into account.
Costs Associated With Digital Marketing
Content posts on social media
Email campaign
SEO
Ads online, for example, Google AdWords
Website and Blog maintenance and updates
Software licenses from marketing automation and CRM Softwares
Costs Associated With Traditional Marketing Methods
Conference planning and set-up
Expo planning and set-up
Public relations
Wages for the marketing team, their bonuses too
Costs Associated With Sales
Telemarketing
Wages for the sales team, including their bonuses
Mileage of professional vehicles
Extra Costs That May Arise
Consultancy services from marketing/sales professionals (designers, consultants, etc.)
💡Note: This list can very well change depending on the sector in which your business is. However, the idea stays the same, you have to cover all costs that come up during the process of turning a potential customer into a real one. This method allows you to get an overall average CAC, however, it also could be beneficial to calculate by each sector or channel.
Strategies to Better Optimize Your Customer Acquisition Cost
Too high of a CAC, compared to a customer's lifetime value calculation as explained before, is often a sign of the inefficiency and misuse of investments. That's why it's so important to establish an optimization strategy so it's the lowest possible.
Therefore, you have to identify the levers that will allow you to reduce your new client costs, while at the same time increasing the volume and the quality of your results. Among these methods, we have:
Investment in inbound marketing campaigns that focus on content strategy and social media. This technique is highly effective, and best of all it doesn't cost a lot, allowing your company to reduce your CAC.
Set budget limits that cannot be passed
Focus on investments in channels or the client portfolio that have a higher ROI
Identify and know which are the most popular channels from which your company gets the customers. By knowing this you'll also know the rate of lead conversion and will be better suited to allocate resources accordingly.
How Can Marketing Automation Software Be Useful to Your Company?
Marketing automation software allows you to follow a customer's experience and therefore align your marketing campaigns and actions according to their expectations.
Software available to you offers a detailed analysis of your marketing campaigns (personalized trackers, automatic calculation of ROI). Making it easier to improve your campaigns; by lowering their costs, but at the same time maintaining the same level of efficiency.
Data is also at the center of all this: tracking a website and its digital movements is a strategic choice. The power of software in the automatization of marketing tasks is only one side of the coin. Being able to see the data (KPIs) on all the points of conversion of the website and marketing actions is a goldmine that allows managers to continually help managers make correct and appropriate strategic decisions. Making strategic decisions should no longer be based on simple guesses, they should be based on tangible numbers and data.
Thanks to the internet and new technology now available, you can easily calculate your CAC, and know how to improve it.
Best tools for you