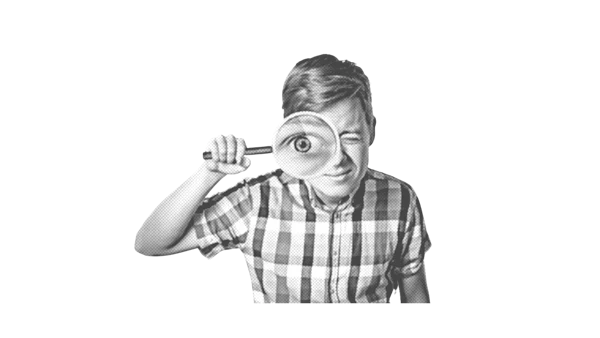 Employee Selection Process: 6 steps to improve your recruiting strategy
Employee selection is essential to recruit and retain new talent. If you choose the wrong candidate, you may find yourself looking for a replacement in just a few months, which will cost you time and money.
But, if there is only one open position to fill, how do you narrow down your list of candidates to just one person?
To select the right candidate, you need to have a good employee selection process in place. With a well-structured process, you can accurately identify candidates who aren't right for the job, leaving you with the perfect candidate to fill your open position.
This article explains the steps of an employee selection process, and gives you the best tips and tools you can use to improve your recruiting strategy!
Keep on reading to find out more about employee selection:
What is employee selection?
Employee selection is the process of talent acquisition for a specific job. The goal of this method is to match the requirements of a job description with the experience, competences and qualifications of candidates.
An employee selection process varies according to the type of firm hiring and the position available. Moreover, this process is a key lever to meet operational goals within any organization, as hiring the right employee could save a company time and money, improve the workplace atmosphere, and increase productivity.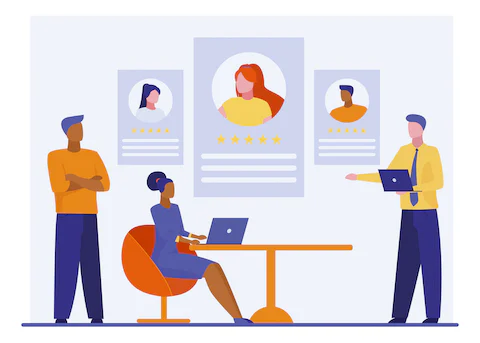 Steps of an Employee Selection Process
Before the actual recruiting process, it is essential to perform a job analysis to understand precisely what an organization needs and where it needs it. A job analysis will provide a clear position description which will help to attract the right talent.
Once the job posting process is done, you will begin receiving applications from many candidates. And, this is where the selection process begins.
Here are the 6 steps of an employee selection process:
1. Initial screening applications
During the initial screening, an applicant completes an application form and submits a résumé and cover letter. Human resources will then review this information and conduct a brief screening interview of 30 minutes or less over the telephone.
2. Employment tests
Following an initial screening, the applicant may be asked to take one or more tests to assess his/her knowledge, skills, personality, cognitive ability and motivation.
Wonscore is a cloud-based HR software designed to help SMEs and large organizations evaluate candidates.
Its system is composed of a cognitive ability test, a motivation test, and a personality test. These 3 tests then provide one score which allows you to predict the top performers from your selection of candidates.
3. Selection interview
Those who pass the initial screening are invited to face-to-face interviews.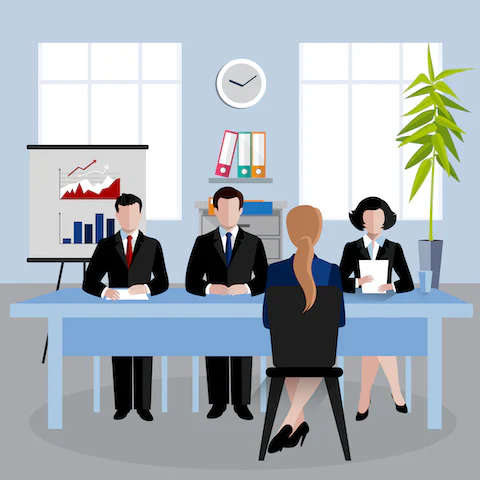 © Freepik
The format of these type of interviews varies: some companies prefer to have all-day interviews, where interviewees meet with different interviewers each hour. Whereas other companies rather have candidates meet with key personnel one day, then invite them back for a second meeting with executives.
This interview is designed to observe communication skills and motivation and the applicant may be presented with realistic job situations, such as dealing with a disgruntled customer and asked to describe how he or she would handle the problem.
4. Verifications and references
If applicants pass the selection interview, most firms examine their background and check their referrals. Today, employers review applicants' backgrounds, legal history, reasons for leaving previous jobs, and even creditworthiness.
5. Physical examination
A firm may require an applicant to have a medical checkup to ensure he or she is physically able to perform job tasks.
Usually, candidates notify the tester of any prescription drugs he/she is taking because these will show up in the results. If he/she tests positive for any other drugs, it could jeopardize his chance of being recruited.
6. Final decision
The hiring manager will usually ask for feedback from human resources and other employees who interviewed the job candidates. He/she may also review his/her notes and decide which candidate is the best fit for the position.
Importance of a successful employee selection process
An employee selection process can help increase the overall performance of an organization by influencing daily operations, long term success and employee morale.
Benefits of using employee selection
Employee selection offers the following advantages:
it is cost-effective and reduces time and effort
it helps avoid any biasing while recruiting the right candidate
it eliminates candidates that lack knowledge, ability, and proficiency
it provides a guideline to evaluate candidates through strict verification and reference-checking
it helps to compare different candidates in terms of their capabilities, knowledge, skills, experience, work attitude, etc.
Tips to improve your recruiting strategy
1. Put the test results into perspective
Many external factors can interfere with employment test results, such as the conditions under which the test is conducted or the candidate's interpretation of the questions.
To put things into perspective, you can check the consistency with the candidates' background check while keeping in mind the importance of the results for a specific position.
2. Give importance to human interaction
Intuition is fundamental in recruitment! If there were interesting conversations during interviews, why don't you value them? The truth is, no matter how complete a test is, it can never replace human contact.
Moreover, in general, isn't your choice already or almost made before using an employment test?
If so, use the results with hindsight and a critical eye and don't be afraid to rely on your impressions when interacting with your potential new employee. Don't forget that the candidate is subjective in his or her judgments, and is not necessarily the best judge of himself/herself.
During your exchanges, use empathy and active listening by not focusing on what is being said, but on the message, you really want to convey.
3. Believe in potential
New recruits could bring innovative ideas and a new way of looking at things.
Don't be afraid of atypical profiles; they may surprise you and they can prove to be a driving force in "shaking up" the workplace and bringing a fresh look at existing processes.
Some individuals can bring dynamism, a creative spirit and a constructive critical sense, all of which are assets for the development of your activity - and even a new source of motivation for the team.
4. Embrace collaborative recruitment
As a recruiter, you may decide to involve other people in the employee selection process, whether they are other managers or potential future colleagues of the person applying for the position.
Comeet is a collaborative recruiting tool that lets employees and recruiters work together to identify the ideal candidates for their teams.
When you are involving your employees in the recruitment process, sometimes they know exactly what the company or the team needs. They are also experts in their field and are therefore better informed about the requirements for a specific position.
5. Use an applicant tracking software
Finally, by using dedicated tools to manage applications, you will be able to refine and improve your recruitment process.
CATS is a customizable, web-based applicant tracking system that you can use to manage your entire hiring process, job posting, candidate sourcing and screening qualified candidates to reporting on your hiring campaigns.
By centralizing data on CATS, you will avoid losing any information, especially when your process involves many steps.
Conclusion
Use these 6 steps to set up your employee selection process. However, remember to create a customized system that is adapted to your company and candidates.
Regardless of the approach you take, there are many tools available to improve your recruitment process. Which ones will you choose?
Best tools for you