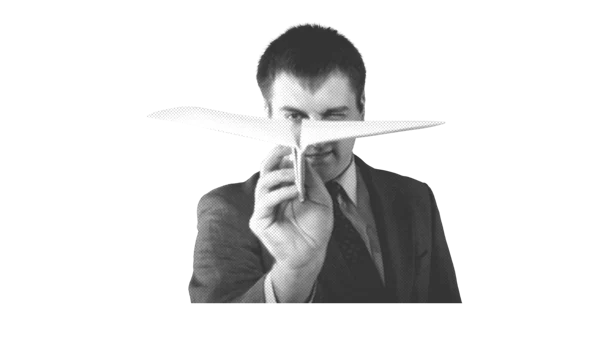 How to send bulk email: 9 tips for sending mass emails
How to send bulk emails? To send messages to a large number of email addresses, email marketing comes in handy. However it is essential to follow some rules: ensure good deliverability, be in compliance with the CAN-SPAM Act, mention mandatory company information, manage contact lists, track behavior, and measure performance.
There is no need to browse all of the forums on the Internet to get an answer to your question. appvizer provides you with 9 key rules to know before doing bulk emailing and a list of the best professional emailing software for avoiding your newsletters classified as spam. Follow our guide:
9 rules to know before doing bulk emailing
Before sending mass messages to prospects, customers, or a newsletter to thousands of subscribers, it is important to be aware of a few rules.
#1: Users must be able to easily unsubscribe
Mass emailing in the United States must comply with the CAN-SPAM Act. For effective email marketing services, every email must include an easy opt-out method for users to unsubscribe from receiving emails. This can be included anywhere in the email, but the link is usually at the bottom of the email.
Even though the CAN-SPAM Act does not have an opt-in requirement, meaning that you do not need to get the recipients' consent before sending them emails, we highly recommend that you do so. This will allow you to have a greater click-through rate and increase sales and revenue.
You must also provide access to the data that you collect on your subscribers, they must be able to exercise their rights to modify the information collected, cancellation or portability of their data.
#2: The mandatory legal notices
Your recipients must be able to clearly read the following information on each of your emails:
Information about your company, i.e. the sender's contact details,
The purpose of the email sent to him,
An opt-out / unsubscribe link,
A link to access and manage your information (modification, deletion, portability),
A link to see your newsletter online; some email addresses block the full display of your message.
#3: Deliverability target and zero spam
The sender must ensure the deliverability of emails sent in bulk. The risk here is damaging his reputation as a sender, being blacklisted and losing the confidence of the recipients.
✅ Good deliverability:
Results in a high rate of messages arriving in the inbox,
Depends on the good reputation of the IP address with regard to ISPs (Internet Service Providers),
Requires your authentication as a trusted sender, especially in terms of security,
Follows good practices to remain transparent and pass spam filters, etc.
#4: Manage your list of emails to reach a better target
Contact management is essential in more than one way because it allows you to:
Avoid duplicates and send out an email twice to the same person,
Establish lists of contacts according to interests,
Segment according to customer profiles,
Better target your messages and improve their effectiveness.
#5: A clear marketing message
From the subject line of your email, you must be clear about your intentions and avoid spam words prohibited by ISPs (Internet service providers) who hunt down spam ("free", "miracle", "money", "sexual", "urgent", etc.).
The segmentation and personalization of your email lists allow you to send the right content to the right person at the right time.
✅ You maximize the performance of your mass email service campaign when it adapts to the interests of your recipients, their maturity in the buying process, and their buying and surfing habits, their habits as well as the right time to open the email.
#6: Create a responsive email design
A large number of emails are viewed on a variety of screen sizes. It is therefore essential to create and think about emailing best practices in terms of responsive design.
✅ A responsive design means making your email readable on any device, regardless of the size of the screen: smartphone, computer, tablet.
Research reveals that mobile internet usage continues to increase: large numbers of emails are viewed on a variety of screen sizes. It is therefore essential to create and think about your email messages in terms of responsive design.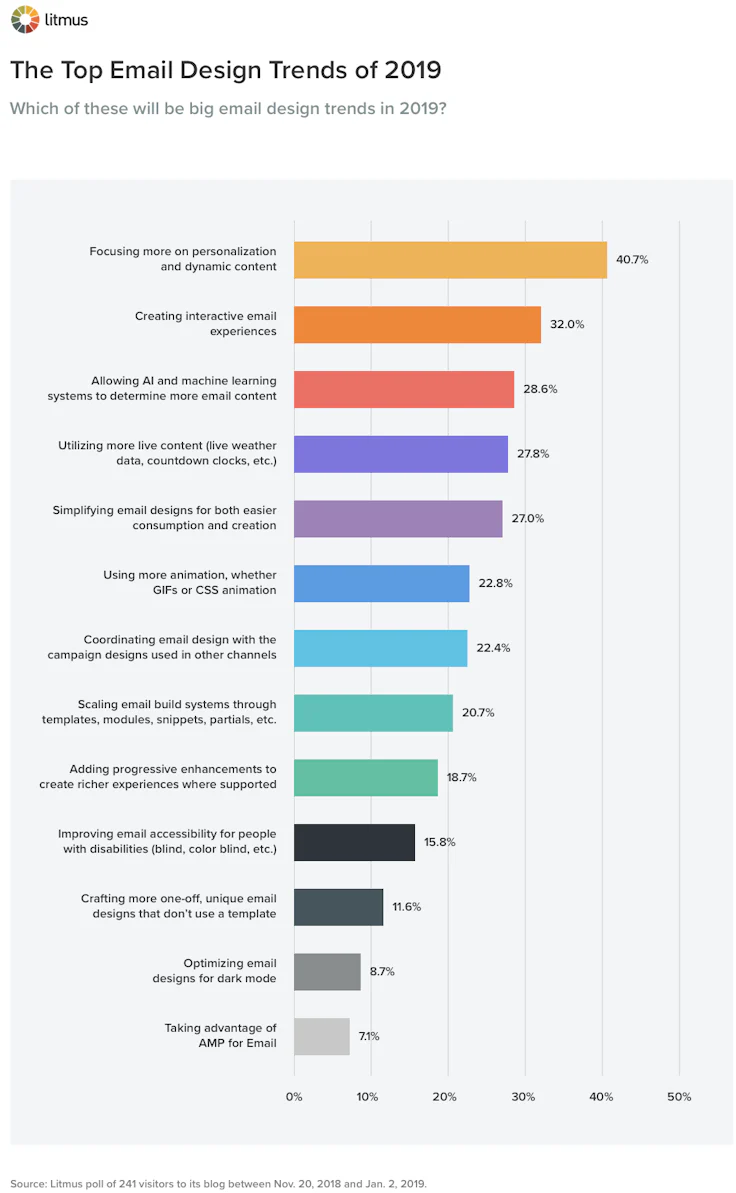 #7: Use an HTML editor
An HTML editor is an IT solution that allows you to design and correct an HTML document, i.e. the web page corresponding to your email.
The editor allows you to manage everything: text, image, template, links, graphics rendering, etc. Depending on your skill level, you can code everything by hand, or rely on a professional emailing solution that protects you from technical errors, while providing you with email templates or advanced features to maximize the return on investment of your high-volume email sending.
#8: Track your shipments
It is necessary to set specific links to measure the behavior of each recipient and perform performance reports.
Each link in the body of your email has a tracking code that detects the action taken by the user receiving your email called email analytics.
✅ It is interesting to set up different performance indicators (KPIs) such as :
The click rate on each link,
The rate of transfer from an email to a contact of the recipient,
The deletion rate of the email sent,
The email opening rate,
The web pages visited following clicks, etc.
#9: Free mass mailings, only a good idea at first sight
Sending mass emails with a Gmail or Microsoft Outlook account is not recommended:
Google sets limits of 500 emails per day to avoid spam.
You will struggle when setting up tracking links or monitoring campaigns.
This practice is not professional because your company is not authenticated as an email sender.
Emailing and SMS software to send large volumes of promotional messages successfully
Comparative table of emailing solutions
The table below summarizes the 3 professional emailing solutions presented in this article:
Newsletter2Go: all that is missing from Mailchimp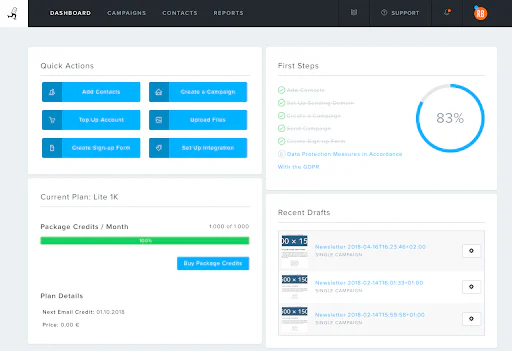 The benefits of Newsletter2Go for sending bulk emails:
An easy-to-use drag and drop HTML editor,
Attractive and responsive email templates designed to launch promotional campaigns quickly,
Tracking codes to evaluate each recipient's performance,
Communication with e-commerce CMS such as Magento or Prestashop,
Interoperability with CRM tools such as SugarCRM and Salesforce,
The possibility of rating subscribers and creating lists of contacts segmented according to the behavior of the recipients,
Tests to verify the deliverability of email campaigns.
Remarkable fact: the emailing platform rewards virtuous companies in terms of deliverability and anti-spam policy. Through the Payback offer, credits are offered based on the open and click rate obtained.
Add to this the fact that there is a free version with up to 1,000 emails a month, you have no excuse not to test the emailing tool!
Sarbacane Sunrise: Email Marketing and SMS solution
The Sarbacane Desktop solution has become Sarbacane Sunrise. The new version of the Sarbacane software allows companies of all sizes to improve their email marketing performance by coupling them with SMS campaigns managed on the same platform.
We notice a faster, more ergonomic, more intuitive interface, with a visualization of statistics to make other emailing software publishers pale in comparison.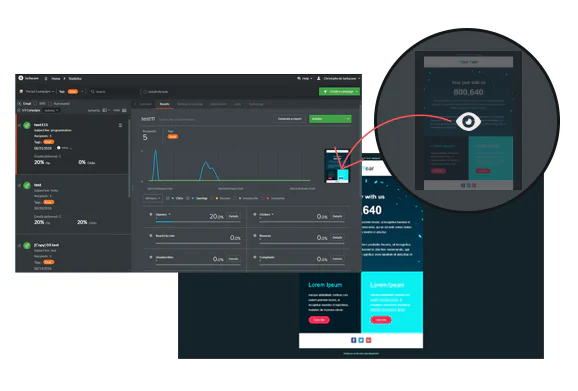 Sarbacane Sunrise's benefits for sending bulk emails:
200 email templates in responsive design,
Tracking and dashboard allow analyzing the performances with precision,
A segmentation that is easy to implement and accurate,
Automation marketing features to trigger the sending of campaigns,
Outdated emails and contact databases are cleaned automatically,
The creation of multi-channel marketing scenarios to combine the joint effectiveness of SMS and email,
Deliverability tests to maximize the opening rate of its bulk email shipments,
Connectors to communicate with Wordpress, Google Analytics, etc.
An SMS editor also allows you to enrich your SMS campaigns with images, videos or interactive maps for example.
By combining SMS with email, Sarbacane Sunrise offers SMEs the opportunity to follow the customer and suggest more opportunities to seize, at selected times.
In short, a relevant customer experience for the right targets.
wewmanager: the emailing tool that uses email analysis
The wewmanager emailing solution addresses the concerns of key accounts (more than 250 users) with intelligence in data processing (Data Intelligence).
Web marketers rely on a platform enriched with business-oriented artificial intelligence: the solution learns from the behavior of your recipients to improve your marketing campaigns.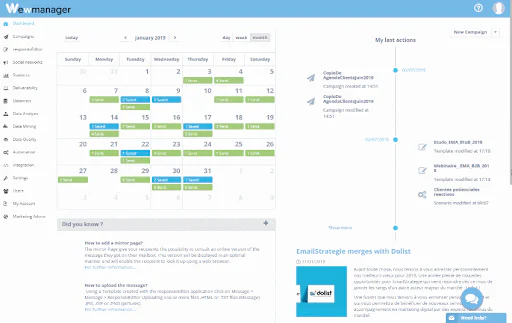 The benefits of wewmanager for sending bulk emails:
Coupling with SMS campaigns,
A responsive HTML editor,
The recipient's knowledge is thorough (Data Mining),
Data analysis and segmentation is fine (Data Analysis and Data Smart),
Marketing automation features,
Multi-dynamic targeting enabled by artificial intelligence,
A wealth of modules to produce statistics according to different criteria,
An algorithm that detects all errors to ensure optimal differentiability, avoid any risk of spam, etc.
Combined with email and SMS, wewmanager's artificial intelligence offers serious advantages to continuously qualify its customer databases and seize the best opportunities as they arise.
Faced with complex Big Data management, the most discerning key accounts are equipped with a solution that combines the tools essential to data management. The best performance depends on it.
Don't forget: "Content is King"
Last but not least, content. We've told you all the tricks to better manage your email marketing campaigns and how to make them as profitable as possible without running into the "spam filter" trap.
In closing, we leave you an infographic on how to best create valid content for your emails.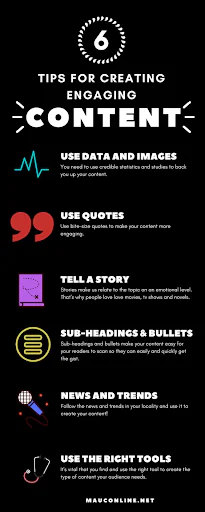 Which bulk email software do you use? Share your experience with us!
Best tools for you