 Infusionsoft
Presentation of Infusionsoft
Infusionsoft is a web-based CRM designed specifically for small businesses. Its range of features is nonetheless extremely comprehensive and the software can be totally integrated with your communication and collaboration tools. Infusionsoft is particularly useful for the automation of marketing and commercial processes, and online sales management.
What does Infusionsoft do?
Infusionsoft offers a number of very useful features, which allow you to:
Capture more leads: the CRM ensures that you never miss out on a commercial opportunity with your target audience
Improve conversion rates: get in touch with your prospects at the right time
Ecommerce: Infusionsoft allows you to commercialize your products and services online
Manage sales processes: easily manage prospects and current customers
Infusionsoft is the ideal CRM for small businesses
130.000 users have put their trust in Infusionsoft, thanks to the various awards that the tool has received. 15 years of expertise in the automation of small business processes have made Infusionsoft the solution of choice.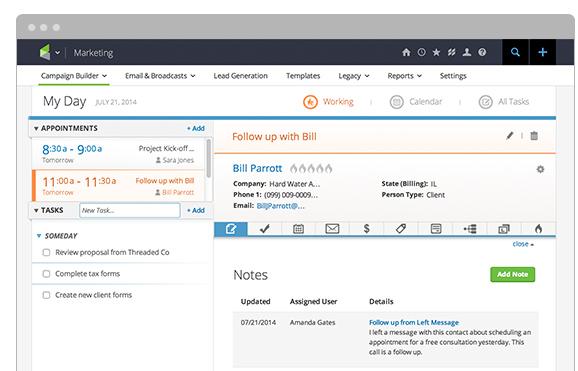 Prices and features of Infusionsoft
Customer reviews about Infusionsoft (0)
No reviews, be the first to submit yours.