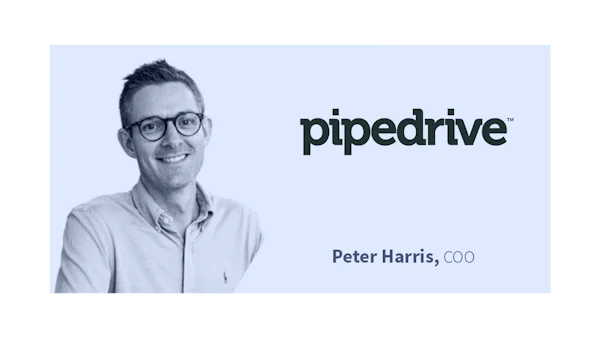 5 ways to prepare your small business for a new market
Existing customers are the foundation of any business, but there may come a time when you want to expand into new markets.
The good news is that with research, planning, and preparation, your company can minimize the risk of entering a new market and grow your customer base in the process.
Based on my experience, I'll outline five steps you should follow to analyze the new market, prepare your team, and gather the tools you need to make the move a success.
1. Do your research
Researching new markets is an essential part of the expansion process. It narrows down which customers you should be targeting and which market (including new geos, territories, and industries) has the most potential.
This research happens in three stages.
Step 1: Analyze your existing customers
Talk to the customers you have right now, and ask them why they chose your product or service.
Use this opportunity to survey your existing customers and gather quantitative data, like their company and job role.
Then use open-ended questions to discover their needs beyond the ones your product solves for them. This qualitative data can uncover product and feature trends that might be replicated in the new market.
This analysis should also give you a more accurate idea about what products or services they are willing to pay for and those they use the most.
Finally, collect information on the average buying cycle and their lifecycle as a customer.
For example, does the average deal take six months to close? How many stakeholders are usually involved in the decision-making process?
This information will be helpful when you are creating your go-to-market (GTM) strategy.
Step 2: Do competitor research
Look at the market you're considering moving into and research the businesses that already have a stake in it.
The main aim is to understand what your current competitors are doing in that space (and if you will have any new ones).
Do this by creating a positioning map.
Positioning maps allow you to plot competitors using variables like price, market share, practicality, and complexity to evaluate where your company stands.
For example, phone companies may put providers like Apple and Samsung in the higher price and higher quality quadrant of the map, while brands like Nokia will fall into the lower price with fewer features section.
Pick two variables that make the most sense for your brand and solution to create your own map.
It's worth noting that sometimes you'll need to look beyond the immediately obvious competitors. For example, in some markets, Pipedrive doesn't compete with other CRMs but with spreadsheets, and even pen and paper.
Step 3: Do market research
Assess the potential audience inside the new market.
There will be different possibilities in every new market depending on its size, location, and competition, and you may need to approach them differently than you would other markets.
Start by considering how your company will position itself in the new market by identifying:
Market size. The new market must be big enough for your product or service to succeed. If your product is too niche, the demand will be smaller, and so will your market size. (We'll look closer at this in a moment.)


Accessibility. Be realistic about whether your product is a good fit for the new market and if you'll be able to connect with this audience. This will depend on if your team can get your message in front of them and if there are any barriers. Geographical reach and varying regulations will require you to research how to enter every new market to determine how you can legally market and sell your product.


Positioning. Determine your product's unique selling points over competitors in the new market. Use a positioning map to highlight what sets your product apart and make it the basis of your marketing messaging.


Profitability.

Any new market needs to be profitable. Consider what resources you'll need to expend to introduce your product in the new market, and calculate the potential return on investment for varying levels of success.
Once you've considered your company's positioning, look closer at your market size and audience potential.
You can do this by analyzing the TAM, SAM, and SOM of the new market you are exploring:
TAM (Total Addressable Market). This is the maximum size or potential revenue of the new market you are exploring. If your company sells software that helps people create budgets, the TAM would represent prospects and leads that fit your ideal customer profile (ICP), or people that would benefit from your software.


SAM (Serviceable Addressable Market). This is the segment size of your ICP that you may be able to realistically service in the new market, taking factors like geographical reach, positioning, and accessibility into mind. For the company selling the budgeting software, the SAM includes your buyer personas that are reachable, have the budget to spend on your software, are not affected by regulatory red tape, and so on.


SOM (Serviceable Obtainable Market).

This is the realistic amount of the new market you will capture while considering competitors, pricing, and sales strategies. For the software company, the SOM could represent ICPs that are unhappy with their existing software and can benefit from the unique features you offer.
This market research should give you a solid idea of whether entering the new market will be a good business decision.
2. Create a go-to-market strategy
If you decide that the new market is viable, the next step is building a strategy for entry.
Build a clear roadmap for everyone so that they know when things need to happen and who's responsible for what.
Look at a strategy that your sales team is deploying successfully in an existing market to get a rough idea of what your new go-to-market strategy should look like.
Include steps that your customers will take (e.g., agree to a sales meeting) and your sales reps will take (e.g., make first contact with prospects), and then start outlining a rough strategy.
A strategy for entry into a new market requires setting some initial sales goals.
For example, your sales team may aim to reach a specific number of potential prospects within the new market every week or hit a certain percentage lead-to-appointment rate in the first 12 months.
To set goals and track your progress towards them, you may want to enlist tool support, like sales-first CRMs. This will help you visualize where your teams are and how close you are to reaching those targets—which can also motivate your salespeople.
However, your goals and strategy will depend on the potential customers within the new market and their motivations.
To create a more detailed go-to-market strategy, your team should define:
Target prospects. When you clarify exactly who your team will be targeting in the new market, they can optimize their sales pitches to match their needs. Messages for CEOs will be different from the pitches you use for smaller businesses, as their needs and budgets might not be the same.


Problems. Have a clear idea of the problems the customers in your new target market face, and know exactly how your product solves them.


Motivations. Get a deeper understanding of what will motivate prospects in your new market to purchase your product. Pick the main selling point (e.g., your product will help them be more efficient or give their customers better customer service) and let it drive your initial sales strategy.
With your sales process mapped out, you can now prepare your sales reps to enter the new market.
💡 Pro tip: Aim to get noticed as soon as your company enters the new market. Collaborate with your marketing department and brainstorm what your team can do to boost brand awareness.
3. Prepare your people
Ensure everyone involved in entering the new market is trained and prepared.
To do this, host regular meetings to make sure everyone is on the same page to finalize your mode of entry.
For example, your sales team needs to know whether you'll be selling directly to the end-user or trying to build up relationships with businesses and distributors. Your customer-facing team members will also need training on the go-to-market strategy, so they're prepared when talking to potential new customers.
The best way to prepare your people is by setting up training for your sales team and customer-facing team members so they can get up to speed with selling to a new audience.
However, making them sit through an intensive, three-day training seminar may not be the best course of action. Research shows that without regular reinforcement, people will forget nearly all of what they're taught within a couple of days.
Instead, focus on regular training sessions with the team working in the new market while your company is preparing to enter.
It's also important to ensure your team is familiar with any new laws and regulations governing marketing and selling in the new market, so your company is covered legally.
4. Onboard the right tools
Choose tools that will enable your team to enter the new market easily and, if required, allow them to work remotely in any time zone.
Automate where you can
Your team could take a while to find their feet in the new market, so help them optimize their time by setting up automated email flows and workflows to win new customers.
The right tools can eliminate manual tasks like data entry and email follow-ups to keep customer data accurate and ensure new prospects are nurtured down your funnel.
Here's a simple checklist to figure out which tasks can be automated when your company is entering a new market:
Determine if the task can be eliminated. Look at your team's workload and their daily tasks. If any task is not adding value and helping you reach your goals within the new market, remove it from your go-to-market strategy.


Decide whether it can be automated. Automating tasks like data collection and email follow-ups can save your team time. However, some tasks like personalized outreach and deal closings may require your team to handle them manually. Make a list of their tasks and decide which ones make sense to automate.


If not, ask if it can be delegated.

If it can't be automated, decide whether it makes sense for certain tasks to be delegated to someone else to free up your sales team's time during the initial stages of entering the new market.
Set up a lead generation tool
Your team could take a while to find their feet in the new market, and they will likely be spending a lot of their time generating leads.
Tools like conversational chatbots allow sales reps to automatically qualify and talk to more leads by trawling for prospects 24/7. They can scrape web pages and retrieve information about prospects like email addresses and domain names.
Other lead generation tools allow you to set the criteria for what your target prospects look like within the new market. The tool automatically qualifies leads and assigns them to a sales rep based on their availability, location, and expertise.
💡 Pro tip: If the new market is over the border, you may need to consider adding translating tools to your tech stack, as language can be a real barrier to success.
5. Develop a new pipeline and potentially a new funnel
Finally, getting the best results when entering a new market requires keeping an eye on your data.
The best way to do this is to create a separate customer funnel and pipeline for your sales team to use when they start selling to the new market.
Using a CRM is a good way to create pipelines and funnels and give your team access to them while they're prospecting. Not only can it keep track of the number and size of every new deal in your pipeline, but it'll also monitor conversion rates and deal velocity. You'll also be able to modify your sales pipeline stages and add custom fields to match your new go-to-market strategy.
Building a new pipeline and funnel (and tracking it) is key when entering a new market because it highlights if your strategy is working. CRM tools can automatically track your team's results so you can stay on top of tasks and hit your goals. Thanks to customizable reports and dashboards, sales managers can see how many deals have been won/lost and which customers bring in the most revenue.
This data will help guide your entry into a new market and allow your company to tweak its sales strategy to give you the best chance of success.
The key to entering a new market is preparation
Whether this is the first time your business is entering a new market or you've done it in the past, a crucial part of the process is preparation.
Ensuring you research the new market, its competitors, and viability is smart business. There may be a chance that it's not a good fit for your business in the first place. If you decide to enter the new market, preparing your team and your toolkit will give your business the best chance at success.
Monitoring your progress and creating a market strategy that speaks to your ideal customer is also key to ensuring that your team stays on track and works towards your end goal.
With the proper preparation, your team will create the ideal customer experience with a combination of clever tools, well-trained staff, and detailed research.
Best tools for you