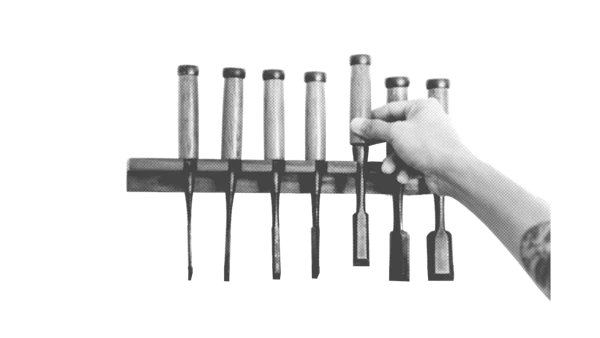 Why an HRM software is essential for small businesses
The most important aspect of companies' success known as Human Resource Management has always been the hardest to manage. Especially, when it comes to small businesses who have constantly struggled due to lack of an HR staff, time and budget, but are resistant to change.
However, there is no need to be afraid of implementing a software, as they no longer have to be foreign. You now have a good solution which simplifies your access to different HRM software platforms and features that can provide molded services to your company's size and employee's needs, including HRM software products for small businesses.
What is HRM in small business?
Human resources management, known as HRM, concerns the entire process of managing and tracking employees within an organization, from recruiting, onboarding to produce a homogeneous workforce and environment for the company.
As a small business grows, employees and managers alike need a bit of framing for it to run smoothly. More often than not, with such low levels of employees in the company, everyone needs to multitask, to finish activities, which leaves room for human errors and miscommunications.
And those tasks are usually the basic ones that keep a company's organization going. Such as:
Time, attendances and absences: which small businesses and companies keep track of on Excel spreadsheets, to write paper checks for payroll. But, such a process occasionally ends in mistakes if any miscalculations were to happen, leading to fines.
Less mobility: as small companies lack HRM software, there is no streamline feature for employees to see and manage their schedule and payslips. Therefore, no application features available for them on any device for mobility. It is usually the HR who is in charge.
Finding the right talent: Usually demands good equipments that small companies do not possess, equally time and money.
Training/ Keeping employees: Eventually, if you do not have the time and money to find the right talent, you hire candidates who don't quite fit in with your work environment, not respecting clarification and your work culture, creating somewhat of an awkward atmosphere for everyone.
Employee's income: Some small businesses are less attractive when it comes to benefits, as they do not have the same means as bigger companies.
Productivity: With fewer advantages, compensation and a bit more work to handle than bigger corporations, as smaller businesses look to grow their brand, employees' productivity and motivation tend to diminish. Not to mention, if they lack good training, then it could lead to misunderstandings and work inefficiency.
As you can see, those reasons are proof of why Human Resources Management is important for the governance of business. So, how do you choose the right one for you? Appvizer may just have the solution for you.
Do small businesses need HRM software?
There are many benefits to an HRM software implementation in a small company.
As employees are essential for business, HRM helps to secure the best talents. Onboarding for the HR manager is simplified. Each department in the company can have 24/7 access to the streamline, decreasing compliance issues to finding solutions to increase employee retention.
So, how and when does a company realize they need to use an HRM software?
If your company experiences certain hindering problems in the advancement of its success, then, most likely, you need to use an HRM software. And the main issues detected usually are:
When the process of recruiting very specific talents takes too much time, and you miss out on some potential talents because you weren't able to spot them or react quick enough to recruit them. It eventually leads to frustration for the recruiter and an unpleasant interview for future candidates.
Lack of communication: Because of constant misinformation amongst collaborators, the company's workflow will be disrupted. Employees won't perform well, won't be able to efficiently manage needed tasks that they can't see or were not assigned to them.
The growing piles of paperwork: Small companies' recruiters, are often on the hunt for new talents and sometimes, one could get lost in those piles of resumes to find the right candidate. Good CVs could sit on desks for months and, before you know it, the time to withhold their records is surpassed.
But, that annoyance and lengthy process for the proper functioning of your business can be easily rectified by an HRM software feature. The main advantages of those features enable your team to:
HR streamline feature: Employees can visualize and track their own workflow on the platform, so as not to repeat tasks.
Filter the right talent: Because manual recruitment process can take time and make you lose out on efficient candidates, automation shrinks that time, candidates can be segmented according to demography, qualification and position they are applying for.
Boost productivity: recruiters would be able to see those screened resumes, decreasing the time spent on the computer, which would also be a solution to reduce technology energy consumption. Each employee would be given enough time to undertake other primacy tasks. In addition, giving employees access to their schedule or wages on the platform can make them feel in charge and involved, increasing performance.
Abridge costs: As you switch to an automation platform, it lowers expenses on paper and printing. It is a solution to save time and irritation because that data is stored.
Tend to your employees: Your employee experience will be improved. You will be able to supervise your staff, such as their attendances and absences. More time translates into good and quick response to your employee and discovery of any issues they might have.
Secure your data: there are fewer chances of losing good employee records and damaging documents when deep office cleaning. Wherever you go, that information would be available as automation is mobile, especially if it is an outsourcing HR software.
Which software is best for HRM?
There are many HRM programs and features to choose from. For example, Zoho, the Gusto payroll system, Zenefits, WorkforceHub, BambooHR, Kissflow HR Cloud.
But the programmes and features to pick, whether it be a cloud based system or else, should be accommodated to your brand, your company's business, size, needs and budget. Its features should, at least include, a tracking system. Avoid paying for pricing plans of features that only seem interesting rather than useful, as you will be way in over your heads and might find yourself spending more than gaining.
The HRM features you choose should offer options of solutions and majorly handle the disarray of your work environment.
For example,
BambooHR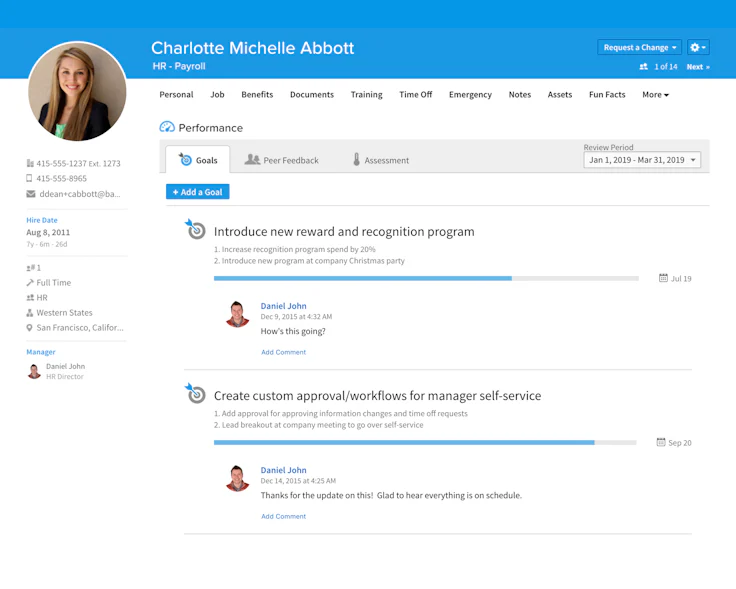 BambooHR is a cloud-based HR platform specialised in small to medium businesses to collect and organize information such as onboarding, compensation, culture for the employee life cycle.
360-Degree Feedback

401(k) Tracking

Applicant Tracking

Billing and invoicing

Benefits Management

Candidate and applicant tracking

Attendance management

Employee onboarding & off boarding

Performance management

Archiving & Retention

Calendar management
Feel free to go check for more information on their features.
✅ Benefits
Easily adaptable: It is especially made to withstand changes in companies, as it is intuitive and made for a simple handling.
Work-life balance: Everyone knows to fully accomplish a task, an employee must bin the right headspace
Financial health: More than just a 401(k), BambooHR believes in budgeting and debt management so that employees are able to support themselves and their families.
To know more, go to their website and get a free price quote. All you will need is your:
First and last name,

Email address,

Phone number,

Number of employees,

Country of your company
HR Software for SMEs
Learn more about BambooHR
Gusto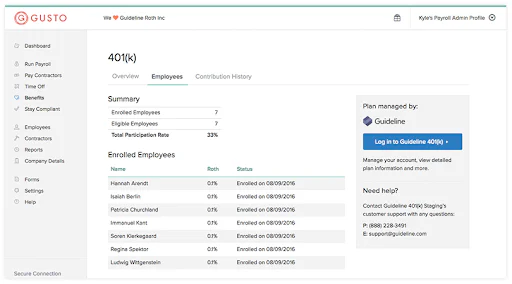 Gusto is a software which deals with onboarding, payroll, benefits for small businesses.
Full-service payroll

Time tracking

Hiring and onboarding

Employee finance devices

Integrations

Health insurance
Gusto disposes of :
Health and financial benefits

: based on your budget.

Health reimbursement

: a nice change from typical health insurance

Worker's compensation
Pay check splitter

: to help with budgeting and savings by splitting pay checks between several accounts.

Commuter benefits
Renewals
Core: It is at $39/mo base price plus $6/mo per person. It includes:
Full-service payroll

Health benefits administration

Employee self-service and profiles

Accounting and time tracking integrations

Employee benefits
Complete: This one starts at $39/mo base price plus $12/mo per person
The deal includes everything in the core plan plus:
Next-day direct deposit

Time tracking and PTO management

Project Tracking & workforce costing

Hiring and onboarding

Team management
Concierge: It's at $149/mo base price and $12/mo per person
Finally, if you are contractor only, Gusto helps you pay 1099 contractors for just $6 per person each month.

Seamless Payroll Mastery: Automate, Simplify, Thrive
Learn more about Gusto
Kissflow HR
Kissflow HR cloud is a cloud-based HR management system that automates every human resources process from the recruitment phase of an employee to the retirement one.
Employee onboarding & off boarding

Applicant tracking

Performance management

Attendance and Time

Leave management

Analytics and reporting
Kissflow HR provides:
-Full automation: concerning the hiring process to reduce long repetitive processes of the recruitment.
Unlimited access: As data is stored, you can have 24/7 access to their tasks as it provides fluidity thanks to mobility.
An Inexpensive set up: There is no need to pay upfront as it is a cloud based software built on subscriptions. What you use is what you pay for, with the additional maintenance, upgrades, software licences, support services and more, omitting annual contracts.
Easy to implement: It is easier and cheaper to install on your company's computer than the standalone applications for HR to adapt to and use.
Incomparable scalability: You pay for functionalities and features as your business grows thanks to the add-ons option. This means there is no need to pay or sign another contract, which is quite beneficial and flexible for companies. Small companies can respect their budget.
Kissflow is very flexible when it comes to their pricing. You have 3 options that you can choose from.
Basic: It is at $10 per user/ per month
It includes:
Form and workflow designer

Automated workflow routing

SLA configuration

Case management

Reporting & Integrations
Advanced (basic +): It starts at $9.90 per user/ per month. It includes:
Advanced forms field

SLA reminders & escalations

Audit log

Advanced Integrations

HIPAA (health information privacy and accountability act), keeping your medical information private.
Fully loaded (advanced +): Is at $19 per user/ per month. It includes
Advanced assignments

SAML

Two-factor authentication

Custom Sub-Domain

Tailored Success Program

No-code work management platform
Learn more about Kissflow
Monday.com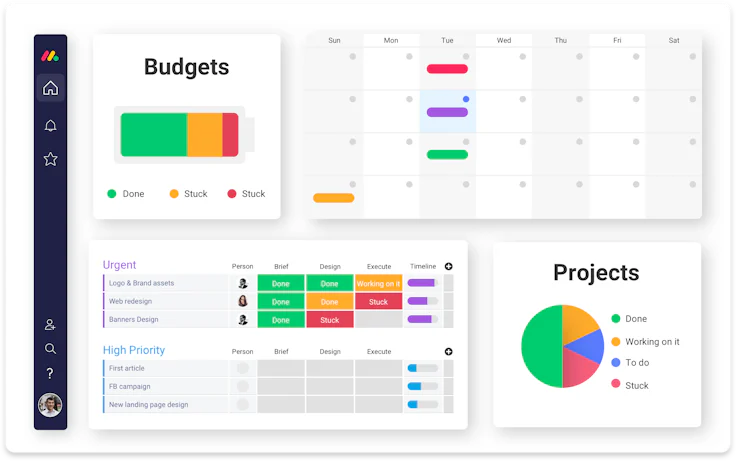 Monday.com's, whose objective and solution is to help companies function at their full potential and be successful, believes that a correct management of HR and employee relations are the core and solution of a business's success.
Its system is streamlined in boards, showcasing information of activity, performance, updates for employees and managers to read at the same time and jointly write or share information in real time.
360-Degree Feedback

Recruitment pipeline & management

Employee directory, profiles, database

Onboarding workflow

Salaries, Performance management

@mention

API

Account management

Activity planning & tracking
Clear recruitment pipeline: It's what you and your team need to easily handle one of the most essential process for companies, as known as job recruitment. It is simplified thanks to the recruitment pipeline that you will have created a board for. A set of status columns on the platform are then highlighted and dated to showcase each step from "the new applicants", the "in progress", "hired" and the recruiter who handles it.
This feature is a very good, customizable, yet organizational automation board that usually involves notifications of dates, updates and completion, on any board, i.e, your recruitment pipeline.
The feature, based on data collected, informs you of the candidate's status. If they are a "Go" and qualified, you can add them to the "in progress" group or if they are a "No go", then you can move them to the "Unqualified group".
Design of your streamline: It is the process of creating a board to integrate the new employee into your workforce, concerning the people to meet, schedules and performance, i.e, the materials they will have to use to accomplish their tasks. Thanks to Monday.com's workflow automation solution, you get to choose the way you would like to view your boards. You have the possibility to choose the Kanban view, so the new employee can monitor the steps of any activity and the order of priority thanks to the Chart View.
Basic plan: starting at $10/seat/month billed monthly (or $8/seat/month when billed annually)
Basic plan: Starting at $8/seat/month billed monthly (or $24/seat/month when billed annually)
Standard plan: starting at $10/seat/month billed monthly (or $30/seat/month when billed annually)
Pro plan: starting at $16/seat/month billed monthly (or $48/seat/month when billed annually)
Enterprise: contact Monday.com for enterprise pricing

Manage all your HR processes in one place
Learn more about monday.com HR
WorkforceHub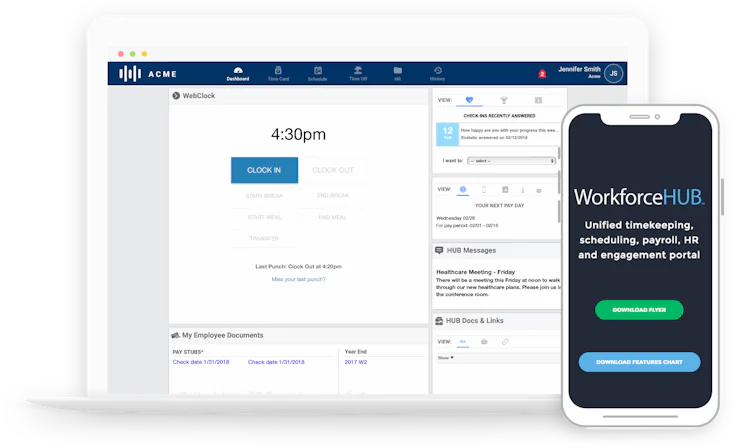 WorkforceHub is a cloud-based software that helps you and your team to control time, attendance and leave of small to mid-sized companies.
API

Employee's time and attendance

Access control permission

Employee's activity tracking

Notifications

Employee engagement

Applicant tracking & application management

Archiving and retention

Attendance tracking & management

Schedule automation

Benefits management

Onboarding

Offline accessibility
WorkforceHub, as they say it on their webpage, offers the help that you and your employees need. They are tailored and constructed for small businesses, which scales as your business grows.
Management benefits: You get unlimited enrollment guide and access as it facilitate any type of workforce, whether it be hybrid or remote. The employees can manage any issue wherever they are.
Powerful time management: WorkforceHub allows tracking of employees' time punching, of job costing, time off requests, card approvals and through those tracks time and attendance.
Simplified scheduling: You and your team can compose their own schedule by constructing timetables based on necessity, labor law constraints, skills, etc. with the drag-and-drop management options. In addition, you could oversee several shifts at the same time for an easy sailing.
Bidirectional Payroll Integration: helps you and your team to manage data push and attendance data in real time as it is integrated in your payroll platform. No more need to do it yourself. You will save time.
Centralized platform: It is needed to keep you, your team and business running smoothly as it is easily manageable and showed in real-time in one place.
WorkforceHub price starts from $6 per employee.
But, what's unique about their services is that if you are not into packages, especially unmodifiable ones, you can choose to only pay for the features you need such as:
Time and attendance: to unconditionally register time card, which helps you to measure the duration of tasks data anywhere. For pricing details, you will need to contact WorkforceHub.
Applicant tracking: It starts from $95 per company to keep track of recruits (hiring and onboarding).
Scheduling: needed to help manage employees' and managers' shifts/ schedules. For more on pricing information, make sure to contact them.
Time clocks: needed to add time clocks to your WorkforceHub, to rightfully pay employees according to their work hours. For more information, call for pricing

Small business HR management
Learn more about WorkforceHub
Zenefits
What is Zenefits?
Though, Zenefits software specializes in payroll and health insurance coverage solutions. Zenefits is a good human resources cloud based software system that helps small and medium-sized companies to manage their work environment. Thanks to its streamline feature, which surveys every event in the company, you can visualize new employee onboarding, performances reviews and more on the platform.
Applicant tracking system

Organization management: employees organization for a fluid workflow in the company

Management of Time, Attendance and PTO (paid time-off)

Platform customization

Benefits administration, which enables employees to handle their benefits plan, open enrollment payroll, etc.

Self-service portal with 24/7 access

Integration APIs to allow the integration of data, logic, etc. with other software.

Mobility: Accessible & offered on any device
✅ Benefits
-Compliance benefits: Cost and business risks reduction thanks to an automated ACA (access control automation)
-Time savings on administrative work: It offers more time for your team to learn new tasks
-Attracting and retaining talent: If good services and experiences are provided, which Zenefits offers you
-Complete medical coverage: Solutions are either found with your broker or one is provided by Zenefits. What is great is that Zenefits is flexible with any plan and guides you when choosing the right plan. All you have to do is select your plan, enrol directly from their platform to get educated, either on the mobile app for constant information access or PC and Zenefits provides you with a follow-up of your plan.
Zenefits is the solution fitted for every budget, you can start with a base plan then select your add-ons, if necessary.
The base plan, includes:
Essentials: It costs just $8 per month/ per user
The package includes:
Automated onboarding

Time off tracking

Employee management

Scheduling

Mobility (the mobile app)

Integration
Growth: It costs $14 per month/ per user. The service includes everything the essential with two bonus features:
Automated onboarding

Time off tracking

Employee management

Scheduling

Mobility (the mobile app)

Integration
+
Compensation management

Performance management
Zen: It goes for $21 per month/ per user.
You have:
Automated onboarding

Time off tracking

Employee management

Scheduling

Mobility (the mobile app)

Integration
+
Well-being

Employee Engagement Surveys

People Hub
If you are interested in the add-ons, their pricing plan goes like this:
Payroll: which costs an additional $6 per month/ per employee to facilitate payroll management.
Advisory services: Get 24/7 access to Zenefit's team, HR team and payroll experts. It starts from $8 per month/ per employee
Benefits Admin Using Own Broker: for benefits management, and administering. It is for $5 per month/ per employee
And, of course, if you need any help or more information, do not hesitate to directly contact Zenefit.

Efficient software for HR management
Learn more about Zenefits
Best tools for you