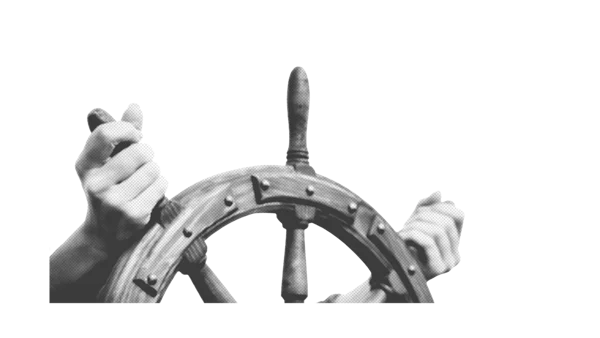 Top 9 Accounting Automation Software You Need To Try!
Need accounting automation software to do the accounting for you, or to replace your accountant? Accounting automation is a trend that is gaining momentum within companies, encouraged by digital transformation.
The evolution of the accounting profession is a reality, but accounting automation software in no way replaces the role of the accountant.
It eliminates manual data entry and leverages data analysis to provide companies with global visibility into their financial health.
A chartered accountant, on the other hand, is entrusted with an advisory mission: they become the go-to accounting reference in the decision-making process of companies.
As you can see, the end of accountants is not on the horizon. Discover what accounting automation is, how accounting automation software is helping companies with their digitalization, and the top 9 accounting automation software that you should try to optimize your accounting process.
What is accounting automation?
Accounting automation is about eliminating manual processes and replacing them with automatic ones, using dedicated and secure software.
The accounting automation concerns :
Accounting entry: invoice entry, entry of accounting entries, entry of bank statements, entry of payroll entries
The edition of estimates and invoices
The dematerialization of invoices, which has become a legal obligation
The management of the payroll
The establishment of the balance sheet and the profit and loss account.
It is also referred to as "accounting digitization", "accounting robotization", or RPA (Robotic Process Automation). It is about taking advantage of technological advances in robotization and artificial intelligence (AI) to employ them in the service of accounting.
Automating repetitive processes avoids manual input errors and frees up time for more value-added tasks.
Example: The robot reads a scanned invoice, and identifies relevant information such as amount, customer, date, and tax, to automate invoice processing.
Benefits of accounting automation software
The benefits of accounting automation software for businesses
Why automate your accounting? What are the advantages of accounting automation software?
In summary, accounting automation software allows you to:
Automate accounting processes
Optimize costs by avoiding repetitive, time-consuming, and low-value-added tasks
Reduce the number of errors (formulas, incorrect entries, duplicates, confusion, etc.)
Guarantee legal compliance thanks to regular and automatic updates of the tool: you are assured of managing your accounting in full compliance with the law
Facilitate exchanges with your accountant, who has direct access to the tool to monitor your accounts in real-time
Give you access to accounting data on the move thanks to a mobile application, for certain software.
The benefits of accounting automation software for accountants
The 100% cloud accounting automation software has 5 principal advantages:
Mobility and freedom: access to up-to-date data, even when on the road with a client
Collaboration and consulting: more time for consulting and better customer relations, sharing a common interface
Productivity gains with automated tasks and processes
Management of the firm's activity: secure accounting data, personalized dashboards, monitoring of files
Interactivity: connection of business applications to the accounting production tool.
☝️ Overall, online accounting software is as beneficial to a business manager as it is to a CPA.
Features of accounting automation software
Nowadays, the software is increasingly equipped with accounting automation features such as :
Document and data recognition with OCR (optical character recognition) technology,
archiving,
compliance verification,
validation processes, etc.
Since accounting has a transverse impact on almost all departments of a company, the benefits of automating accounting processes are becoming more widespread.
Here are some examples of accounting processes that can be automated.
Pre-accounting
This term encompasses all the work done upstream of the accounting, i.e. everything that the manager or accountant of a company must prepare before calling on his or her chartered accountant if he or she has one.
Pre-accounting tasks include the collection, filing, and archiving of all accounting items:
supplier invoices,
customer invoices,
expense reports,
bank statements,
salary slips,
social charges, etc.
You don't need to carry about these manual tasks because accounting automation software will be in charge of it!
Procurement processes
Purchasing activity with suppliers triggers information and document flow that must be tracked and archived.
An accounting automation software helps you for example:
the generation of purchase orders,
the update of stocks in real-time after receipt of goods,
generate a purchase invoice from the purchase order,
the creation of accounting entries from the invoices,
archiving invoices in the accounting software,
take into account the payment of taxes.
Sales processes
Just like purchasing, in the sales process, accountants have to create several steps, documents, and accounting entries.
An accounting automation software is useful in:
the follow-up of a quote until the customer validation,
the generation of a purchase order from a quote,
the generation of a customer invoice from a purchase order,
the creation of accounting entries from invoices,
archiving of invoices in the accounting software,
alerts for unpaid invoices.
Payroll management
Payroll is an activity that, in addition to its recurring and mandatory nature, does not create value. Automating it, therefore, allows you to reap many benefits.
An accounting automation software can ensure for example:
the calculation of salaries (gross, net to be paid, deductions at source),
the creation of pay slips,
the recording of accounting entries related to payroll,
the remote declaration of social charges thanks to the DSN (Nominative Social Declaration),
checking the consistency of entries, etc.
💡 If you are looking for software specialized in payroll management, discover our comparison of the best payroll software 2021
Financial management
Whether you keep traditional, cash, or commitment accounts, connecting your accounting software to your bank account can be a great help.
With accounting automation software, you can automate for example :
Retrieve bank statements
Accounting entries in the cash journal
The follow-up of the treasury in real-time
Bank reconciliation.
Top 10 accounting automation software in 2022
1. BlackLine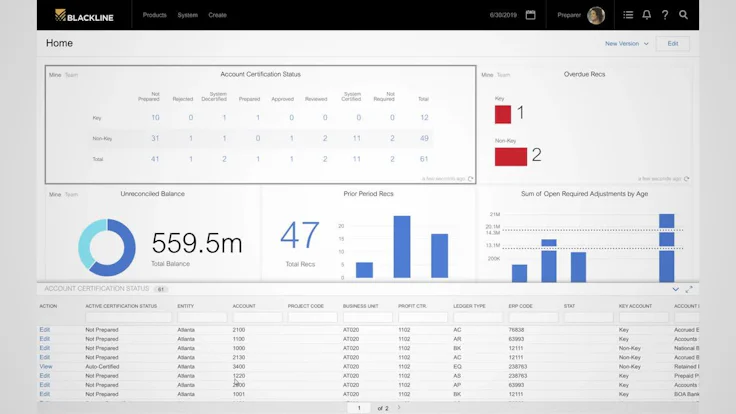 BlackLine is an accounting automation software that unifies all your accounting data in one place so your team can work more productively. BlackLine ensures 3 essential needs of most businesses:
Increase business demand: With the help of this accounting automation software, your accounting process will be optimized and therefore, this will improve operational productivity. The transaction between your business and the client can go faster.
Expand systems complexity: CRM and ERP software can't give you enough data that you need. With the additional help of an accounting automation software like BlackLine, you can analyze the disconnected accounting data and turn it into valuable insight.
Rise labor cost: BlackLine eliminates the manual accounting tasks so accountants can focus on more engaging, higher-value work, and move to modern accounting.
Features
Discover the powerful features of BlackLine that help you maximize working capital from collecting cash to understanding cash flow :
Cash application
Credit and risk management
Collections management
Disputes and deductions
Team and task management
Cash flow management
Turn payment into real-time intelligence
Pricing
BlackLine offers a free trial and a free version. It doesn't publicize the price of the premium version, you have to make a quote and demand the price.
FreshBooks is one of the best accounting automation software for small businesses due to its ease of use and numerous features. With over 20 million users worldwide, FreshBooks is a proven and validated accounting automation software.
With FreshBooks, you'll be able to simply drive your company's cash flow and see at a glance the health of your business and then make important decisions. On top of that, you can try FreshBooks for free without entering any credit cards.
Features
Among the main and useful features for your business, we'll find:
The management of estimates and invoices
Bank centralization
Automated bank reconciliation of expenses
Payment management
Reminders of unpaid invoices
Creation of the general ledger
Pricing
FreshBooks provides a free trial within 30 days. The paid plan starts from $4.5 for 5 users per month which is a good price for every business.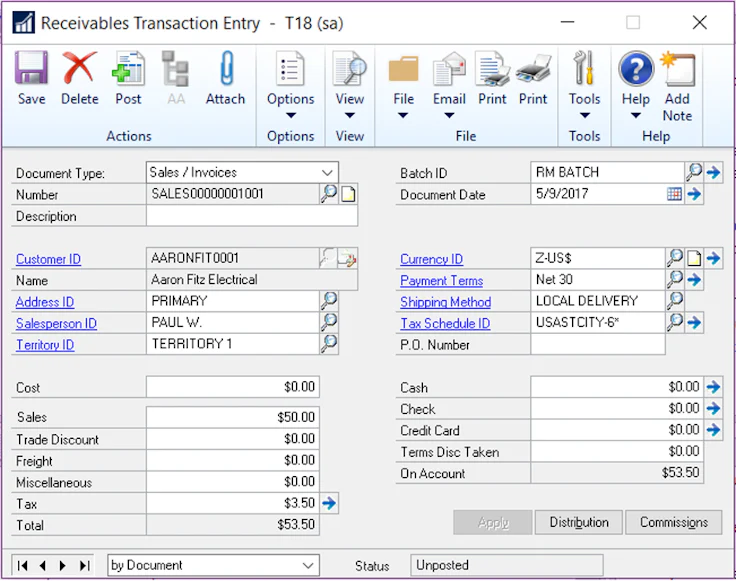 Microsoft Dynamics GP is an accounting automation software and an ERP for small and medium-sized businesses. This comprehensive accounting automation software allows you to gain greater control over your finances, inventory, and operations.
This is a flexible solution that grows with your needs. Automated analytics and integrated business intelligence tools help you make better business decisions with unique insights from the data. Support for cash flow and banking helps you manage your finances more effectively. All-in-one features, such as payroll and sales management options, allow you to control all vital aspects of your business in one place.
More than an accounting automation software that answers to all your company's accounting needs, Microsoft Dynamics GP cares also about your inventory and project management. So your team can synchronize easily the work on the same platform.
Features
Here are the great features of this software:
Financial management
Project management
Business intelligence
Inventory management
Sales and service
Cash flow tracking
Analytics and reports
Pricing
The price corresponds to a feature-rich software.
​​Starter Pack: $5,000 for 3 users
Additional Full Users: $3,000 per user per month
Additional Limited Users: $600 per user per month
Self Serve Users: $60 per user per month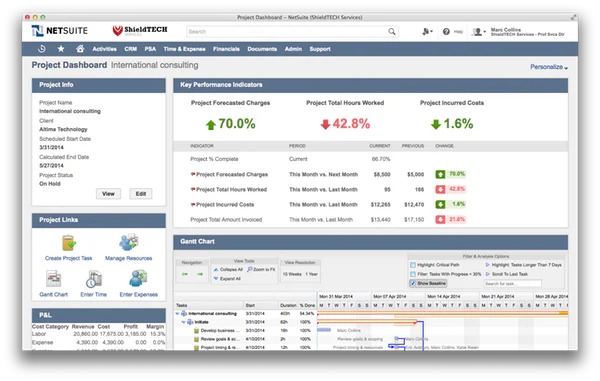 Oracle NetSuite is a cloud-based ERP, CRM, and accounting automation software. Acquired by Oracle in 2016, NetSuite is now a leading accounting software company in its market, claiming 22,000 customers in 160 countries.
NetSuite can be adapted to any size of company. Originally, NetSuite was targeted at growing small and medium-sized businesses, but today it is a leader in its market and also caters to small and medium-sized businesses and large accounts.
Unlike some accounting automation software, NetSuite can be used in any industry. However, it is particularly well suited to the retail and trade sector thanks to its point of sale, warehouse, and e-commerce site management functionalities.
Features
Discover the different features of Oracle NetSuite:
Accounting, finance, and treasury
Expense management and expense reports
Payroll, leave management
Commercial management: quotes, invoices, customer orders
Project management
Purchasing and suppliers management
Inventory management
Production management
Warehouse management, logistics
CRM
E-commerce management
Business intelligence
Pricing
Oracle NetSuite doesn't have a free version. The paid plan starts from $99 per user per month and you have to pay a monthly licensing fee ($999). The price comes with high-quality features so it's a good investment.
Plooto was designed for freelancers who have many things to manage themselves during their day, including accounting. Its idea? Demystify accounting, and offer a maximum of automated features to reduce the time spent on administrative tasks. You will finally be able to concentrate on your core business.
Strengths:
automation of the categorization of 90% of transactions thanks to artificial intelligence
advanced dashboards to track revenues and better control expenses,
automatically calculated fixed assets,
the reactivity of the support team is available in real-time via the website chat so you never get stuck,
the generation of the tax return in just a few hours.
Features
What are the features of Plooto? Here we are:
Accounts payable
Accounts receivable
International payment
Credit card acceptance
Online check payment
Integrations: QuickBooks, Xero
Pricing
For individual businesses: $25 per month (unlimited users)
For accounts/ bookkeepers: $25 per month (unlimited users)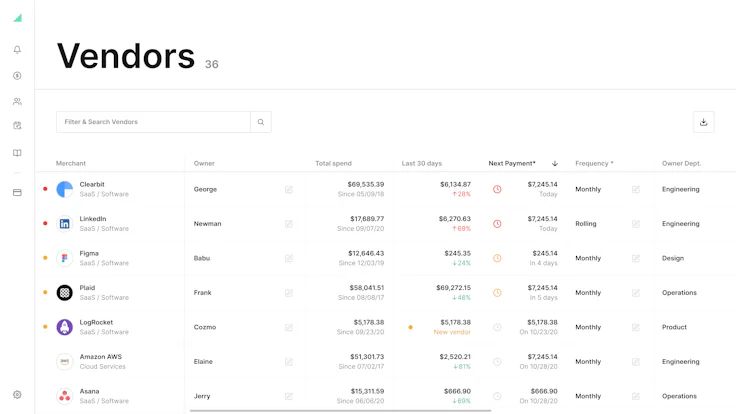 Ramp is a SaaS accounting automation software offering you all the necessary functionalities to carry out your pre-accounting. Thanks to its functionalities and artificial intelligence, its users automate their processes to a maximum, thus drastically dividing the time spent on accounting. All the accounting documents are cleverly centralized, classified, and accessible wherever you are.
Strengths:
Recovery and centralization of invoices regardless of the channel of reception (email, customer account, etc.),
an automatic report to monitor the status of your debts and receivables, as well as missing invoices,
its compatibility with the main accounting software on the market to manage all financial flows,
Expense report management is made as easy as possible by taking a picture via the mobile application.
Features
Here is the list of features of Ramp:
Bill payments
Spend controls
Onboarding
Real-time reporting
Saving insights
Receipt matching
Expense categorization
Integrations: NetSuite, Xero, Sage, QuickBooks, etc.
Pricing
Ramp doesn't publicize its price on the website. You have to make a quote to demand the price.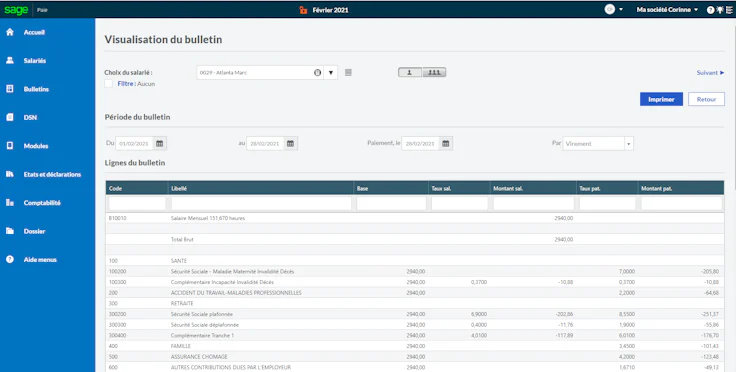 Sage is a world-renowned accounting management software publisher. It offers here a 100% online version of an accounting and billing management tool for entrepreneurs. Formerly called Sage One, or Sage One Devis Facture, it was recently renamed Sage Business Cloud Accounting & Invoicing.
The Sage Business Cloud Accounting & Billing software is designed for professionals who wish to manage their invoicing and accounting independently, whether they are self-employed, professionals or SMEs.
Features
Worry about the manual tasks? Don't worry, Sage will help you finish it thanks to these features:
Billing and invoicing
Bank accounts synchronization
Inventory management
Client support
Tax management
Estimates and invoices are customizable: logo, color, font, and text. We appreciate being able to transform an estimate into an invoice in one click. The Sage customer service is available by phone (toll-free number), by email, and by chat on their website. The advisors can guide you in your choice of software.
Pricing
Sage doesn't provide a free version. The paid plan starts from $10 per user per month which is very affordable for small businesses.
Sage Business cloud accounting
All accounting with the convenience of the cloud
Learn more about Sage Business cloud accounting

Wave is one of the best free online accounting automation software that gives you unlimited options for invoicing. You can add some paid services like credit card processing, payroll system, and other advanced support options. Wave is a perfect solution if you have less than nine employees and do freelance or contract work.
Its invoicing feature allows you to easily filter and sort the invoices according to their status, paid, overdue, and sent. You can also scan and upload various receipts or send them directly to this software.
Features
Here's a list of everything you get for free when you use Wave:
Income and expense tracking
Bank and credit card connections
Unlimited guest contributors
Billing in any currency
Send quotes and turn them into invoices once approved.
Scan receipts
Automatically save receipts
Pricing
Is Wave a free software? Yes! Wave is a free accounting solution for entrepreneurs. There are no setup fees, hidden costs, or monthly fees.
Xero is SaaS software that offers the essential functionalities to prepare its accounting, by automating a maximum of its processes. It's easy to use the software thanks to a modern and intuitive interface. The solution facilitates the follow-up of its finances and accounting and allows for collaboration internally or with its accountant.
The administrative formalities are lightened, and yet the users better control their financial performance thanks to the tool, to make their company grow. Xero is particularly well adapted to the needs of VSEs and SMEs.
Features
What are the powerful features of Xero? Here you are!
Pay bills
Claim expenses
Bank connections
Accept payments
Track projects
Pay runs
Bank reconciliation
Integrations: Xero
Pricing
Xero has 3 plans:
Early: $12 per user per month
Growing: $34 per user per month
Establised: $65 per user per month
How to choose accounting automation software
Appvizer guides you through the criteria to consider when choosing the right accounting automation software for your needs. If you don't know where to start, you can ask your accountants for help if you use one. They will be able to advise you on the business aspects to keep in mind when making your choice.
Simply put, you have two main questions to ask yourself:
What is my budget? (Will I go for free or paid software?)
What features do I need?
If we go into detail, here are some examples of questions to ask yourself to make sure you make the right choice:
What is the size of your company? Some accounting solutions are more geared toward VSEs, SMEs, or large companies.
Do you need specific software for your sector of activity?
Do you use the services of a chartered accountant? If so, how do you manage communication with him?
Should the application only handle accounting or include other management functions (invoicing, cash management, etc.)?
Should your accounting software be connected with your existing tools?
Do you want to manage your accounting via a dashboard?
How many users have access to the data?
What level of data protection do you require?
Are you ready to learn a tool, or does it need to be learned immediately?
In any case, don't forget that professional software often offers free trial versions. You can try the tool and confirm (or not) your choice before investing.
Key takeaways
There isn't the best accounting automation software. The best software is the one that suits you the best. Nowadays, there is a wide range of accounting automation software on the market, including SaaS software.
The digital transformation of companies does not spare accounting and it gradually induces the evolution of the accounting profession. How is it changing? If locally installed accounting software has been assisting business managers and accountants for a long time, the novelty lies elsewhere. Online software or SaaS software allows :
Real-time data updates
Access to accounts at any time and from anywhere with simple internet access or a mobile application, all thanks to the cloud
A better global follow-up thanks to monitoring dashboards.
Best tools for you