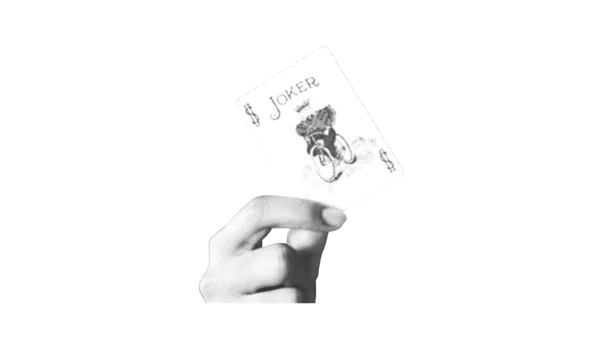 Which Open Source Invoice Software is Perfect for You?
Have you been thinking about adding an open source invoice software to manage all your invoices and quotes. In this article Appvizer is going to introduce you to the world of open source and its advantages.
What is an Open Source Invoice Software Program?
Automate Your Billing Management
A software program is an important tool for any business that is looking to automate their billing process. A software can allow you to follow receipts, quotes and invoices sent, receivables from customers and many other activities that save the accounting department time and money.
This is true for all businesses, large and small, an invoice software can help you.
An invoice software offers a lot of features, of which include:
the ability to edit estimates, invoices and credit notes
the ability to edit purchase orders
send invoices by email
manage subscriptions
send reminders in case of unpaid invoices
revenue tracking
bank reconciliation
What's Open Source?
It's commonly understood that a software is open source when it's code source is "open", in other words free access. However, it also has to follow some key criteria:
the computer program can't be sold
the software code is accessible and editable
it must be possible for there to be children applications
Open source software is generally the result of collaboration between developers.
Open Source Invoice Software Advantages
Open source software is often free, but open source is not synonymous with free. Check the conditions and features of the free software to see if there aren't any unexpected fees or costs, and also to see if it includes all the features you need. Even if a free software has a lot of features, they might not be the right match for your business.
Another advantage is that open source programs are based on a wide community of developers. This allows these software programs to evolve and improve rapidly. The developer community is also very active and dedicated, so you should be able to find an answer to any type of question or concern you have.
Comparison
There are not many open source tools on the market for accounting software, and in this case billing. One of the reasons for this is that these are very precise tools and are closely linked to the various legal changes, just think about all the changes in the accounting processes for electronic invoicing. We at Appvizer, however, were able to find 5 valid open source tools which will allow you to optimize your billing at, an almost, free of cost.
In this article we'll be laying out the key features in each one of them in the hope that it allows you to get a better understanding of what an open source invoice software is, and if it would be right for your business.
Invoice Ninja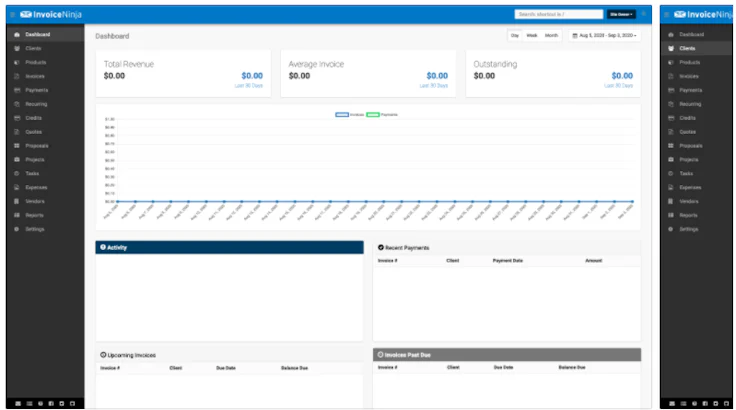 Presentation
Invoice Ninja is an open source invoice software program designed to make billing and invoicing easier for small businesses.
Key Features
For a, mostly, free software, Invoice Ninja has a lot of impressive features like: the ability to configure multiple clients, track payments and outstanding invoices, generate quotes and email invoices. On top of all that, it's one of the only software programs to have a fully free version of their software, and if you want even more features, it'll only cost $8 a month.
What We Like
One feature that really stands out for us is Invoice Ninja's integration with payment apps and websites such as: Paypal, Stripe, WePay and even Apple Pay.
InvoicePlane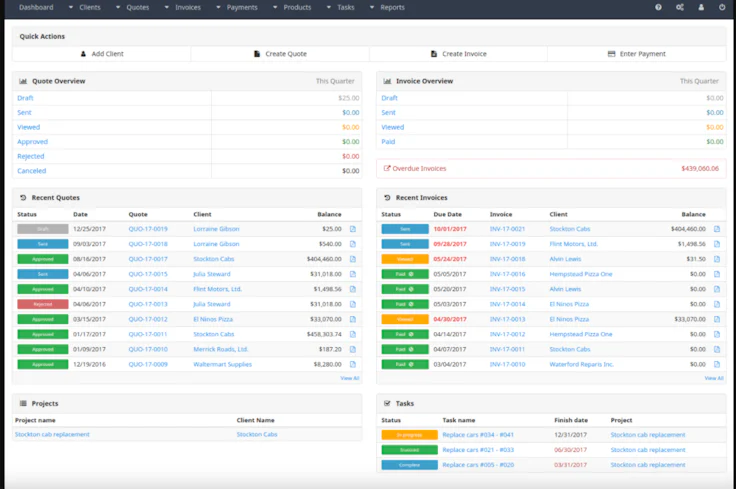 Presentation
InvoicePlane is an open source software program made especially for freelancers and small businesses.
Key Features
It's self-hosted, meaning the data will stay on your computer and won't be sent away to a cloud server, it's free, it lets you manage customers, track payments, send quotes and easy invoices.
What We Like
What we find really interesting though is the massive amount of integrations with payment apps, even though we already listed it for Invoice Ninja. InvoicePlane allows you to connect with apps like CoinBase.
Siwapp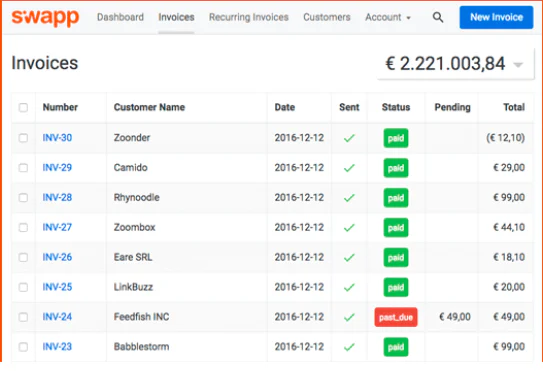 Presentation
Siwapp is an open source software that allows you to manage and create invoices in a fast and easy way.
Key Features
Although it only does one thing, creating invoices, it does it very well. Everything is well configured and designed around that one feature, you can manage different invoices with different serial numbers, print your invoices, generate invoices on a periodic basis and save drafts.
What We Like
What we like especially about this program is that it has one principal feature, Siwapp isn't trying to add more unnecessary features that aren't related to billing, they just want to keep it simple.
OpenSourceBilling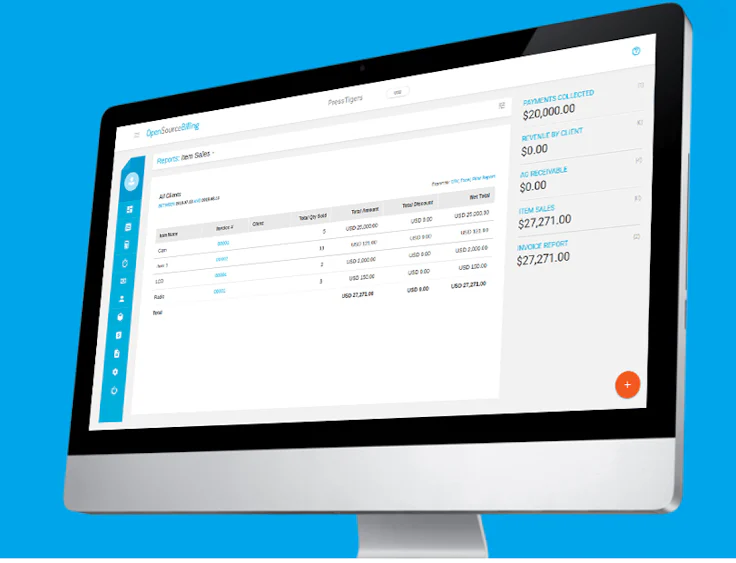 Presentation
OpenSourceBilling, like the other programs on this list, is open source, and offers a wide range of features, that others on this list don't
Key Features
OpenSourceBilling allows you to easily create and send invoices to your clients, partial payments tracking, receive payments through Paypal and credit card, invoice dispute management and personalized reports like payments collected and aged accounts.
What We Like
Even though this is by far the most expensive software on this list, the price tag includes an array of features, no other software on this list includes features like personalized reports like payments collected and aged accounts.
BoxBilling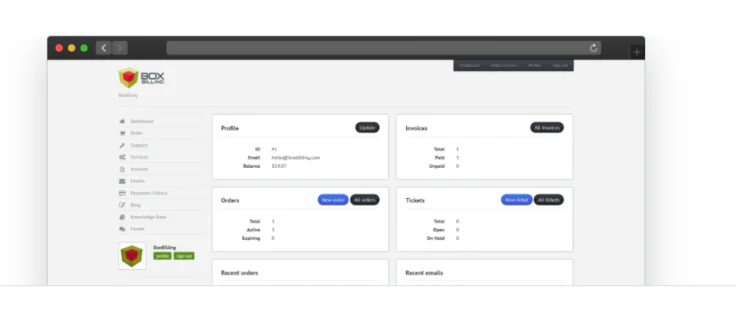 Presentation
Like most other programs on this list, BoxBilling is an absolutely and completely free open source invoice software program that offers an intuitive and simple interface. BoxBilling can also double as a client management software, although we'll just be covering the invoicing and billing aspect.
Features
BoxBilling features include: automated invoicing, billing and product provisioning, the ability to have automated creation of hosting accounts after receiving payment, ability to receive payment in multiple currencies, sell shared and reseller hosting accounts, licenses, products and more.
What We Like
BoxBilling is a completely free software that offers a wide range of features, which is different from other programs on this list, which are free, but often have one key feature. It's interface is easy-to-use, and gives users an overall good experience.
The Problem With Open Source
Contrary to popular belief open source software isn't all free, and can even:
have hidden costs and fees
have little to no support
make you pay for installation, updates and hosting
each software might not conform to the specific needs of companies
Open source software is by definition editable. Their certification is complex but possible: in particular, make sure that the software you choose is not unchangeable
Pick Your Professional Software
Billing, like other aspects of accounting, includes a series of legal obligations that businesses must respect. Obviously these obligations also extend to the tools you use, although open source software programs can be very helpful, only a certified professional software can make sure that your business is complying with all relevant regulations.
Note: Professional software programs aren't necessarily much more expensive than an open source program
Open source software is a good option for businesses that have the means to maintain it, like a H.R. department.
However, professional software is the best option as they guarantee that your data can't be changed, and can be easily certified.
Best tools for you