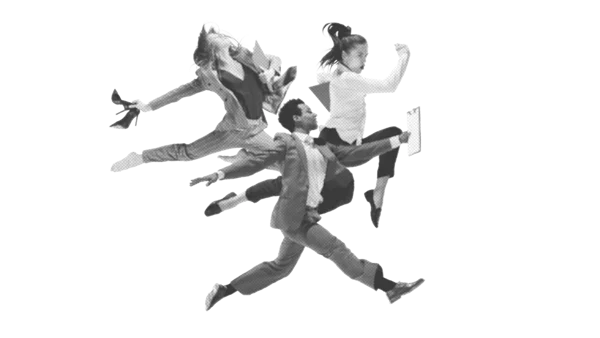 HR Department Upgrade 2.0: Discover the Benefits of a Human Resource Management System (HRMS)
Recruitment, benefits, payroll, employee information? HR professionals have too much on their plates sometimes. The growing number of tasks and functions they deal with doesn't help.
But don't fret, human resource management systems (HRMS) are here to save the day!
Staying organized in your company, managing employee processes, and centralizing data are just some of the things that these digital tools can do for you.
If you're trying to transform your HR department into version 2.0, you've found the right spot.
In this article, Appvizer will help you discover the basics of human resource management systems and their benefits. You'll be on your way to making your business more efficient and productive in no time.
The basics of human resource management systems
HR software is not a new invention. Over time, it has become an essential digital tool for managing, organizing, and completing the various practices that human resources must complete.
You may see online, different types listed such as HRIS, or HCM instead of HRMS. These terms are often used interchangeably. Although they may vary, many of them follow the same principles.
A human resource management system is a set of software tools to manage many of the HR functions that you'll deal with. As you'll see, there is a wide range of features. Central aspects of HRMS software may include :
Employee Development and Training
Employee Benefit Management
Centralized HR information
Applicant Tracking (ATS) and Recruiting
Onboarding
Performance Management
Payroll and leave management
Regulation and Policy compliance
👉 Note: The features and tools that each HRMS might have can vary greatly, make sure you find one that has what you need!
Why is an HRMS useful for your company?
Like most companies or businesses, the main goal is Growth. With growth, comes more employees, more data to keep track of, and more complicated processes to deal with.
Human Resource Management Software makes many routine HR tasks much more manageable. This saves time for employees and allows the company as a whole to be more productive.
Instead of focusing on manually taking care of paperwork or employee documentation, now HR employees can focus on making decisions to optimize company strategy regarding workforce planning, employee management, and more.
What are the benefits of Human Resource Management Systems?
Store everything together
The option to have all your data in one place is a major boon for taking care of large quantities of employee information, procedural documentation, etc.
By having a centralized location for the data that passes through HR, you'll be able to collect and track all the details that your business needs in one location. This gives better accessibility, ensuring that data won't be lost when communicating between different teams or departments.
Be more efficient and productive
The automation and support that an HRMS provides, reduce the time spent on many classic HR job functions.
Reducing the workload for HR employees helps them focus on other, more important tasks. The data you get from an HRMS can also increase management and employee efficiency. This way, you can analyze data to make sure that employees are placed in the right projects to optimize efficiency
Employee Training and Self-service
Training employees effectively from the start is a significant way to increase retention. Though, making sure they are comfortable with work processes from the start isn't always simple. Especially in the ever-increasing digital times we live in.
HRMS software helps remedy this by providing access to your online training. Identifying the needs of workers is key to improving work skills, knowledge, and efficiency. You'll be able to set goals for individuals and teams and evaluate progress as they move along. This ensures that everyone can be on the same page.
Human resource management systems also bring new opportunities to increase employee engagement by offering self-service capabilities to employees.
Documentation, certificates, training, and new procedures are all examples of things that can be accessed by employees through their HRMS. This decreases the time spent by human resources to find and deliver these documents.
What else does this mean for employees? This makes benefit and compliance administration easier for everyone. Employees no longer have to go check with HR to check on their 401(k) plans or their insurance benefits.
All in all, this makes the communication much quicker, creating direct lines between employees and their information.
Improved hiring and onboarding
Many of the HRMS software that is out there have tools to make the recruitment process simpler, such as Integrated Applicant Tracking Systems. These tools work to streamline candidate searches, interviews, and evaluations, helping you work less to find the best talents for the position.
By organizing and tracking candidates in a centralized location, it simplifies the hiring process, saving time and costs that might otherwise be higher.
With an HRMS, onboarding is now a piece of cake. New employees will be able to receive access to documents about work culture and procedures. Managers can follow up on background checks, employee evaluations, or even track probationary periods.
A big part of onboarding is also communicating and getting to know your coworkers and your environment. The system can introduce new employees with notifications for the whole team, help them keep up to date on work events, and more.
You'll have everything you need to have a successful recruitment and onboarding experience.
Simplify Employee Management
In terms of the main functions of a Human Resources department, managing employee processes are at the heart of it all. Since employee data is in one centralized location, this makes your life much easier.
Companies also rely on having a solid workforce structure planned out. This makes it clear who does what and who they need to report to.
Human resource management systems allow you to organize your workforce by determining and linking hierarchical roles and defining teams or departments. By doing this, you leave a clear and consistent picture for employees to understand the expected workflow.
Another key advantage is payroll organization and scheduling.
Many human resource management systems simplify employee scheduling, adding self-service functions to request leave or inform of absences. This saves time and energy for all employees.
Most importantly, employee salaries, compensation, and payroll taxes are essential spending factors that HRMS can help with. An HRMS tracks necessary numbers, data, and employees with paycheck scheduling and calculations. Now you can leave the complexities to the machine!
Make fewer mistakes
Keeping accurate data entry can get pretty difficult, especially if it's a long, repetitive task that's hard to avoid. This is compounded by the amount of employee data that must be managed.
By using HRMS software, you'll reduce the amount of human error when handling the most important aspects of your business. Benefits management, payroll calculations, or otherwise, are now that much more accurate.
For your company, this means fewer mistakes and more money saved.
Simplifies compliance with regulations
Many human resource management systems can help when it's time to take into account different federal and state regulations.
This is especially useful when taking into account different hours worked, overtime, or labor laws when your company has employees in multiple states with potentially different regulations.
Analyze data to improve decision-making
Strategic business decisions, workforce planning, and more are difficult to make when you don't have the necessary data.
By analyzing the cost of employees and hours worked, you can more easily and accurately plan projects or make recruitment decisions. You can also track performance, or turnover, to help make decisions on how to retain employees or help them reach their goals and potential.
With all the information that HRMS software tracks, you'll have everything at your fingertips to make the best decisions for your organization.
Making the right HR software choice
After learning the utility and benefits that human resource management systems provide, you might already be ready to start searching for a new HRMS. But, it is essential to take time to research the right software to respond to your business needs.
By choosing an appropriate HRMS, you'll maximize the impact that the management system has on making your business run as efficiently as possible.
Cloud-based HRMS or On-Premise HRMS
HRMS can be set up in different ways. On-premise human resource management systems versus cloud-based HRMS can each have their pros and cons.
Cloud-based options have higher accessibility, less maintenance, increased security, and more scalability. On the other hand, recurring payments may be higher than an upfront cost, and they may be less customizable than your team would like.
On-premise options can be more beneficial for keeping sensitive data in-house, having higher control over your software, and ensuring constant connection to your information. Despite this, they require more maintenance for your team, as well as higher upfront costs.
In the end, each has its own advantages and disadvantages, but choosing the right one for your company is key.
Setup and Research
The most important thing is to determine what specific functions and features are necessary. By meeting with your team, you'll determine if you need an HRMS focused on performance management, compliance regulations, data security, or whatever other strategic focus your company desires.
Don't forget to answer important questions, such as :
Do we need a cloud-based system, or is an on-premise HRMS the right choice?
What are the potential costs of one HRMS over another?
How comprehensive is the HRMS and how simple is it to use?
Will this system scale well with the company as it grows?
How much maintenance or support will be necessary to run the HRMS?
Options galore lead to better choices
An effective strategy to follow can be to keep your options open. Have your team decide on a few different HRMS solutions that respond to your criteria.
Once your team has compared the different choices, you'll be sure to make the most informed decisions to get the best bang for your buck.
Whether you're trying out a human resource management system for the first time, or changing to one that better fits your needs, soon you'll be ready to optimize your software use and reap the benefits.
Best tools for you