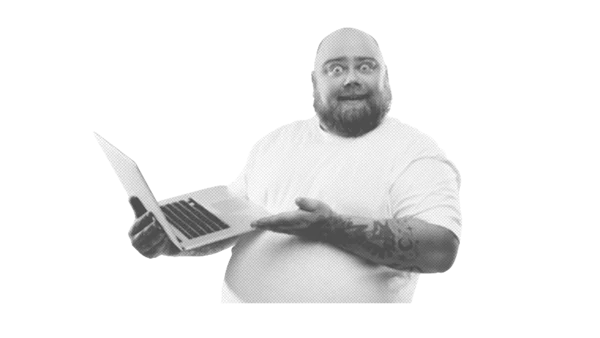 Want a successful CRM Strategy? Follow these 8 steps for happy customers!
For your business to be successful, you need to make sure your decisions are customer-centric. That's why developing a clear and honest CRM strategy will help you stay on top of your sales cycle, better understand who your customers are and what they need, and ensure that all the processes within your company are streamlined and optimized. Easy!
The less time you spend on implementing processes, the better you can serve your existing and future customers. Get ahead on developing a CRM strategy by following these 8 essential steps to building a comprehensive CRM strategy. 🙌
What is a CRM strategy?
A CRM strategy refers to a company-wide plan for:
improving its relationship with its customers,
boosting sales,
and enhancing its marketing and customer service initiatives.
CRM stands for customer relationship management, and most companies will choose to work with various cloud-based and in-house CRM systems to streamline their processes and consolidate customer data to better understand their behavior.
Developing a CRM strategy means putting your customers first 🏆, and an effective one means that your business will gain crucial visibility on its sales pipeline and on customer behavior at every step of its customer journey.
What can a CRM strategy do for my business?
There are many benefits to developing a comprehensive CRM strategy for your business. Some of the main benefits of a CRM strategy include the following:
Keeping track of all your leads
Organizing your teams in a more collaborative setup
Creating more personalized marketing campaigns
Pinpointing relevant opportunities for your business based on up-to-date customer data
When you choose to develop a CRM strategy, you're taking the first step in bringing your business to the next level. But you're also telling your team and your pool of customers that you are committed to impact real change in the way they work and consume.
What are the steps I need to take to create a CRM strategy?
When you set out to create a CRM strategy, there are a few steps your company should take to make sure all your goals are aligned and your intentions are clear. The following steps will ensure you have all the information you need to make the best CRM-related business decision for your company:
Step 1: Conduct an audit of your company
Spend some time examining all your current workflows and existing strategies before creating your CRM strategy.
One way to do this would be to conduct a SWOT analysis, a strategic planning and management technique designed to give you clear visibility of your company's strengths, weaknesses, opportunities, and threats (SWOT).
What are you trying to accomplish with your customer? When you set out to develop a CRM strategy, you want to make sure you understand exactly what you are trying to accomplish with your customers and your business.
Whether it's providing customers with more direct marketing communications, reducing your churn rate, or shortening your sales cycle, identifying your goals is a key step in building an efficient CRM strategy.
Nonetheless, it is also important to keep in mind that a CRM strategy is not an end in itself. It needs to align with your overall company goals. Failure to spend time identifying what those are will ultimately lead to a big gap between your business goals and your customer experience.
Step 2: Define your target customer
Before building out a CRM strategy, you want to make sure you know who your customers are. Odds are your buyer personas may have been out of touch with the service or product your company offers. To update your target customers, use market research to better understand how people engage with the product and service your company offers.
Market research can help you collect critical data on who your potential and existing customers are. You'll want to get as much demographic and behavioral data as possible.
To do so, consider spending time chatting with your sales and customer service teams. They are on the front lines of the customer experience and can provide you with key information to develop an ideal buyer persona.
You might also want to send out customer surveys to get first-hand insight into how your customers currently experience your service or product. This will allow you to identify the places where your current customer understanding fails and point out white spaces where it can be improved.
Keeping your buyer personas up to date and staying in contact with your customers is key to safeguarding a long-lasting relationship and developing a customer-centric business model.
Step 3: Map out your customer journey
Once you've updated your buyer personas, spend some time mapping out your entire customer journey so that you can familiarize yourself with all the potential touchpoints your customer might have with your product.
The first step to mapping out your customer journey is to put yourself in a lead's shoes. What are all the different interactions your leads have when they first discover you? Is it a digital ad campaign? Email marketing? Direct contact from the customer service team?
As you begin to get a vision of what your customer journey is, you'll want to start questioning who your points of contact are. Which team is interacting with your customer at this moment, and can this interaction be improved?
You'll then want to make sure your customer journey aligns both with the buyer personas you have created in the previous step and with how they would like to be communicated with.
Taking these two important steps in understanding your customer journey will enable you to identify any challenges your customer may face, the content they are encounter, and a better understanding of what they are trying to achieve.
Step 4: Determine the resources you need for a comprehensive customer experience
Much like conducting an audit of your company, this step in the CRM strategy-making process requires you to assess all the tools at your disposal to deliver what you are offering customers.
To do so, you will need to examine all your internal processes and identify all the team members present at each customer touchpoint. For instance, what tools do you currently have at your disposal to determine your customer needs?
You might also want to investigate which tasks could be optimized and/or automated during your sales process. Choosing to optimize certain areas of your sales process will allow you to develop a CRM strategy that is focused on your customer and their needs, as well as personalized via relevant and updated communication preferences.
Step 5: Perform market analysis
Once you have done the work of creating new buyer personas, understanding your customer journey, and identifying the processes currently in place, see how they compare with the rest of your industry.
Performing healthy competitive analysis will enable you to figure out how to stand out and where to step back. In addition, it will you get a deeper understanding of your value proposition in relation to what your industry currently offers.
Step 6: Get familiar with what you're selling
It's one thing to understand your customer. It's another to deeply understand your product and service.
During this time, you'll want to focus on your brand story, your messaging strategies, and developing your value proposition so that all the data you have collected thus far can help you paint a full picture of where you stand and how you are perceived.
You might also want to take this time to train your employees so that everyone is on the same page. That means crafting the tone of voice guidelines and robust best practices for your industry.
Step 7: Subscribe to a CRM software solution
Subscribing to CRM software as part of your CRM strategy will help you stay on track. Though it is not necessary, this software provides you with everything you need to streamline your collaboration between teams and make sure that the work you have done so far does not go to waste.
Using a CRM platform ensures that you have a track record of all the work you have completed to understand your customers and communicate with them efficiently.
There are many CRM systems out there, so you'll want to compare prices and capabilities. Some CRM platforms are designed for specific teams, and others are truly built to be cross-departmental.
Once you have determined the best one for you, you'll want to manage user access and customize its dashboards for it to best meet your needs.
Step 8: Set Key Performance Indicators (KPIs)
The final step in putting in place a comprehensive CRM strategy is to structure best practices to measure its progress. To do so, you will need to set some key performance indicators for your team to stay accountable.
Some metrics to keep in mind when you are setting your KPIs would be to track:
Customer retention
Customer satisfaction
Churn rate
Profits
These four metrics will help you understand whether you have set up your CRM strategy correctly and whether your goals track with the tools you have given yourself to succeed.
Should I use a CRM platform for my CRM strategy?
When you are deciding which CRM platform to use for your CRM strategy, you'll want to first determine whether you need a cloud-based or standard system.
Using a cloud-based CRM allows for decentralized access on any device, anywhere, whereas a traditional CRM system will require on-site installation and manual updates.
With a CRM platform, your company gets important demographic data to understand customer behavior and determine where new target audiences could be tapped into.
You can choose between an operational, analytical, or collaborative CRM system to blend your processes like marketing, sales, and customer service:
Operational: stores information on customers, leads, and employees to capture data across the customer lifecycle.
Analytical: focuses on storing customer data for mid- to large-scale companies
Collaborative: designed to allow for cross-departmental work
Ultimately, think about using a CRM platform as the best possible way for you to automate workflows. They'll help your team stay customer-first and improve your relationship with your customers in the long run.
Developing the best CRM strategy: your takeaways
Your key takeaway: developing a CRM strategy is declaring a company-wide commitment to your customers. In other words, it's the best thing you can do to ensure the nurturing of current customers and the reliable conversion of prospects.
Keep in mind, however, that developing a CRM strategy is not something that can be done haphazardly. You need to dedicate the resources and the time to making sure you follow the appropriate steps to:
Identify your company's needs and goals
Know your current and future customer
Map out your customer journey
Assess the competition
Get the tools you need to succeed
Get your team on board by promoting cross-departmental collaboration, and you'll be sure to have a robust CRM strategy that satisfies your people and customers equally.
Best tools for you