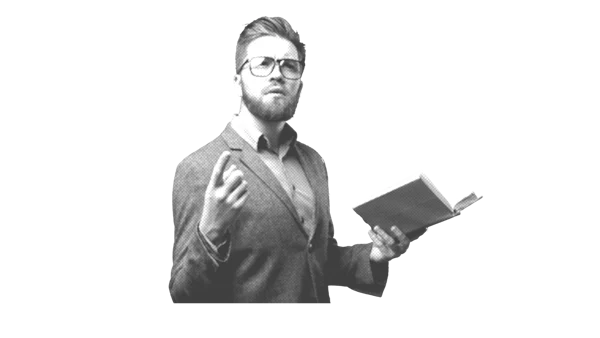 Why legal professionals need to consider law firm CRM platforms
If you are starting your own law firm or looking to grow an existing one, choosing a law firm CRM might be what you need to differentiate yourself from the rest of the firms out there. By leveraging the power of technology to manage interactions with clients and prospects, law firm CRMs can help firms improve their efficiency, boost revenue, and deliver better client experiences.
Get all the information you need about the benefits of law firm CRMs, how they work, and what features to look for when choosing a CRM for your law firm.
What is a legal CRM?
A legal CRM, also known as a law firm CRM, is a customer relationship management system specifically designed to assist law firms and legal professionals in their client relationships.
Boasting features and functionalities crafted to help law firms manage their clients, keep track of their cases, and stay on top of their billables and payables, a law firm CRM can boost your efficiency and profitability.
When law firms choose to use a legal CRM, they gain access to the following:
Case management
Client management
Document management
Billing and invoicing
Reporting and analytics
Each key law firm CRM feature improves client communication and engagement and streamlines business operations.
What are the benefits of using a law firm CRM?
There are countless benefits of using a law firm CRM for legal professionals. Some of the main benefits include, but are not limited to:
Improved client management
Law firms greatly benefit from more efficient client management when they use a legal CRM. The software provides tools for tracking client interactions, managing contact details, and automating follow-up tasks. This can help improve communication and build stronger, more meaningful client relationships.
Streamlined case management
Your law firm CRM has capabilities that keep you on top of deadlines, your documents organized, and your collaboration with clients efficient. As such, your legal CRM will cut administrative overheads and allow your firm to handle cases more accurately.
Payables and billables management
Using a legal CRM allows your firm to automate its billing and invoicing processes, effectively reducing the risk of errors and improving your cash flow. Your law firm CRM, therefore, is designed to improve your financial performance and help you track your revenue and expenses.
Improved document handling
A law firm CRM allows law firms and legal professionals to store and share files and secure all documents in a single platform. In so doing, your legal CRM prevents data breaches and reduces the risk of losing important information.
Data-driven decision-making
Because a law firm CRM is designed to provide and analyze critical performance data, including client acquisition, case volume, and revenue, your law firm will allow you to make more accurate, data-driven business decisions.
Better collaboration
A law firm CRM stores all communication, contacts, and documents in a centralized platform, providing team members from all the different departments in your firm easy access to the information they require to do their job efficiently.
What features should a legal CRM have?
Choosing a CRM for your law firm is important in ensuring that your clients stay satisfied, and your business operations stay organized. That's why you should select a law firm CRM with the following essential features:
Matter management: Manage matters and cases effectively. It should enable you to assign tasks, track time, manage deadlines, and monitor progress.
Contact management: Clients, opposing counsel, judges, and other professionals. It should allow efficient contact detail, store, and communication history storage.
Document management: Store and organize documents, such as pleadings, contracts, and correspondence.
Calendar and task management: Schedule appointments, set reminders, and track deadlines.
Payables and billables: Create invoices, track payments, and manage expenses.
Reporting: Generate reports on matters, contacts, billing, and other essential data.
Integration: Integrate with other tools and software that your law firm uses, such as email, document management, and accounting software.
Security: Protect sensitive client data, including encryption, access controls, and regular data backups.
Mobile app: Access and manage your matters, contacts, tasks, and documents anywhere.
Customization: Meet the specific needs of your law firm, such as custom fields, workflows, and templates.
A legal CRM can make all the difference between a law firm that runs its operations smoothly and one that struggles to keep up with demand. Make sure your law firm CRM has all of the above features when making your choice.
Lawmatics

Lawmatics is a platform that manages attorney-client relationships for law firms. Its law firm CRM helps boost efficiency, attract prospects, engage clients, and foster growth. With Lawmatics, law firms can kickstart steady revenue growth.
Benefits
Ideal client intake platform
Marketing automation
Easy-to-use billing platform
Features
Legal contact management: track and target potential clients, manage client activity, sort contact with personalized criteria
Pipeline management: centralized performance tracking
Automated client engagement: dynamic email workflows and templates
Advanced custom fields: personalize the platform to meet your needs
Legal software integration: use all your current tools in a single platform
Pros and Cons
Pros
Practice agnostic
Intuitive interface
Cons
Functions primarily as web form
Not always suited for all types of practices

Revolutionize Your Law Firm Management Now
Learn more about Lawmatics
Law Ruler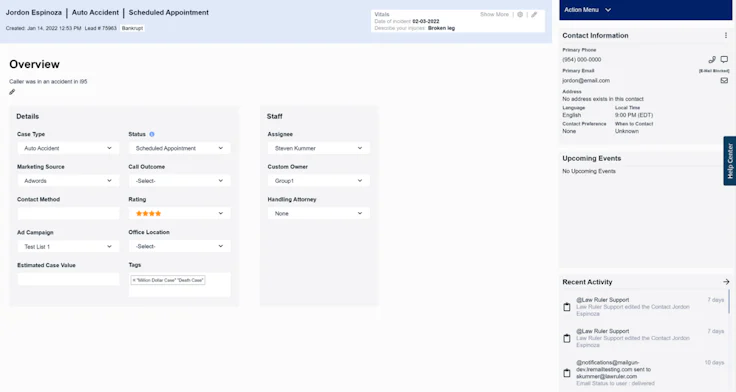 Law Ruler's powerful law firm CRM enables stronger client relationships, new growth opportunities, and a more extensive referral network for law firms. Law Ruler caters to the requirements of high-volume law practices specializing in mass tort, personal injury, social security disability, immigration, civil litigation, employment, criminal defense, and other related fields.
Benefits
Designed to rapidly grow your practice at a competitive price
Intelligent automation to streamline your processes
Personalized set-up
Features
Automated follow-ups by email or text
Built-in softphone
Text & video messaging
Simple contact management system
Prioritized lead management
Dashboard analytics
Task management tools
Industry-leading software support
Robust integrations
Pros and Cons
Pros
Responsive customer assistance
Great client management tool
Cons
No free trial
A lot of features, and sometimes hard to determine which ones you need
No OneDrive integration

Revolutionize Your Legal Practice Management Today
Learn more about Law Ruler Software
Legal Case and Matter Management

Legal Case and Matter Mgt
Streamline Your Legal Workflow
Learn more about Legal Case and Matter Mgt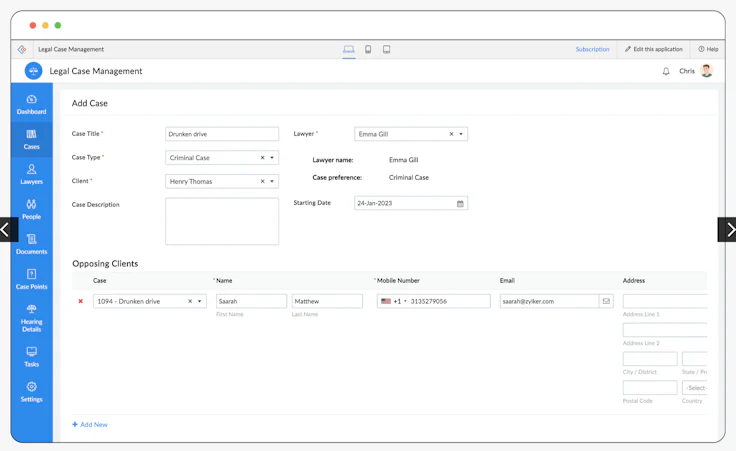 Legal Case and Matter Management is an online case and matter management software that offers end-to-end caseflow monitoring, client information management, legal document storage, and data-driven decision-making capabilities for lawyers.
Benefits
Real-time insight into your caseflow
Store and retrieve case documents instantly
Simplify legal case and matter management
Optimize legal client management
Simplify schedule management and billing
Centralize your firm's legal case data
Features
Manage leads, contacts, and matters
Manage attorneys and hourly rates
One-click contract generation
Generate invoices in a single click
Pros and Cons
Pros
Free version available
Affordable pricing plans
Automation
Multiple integrations
Easy to use
Mobile app
Cons
AI features are only available for top-tier plans
Limited custom fields
No integrations for the free plan
Clio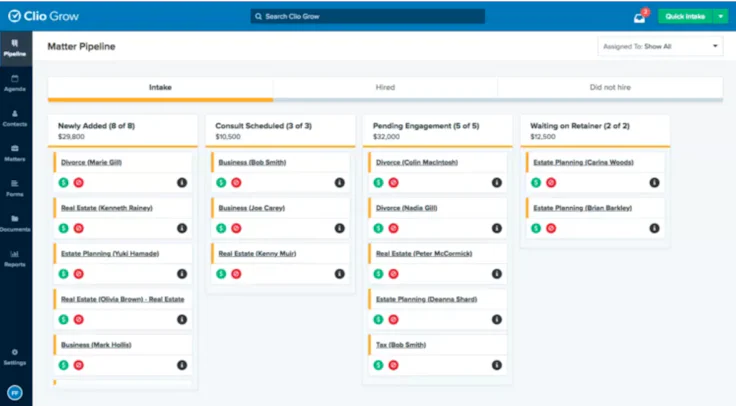 Clio is a cloud-based law firm CRM designed for small to large law firms to manage their legal practice. The platform allows law firms and other legal industry businesses to monitor crucial deadlines, handle client cases and documents, bill clients, and process payments.
Benefits
Unlimited document storage
Easy time tracking and expense recording
Speeds up invoicing
Features
Case management
Document management
Billing
Client management
Accounting
Calendaring
Task management
Online payments
Time and expense tracking
Law firm insights dashboard
Client portal
Law firm communications
Pros
Cloud-based CRM
Easy integrations
Customizable features
Cons
Rudimentary task management tools
Basic templates
Add-ons needed
Optimize Your Law Firm's Operations
Learn more about Clio
Pipedrive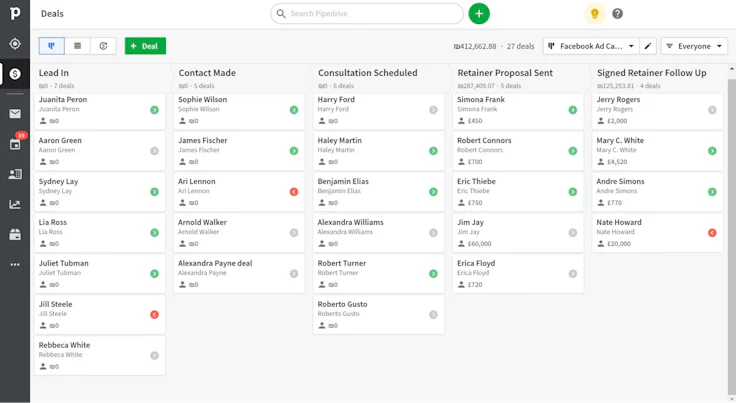 Pipedrive's law firm CRM is designed to meet the unique needs of law firms and legal professionals. With a user-friendly interface and powerful sales pipeline management features, Pipedrive enables law firms to track and manage leads, clients, and cases efficiently. Pipedrive's law firm CRM is a comprehensive solution for law firms of all sizes.
Benefits
Seamless email integration
Robust sales pipeline management features
Automation capabilities
Customizable reporting
Features
Pipeline and deals
Automation
Insights and reporting
Chat integration
Invoicing and billing
Contact management
Email and communication tracking
Pros and Cons
Pros
Pipedrive has a user-friendly interface that is easy to navigate.
It has a mobile app, which allows users to access the platform from anywhere.
Excellent customer support
Cons
High price point
Limited customization
Reporting is more detailed on other CRMs
Not practice agnostic
Salesforce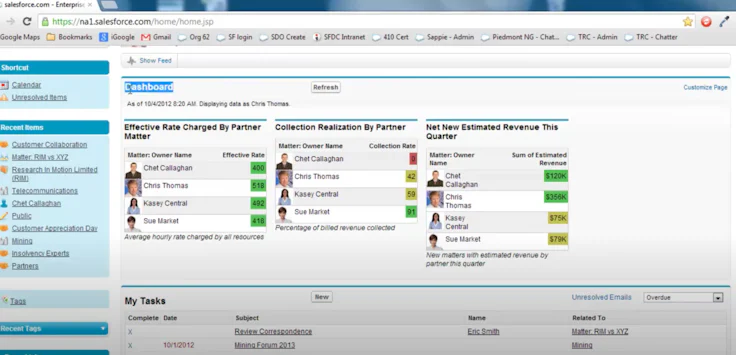 Salesforce Legal CRM is a cloud-based system designed for legal professionals. It provides law firms with a comprehensive suite of tools to manage client relationships, streamline administrative tasks, and optimize their workflow. Salesforce Legal CRM is an innovative solution for law firms seeking to enhance their operational efficiency and improve client satisfaction.
Benefits
Easy third-party integrations
Efficient workflow streamlining
Store all records in one place
Secure data
Features
Customization: Tailor your CRM to meet your specific needs and workflows with customizable fields, objects, and processes.
Integration: Integrate with other legal software, such as document management and e-discovery tools, to streamline processes and enhance collaboration.
Automation: Automate document generation, billing, and client communication, freeing time for more valuable work.
Analytics: Track key metrics, identify trends, and make data-driven decisions.
Security: Robust security features protect sensitive client information, including multi-factor authentication and data encryption.
Mobile accessibility: Access client information, track tasks, and communicate with colleagues on the go.
Pros and Cons
Pros
Competitive pricing
Cloud-based and accessible anytime, anywhere
Industry leader
Cons
Not the best suited for small practices
Little control over system updates
Hard to work offline
Hubspot CRM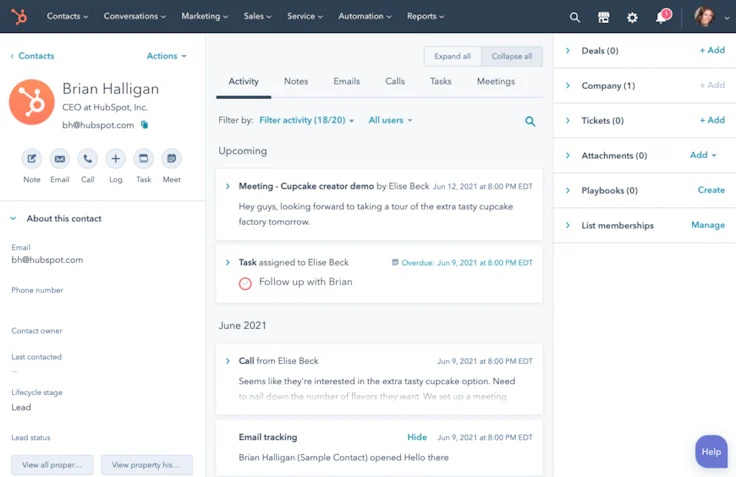 HubSpot is a globally recognized CRM software suitable for businesses of all sizes. In addition to its user-friendly interface, HubSpot offers a free plan for law firms.
Benefits
Monitor and analyze sales activity in real-time
Improved pipeline for better conversion
Capture leads from digital assets
Features
AI email tracking
Pipeline management and follow-ups
Live chat
Meeting scheduler with embedded forms
Pros and Cons
Pros
Intuitive tools
Easy-to-use interface
Responsive customer service
Cons
Hard limit of 1000 custom fields
Lack of industry-specific tags

The all-in-one powerful software for sales
Learn more about HubSpot CRM
InterAction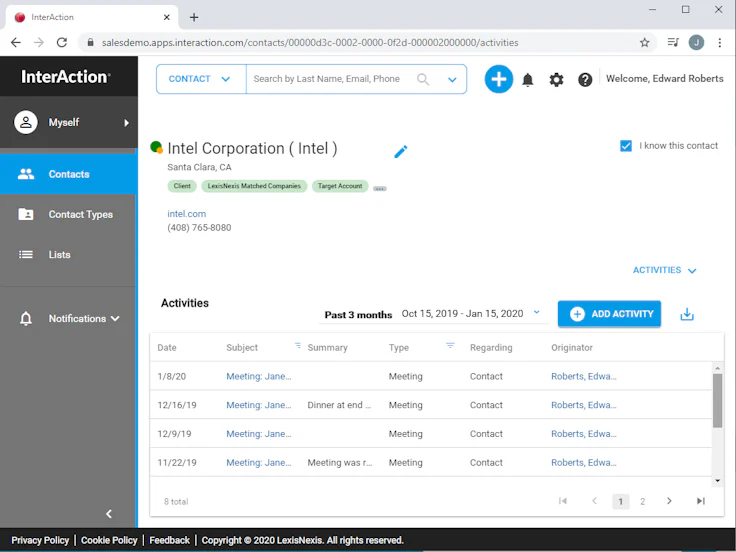 InterAction is a law firm CRM that empowers your law firm to build long-lasting relationships with clients, regardless of your firm size.
Benefits
Collect and maintain client relationship data
Leverage client data to inform business decisions
Sustain and grow your business with client insight
Manage risk and compliance
Automation
Features
Integration with Microsoft applications
Business development and firm growth planning
Pipeline management and opportunity tracking
Reports and analytics
Advanced data management
Pros and Cons
Pros
Easy to gather employee and client data
Easy integrations with Outlook
Separate interface for marketing and casual users
Cons
Not the most intuitive interface for marketing
Rudimentary Technical support documentation

Boost Your Law Firm's Productivity and Efficiency
Learn more about InterAction
Insightly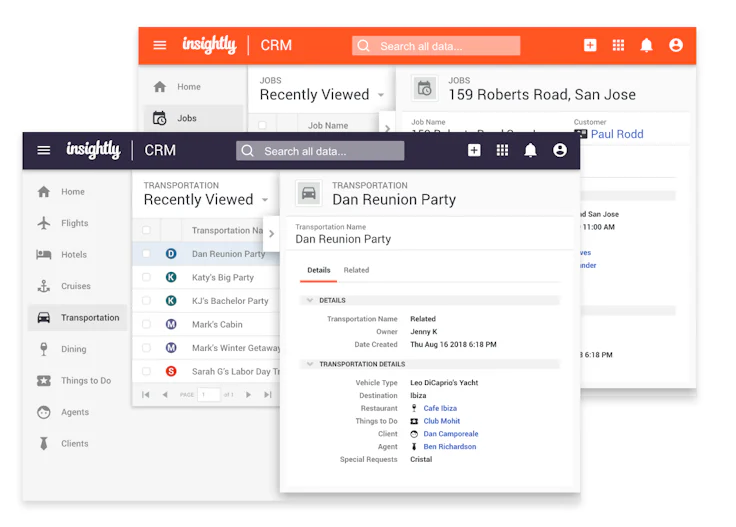 Insightly is a cloud-based CRM software that is designed to help law firms manage their cases, marketing, and customer relationships. It is designed to be user-friendly and accessible to small and medium-sized law firms.
Benefits
​​Align your team on a single platform
Personalized customer journeys
Advanced customer support tools
In-depth analytics
Features
Lead routing
Workflow automation
Send, track, and save emails
Relationship linking
Track important metrics
Pros and Cons
Pros
Free version
Great lead management tools
Cons
Not the most user-friendly interface
Hard to edit tasks
Needs better integration with Gmail

Affordable CRM Optimized for Small Business
Learn more about Insightly
Your Law Firm CRM takeaways
Implementing a law firm CRM system can significantly positively impact your legal practice, your law firm's operations, and overall success.
By tracking client interactions, automating administrative tasks, and providing data analytics, law firm CRMs can improve efficiency, productivity, and client relationships.
However, it's crucial to select a CRM system that suits your firm's needs and ensure that the system is properly integrated and utilized by staff. Additionally, ongoing training and support are essential to maximizing the benefits of a law firm's CRM system.
By considering these critical takeaways, law firms can successfully implement a CRM strategy to enhance their practice and stay competitive in the industry.
Best tools for you