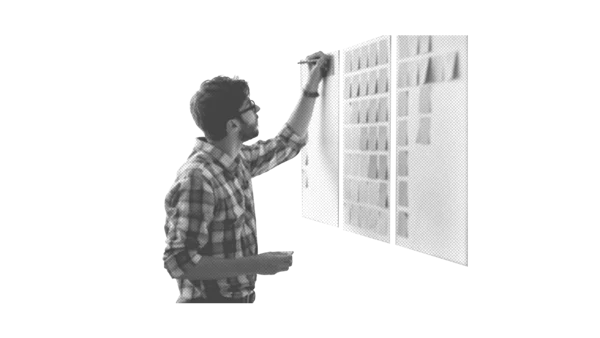 What is DSDM in Agile? Guide to the 8 Principles of This Framework
DSDM stands for Dynamic Systems Development Method. It is one of the earliest agile project management methods: originally created with software development in mind, it can also be applied to other types of projects.
Are you looking to learn more about agile methodologies to find the best fit for your business needs? Keep reading to get an overview of DSDM, including its history, 8 principles and what sets it apart from other agile methods such as the scrum methodology.
What is DSDM?
DSDM is an agile project framework based on an iterative development methodology. It was developed in the 90s after the rise of the Rapid Application Development (RAD) approach, which focused on adapting traditional project management methodologies such as the waterfall methodology to software and system development.
The RAD approach was successful in its endeavour to make software projects more agile. However, it lacked a proper structure to grow: the DSDM Consortium was founded to enable experts to share their best practices and know-how to develop a proper agile framework.
The Dynamic Systems Development Method later lost its focus on IT projects and was expanded to become a generalist agile project management framework under the name of DSDM Atern.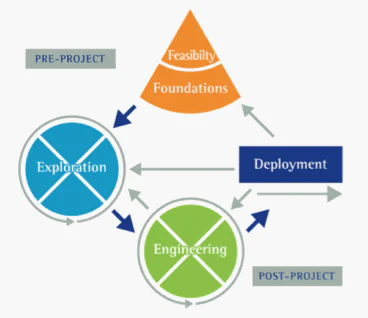 Like other agile methods, the DSDM method is based on an incremental process, with frequent releases and testing. It describes 7 project phases:
Pre-project: preparatory work to define a vision and set goals,
Feasibility: checking whether the project is realistic and objectives are attainable,
Foundations: defining the solutions and methods that will be used for the project,
Exploration: prioritizing and iterative definition and testing of features,
Engineering: developing the project incrementally,
Deployment: implementing each iteration of the project,
Post project: assessing the benefits obtained from the project.
The project lifecycle should always abide by the DSDM principles to ensure efficiency.
The 8 principles of DSDM
1. Focus on the business need
A successful project is always derived from a realistic, solid business case. The project should help you reach long-term goals and be in line with the strategy of your organization.
Therefore, it is important to always keep in mind what the project should lead to and to prioritize requirements and features. To ensure your project stays relevant and serves a purpose, DSDM uses tools like the MoSCoW prioritization method. It sorts features into 4 categories:
Must have: the essential features of the project, without which it cannot reach completion. Together, they form the Minimum Viable Product (MVP).
Should have: these features aren't necessary but would still make a great positive impact.
Could have: these needs will only have a marginal impact on the success of the project.
Won't have: features that do not benefit the project.
2. Deliver on time
Delivering results on time is important to build a trusting relationship between the client and the project team. To hit deadlines more consistently, use timeboxing techniques.
Timeboxing is a very simple idea: it consists in setting time limits to your tasks in advance. For example, decide how much time you'll dedicate to a meeting, and even to each of the topics it will touch upon in advance, so you'll be able to plan tasks more effectively.
Do this as consistently as possible and assign smart priority levels using tools such as the Eisenhower matrix to never fall behind schedule.
3. Collaborate
Cooperation and collaboration are key in project management. The team should be a cohesive unit organized around a common goal. Project team members should be able to trust each other to make decisions without wasting time.
Collaboration with all stakeholders is required: be sure to involve all the relevant people to gather feedback along the development process, especially from your client.
4. Never compromise quality
Quality shouldn't be used as a variable to adapt to unforeseen circumstances. It should be a standard to uphold at all times. Everyone should agree on quality standards and adhere to them throughout the project.
DSDM emphasizes continual improvement: the level of quality should be checked and reviewed over the course of the development cycle, not only at the end.
5. Build incrementally from firm foundations
Just like other agile approaches such as the Scrum method, DSDM focuses on delivering value early and building on the progress made at each step. Though carefully determining the scope of the project and project needs at the start of the project ensures everyone has a common vision, releasing new features early allows to check the project is always headed in the right direction without wasting time on details.
6. Develop iteratively
Development should be based on an iterative approach: new features are released and tested throughout the project, and then tweaked in later releases according to the feedback provided by the client and testers. Experimentation is encouraged and value is created release after release.
7. Communicate continuously and clearly
Communicating with stakeholders can make or break a project. It allows you to manage their expectations and ensure no obstacles will be encountered down the road. Internal communication within the project team is also essential: DSDM advocates for daily stand-up meetings, simple documentation and workshops to foster informal interaction.
8. Demonstrate control
Staying in control of your project means being able to track and monitor its progress using relevant, accurate Key Performance Indicators (KPIs). Review what went wrong to learn or share best practices, and be proactive by letting everyone know what progress the team has made.
DSDM vs Scrum
If you're already familiar with other agile project management frameworks, these principles may sound familiar. Both the Scrum methodology and DSDM emphasise the importance of incremental improvements and iterative releases.
The difference between DSDM and Scrum is that DSDM is a more comprehensive approach to project management, as it includes a wide range of roles that encompass project governance, whereas Scrum is mostly focused on the operational team.
DSDM exams and Agile certifications
Do you aspire to become a team leader trained in Agile to deliver high-quality results? To hone your skills and prove your knowledge, you may want to consider taking specific examinations. These will help you become a recognised DSDM practitioner and take on a greater level of responsibility.
You can choose from a range of organisations habilitated to deliver such labels, which includes AgilePM®, AgileBA®, APMG or the Scrum Master certification delivered by the Agile Business Consortium.
Ready to lead DSDM projects?
As one of the first standardised agile frameworks, DSDM has revolutionised software development and announced the rise to other approaches such as the Scrum methodology.
Today, as businesses evolve in a more competitive environment and the need to be more agile is felt across all industries, it has become a widely used project management methodology. Has your business embraced agile yet?
Best tools for you