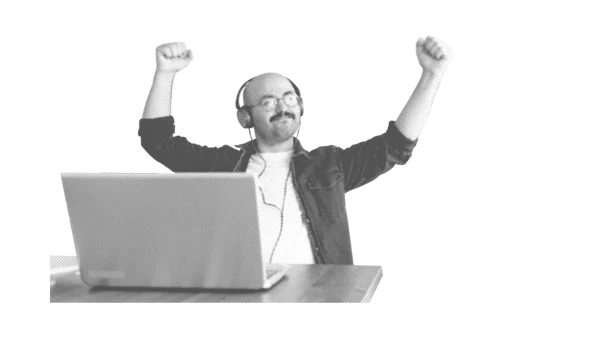 Streamline your customer relationships with VoIP CRM integration
As businesses continue to look for ways to improve their customer service and communication, many are turning to VoIP (Voice over Internet Protocol) CRM (Customer Relationship Management) platform providers.
These platforms combine the benefits of a traditional CRM system with the added functionality of VoIP technology, allowing businesses to streamline their communication channels and improve their overall customer experience.
Discover all features and benefits of VoIP CRM platforms, and how they can help businesses of all sizes improve their communication with customers.
From call recording and analytics to integrations with popular business software, we'll take a closer look at the features that make VoIP CRM platforms an essential tool for modern businesses. We'll also examine some of the top VoIP CRM platforms on the market today, and what sets them apart.
If you're looking for ways to improve your customer service and communication, or simply want to learn more about the benefits of VoIP CRM platforms, read on to find out everything you need to know.
What is a VoIP CRM?
A VoIP CRM (Voice over Internet Protocol Customer Relationship Management) is a software platform that combines VoIP technology with traditional CRM features. VoIP technology allows for voice communication over the internet, while CRM systems are used to manage customer data and interactions.
With a VoIP CRM, you can streamline your communication channels and improve overall customer experience. Features of VoIP CRM platforms typically include call recording, call analytics, automatic call distribution, and integrations with popular business software such as customer support ticketing systems and marketing automation tools.
By integrating VoIP technology into their CRM system, your business can track and manage customer interactions in real-time, improving response times and reducing customer wait times. Remember that the data gathered from VoIP calls can be used to identify trends and areas for improvement.
What features should a VoIP CRM have?
A VoIP CRM should have a range of features to improve your company's communication with customers and boost customer service efficiency.
Here are some of the key features a VoIP CRM should have:
Call recording
Call recordings are an essential feature for your VoIP CRM because they allow you to review past conversations and identify areas where your team members can improve.
These recordings also provide valuable evidence in case of disputes or legal issues. Call recordings help managers evaluate employee performance, identify training needs and ensure compliance with company policies.
Automatic call distribution
Automatic Call Distribution (ACD) is an essential feature for VoIP CRMs as it helps to manage call flow efficiently. ACD systems ensure that incoming calls are routed to the most appropriate agent, based on criteria such as the caller's location, language, and type of inquiry.
In so doing, ACD systems allow you to boost efficiency, reduce wait times, and increase first-call resolution rates. ACD systems also provide valuable data insights that can be used to optimize staffing levels and improve overall call center performance.
Call analytics
Call analytics provide valuable insights into the performance of a business's VoIP phone system, allowing for better decision-making and optimization. By tracking metrics like call volume, call duration, and call quality, businesses can identify areas for improvement in their customer service and sales processes.
With the help of call analytics, VoIP CRMs can also provide personalized recommendations to agents and managers based on data-driven insights.
Integrations
Your VoIP CRM should integrate with popular business tools, because comprehensive integrations allow for seamless communication between different software tools and systems. By integrating with other platforms such as email, messaging, and social media, VoIP CRMs can provide a more unified and efficient customer experience.
Integrations also enable businesses to automate repetitive tasks and streamline workflows, reducing manual errors and saving time. This integration capability allows companies to be more responsive to customers, improve collaboration among teams, and ultimately boost productivity and profitability.
Voicemail transcription
Voicemail transcription is an important feature for VoIP CRMs because it allows you to quickly and easily convert voicemails into written text. This not only makes it easier for agents to read and respond to voicemails but also allows for easier tracking and analysis of customer interactions.
With voicemail transcription, you can quickly search through and analyze transcripts for keywords and sentiment analysis, helping you identify trends and improve customer service.
This feature also allows for more efficient communication with customers, improving response times and ultimately enhancing customer satisfaction.
Call monitoring and coaching
A key VoIP CRM feature is call monitoring and coaching because managers can listen in on live or recorded calls, providing them with valuable insights into agent performance and customer experience.
This enables managers to identify areas for improvement and provide targeted coaching to agents. Call coaching also helps agents improve their skills and performance, improving customer satisfaction and ultimately increasing sales.
By incorporating call monitoring and coaching into their VoIP CRM, businesses can provide their agents with the support and training they need to succeed.
Interactive voice response (IVR)
Interactive voice response (IVR) is an essential feature for VoIP CRMs because it allows customers to navigate through a phone menu to access the information they need, such as account balances or customer service inquiries.
This saves time for both customers and agents and can help reduce wait times. IVR also enables businesses to collect valuable data about customer interactions, which can be used to improve customer service and sales processes.
What are the different VoIP CRM systems?
RingCentral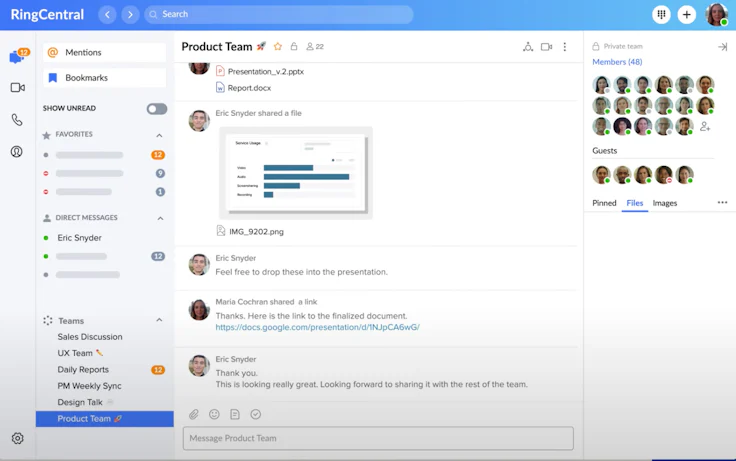 RingCentral's VoIP CRM is a cloud-based communication and customer relationship management solution that offers features such as call routing, click-to-dial, screen pops, call recording, analytics, integrations, and a mobile app, to help businesses improve their customer interactions and streamline their communication processes.
Features
Click-to-Dial.
Screen pops with relevant customer information.
Automatic call logging.
Call analytics to monitor call quality and performance, customer interactions, and sales trends.
Integrations with popular applications include Salesforce, Microsoft Dynamics, Zendesk, ServiceNow, and more.
Customizable call workflows.
Pros and Cons
Pros
Designed for companies large and small.
Unlimited number of users without adding servers.
Available in more than 40 countries.
Cons
Essentials plan is limited to 20 users and 100 toll-free minutes.
No video conferencing capabilities, certain integrations, or 24/7 technical support at entry level.

Unify your corporate and customer service communications
Learn more about RingCentral
FreshDesk Contact Center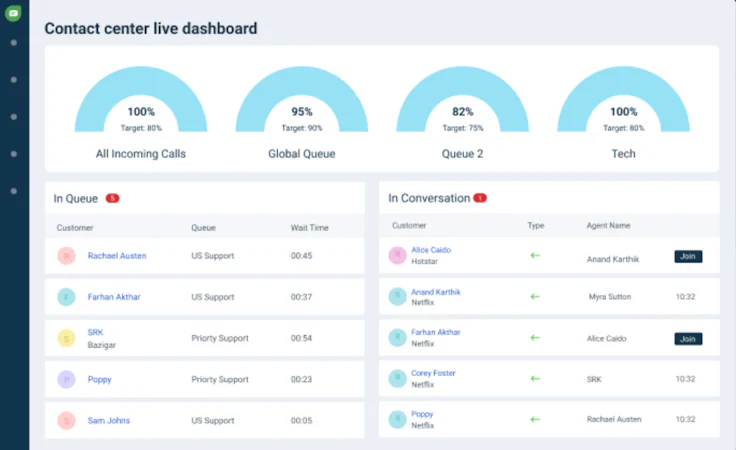 FreshDesk Contact Center is a cloud-based call center and customer engagement software developed by Freshworks. This system provides businesses with a range of features to help them manage their customer communications, such as call routing, call forwarding, IVR, and more.
FreshDesk Contact Center also enables VoIP CRM integration, as well as other tools like messaging platforms and helpdesk software, to provide a complete solution for customer engagement.
Features
Buy local phone numbers.
Mask calls.
International phone numbers.
Shared line.
Multi-level IVR.
SIP phones.
Real-time dashboard.
Call notes.
Pros and Cons
Pros
Lots of features.
Reliable customer service.
Scalable tools.
Cons
Limited support for physical devices.
Not the cheapest option, can add up quickly.

Call center software for startups and small teams
Learn more about Freshdesk Contact Center
Vonage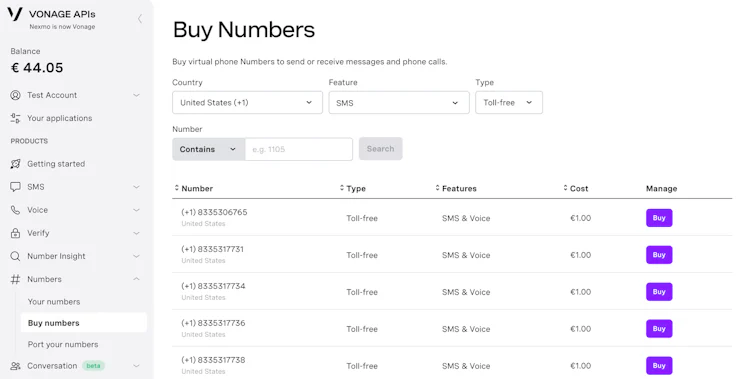 Vonage's VoIP CRM integration can boost your relationship with your customer via its cloud-based functionalities.
Vonage's VoIP CRM integration is compatible with popular platforms such as Salesforce, Zoho, and SugarCRM, among others.
This CRM solution allows you to access advanced analytics and reporting tools, gain insights into customer behavior, and optimize their sales processes.
Features
Click-to-Dial.
Paperless Fax.
Call Monitoring.
Local or Geographic Number.
Call Flip.
Virtual Receptionist.
Available for desktop and mobile.
Offers voice and video collaboration, plus chat.
Schedule meetings on the fly, right from your calendar.
Up to 200 attendees for training and webinars.
Record and share meetings easily.
Bandwidth prioritization.
Encryption.
Firewall optimization.
Congestion prevention.
Performance statistics.
Microsoft Teams integration.
Pros and Cons
Pros
Integration with Microsoft Teams.
Lots of features.
Easy-to-use apps.
Cons
Limited basic plan.
Hard to reach customer service team.
Add-on features are prices.

VoIP and business telephony software
Learn more about Vonage Business
Aircall
With Aircall's VoIP CRM, your company can integrate its phone system with its comprehensive CRM platform. It offers features such as click-to-dial, automatic call logging, screen pops, and call analytics. The solution also supports integrations with popular CRM platforms and provides advanced reporting tools for tracking sales performance.
Features
Interactive Voice Response (IVR).
Automatic Call Distribution (ACD).
Call Queuing.
Call Monitoring.
Call Whispering.
Call Barging.
Call Recording.
Call Analytics.
Real-Time Supervision.
Voicemail.
Business Hours.
Warm Transfer.
Shared Contacts.
Call Tags.
Power Dialer.
Click-to-Dial.
Integrations with CRM and Helpdesk Tools.
Remote Work Capabilities.
Pros and Cons
Pros
Call recording is included in basic plan.
Available in over 100 countries.
Easy integrations.
Cons
Pricing not adapted for smaller companies.
Three users required.
Not always compatible with existing phones.

The Phone System Built for Modern Businesses
Learn more about Aircall
JivoChat
JivoChat is designed to offer a range of communication tools to businesses of all sizes, including live chat, social media integration, email integration, and telephony - all accessible through a single app.
With JivoChat's VoIP CRM integration, businesses can improve their customer experience by providing a seamless communication channel between themselves and their customers.
Its live chat feature allows real-time connection with website visitors, while social media integration lets businesses manage their social media accounts from a single dashboard.
JivoChat's pricing plans are adaptable to the needs of businesses of varying sizes, making it a flexible option for small startups and large enterprises alike.
Features
Live Chat.
Omni-Channel.
CRM Integration.
Visitor Monitoring.
Proactive Chats.
File Sharing.
Chatbots.
Team Collaboration.
Mobile App.
Pros and Cons
Pros
Quick implementation.
Chatbot integration.
Email integration.
Cons
Hard to reach customer service.
8×8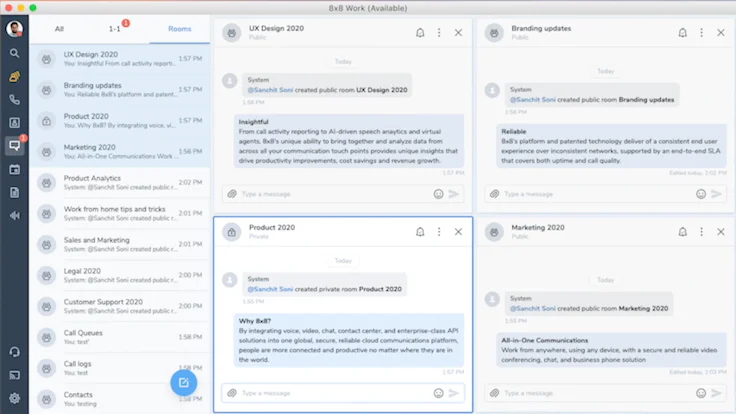 8x8 is another great solution for your VoIP CRM integration needs. The platform includes features such as call recording, forwarding, virtual receptionist, and voicemail transcription tools.
8x8 offers video conferencing and team messaging for remote communication and collaboration. Integrations with other business tools like Salesforce, Microsoft Teams, and G Suite streamline customer interactions.
Features
Call routing.
Voicemail.
Conference calling.
Call recording.
Caller ID.
Mobile app.
Integration.
Analytics and reporting.
Customizable settings.
Pros and Cons
Pros
Cost-effective.
Great integrations.
Cons
Complicated implementation.

Call, meet, chat, share, work better.
Learn more about 8x8
Ringover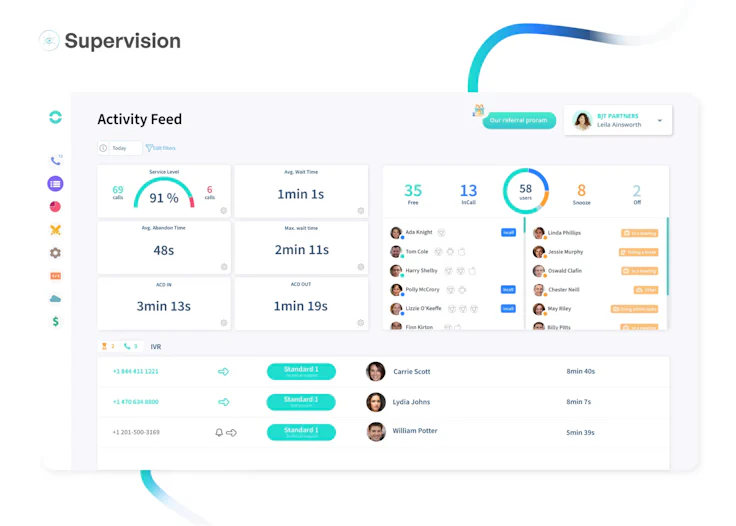 Ringover is a cloud-based platform designed to help small- to medium-sized businesses grow their customer relationships and work more efficiently with comprehensive VoIP CRM and Helpdesk features.
As a Ringover user, you benefit from a wide range of services, and the platform is fully flexible to meet the unique needs of your business.
Features
Business phone system.
Call forwarding service.
Video conference services.
IVR system.
VoIP phone system.
Power dialer.
Virtual phone number.
Instant messaging.
Internet fax service.
Click to call.
Unlimited call plan.
SMS for business.
Voicemail drop software.
Call tags.
Statistics and reporting.
Call monitoring.
Call whisper.
Call logs.
Call recording software.
Pros and Cons
Pros
Responsive customer service.
Easy to use.
Cons

A 100% Cloud communication solution
Learn more about Ringover
Reminders about VoIP CRM systems
What should you remember about VoIP CRM systems? They've become a popular trend in workplaces around the world because the seamless integration of communication and customer data management not only enhances productivity, it also improves the overall customer experience.
By combining these two systems, businesses can track customer interactions, improve sales processes, and better understand their customer's needs.
With VoIP CRM, businesses can communicate with customers more efficiently and effectively, leading to increased customer satisfaction and loyalty.
As the market continues to evolve, it is safe to say that the integration of VoIP and CRM will continue to play a critical role in your business' success.
Best tools for you