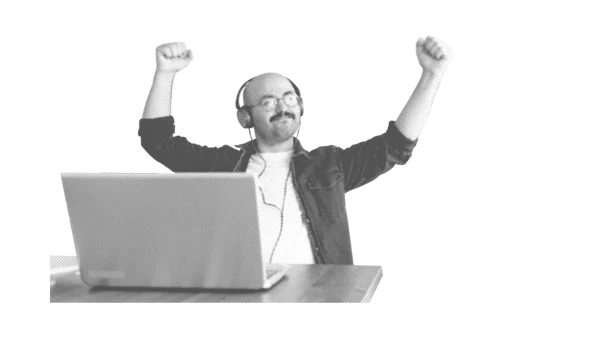 Cloud Phone System: How To Choose The Right Solution For Your Business
Cloud Phone Systems offer businesses more agile and affordable solutions to better serve customers and be more productive.
In this article, we will guide you through what a cloud phone system can do for your business, how it works and how to choose one.
What Is A Cloud Phone System?
A cloud phone system is a Voice over IP (VoIP) based business telephone platform that is hosted by a third-party provider. Cloud phone systems typically offer advanced security and telephony features such as: extension dialing, auto attendants, and conference bridges.
5 Reasons Why Companies Should Use A Cloud Phone System
Mobility
With remote working on the rise, Cloud phone systems allow employees to make and receive calls easily, manage voicemails, and access other telecommunication features from any device and any location as long as they have access to the internet.
Flexibility to Scale
Businesses need to be able to scale up and down easily. As they need to hire new employees, open new offices, and welcome new customers, cloud phone systems offer businesses greater flexibility with their telecommunication tools. They can add as many extensions as needed to handle increased call volume and, when necessary, simply deactivate these additional extensions.
Cost Efficiency
Cloud phone systems help businesses save money on their telecommunications, especially since cloud phone systems include multiple tools and solutions in one platform. With cloud-based phone solutions, businesses can benefit from monthly prices that include business calls, texts and many more features.
Increased Productivity
Benefitting from multiple functions in one platform and using advanced call features help teams better manage projects. Team members don't need to jump from one platform to the other anymore as cloud phone systems streamline processes and ease daily workflows, making teams happier, more productive, and more able to satisfy customers.
Reliability And Security
The best cloud phone system providers make sure to maintain and update their solution to keep it optimal and protected from cybercrime. Some of them help reduce the risk of missing a call due to outages or other disruptions by providing backup solutions that are available at all times.
Most Useful Cloud Phone System Features
Flexible Accessibility
When choosing your provider, you should always make sure the system is accessible from different devices (desktop, tablet, smartphone…) through well-thought apps that really meet your business needs.
Call Analytics
Some metrics give you crucial information regarding employee efficiency and customer engagement. Choosing a cloud phone system that offers a call analytics feature will help you make better decisions and enhance customer satisfaction.
Virtual Voicemail
Virtual voicemail makes it easy to access voicemail as it sends the audio files and/or automated transcriptions directly to users via email. This feature also makes it easier to forward voicemail to other team members in order for the inquiry to be addressed promptly.
Integration
Being able to integrate your system with other tools can help your teams improve productivity and offer a better customer experience.
Good integrations include:
CRMs (customer relationship management)
Email exchanges
Instant messaging platforms
Video Conferencing
Good video conferencing features provide businesses with a wide range of tools to easily communicate with team members or hold online meetings with clients and colleagues: product demonstrations, business negotiations, presentations, training sessions, job interviews…
Customer Callback
Customer callback eliminates the need for customers to wait on hold as customers can fix a date and time to receive a callback from an agent. Customer callback greatly improves the customer's experience and reduces call abandonment rates.
FreshCaller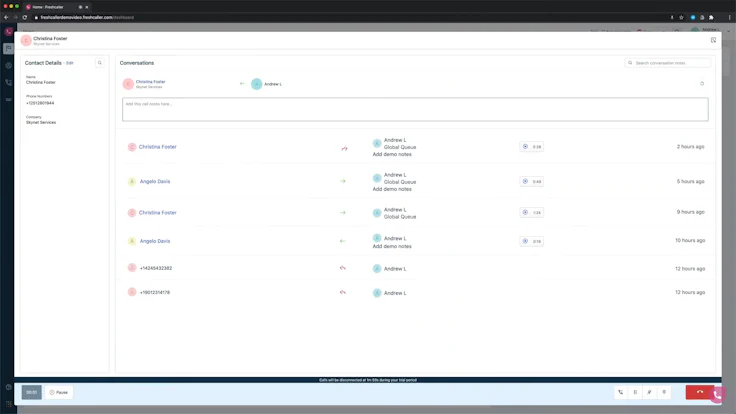 Freshcaller is a Freshworks VoIP platform that offers cloud-based calling features to businesses. It is an easy-to-start, fully-capable VoIP provider that makes it easy for medium-sized businesses, and startups to build a well-capable customer calling infrastructure and execute the requirements of their customer support. It can also scale to large organizations. Freshcaller's intuitive use and easy onboarding make this system ideal for beginners.
Features
Auto & Predictive Dialers:
Voice Recognition
Call Monitoring
Reporting & Analytics
VoIP Integration
Number Management
Contact List
Mobile Apps
Business hours
Live Dashboard
Call Queue
Pros & Cons
Pros
Lightweight
Runs on any device
Stable
Works all over the world
Records calls
Comes with a sales module
Aggregates data to a single dashboard
Capable of growing
Tracks performance
Integrates with all kinds of phone hardware
Lets users hide unused features
Integrates with sales software
Cons
Customer support primarily focused on documentation
Easy onboarding but takes a bit of time to configure
Customer support isn't available around the clock
Interface is slightly clunky
Looks slightly dated
More features accessible from dashboard would be useful

Call center software for startups and small teams
Learn more about Freshdesk Contact Center
8x8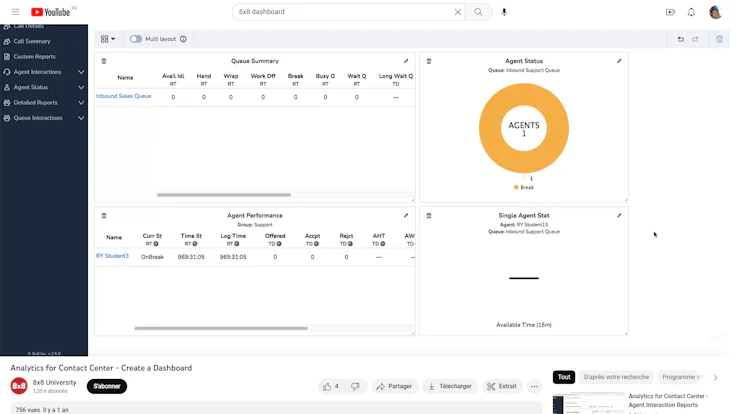 8×8 is a business phone system that integrates video conferencing, instant messaging, and phone calls into a singular platform. It is a great value option for small and medium-sized businesses. Its entry-level Express plan offers a great mix of pricing and features for small businesses that need a reliable phone system with modern call management tools. For large or enterprise-level companies, there are more cost-effective options out there than 8×8.
Features
Cloud PBX
Voicemail Transcription
Real Time Monitoring and analytics
Multi-User Collaboration
File Transfer
Contact Database
Call Conferencing
Activity Tracking
Customizable Reports
Pros & Cons
Pros
Annual price plan savings
Integrations to streamline your workflows
Call monitoring for training
Businesses can mix and match plans to support each employee efficiently
The setup process is quick and offers easy-to-use call management features
International calling to 14 countries, some plans offer unlimited voice calling to 48 countries
Secure and compliant certifications to protect data
Taking, making, and transferring calls is very straight-forward
Cons
Issues with canceling
Bad customer service
Phone app crashing
Does not update automatically
No mass SMS texting for marketing to clients
Nextiva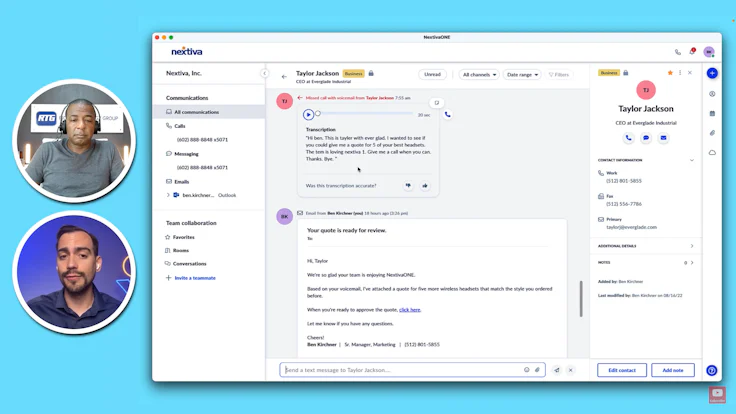 Nextiva is a business communications platform that focuses on helping businesses grow faster with a reliable unified communications system. It provides a VoIP solution, CRM software, BI software, cloud storage, phone and device rentals, email marketing automation software, and a contact center solution all in one platform. These products can be purchased individually or together. Pricing goes down for more users, which means that as you grow your team, you will pay less per user for your phone service.
Features
Cloud PBX
Call Pop feature
Call Management
VoIP System Collaboration
Auto-Dialer
Automated Attendant
Automatic Call Distribution
Call Queues
Screen Sharing Option
Process/Workflow Automation
Real-time Consumer-facing Chat
Employee Directory
Pros & Cons
Pros
Most complete phone system: offers multiple products depending on your needs
Reliable
Good customer service
Call Pop feature is great (shows key caller details)
Great analytic features such as the Sentiment Analysis feature that recognizes positive and negative "trigger words"
Cons
Low integration with third-party services
Documentation on their website needs an update
Mobile app can be glitchy at times
More touch screen options could be useful
RingCentral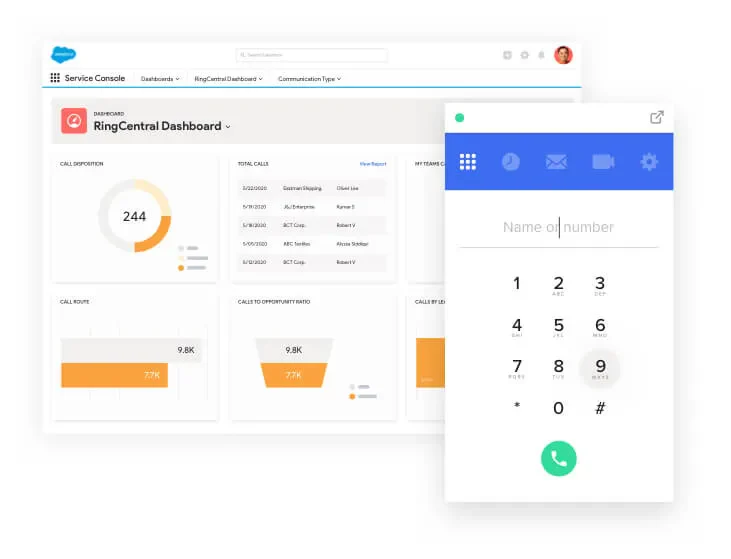 RingCentral is a unified cloud-based business phone system that delivers team messages, video conferences and phone calls through one easy-to-use and secure platform. It can meet the needs of companies of all sizes. Just note that while the Essentials plan is the most popular of their plans, the Premium plan is the best value.
Features
SMS and MMS Texting
Chat Messaging
Team Collaboration
Video Calling
Integrations with Third Party Tools
Multi-level IVR
Voicemail and Greeting
Internet fax
Audio & Video Conferencing
Cloud PBX
Auto-Receptionist
Call Recording & Forwarding
Pros & Cons
Pros
High-quality calls
Free trial
Call recording
chat feature for staff
mobile access: apps for Mac, iOS, and other platforms
constantly improving over time
Open API, integrates with more than 2,000 popular business software applications and tools
Multi-platform communication tools
Cons
Contact management could be improved
Not easy to set up
Can be quite complicated to use for new users
Caller ID with info should be available across all levels of service
Delays
You may have to wait quite some time for customer service
More competitive pricing

RingCentral Centre de Contact
Deliver great customer and employees experiences
Learn more about RingCentral Centre de Contact
Vonage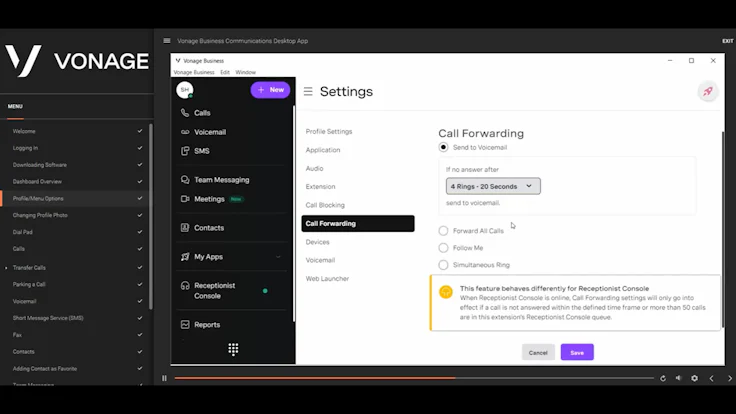 Vonage is a communication solution aimed at small-midsize companies. It includes IP-PBX capabilities, great audio call quality, unlimited calling and texting, and integrates with third-party applications. Vonage allows technically savvy businesses to customize communications for their unique business requirements. It offers three unified communications plans, including Mobile, Premium and Advanced that are worth checking out. You can even explore Vonage's features for free thanks to Vonage's 14-day free trial.
Features
Virtual Receptionist
Phone Number Verification
Customizable Call Routing
Traffic Prioritization
Call Monitoring
Call Recording
Launch a Contact Center
Video Conferencing
High-Quality Messaging
Elevated Quality of Service
High-Quality Voice
Mobile and Desktop Apps
Pros & Cons
Pros
Unlimited calling and texts
Easy setup and user-friendly interface
Great voice quality
Unlimited team messaging
Pretty reliable
Scales without limitations
The mobile app is easy to use
Cons
Many add-on fees for features built into other VoIP provider plans
Customer service could be better
Limited video conferencing features
Small meeting capacity for audio and video conferences
Improved call history would be useful
There can be a slight delay in the audio at times
Ooma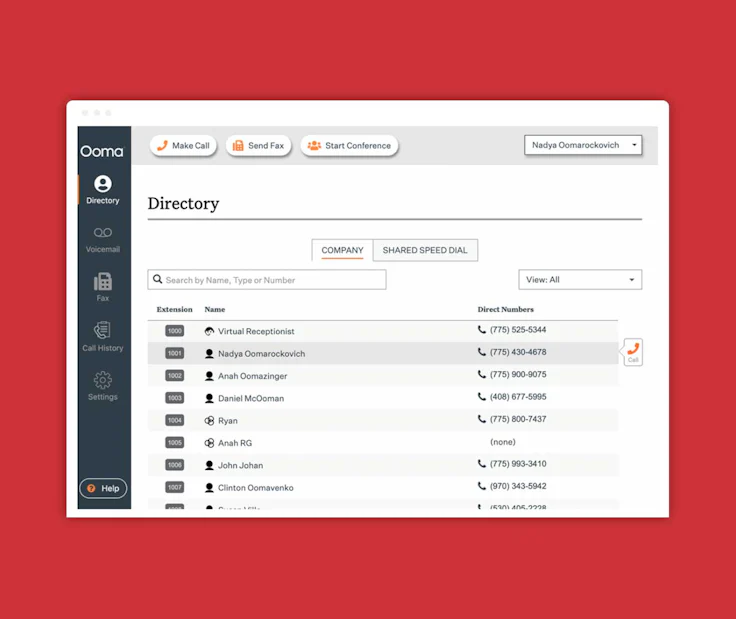 Ooma is an affordable and easy-to-use business communication system that offers solutions for SMBs and enterprise-level businesses alike. It provides toll-free numbers, fax extensions as well as advanced voice and collaboration features that are flexible and scalable in order to communicate seamlessly. Ooma is a pretty good solution for those who want a simple, straightforward VoIP system without a contract.
Features
Ooma Meeting Video Conferencing (25 participants)
Screen Sharing
Desktop App
Enhanced Call Blocking
Call Info Match
Call Analytics
Advanced Call Logs
Voicemail Transcription
Ring Groups
Music on Hold, Transfer Music
Virtual receptionist
Call Recording
Automatic Call Distribution
Live Chat
Multi-User Collaboration
Pros & Cons
Pros
24 hour support, good customer service
Unlimited calling
Competitive monthly pricing
Full-featured mobile app
Easy setup, easy to use
Voicemail to email capability
No contract required
Supports analog phones
Mobile App (iOS and Android)
Virtual assistant
Cons
Limited basic features
Wi-Fi requires add-on
Improved headset connectivity
Cannot track call duration
Limited integrations
Limited messaging options
Caller ID function could be improved
Better spam filtering needed
Dialpad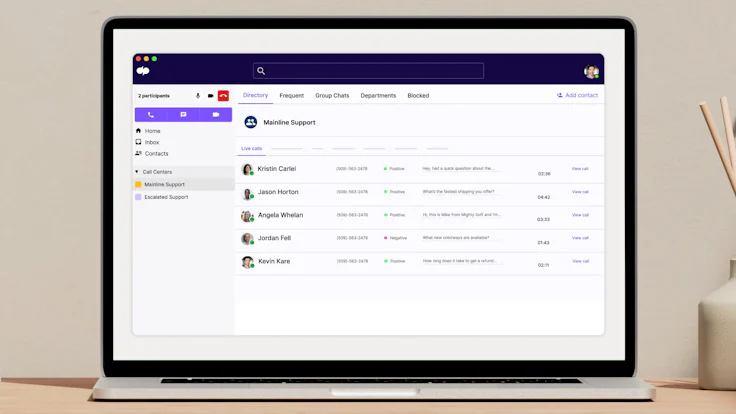 Dialpad is a relatively new web application that aims to help businesses of all sizes improve customer support and team collaboration. It allows businesses to easily communicate with clients, employees as well as other organizations. Dialpad is intuitively designed, scalable to your needs, and comes with integrations to further the software's functionality. Despite being new in the market, Dialpad is a great cloud phone system.
Features
Simultaneous Ringing
Call Recording
MMS, Messaging, Fax
Three-Way Calling
IVR Recognition
Contact Management
Conversation Insights
Company Directory
Group Messaging
Inbound Reporting
Data Integration
Call Monitoring
Voice Recognition
Visual Voicemail
Peer-to-Peer HD Video
Pros & Cons
Pros
AI-based voice intelligence on all plans
100% uptime service-level agreement
Very easy to use interface
Affordable
Innovative
clear and reliable
Useful and smooth integrations with Google Workspace and Microsoft Outlook
Multiple-channel communication
accurate transcriptions
Cons
Not available worldwide
No 24/7 support on Standard plan
Video conferencing is limited to ten participants with lowest level plan
Voicemail transcripts could be improved
More integrations into Google G Suite would be great
Customer Support can be difficult to get a hold of
Jitsi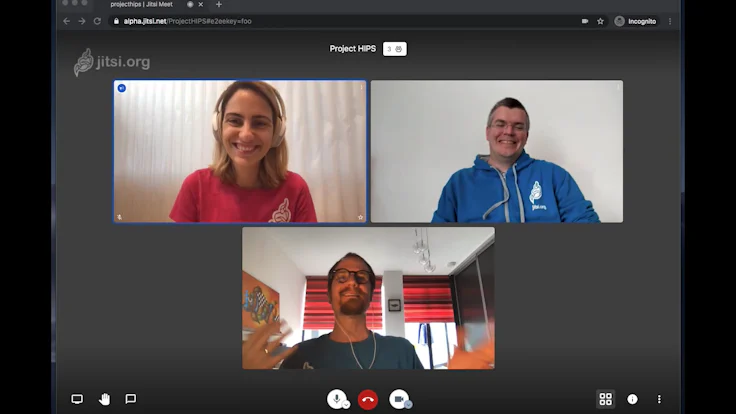 Jitsi is a bit different from other systems in this list. It is an encrypted open-source video conferencing app that allows you to easily build and deploy secure video conferencing solutions. It is mainly composed of Jitsi Videobridge and Jitsi Meet, which let you have conferences on the internet, but other Jitsi projects enable extra sets of features such as audio, dial-in, recording, and simulcasting.
Features
Android and iOS Apps
Text Chatting (web only)
Separate Rooms Locked With Password
Screen Sharing
Streaming a Conference To YouTube Live (if Jibri is configured)
Shared Text Document Based On Etherpad
Participant Talk-time Statistics
Push-To-Talk Mode
Play A YouTube Video To All Attendees Call
Audio-Only Option
Telephone Dial-in To A Conference (if Jigasi is setup)
Dial-out To A Telephone Participant (if Jigasi is setup)
Integration With Other Apps
Pros & Cons
Pros
Open Source
Entirely free conferencing
Unlimited time
Scalable
Inexpensive
Customization on top of the base product
Cons
No virtual whiteboard
Stability and bandwidth issues at times
Can be a bit bulky to use for newcomers
RingOver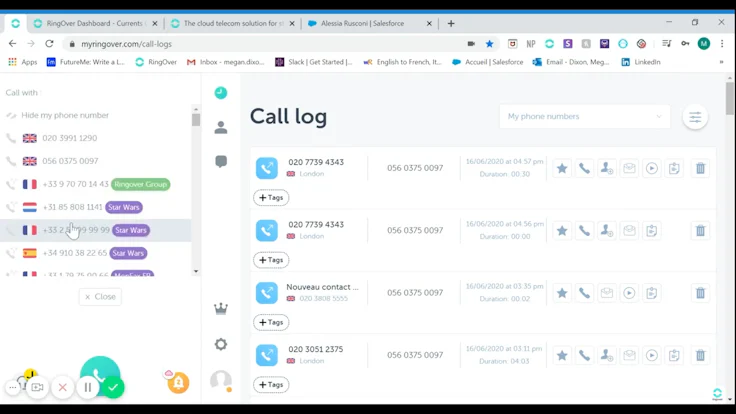 Ringover is a professional cloud phone solution designed for companies of all sizes. It is particularly suitable for customer services and sales teams. This system provides an easy-to-use telephony platform, a simple interface, and advanced features businesses can use to better manage their cloud VoIP contact center.
Features
Unlimited incoming and outgoing calls in 80 countries
Sending and receiving texts, chat, fax, and voice messages
Desktop & Mobile app
Instant messaging for team members
Management of availability schedules (opening hours)
Reception with interactive navigation voice switchboard
Dashboards and phone usage reports
Call integration with your CRM
Call forwarding to available collaborators
Plug-and-play integrations with Salesforce, Zoho, Pipedrive, Zendesk, Zapier, and Hubspot
Video conferencing and whisper technology
Screen sharing.
Pros & Cons
Pros
Integration with CRMs such as Zoho, Zapia, and Zendesk
Crisp and clear call quality
Intuitive user and well laid out interface
Users can easily synchronize the desktop version to the mobile apps
Instant activation of new lines
Cons
Some users experience difficulty with call connections
The pricing could use more options for flexibility
Aircall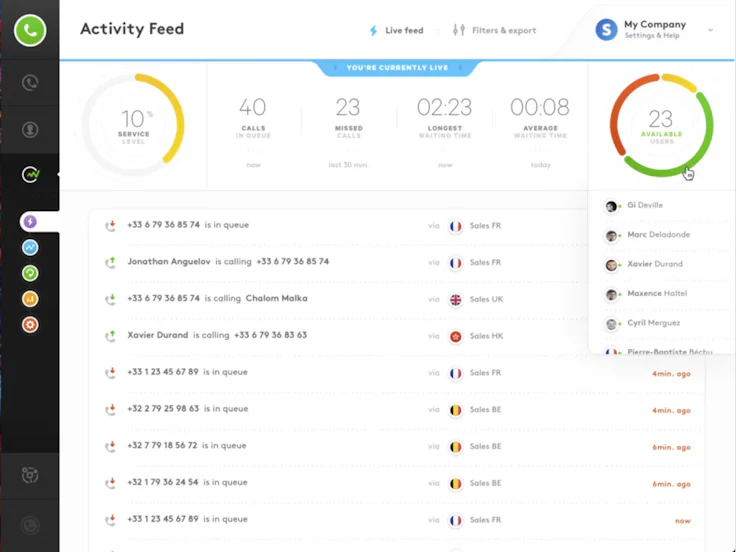 Aircall is a cloud-based call center software that integrates with popular CRMs and Helpdesk tools. It is designed to help sales and support teams of more than 3 users communicate clearly and efficiently. It is an ideal solution for businesses with virtual offices located overseas or remote teams as their team members can communicate easily. It is also an excellent solution to reach out to customers wherever they may be.
Features
Multi-level Interactive Voice Response (IVR)
Call reports
After-call work
CRM and helpdesk tools integrations
Directory of employee names
Call recording
Call monitoring
Click to Dial
Message alerts
Call screening
Answering rules
Audio conferencing
Mobile app for iOS and Android
Pros & Cons
Pros
Easy to use
Easy set up
Very quick to get a line working
Call tracking and supervision
One-click integrations with plenty third-party software
Local, toll-free, and international numbers in over 100 countries
Call recording comes standard with all Aircall plans
Cons
Quite expensive
Very often needs updates
Requires a minimum of three users
May not work with existing desk phones
Final Thoughts On Cloud Phone Systems
We can see many reasons why businesses should opt for agile and affordable solutions like cloud phone systems to work smarter and better serve customers.
The cloud phone systems we have tested and analyzed for this article all offer their own sets of features and functionalities that could be very interesting for any business looking for more flexibility, reliability, and cost-efficient solutions to improve team productivity.
Best tools for you