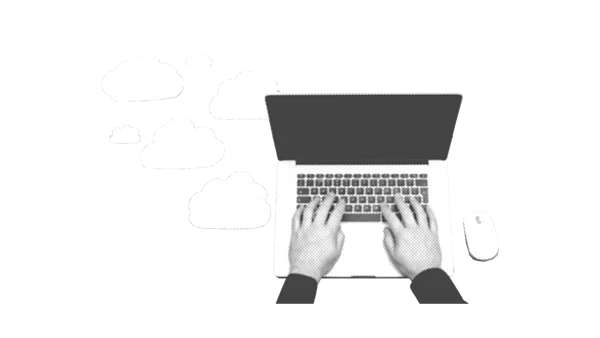 Online Cloud Telephony in The Spotlight
In the family of unified communication solutions, we are asking for WiFi VoIP phone service!
It comes in the context of the end of the traditional telephone network and analog telephone numbers within 5 years.
We are deciphering the telecom language for you and help you discover the future of corporate telephony.
Change is now!
The end of an era
French telecommunications company, Orange (formerly France Telecom) is one of the largest mobile service providers in the world. They focus on giving customers a wide array of services such as mobile, landline, internet, and IPTV (Internet Protocol Television), which is the streaming of television over WiFi.
Although fixed landlines are still widely used, Orange announced on November 2018 that all traditional fixed telephone subscriptions will no longer be offered. Orange plans on migrating to a completely digital network.
They will remain operational until 2023 when the operator will completely shut down the traditional PSTN (Public Switched Telephone Network) and PBX system (Private Automatic Branch eXchange).
As it is already the case for many households, telephony will then pass through a box or an IP box.
In the United States, there are currently about 115 million fixed lines, regardless of their connection.
In 5 years' time, some of these lines, still at low speed, will, therefore, have to be switched to ADSL.
What is the alternative to the private switchboard called PABX or PBX?
The alternative is telephony via a WiFi network, allowing VoIP phone, Voice over IP.
Also called IP telephony or hosted telephony, it is a solution hosted on a server by a specialized operator, which passes through a router and over the Internet.
Several systems exist:
IPBX
Centrex IP
Virtual PBX
VoIP, IPBX, Centrex IP, Virtual PBX... What does it mean?
Definition of the IP
Internet Protocol allows you to assign a unique address to each computer device (or terminal) connected to the Internet (your computer, smartphone, etc.).
This IP address ensures the proper routing of communications, the transfer of data, known as "packet data switching".
IP networks can be wired (cable/ADSL/optical fiber) or wireless (satellite, WiFi, GSM, UMTS or LTE).
With the end of the switched network, telephone operators will soon only use IP infrastructure for their voice services.
VoIP and IP telephony
VoIP stands for Voice Over Internet Protocol. In a simpler way: it's Skype, WhatsApp, Viber, OVH Telecom, etc. We communicate by voice via the Internet, from any medium (tablet, computer, telephone). Telephony is managed from a web interface.
WiFi VoIP has quickly found its audience with individuals, but it is taking longer to democratize in companies. Many companies now use it for their internal voice communications, which are free and unlimited. Some intend to implement it as part of unified communication.
IP Telephony stands for Internet Protocol Telephony. It's the same, but it only concerns communications via WiFi from phone to phone. It uses the IPBX system because it operates the internal network of a company that connects IP phones to each other.
Definition of the IPBX system (or PABX-IP)
It stands for Internet Protocol Branch eXchange (or private switchboard using Internet protocol).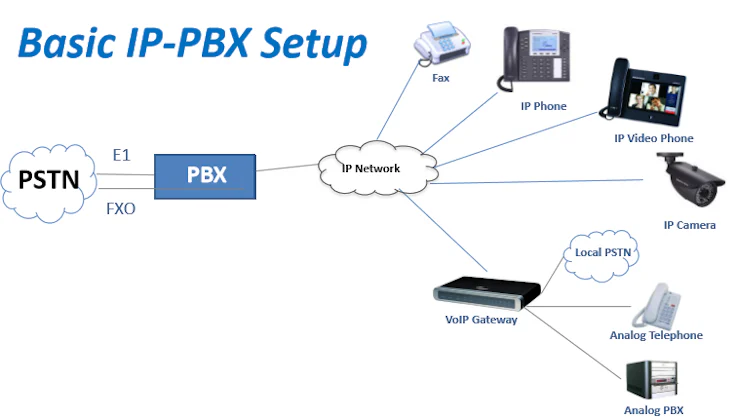 Unlike the old PBX system, which will disappear eventually, the company can easily add and configure new lines from a computer interface.
Hosting is done on a dedicated server, but not necessarily in the cloud.
The fact that not all operators have yet switched to the cloud is partly explained by the drop in revenue it generates: there is no longer any telephone equipment to sell or maintain.
Definition of the Centrex IP system
It is an external switchboard, with an IPBX installation, but hosted by an operator that shares its telephone infrastructure, in cloud mode, between several customers. As the standard is external, the company just has to buy IP telephony sets.
It is for security reasons (the problem of data leakage hosted on these shared servers) that some solutions using the Centrex system are evolving towards dedicated SaaS platforms (Software as a Service, in the cloud). Skype is one of them.
The Centrex IP is suitable for a small to medium-sized structures and businesses, the number of connected workstations being limited to around twenty.
The virtualized IPBX (or Virtual PBX for Virtual Protocol Branch eXchange)
It is a private external switchboard, 100% cloud, mixed between the IPBX (dedicated server hosting) and the Centrex platform (no telephone infrastructure to manage). It is considered more secure than Centrex IP, which allows all communications to pass through a single location.
This is the system offered by many software packages in SaaS mode because it allows personalized value-added services: UcaaS (Unified Communications as a Service). The services included are:
Shared agendas,
Instant messaging,
CRM integration,
Audio and video conferencing, etc.
Telephony in the cloud
The virtual IPBX is the cloud telephony system of the future. Let's look in more detail at the interest of this new trend.
#1 Mobility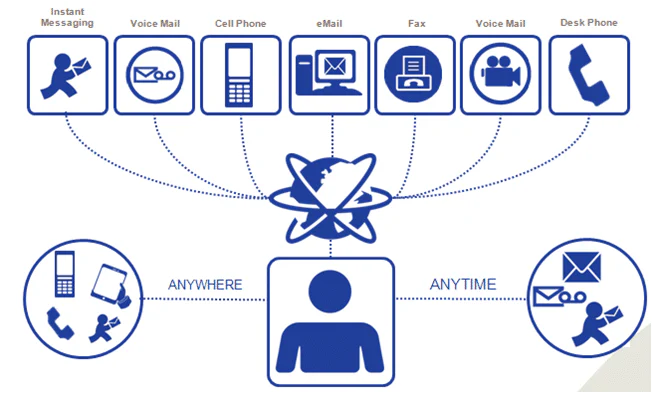 Cloud telephony is particularly suitable for multi-site, even international companies:
Connection to telephone services from anywhere, 24/7, as long as there is Internet access,
Unified communication solutions that are identical or compatible worldwide.
#2 Cost savings
Invoicing by use or by fixed price,
Savings on communication costs (same regardless of distance),
Easy installation, with no maintenance costs.
#3 Adaptability
For all types of structures, of all sizes,
For internal use or roaming,
Differentiation of professional activity from personal life, from the same telephone, for self-employed entrepreneurs,
Keeping the number in travel, in mobility (associated with the person and no longer with a line).
#4 Safety and security
Data preservation through replication and backup systems,
Confidentiality, security (contractual): restriction of the operator's access to identifiers, passwords, CRM.
#5 Other benefits include
Bandwidth optimization,
A multitude of additional services offered by software in SaaS mode:

Document sharing
Collaborative meeting
Audio and video conferencing, etc.

Scalable applications through updates.
💡 Tip: The local network must be compatible with IP telephony. An audit is preferable before the implementation of a hosted telephony.
The best cloud telephony solutions in SaaS mode
Having efficient corporate telephony is very important.
It has an impact on the work of your sales teams, your mobile teams, customer relationship management, and your internal communication, among others. It is essential, whether you are a self-employed entrepreneur, a multi-site company or an international group.
Here is our selection of the SaaS of the moment.
Aircall
Aircall is a "collaborative softphone" that generates value for the company, regardless of the number of employees and call volume. This solution offers you all of the tools necessary for your agent's productivity to increase. Utilizing all the tools will allow your agents to focus on their customers instead of time-consuming tasks. Aircall integrates with all your business software to help you continue thriving.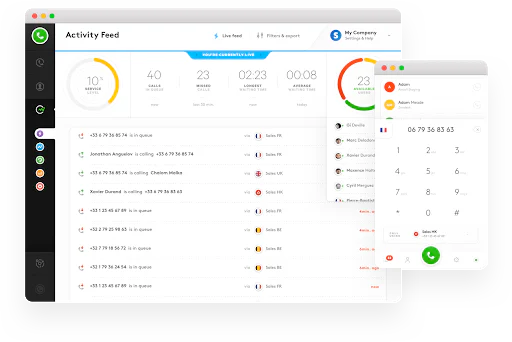 Main advantages :
Call processing through a mobile application or desktop
Quick installation of your call center
Accessible and intuitive interface
Choice of a range of telephone numbers for your employees
Obtaining numbers (including special numbers) in more than 60 countries
Add or delete numbers in one click
Dashboard for analyzing incoming and outgoing calls
Connection with your CRM (about twenty native integrations with the most popular CRM tools and helpdesk (Slack, Hubspot, Salesforce Sales Cloud, etc.)
Application Programming Interface (API) allowing you to use Aircall with any other online solution
▷ Suitable for all companies
Dialfire
Dialfire is a cloud-based call center software that supports small to large campaigns, providing call prioritization, predictive dialing, and interface customization.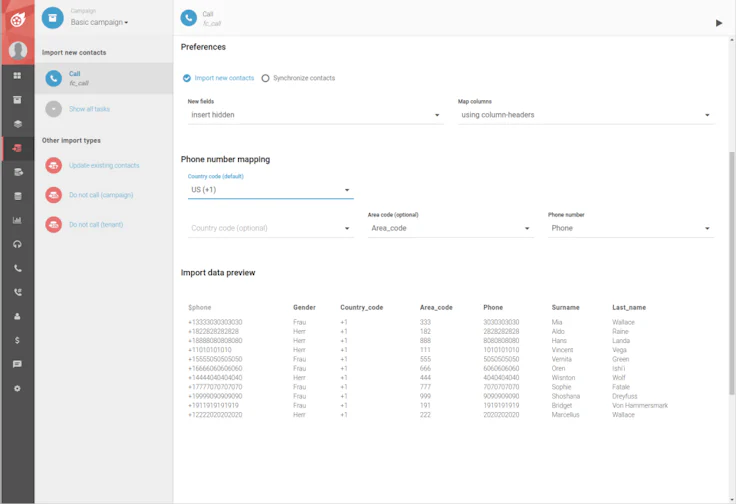 Main advantages :
Import your contacts with a simple copy/paste,
Duplicate management,
Choice of the visibility of your call number: hidden, unique number, or number per campaign,
Configuration of a backup team to manage the flow of incoming calls at peak times,
Unlimited custom fields on customer records,
Management of several call campaigns in parallel,
Integration with your tools such as Pipedrive, Google Suite, Zoho CRM, etc..,
Possibility to share the tasks of a campaign with another call center, limiting access rights,
Generation of predefined reports accessible in real time.
▷ Suitable for all companies
Ottspott
Ottspott allows an evolutionary and modular use, from simple enterprise telephony to an advanced call center management tool, via Slack or Gsuite.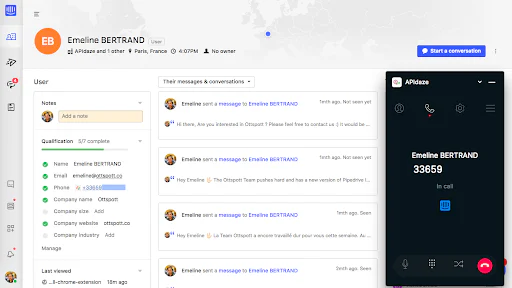 Main advantages :
Choice of a telephone number in 60 countries,
Portability of your current numbers,
One-click user invitation and call management assignment to one or more numbers,
Definition of office opening hours and call handling flows,
Interactive voice server,
Personalization of greeting messages,
Automated integration with your CRM and support tools[Slack, Gmail, Hubspot, etc.], no input required,
Analysis of your performance using statistical dashboards.
▷ Suitable from the auto-entrepreneur to the SME
PureCloud
PureCloud is an all-in-one contact center (voice, chat, e-mail, social networks) in the cloud. More than just telephony, it centralizes and simplifies multi-channel exchanges for a smooth customer relationship.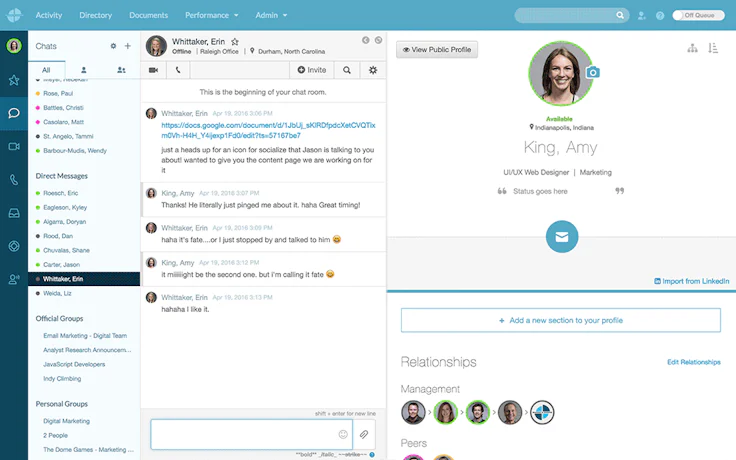 Main advantages :
Intuitive and customizable interface,
Interactive voice server (IVS or IVR)
Possibility of connecting to an existing telephone system (PBX, etc.)
Omnichannel routing: recognition of your customer and automatic redirection to the best support
Dashboard with real-time indicators and customer relationship history
Quality management, performance monitoring
Integrations to your CRM with Salesforce, Zendesk, Oracle Siebel, SAP, Microsoft Dynamics, etc.
Presence in more than 100 countries
Attractive quality/price ratio
▷ Suitable from SMEs to large groups
RingOver
With RingOver, everything happens in the cloud and its ability to evolve towards a more broadly unified communication is very interesting.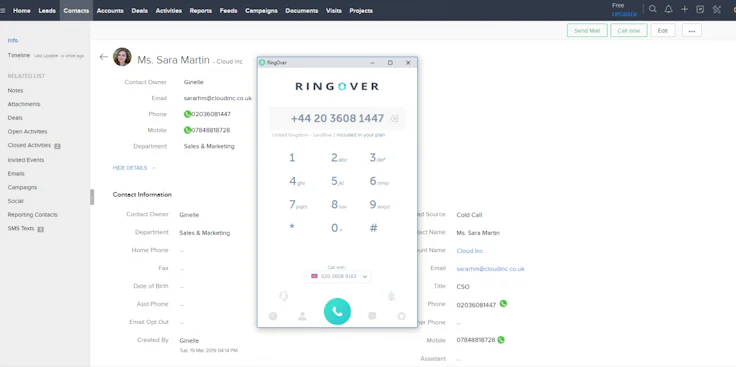 Main advantages :
Sending and receiving SMS, chat, fax and voice messages
Adjustment of operating hours
Interactive voice switchboard
Possible integration with a CRM
Real-time monitoring
Automatic call logging
Dedicated smartphone application to promote mobility
Options allowing the tool to evolve: conference, SIP account, additional number, or premium number
Plug-and-play integrations with Salesforce, Zoho, Pipedrive, Zendesk, Zapier, and Hubspot
▷ Suitable for all companies
Spoka
Spoka is a new telephony solution dedicated to small businesses, offered by three major players in the telecoms, IT and networks sectors: Arkadin, NTT and Cisco.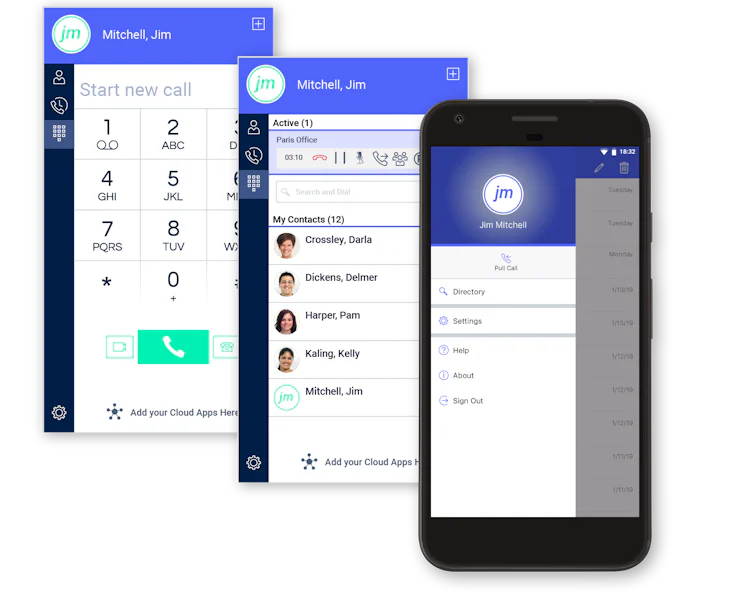 Main advantages :
Almost immediate installation and use
Unlimited local calls
Choice of a single telephone number
Answers and automatic transfers
Status of users online
Quality and clarity of communication: clear and uninterrupted
Application available in mobility on any terminal (smartphone, tablet, etc.)
Modular and flexible solution, with no commitment: the telephone package (Spoka Talk) can be upgraded in one click to a unified communication solution (Spoka Connect)
Interoperability with Gmail, Microsoft OneDrive, Google Drive, Twitter, Salesforce, Outlook, Microsoft Office 365
▷ Suitable for very small businesses and SMEs with less than 100 employees
A new era: telephony in the cloud
Telephony remains one of the most widely used communication channels.
In an increasingly collaborative and mobile work environment, it must evolve with the times.
Thanks to cloud telephony, other tools have been integrated to meet the new needs of companies: video, collaboration, chat, etc. which strengthen communication systems.
This is called unified communication. Are you ready to facilitate communications in your company and beyond?
Best tools for you