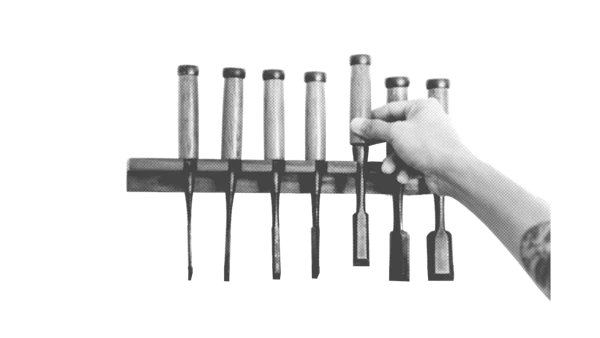 How to choose some of the best CRM software for ecommerce
An E-commerce CRM strategy allows you to identify, retain and attract customers. As well as manage extensive data and analytics on your customers to create marketing and sales techniques tailored to your consumers. And if you need statistics, 74% of consumers get disappointed when your content doesn't answer to their needs. An e-commerce helps you better understand your customer's pattern and waste less time by the feature of workflow automation.
So, here is a list of the software you should add to your daily work routine. It details their features, benefits and even prices. Appvizer has even mentioned the type of companies some of them are for.
Capsule
For whom? Capsule is for startups, small and mid-sized businesses.
What is Capsule?
Capsule is a modern CRM software that believes in organization, customer priority to build a better customer experience and relationship.
🛠 Features
Sales pipeline
Task management
Reporting
Contact management
Security & permissions
Customization
✅ Benefits
Customization: Store data that is unique to each contact thanks to their custom fields.
Contact management: Thanks to this feature, you can get a better understanding of your clients, contacts and vendors as it saves and organizes them into a to-do list or tasks. Your conversations, dealings with other organizations, are easier to monitor thanks to its data. You can even build closer relationships thanks to their social search integration, which helps you find their social media to auto-enrich contacts. That way, you'll be able to reach them on all platforms and keep up with their interests.
Reporting: Shows each step of every activity completed and from whom. Therefore, it helps you monitor every step of your sales cycles to make firm decisions
Integration: You can share contact information with your team members or the entire organization. This process can be done by importing contacts from Gmail, Outlook, spreadsheets, CSV files, Xero, MailChimp and more.
Security: Capsule's servers are centrally hosted in Amazon's data centers, thus ensuring your business data are safe and secure. Information that passes along the solution's servers is encrypted with the use of a technology called SSL. You can restrict access to records, restore deleted records within 30 days so nothing that was accidentally deleted gets lost.
💰 Prices
Professional: It is at £12 per user/ per month.
It includes:
A 30-day free trial.
50,000 contacts
Premium Microsoft 365 and Google Workspace integrations
Microsoft and Google Single Sign-on
Premium Integrations including: Xero, QuickBooks, MailChimp, Zapier & many more!
Activity Reporting
Teams: It costs £24 per user/ per month for growing businesses.
It includes:
A 30-day free trial
Everything in professional
100,000 Contacts
20 GB Storage per User
Multiple Sales Pipelines
Advanced Sales Reporting
User Roles and Restrictions
Team or Individual Record Assignment
Custom Activity Type
Enterprises: It costs £36 per user/ per month
It includes:
A 30-day free trial
Everything in Teams
40 GB Storage per User
Implementation Support
Import Assistance
Custom Training
Dedicated Customer Success Manager
Ongoing Priority Support
OR
Try their starter CRM for up to 2 users and 250 contacts for free.
Keap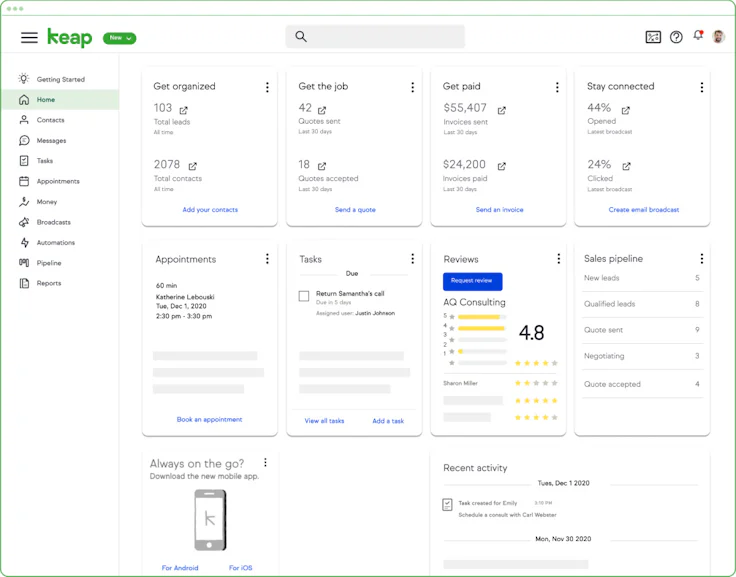 What is Keap?
Keap is a CRM software tool which aims to help you optimize your customer experiences while managing the hectic schedule of your business.
🛠 Features
Data in one place
Personalized follow-ups
Integration
Reminders and reports
Contact management
Surveys and feedback
✅ Benefits
Automation: It helps you save time by replacing manual tasks with the additional follow-up feature. Even one of their client who is a business owner can attest to the fact that he has been able to save 5 to 7 hours a week from automating his tasks. You can spend that time on converting more leads and closing deals. The new leads capture automatically takes leads from contact form to booked appointment.
Sales nurture: New leads means new deals in your pipeline by sending gifts and promotion emails.
Follow-up: As soon as you as a customer interacts with your brand by filling out a form on your website or social pages, an automatic email will be sent out. Or simply reminds you of when a client forgets to pay and automatically sends a thank-you mail.
Integration: With Keap Zapier integration, you can connect with over 2,000 apps like Gmail, Outlook, PayPal and more, that way all of your contact information can all be stored and easily manageable.
Sales pipeline: It helps manage your lead as they move through the pipeline with the advanced automation builder.
💰 Price
Lite: It costs $40.00 per month for your first 2 months + $30 for any additional users.
It includes:
A 14-day free trial. No credit card is required
500 contacts and 1 user + $30 for additional users
CRM
Email marketing
Appointments
Mobile app and business line
Payment and invoicing
Pro: It is $85 per month for your first 2 months.
It includes everything you get with Lite, plus:
14-day free trial
500 contacts and 1 user + $30 each for additional users.
Landing pages
Advanced automations
Sales pipeline
Text message broadcasts
A/B testing
Checkout forms
Sales reporting
Pipeline analytics
Max: Originally $199/ month, it costs $100 for your first 2 months
It includes Everything you get with Pro, plus:
500 contacts and 1 user + $30 each for additional users
Sales funnels
Lead scoring
1-click upsells and cross-sells
Recurring upsells
Promo codes
Native Shopify integration
Marketing performance analytics
Engagement analytics
Pipedrive
What is Pipedrive?
🛠 Features
Sales pipeline
Sales progress tracking
Leads and deals management
Communication tracking
Reports
Security and Privacy
Accessibility
✅ Benefits
Automation: Gets rid of those tedious, repetitive administrative tasks to help you save time and focus on more on your customer relationship. Performance tips and report graphs are available.
Sales pipeline: It visually represents and aids in managing your sales stages to properly take care of clients and customers. You can customize in the best that fits your needs
Sales progress tracking: Any activity or relation you have with a client or customer, Pipedrive tracks it to help you stay organized and up to date. Your average conversion rate is calculated
Custom fields: Is the added bonus to managing your sales process but customized to your business' needs if you need to.
Report: Customized metrics is provided to measure your company's performance, to see whether they are achieving those set goals.
Leads inbox: Place every lead in one place for a better organization of your pipeline, to help sort out the potential from the unlikely. It aids in collecting, importing or adding leads, keep track of visitors who have interacted with your website via chatbot, etc., directly scheduling emails, calling leads. There is also the option to adjoin LeadBooster add-on to any Pipedrive CRM plan.
Mobile User Support: Allows software to be easily used on multiple mobile devices, including phone and tablet.
Security and privacy: You can monitor how, where, when and by whom your company data is accessed and tackle suspect user and account activities in real-time, receive notifications about the times and locations of user logins over the last 60 days and force logouts the suspicious ones. Data is protected using world-class hosting infrastructure.
💰 Price
Essential: It starts at €18 monthly and €12.50 annually, which helps you save up to 31%.
It includes:
3,000 Open deal limit
30 custom fields
15 reports
Lead and deal management
Customizable pipelines
Leads inbox
Data import and export
Activity reminder notifications
People and organization management
Advanced: It costs $33 per month/ per user and $24.90 per year.
It includes everything of the essential plus:
Customizable email templates
Merge fields
Email open and click tracking
Group emailing
Google Drive document integration
Custom fields and reports
Revenue forecast reports and view
Professional: It starts at $49.90 per month/ per user (billed annually)
It includes everything of the advanced plus:
Email distribution lists
One-click calls and call tracking
Limitless meeting scheduling
Multiple dashboards
Revenue forecasting
Team management tools
Sales Manager App
Contact and deal visibility settings
Custom user, admin and manager permissions
Enterprise: Starts at $99.00 per month per user or $1188 per user/ per year.
It includes:
Dedicated account manager
Managed set-up and ongoing support
Extra customization to suit your business
Enhanced security to protect revenue and data
More user permissions to control what users see and do
Don't forget to check them out for more information.
Sales cloud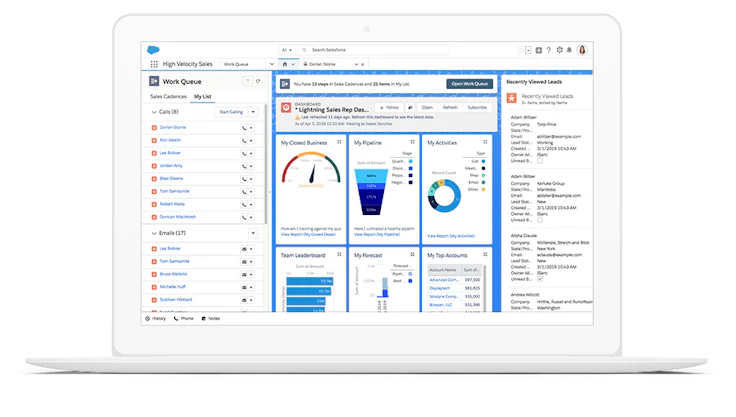 For whom? Sales cloud is for all company size.
What is Salescloud?
Sales cloud is an integrated sales CRM platform that regroups everyone one of your business' section such as Sales, Service, Commerce, and Marketing into one platform.
🛠 Features
Quote management
Sales data and forecasting
Document manager
Partner and Channel management
Lead management
Reports and dashboards
Contract management
Email marketing
✅ Benefits
Lead management: That helps you focus on fruitful leads by tracking their right info thanks to sales path as well as, track marketing campaigns that have the most impact and get the most reaction across all channels to know where to invest your time.
Opportunity management: You can view a timeline of your customers' activity, the stages they are at in the pipeline, to predict your next business move and email without a minute more than to pre-made templates that ensure quick emailing.
Sales data: Data.com provides the right data to increase sales and marketing
Mobility: Thanks to their mobile app, Salesforce lets you access your work, from your dashboards, calls and hot lead responses anywhere, that you can also customize to your liking with mySalesforce. Deals will be closed quicker and connection will no longer be delayed as it is perfect for remote work.
Synchronization: You can synchronize your files, track them, share them, publish the latest info or delete it in real time so that everyone can be updated together for a better reactivity. Internal organization leads to better customer experience and success.
💰 Price
Essentials: It costs $25 per user/ month and suits small businesses for up to 10 users.
It includes:
Customer management
Real-time sales insights
Department collaboration
Cross-sell and upsell
Professional: It is a complete CRM for any size team
It costs $75 /user/month and billed annually
It includes everything from the essentials plus:
Accurate forecasting
Quotes and orders tracking and creation
Enterprise: It is a deeply customizable CRM for your business
It costs $150 /user/month and also billed annually
It includes everything from the professional.
Unlimited: for CRM power and support
It costs $300 /user/month and is billed annually.
It includes the unlimited.
Zoho CRM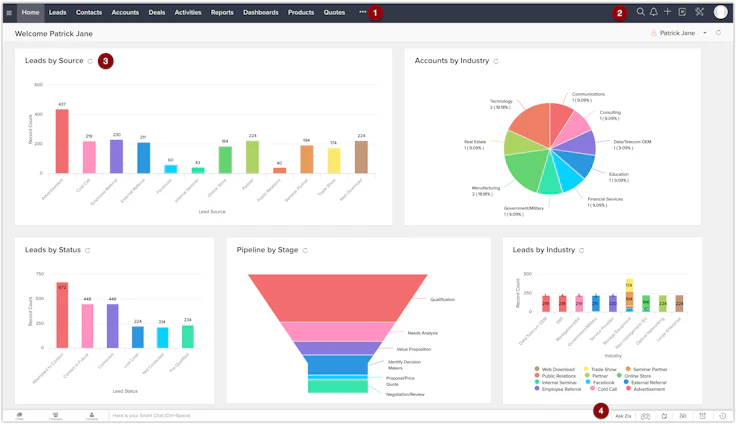 For whom?
Zoho CRM is for Freelancers, small businesses to mid-size businesses, large enterprises, any type size.
What is Zoho CRM?
Zoho CRM is a cloud-based CRM software that manages your sales, marketing and support in one CRM platform
🛠 Features
Leads management

API

Access Controls/Permissions

Activity Dashboard

Alerts/Notifications

Customer Database
✅ Benefits
Conversational AI sales assistant: Stay on top of every activity with your new sales assistant, Zia - T.
Sales and Intelligence predictions: Once again, Zia - T can hunt down and seek the information that you want.
Sales boost: You can monitor and nurture quality leads.
In-depth analytics: To improve your sales success
Process management: for building and automating your sales process
Portals: for your customers, vendors and partners. The Omnichannel lets you communicate with customers or prospect in real-time anywhere from your portal, phone to your email.
- No data lockup, export data at anytime
💰 Price
From the standard to the enterprise, Zoho offers a 15-day trial.
Free: It costs nothing.
Up to three users
Integration with social media accounts
Sales tasks
Call log and notes
Up to ten email templates
Standard (same as free, plus): It costs $12/mo/user
It includes:
Calendar sync via CalDAV and Google
Website visitor live tracking
Professional: It costs $20/user per month.
Enterprise: It costs $35/user per month.
It includes:
Business hours customer support
Management of up to 150 of your territories
Custom modules and page layouts
CRM Plus (same as enterprise, plus)
Campaigns
Zoho reports
Social media integration
Dedicated database cluster
Enhanced storage
Better customization
Best tools for you