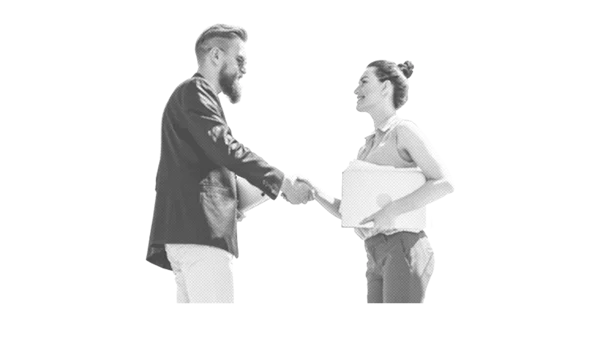 7 steps to build an insurance cross selling scripts
Cross selling scripts are powerful sales tools that you can use along with your selling techniques to convince a customer to buy a product that's related to what they want to buy, like a complimentary product for example. Using cross selling scripts in your sales process is a good way to boost effectiveness, especially in insurance cross sell.
In this article, we will show you how to create a cross selling script and give you some tips and examples to help you be ready to seal the deal!
Why is cross selling important?
Cross selling is important for every business not only because it helps to boost your earnings, but also because it enhances customer experience, builds engagement, and helps to create solid and long-term customer relationships:
Increase revenue: A customer who buys a lot will bring more revenue than a customer who buys just one product. Furthermore, cross selling can have a double effect by generating more client satisfaction which saves you money and time on customer acquisition.
Build customer loyalty and improve their convenience: Providing a package that a customer can buy multiple products at one time. So when you cross-sell them a product that they love, your customers want to come back again, which creates a long-term relationship and consolidates customer loyalty.
Cross selling script is where you can introduce additional products to potential and existing customers and prepare the arguments to convince them. It also helps salespeople to reduce stress, especially in a cold call cross selling.
You can also use cross selling scripts with the sales pitch emails. Check out our sales pitch emails examples to have some ideas!
For example, when it comes to home insurance cross selling, your customer announces that he is about to get his driver's license soon, which is a good chance to propose auto insurance to him. The principle of cross selling method is to customize your customer's needs with a useful complementary product. Insurance call centers must have effective cross selling scripts that they can use in calls and help increase their sales. But how to create cross selling scripts? We will discover the 7 steps method down below.
How to create cross selling scripts
Here is our 7 steps method to create effective cross selling scripts:
1 - Introduction
Try to create a good ambiance at the first sign and avoid anxiety or worries because you are about to check if everything about the product is still good with the customer. Make sure that you enter directly the conversation and don't waste your customer's time. You can open the call by asking:
"Hello, Ms or Mr [Customer's Name], my name is [Your Name] from [Your Company's Name]. I haven't caught you in a bad time, have I?

Well, I'll be brief and to the point. The reason for my call is that I see that you currently use our product and I want to make sure if everything is going on with you."
2 - Customer Discovering Questions
Before proposing your additional product, you have to check how everything is going with the products purchased. Ask the customer some questions about their using habits, what they like about the product, the reason why they decided to purchase it, …
"How is everything going?"
"Can you tell me about the reason why you decided to buy the product/ what motivated you to buy the product?"
"Is there anything that you like about it?"
"Is there anything that you think could be working better?"
3 - Find out their pain points
After checking your customer's using habits, you can start discovering their pain points that you want the cross sell to resolve.
What are some things you like about what they provide?
What are some things that you think could be better?
For example, you want to propose floor insurance for the customer who lives in an area where there are often floods. Tell them about what will happen with the house when the floor is flooding (costs, damages, …) and explain how flood insurance can help them.
"How often does your floor flood?"
"As I can see your current insurance coverage doesn't cover water damage from inside the home. Flood insurance protects your floor from all the problems (water, fire, …). Are you interested in flood insurance in addition to your current insurance product? It's just an additional detail but it will help you save a lot of money."
If they say "Yes", ask them if it is a good time to make a deal and if not when will be a good time to call back.
If they say "No", thank them for their time and we will come back when they need our help or when there is any product that might interest them.
4 - Understand customer current situation
After discovering the customer's pain points, you can ask the prospect current situation questions to know what they are doing in the area that you are trying to cross-sell.
"Who uses the product?"
"How long have you been using it?"
"If you could change one thing about their product/service, what would it be?"
"When was the last time you considered other options in this area?"
"How many _____ do you currently have?"
5 - Share common pain points
The purpose of this step is to find out if the concerns of customers are in the area that your cross selling solution can help. Try to share some common pain points that the product can help with by asking:
"Our buyer already experienced this situation. They often have:
Pain point 1

Pain point 2
Pain point 3"
"Are you also concerned about these problems too?"
6 - Propose your product as a solution
It's time to present your product. At this step, you can share the details of your product. Try not to spend too much time on this if you don't want your customers to think this is an advertisement.
"We understand your situation. We have a solution for you. We have a product call [Product's Name] which includes:
Feature 1

Feature 2
Feature 3
Here are some of its advantages:
Advantage 1

Advantage 2
Advantage 3
Things that make us different from other solutions out there are:
Specialty 1

Specialty 2
Specialty 3"
To increase more trust, you can say:
"We worked with [Company's Name] and we helped them to [...]"
"Here are some feedbacks from our clients [...]"
7 - Close the deal and reassure the customer
After presenting the product that you want to cross sell in your script, you can ask the closing deal questions or propose to your prospect an appointment to explain the product details.
"I don't know if this is the best time for you to make a decision"
"Do you want to discuss it more by setting a short appointment 15 - 20 minutes where I can demonstrate and show you some examples of how other clients experience our service? "
"Or do you want to discuss it now?"
5 tips for successful insurance cross selling script
Understand what the customer wants
In cross-selling, upselling, prospecting, or any sales steps, no one likes being pushed to buy something. So when you do your cross-selling script, the first thing you have to do is understand the current situation of your customer. Instead of pushing them for purchase, ask them:
"Do I interrupt you in between of something? or "I haven't caught you in a bad time, have I?"
If they don't want to continue, thank them for the time and ask if we can call them back at a better time: "Thank you for taking the time to have this conversation. Is there a better time I can call?"
And then, for example:
"Do you already have health insurance coverage?
If "Yes" you can follow the 7 steps method.
If "No" tell them the necessity of being covered by health insurance and demonstrate by statistics.
"40% of employers have a health problem every year and this has a huge influence on their working capacity. Furthermore, your current employer insurance doesn't include health coverage which is very important for you since you are the only person working in your family. It will be bundled with your current insurance so you don't have to purchase whole new insurance."
Customer segmentation
Understanding customer behavior is important for cross selling. One of the best ways is customer segmentation. The segmentation criteria are based on age range, geographic criteria, type of insurance, revenue, family size,... It helps to personalize the customer's needs.
A personalized script is more convincing and makes the customer feel understood. Furthermore, it's easier to convince the customer based on their unique needs than propose to them a solution that they aren't interested in.
Automated Cross Selling campaign
Email cross selling campaigns are essential when you can't join a client by calling. An automated campaign based on segmentation criteria helps your team save precious time and energy. You can create an email template for your target customer and then can set up a process that generates automated emails based on the same template.
Here is one example for your insurance cross-selling email campaign:
"Hello [Customer's Name],
I wanted to congratulate you on your new house. I was just looking at your account and, I realized that you have a swimming pool in your house. So I write this email to recommend you a personal umbrella policy. A personal umbrella insurance policy offers liability coverage above all the limits of your homeowner's insurance. With this option, if there were ever an accident, you would have another $2 million in protection after your home insurance runs out at $1 million. This option will be bundled with your current insurance plan.
Please reply to this email so we can discuss different options and policies that you may prefer.
Best regards,
Signature"
Policy renewals
Renewals generate lots of cross selling opportunities. Make sure that you understand the customer's needs and are aware of their basic information such as their age, living situation, their family, their financial situation, … when it comes to renewals time. Use the cross-selling script that you prepared to make a bundled discount offer. Tell the customer that they will save money with a bundle and ask them if they are looking for an exclusive deal or discount.
Client Evaluation
Finally, when you want to cross sell a new target customer, you need to be aware of their current situation and insurance policies. Prepare a form (it could be an online form or on paper) to ask them about their family, job situation, health,... Especially, if in their family there are people who have a dangerous disease such as cancer, you can propose them health insurance that can cover this element. This form also helps you to require some interesting client insight. After having all this information, you can start the segmentation process and enter the data into your database.
Tips: You can use CRM software to identify the client in need and manage all the data.
Cross selling is all about practicing
There isn't a perfect script for all the situations. An insurance agent has to adapt their script to each client and different situations. Listen to customer feedback and improve your pitch. You can also practice with other people in your company.
Examples
Here is an example of an insurance cross selling script that you can refer to. Let's take the example of a customer coming for renewals but his 18-years-old son is going to get his driver's license in the next couple of months. This situation is a good opportunity to cross sell auto insurance. A cross selling script is necessary at this point.
Agent: "Hello, Ms or Mr [Customer's Name], this is [Your Name] from [Your Company's Name]. How are you? I haven't caught you in a bad time, have I?"
Customer: "Yes, I'm good, thank you."
If the customer is busy: "I understand. Can I call you back tomorrow? Or what time is better for you?"
If the answer is "Yes": Well, I'll be brief and to the point. I see that you currently use our insurance service. Do you already have auto insurance?
Customer: "Yes"
Agent: "Nice. I wonder if your son did as well because you've told me that he is going to get his driver's license soon."
Customer: "Yes, that's right. We've bought him a new car. I'm also thinking about asking him if he wants car insurance too. Thank God that you remind me."
Agent: "No problem. I think it will be better to invest in car insurance earlier because an accident may happen. We will never know what is gonna happen. Prevention is always better than cure."
Customer: "You are right. I'll talk to him and come back to you later."
Agent: "Great. I'll be here whenever you need help. See you soon."
Conclusion
Cross selling can be a fear for many salespeople, especially in insurance cross selling, but it all comes with practice. This is the reason why a well-written cross selling script is a perfect solution for you. With time and practice, you will be more confident with a natural flow, more comfortable with cross-selling, and ready to close all the deals.
Best tools for you