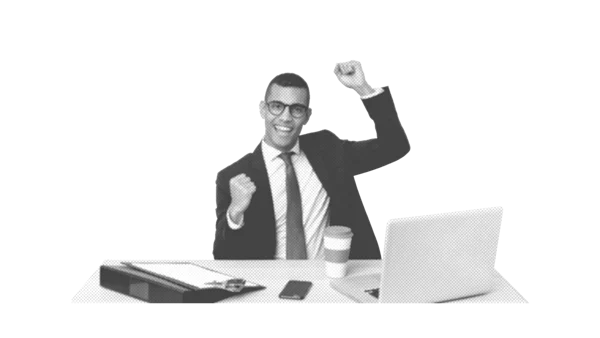 Good sales pitch email examples to turn rejection into curiosity and purchase
Such a lovely era we live in, where time zones are a hindrance and where people love to be connected to their phones, but don't enjoy the plaguing promotional phone calls. So, once again, companies had to adapt to the likes of the public and be as inclined to respond to it.
And, that is sales pitch emails. Even if they don't necessarily open them, you still stand a chance of them being aware, rather than if you were to call and have them not pick up at all. In addition, if they do, then it has to be quite convincing and thought out.
If you want to discover how to conquer the sales pitch email, then look no further than this article.
What is a sales pitch?
A sales pitch is a concise version of sales presentation speeches, in which the salesperson describes the benefits of his or her product or service to a prospective client. It's a good tool that you could use along with your selling techniques.
Even though it may be short, it should not take the reader more than 2 to 3 minutes to read, depending on the target audience. The salesperson has to prepare to persuade them to either buy or at least be interested in what he/ she is saying.
Of course, it takes studying the audience in front of which you are preparing your pitch, to leave a lasting impression.
This can be used with the cross selling scripts to convince a client to buy a complimentary product.
How do you write a good email sales pitch?
Of course, as previously said, times have changed, people hate getting promotional phone calls, so much so that they do not answer, sending your motivation straight to voicemail. It happens, especially if you haven't had initial contact. It makes it that much more important to know what you are talking about.
A sales pitch is to persuade someone to either buy or take interest in what you are offering. Though, it is an email, you still want to establish somewhat of a connection with them, work together. For this, you need to know who you are catering to and what separates you from the market. Be assertive and know what you are talking about.
When writing the email template, you want to keep it brief, a customer or target should immediately know what you are offering, including the benefits.
So, here is how to write a good email:
Step 1: Know the ins and the outs of your product
First, you should know what you are selling or offering. It might seem obvious, but it should be said, as it is the main reason you will look to create and send the email. It literally is the core and idea of what your email includes, the sales structure that will be given to the email.
Focus on the main points and benefits that the product or service grants to the customer or prospect, which should be written in a single sentence and ensure that the message you send is understood by the reader. They should want to read it. Anything longer might lead to disinterest.
Step 2: State your originality
What makes you unique? The reader or prospective customer should immediately understand what makes your product or service valuable. What use would they have for it? Why is yours better than your competitors? A great way is to
Oftentimes, when a prospect sees your brand, they don't entirely know what you sell. Even leads or customers, who have signed to your company's newsletters, may not necessarily know about some of the products you are trying to sell or speak of.
As you find yourself confronted with people who don't know the brand, as a salesperson, it is your job to get him or her acquainted. Express the true value of your product or service and disregard ambiguity. You always want what you are selling to answer a need that the prospect or customer has, even if it involves describing the features and advantages they stand to gain from it.
Step 3: Know your audience
Study and know the audience: No email is sent if there is no recipient, and every email should be personal to whom you address. The language and tone should be taken into consideration as well, not everyone loves to be spoken to in the same way. Therefore, you must understand their needs and personalities and the commonality they have with your brand. You can use sales forecasting methods to find the most interesting insight of your audience.
What should it include?
The sales pitch email should include:
A subject line: You want the prospect to open the email, so it should be direct, short and captivating, while avoiding spam words. Your subject line is what the spam filters look at.

So avoid the random words like "guarantee", "100% satisfied", "50% discount", "sales" or "reminder" etc. and change them to something more along the lines of:

"I loved your post on such and such blog"
"I have a few suggestions for this…"
"Something to make your life easier"
"Congratulations on…"
"I noticed your company…"
An opening line: Don't use your name or present yourself. It is about them and not you. Address the person by name, it takes away the cold, robotic, business aspect that emails usually have.
The core of the email: avoid speaking in general terms, or of previous accomplishments you have had with the customer. The goal here is to convince the prospect that you are here to help, that you have what they need, and are who they have been looking for all along. Well, it's a bit sentimental, but it never hurts to think that way. The customer should have the same values as you, it should be the right balance between cordial and professional.

For example, this style should work: "Hello James, here is…" or "Jack mentioned that you needed...." It makes it more personal.
An offer line: Hopefully, at this stage, you have sought out some prospect or customer's pain points to whom you are addressing. The offer should benefit them, it deals with the advantageous offer for the customer or prospect.

Why should the prospect work with you and no one else?
A closing line: Finish with a call-to-action, or something that requires them to react to the email. Such as:

-"Do you have time, so we can discuss this further?"

-"Do you have time for us to set up a meeting?"
A Signature line: Add your name, contact information, company etc. and if you fancy it, put the rewards you may have received at the end of the email.

Don't forget a link to your social media is always important too, so they can have another way to contact you.
Include follow-ups in your schedule: You must know that most of these emails go unread or don't even make it into the inbox and go straight to the junk. On the other hand, if it does get read, some people actually forget to respond. This is why follow-ups are important to remind the prospect of the reasons he clicked on the email in the first place.
Prepare for rejection: Some prospects will directly reject your offer. Still remain professional and thank them. All you have to do is keep it moving, it is a part of the process.

Of course, a "no" here can somewhat switch to interest later. Because, they had the decency to actually respond, which means that there can be business in the near future. Keep them in your list of prospects to contact.
What should be avoided
It is nice to focus on what a sales pitch email should include, but do not forget the do-nots of an email that scam detectors seek out.
Avoid attachments in your email: This is one of the ways to get your email sent to the spam pile. This goes for logos attached to your signature.
Publicity images: Though, it is quite creative and lovely to the eye, too many, might send them directly where? In the spam messages.
Irrelevant and boring subject line: Don't get carried away with what you want to sell and how you want to sell it. The recipient should be at the centre of the thought process. Think of how they would read that email, what it will mean to them.
Omit too many promotions: It is about the benefits that the product can give them, not just of the product itself. Rather than describe everything about the product, write about how it is valid for the person reading it.
No follow-ups: If you have got what you needed from the call-to-action and don't follow up, the recipient will think it was just to get a sale or a click. It would appear like you did not have their best interest at heart.
Examples
As for anything, there are many ways to write a sales pitch email because it considers prospects who are actual human beings, with different preferences.
Here are some examples that can be useful:
Example 1:
Hello [Customer name],
I'll get straight to it. Our company, [brand] has just created a popular group offer. We just recently added over 1000 new members, but don't let that stop you, we've still got plenty more space. Not to mention, we also offer great discounts while supporting our local community at the same time.
I'd love to be able to give you early VIP access to [the content]. We'll be testing this out on [date]. For more info, an exclusive copy is attached to this email. Let me know if this product is the one for you!
Regards,
[Name]
[job]
[contact info]
Example 2:
Hi [Customer],
I saw your post on [the subject] and I loved it. It made me buy and test some of your [product] and they're great!
Also, I saw that we sold some of the same products that you're interested in, and I was wondering if you've ever looked at [ours]? Because we have a line of [products] that seem like they would be perfect for your company.
Let me know if you're interested! We wouldn't even mind sending you a free sample. Check us out here for some customer reviews and success we've had, I think you'll be awed and swayed!
Best,
[Name]
[job]
[Contact information]
Ultimately, we have seen that, if done correctly and thoroughly, that good sales pitch email brings awareness to your brand. It is just as effective, if not more, than cold calling. The recipient receives it in their mailbox and, despite not opening it, still spots the company's name.
Some people actually know who the email is from before actually deleting it. Perfect opportunity for them to inquire more about your company.
Best tools for you