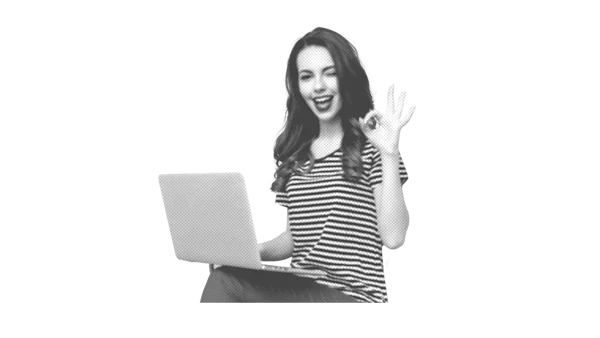 Better managing customer relationships to increase your Customer Life Value
Your relationships with your customers and the well-being of your company are intricately linked.
It makes sense then, that developing and managing customer relationships that are healthy would be an effective strategy to adopt and a good effort to make when a company is looking to grow.
Let's take a look at what customer relations is exactly, how it can benefit you and your team, and what you can do today to put customer relations at the forefront of your business.
What is meant by customer relationship management?
Customer relations is the process and methods a company uses when they interact with their customers and how they improve customer experiences.
Customer relations attempts to promote positive relationships with and loyalty from the customer. In the grand scheme of things, every action taken by every person in the company either contributes to or detracts from a positive customer relationship.
Customer relations, however, is not the same as customer service. While customer service is solely reactive – solving problems as they appear on the customer's end – customer relations is both reactive and proactive – methodologies put in place to gain customer goodwill even before the first interaction.
You can think of customer relations as the umbrella term under which customer service falls. That is to say, customer service is a method to improve customer relations, but customer relationship management includes many other actions and processes, as well.
Types of customer relationships
There are five main types of customer relationships that we see in business:
Self-service
Automated service
Community
Personal assistance
Dedicated personal assistance
These relationships have ascending levels of personal interaction, so the further down the list, the more likely that type of relationship will result in an emotional connection. Let's take a look of each of these concepts.
Self-service
This is a basic 'transactional' relationship, where the relationship is minimal. Think of the self-service checkout line at the grocery store. The customer effectively does everything themselves without interacting with another person at the company.
Automated service
This is still largely low touch but provides some automated personalization based on customer history and other information. This could be something like calling an airline to check a reservation and going through the automated prompts.
Community
Communities can be in person or online, but at the moment it is most common by far online. Typically, the business creates and owns the community infrastructure. Customers participate and can learn from each other's experiences. The business can gain a lot of useful customer data by observing and participating.
Businesses can also provide information and experts to enhance the community.
Personal assistance
Customers can access a real person, whether in person in a brick-and-mortar store, on the phone with a customer service or call center rep, or online through a tool such as live chats with sales or support assistance.
Dedicated personal assistance
This is where a representative is assigned to specific customers. Banks and casinos, for example, often assign personal representatives to customers that meet a certain profile level. Businesses use this to build a deeper connection and build trust.
Businesses will typically use more than one – potentially even all – of these customer relationship types at one point or other throughout the customer journey.
Having these different levels of interaction available lets the customer choose their comfort level. In the post-COVID-19 world, some customers aren't comfortable going into a store to purchase what they need and speaking with a representative face-to-face, so they might prefer to make a phone call.
Customers with anxiety may feel extremely uncomfortable speaking on the phone and so they would prefer to use a live chat option.
Having each option available and making customers feel comfortable during each interaction will improve their perception of your brand and strengthen the bond between you.
💡 There is also a sixth type of customer relationship that is not as common:
Co-creation
Customers actually have a say in the design of products, delivery, and other aspects of the product or service.
Co-creation creates a virtuous cycle for both customers and businesses. This type of interaction is more common in network effect businesses where the customers "create" the product as they participate.
Whichever types of customer relationships you employ, it is important to remember that building emotional bonds with the customer is the main goal.
Importance of managing customer relationships
Humans thrive on emotional connections.
We constantly make decisions based on our emotional reactions to situations, services, and products, much as we often like to deceive ourselves that our decisions are mostly logical.
The best customer relationship management (CRM) creates and sustains an emotional bond between the customer and the brand. Companies using this type of software and approach, use every interaction, online, over the phone, or in person, to reinforce that connection.
Once you've developed a strong connection with a customer, they will keep coming back to you, even if you slip up from time to time. They will also be more likely to become your advocate, recommending you to others based on their positive experiences.
The companies that invest in strong customer relations are often the most successful because good customer relations creates a mutually beneficial relationship.
Benefits of managing customer relationships well
There are a number of benefits to managing good customer relationships, some of which we have already touched on. The most important thing to note is that good customer relations improves every aspect of the customer experience.
Some of the main benefits include:
Improved customer retention
Improved customer loyalty
Increased customer satisfaction
Improved brand reputation
Improved product value
Let's take a detailed look at what each of these benefits is about and how they benefit different departments of the company, from marketing, to administration, to sales, etc.
Improved customer retention
Customers know when your company is being genuine and are willing to overlook your mistakes so long as you demonstrate dedication to their success. That type of transparency is essential when reducing churn as well as when you're building a positive customer relationship. We also know that retaining clients is significantly less expensive than cultivating new leads.
Improved customer loyalty
When you have a good history with your customers, it makes it more difficult for your competitors to lure people away from your brand. Building positive customer relations drives customer loyalty because it creates an intangible incentive for the customer to return to the same business and it generates consistent revenue for the business.
Increased customer satisfaction
Unsatisfied customers can be difficult to identify because they often simply don't return for repeat business. By cultivating strong customer relations, your byproduct is an insurance policy against customer churn.
☝️ A happy customer is a returning customer.
Improved brand reputation
While unsatisfied customers often disappear into the night, very satisfied customers will often reward businesses that provide top-notch experiences by leaving a review detailing their positive experience or posting about it on social media.
Reviews, of course, increase your brand's rating on Google or Yelp, helping new customers feel more confident in your product or service, and social media posts can gain wide traction in these days of viral videos and posts.
Improved product value
A high-quality customer experience adds value for customers and, in turn, helps foster pricing stability.
Without a good customer experience, you may be subject to more price fluctuations due to a lack of customer loyalty or a poor service reputation. If sales are low, you may find that lowering prices is your only option to entice buyers.
7 steps to move forward in the customer relationships management process
So, you understand what customer relations is and why it's important, but now how do you move forward with strong customer relationships in mind? Here are summarized the seven tips to help you manage your customer relations moving forward:
Form emotional connections
Decrease wait times
Meet customers on their preferred channels
Prioritize employee training
Build trust through transparency
Collect customer feedback
Show appreciation for loyal customers
Want to know more? We will not leave without detailing each of them for you!
1. Form emotional connections
Each customer is unique, so forming an emotional tie will differ from one customer to the next. Start by establishing trust through transparency and consistently providing great customer experiences.
Hire service representatives that demonstrate empathy. Personalize each interaction to create deeper conversations and form human connections. All this can lead to stronger customer relationships and increased Customer Lifetime Value.
2. Decrease wait times
Reducing hold times will improve the customer experience and boost customer satisfaction. Customers love when they can easily reach a representative that will quickly resolve their issues. Offering self-service options or chatbots can help reduce wait times.
3. Meet customers on their preferred channels
As we mentioned earlier, meeting customers on their preferred channels will make them feel more comfortable and thus more likely to return. An omnichannel support experience helps meet customer expectations, allowing you to connect with them on any channel.
4. Prioritize employee training
Support agents are the first people customers interact with when they have a question or an issue with a product or service.
When you have highly skilled and highly empathetic agents on the front lines who know how to create an excellent conversational experience, it can do wonders for your customer relationships. Prioritize customer service training that helps develop skills like active listening, communication, and problem-solving abilities.
5. Build trust through transparency
When you own up to your mistakes, customers will respect your honesty and transparency—leading to trust. Minimizing an issue, denying fault, or passing the blame comes across negatively not only to the customer but in life in general, damaging your relationship. Take responsibility for a mistake right away and resolve the issue in a timely fashion.
6. Collect customer feedback
Customer feedback provides valuable insight into how your customers feel about your brand. You can collect this information through surveys, reviews, and more.
Collecting positive and negative customer feedback can reveal where you're excelling and where you need to improve. Implementing feedback will show customers that you value their opinion and help strengthen relationships.
7. Show appreciation for loyal customers
Your brand credibility is only as good as your customer experience. Reward your repeat and loyal customers to show your appreciation. Something as simple as a loyalty program, discount, or complimentary product goes a long way toward cementing customer relationships and encouraging referrals.
Summing up how to manage customer relationships
Customer relations are the bread and butter of a business. 🍞🧈
If you don't have a good relationship with your customers, eventually you won't have any customers at all.
Thankfully, having good customer relations and managing customer relationships tools and strategies can simplify making human connections. Listening to what your customers have to say and meeting them where they are will go a long way towards building an unbreakable bond.
Best tools for you