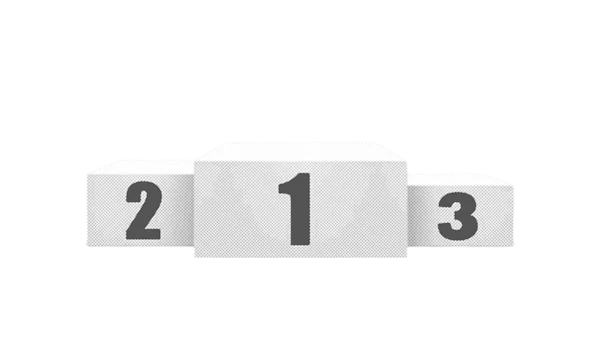 8 best CRM for freelancers in 2021 [comparison]
Are you a freelancer looking for CRM software? What is the best CRM for freelancers?
Staying organized and managing all the client's information are always the hardest parts of freelancing. This is where CRM software can take out and be a Customer Relationship Management solution for freelancers.
CRM solution helps freelancers to manage their projects while keeping track of all their information and notes at the same time. In addition, the price of the CRM system must suit the tight budget of freelancers.
Luckily, in this article, we will compare the 8 best CRM software, based on efficiency and budget criteria, to help freelancers make their choice, and in addition, some tips in choosing the right tool.
1CRM
1CRM is one of the best Cloud CRM specialists for freelancers, startups, or small businesses. It combines both sales and marketing features all in one single system and its platform is easy to use. It helps freelancers save time and create long-term relationships with their clients.
Features
Here are some CRM features of 1CRM:
Daily task and project management
Marketing automation: automated lead capture, automated follow-up,
Opportunities generation
Project and order management
Client support
Personalization and customization
Email, schedule, tasks
Mobile app on both Android and iOS
If we compare 1CRM and HubSpot, which is a huge CRM specialist in the industry, we can see that 1CRM focuses on the integration of order management, efficient client support service, and project management, all in one solution. Otherwise, HubSpot provides lots of CRM features but lacks service management and can't offer an overall view of your project. Furthermore, if the budget is a thing that freelancers or small businesses care about, there is a huge difference between the price of 1CRM and HubSpot.
The drawbacks
Update problems
Speed and UX need to be fixed
Pricing
There is a free version for freelancers and small businesses. The paid plan starts from $13 per user per month, billed annually. The price can go up to $34 per user per month which is a good price tag for freelancers. Freelancers can register directly on their website.

Customer Relationship Management (CRM) Software
Learn more about 1CRM
Agile CRM
Agile CRM is considered as the most flexible CRM tool, just like its name "Agile". The reason is that its design is so minimal and easy to use, compared to some more robust CRM software like HubSpot or Salesforce CRM. This CRM tool is specifically designed for freelancers or small businesses who want to launch an eCommerce business.
It has a timeline board showing all the interactions you have with the application. If freelancers want more marketing features, there are even some marketing features such as marketing automation, emailing, newsletter, tracking, …
Features
Here are some CRM features of Agile CRM:
Sales:
360°overall project view
Client experience management
Schedule, notes, tasks
Sales enablement: lead scoring, lead prospector, reporting
Telephony
Marketing:
Marketing automation
Web engagement
Social Media Marketing
Mobile, text, call
Integrations
Service:
Help desk
Client service
Integration
Livechat
The drawbacks
Lack of time tracker and cloud storage
Sales pipelines and reporting features limited
Pricing
The good news is that Agile CRM offers a free plan for 10 users and 1000 contacts but it doesn't include the marketing features. The paid plan starts from $8.99 per month and can go up to $47.99. Freelancers can register easily right on their website.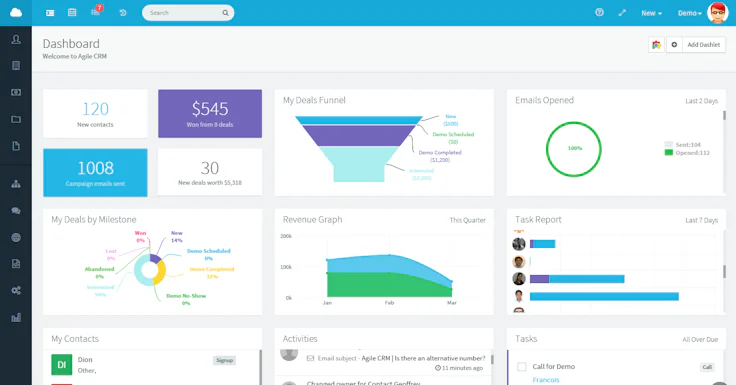 Gamification Software
Learn more about Agile CRM
Bitrix24
Bitrix24 is a cloud-based CRM software, founded in April, 2012. Bitrix24 offers basic CRM tools specially designed for freelancers and small businesses. It is available in Cloud or on-premise and in 18 different languages. This platform gives freelancers and small businesses a CRM suite of communication and management to help them be more organized.
Features
Here are some CRM features of Bitrix24:
Planning: kanban board, custom workflow, dashboard
Workload management
Lead acquisition
Sales automation
Marketing analysis
Client support
CRM store
Quotes and invoices
Bitrix24 is able to organize both communication and organizational tasks for freelancers and small businesses.
The drawbacks
Some functions can be overwhelming
UX needs to be improved: complex user interface
Limited social network
Pricing
Bitrix24 offers a freemium for freelancers and small businesses. The paid plan starts from $39 for 5 users per month and can go up to $159 (unlimited clients).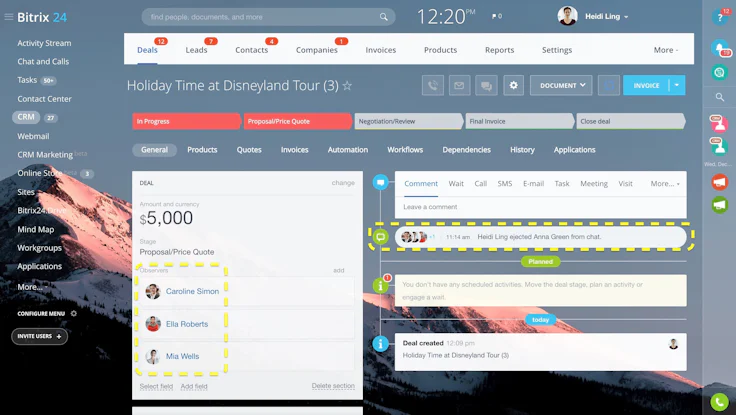 Free CRM, Project Management and Collaboration Software
Learn more about Bitrix24
Betterlance
The greatest thing about Betterlance is that this tool helps freelancers and small businesses generate new leads every month and always be clients' top-of-mind. To do that, they use lots of prospecting tools and match your offer to the client who needs it. Freelancers always work on their own. Luckily, Betterlance does automatically all its work so freelancers don't need to spend hours or hire a team.
Features
Here are some CRM features of Betterlance:
Lead generation
Refresh the relationship with old clients
Customer loyalty
Follow-up automation
Emails with different templates
Reminders, schedule, tasks synchronization
Contact, sales and project management
The drawbacks
Basic capabilities
Lack of integration, email tracking, merge fields
Pricing
The CRM basic plan is totally free and it has a free trial for 14 days. The paid plan:
Start growing: $19 per user per month (guaranteed +5 news leads every month)
Grow faster: $39 per user per month (guaranteed +10 news leads every month)
Next level: $69 per user per month (guaranteed +20 news leads every month)

The ultimate CRM software for Freelancers
Learn more about Betterlance
Capsule CRM
Capsule CRM is a simple online CRM tool that will help freelancers nurture the relationship with their clients, win more sales and give you the most insightful report. What makes Capsule CRM distinct from others is the visual overview of the whole project. Life is much easier when you can track your sales to see if you are in progress.
Features
Capsule CRM is very easy to use with a clean and friendly interface. It allows you to:
Share information with the customer
Categorize information
Manage sales pipelines
Track all your activities
Organize your tasks, planning
Connect to third-party services like Mailchimp or Google Workspace or other CRM systems like Zendesk Sell
Here are some CRM features that make Capsule different from other CRM tools:
Sales tool: sales pipelines, dashboard, visual support, opportunities filtering;
Task management: reminders, calendars;
Reporting: analytics, reports, data tracking;
Contact management;
Security and permissions: RGPD, deleted records storage, access to records;
Connectivity: integrations with Google Workspace or Microsoft 365, a mobile application;
Project customization.
The drawbacks
Basic tools and lack of some important CRM features such as conversation tracking and emailing.
Pricing
There is a free plan and a 30-days free trial. The free plan has some limits such as only for 2 users, storing up to 250 contacts, 50MB of storage limits.
The paid plan:
Professional: $18 per customer per month with 50 000 contacts and 10GB of storage per customer
Team: $36 per customer per month with 100 000 contacts and 20GB of storage per customer
Enterprise: $54 per customer per month with 200 000 contacts and 40GB of storage per customer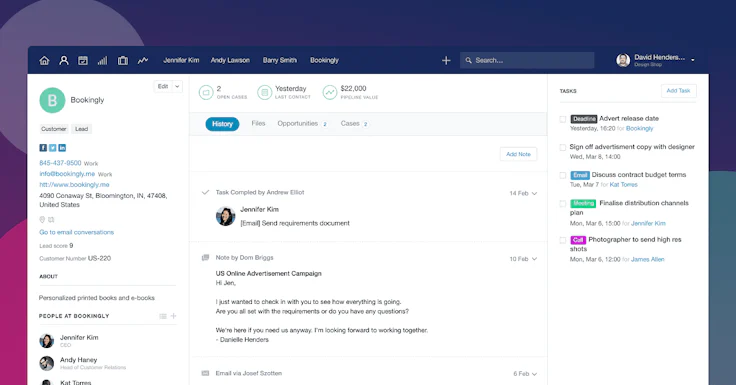 The Smart, Simple Online CRM
Learn more about Capsule CRM
Close CRM
Close CRM is specially designed for freelancers and small businesses that focus on email marketing campaigns because this tool will help them generate automatically the email campaign. Close CRM also provides advanced email tracking.
The most significant advantage that Close CRM offers to their clients is the capability to manage and generate leads freely. It's easy to use, all you need to do is choose the plan that suits you the best and use the migration tool to import your client's sheet. Once you finish this process, you have to save a boatload of time and you are ready to go.
Features
Features of Close CRM:
Lead management using the handy dashboard
Built-in calling
Performance measurement: performance rank, the number of calls and emails sent
Customization
Synchronization: calendar, email
Sales, tasks, data management
Integrations with other CRM tool
The drawbacks
The SMS feature is only available in the USA, Canada, Great Britain, and Australia
Expensive price.
Pricing
There isn't a free plan. The paid plan:
Starter: $29 per user per month
Basic: $69 per user per month
Professional: $99 per user per month
Business: $149 per user per month
All plans include must-have tools.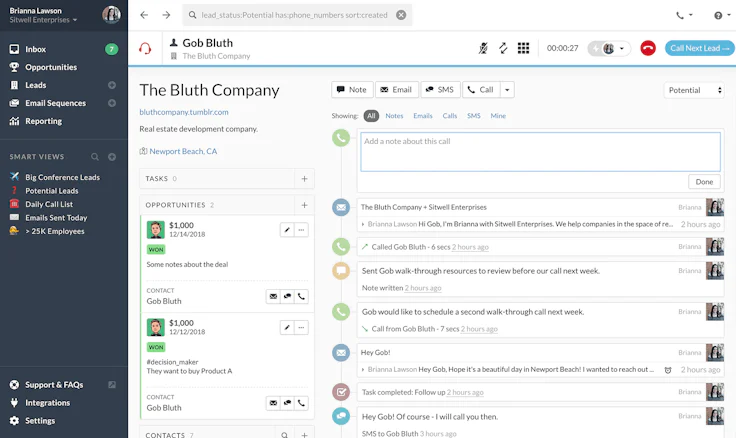 CRM Built For Growing Sales Teams
Learn more about Close CRM
Less Annoying CRM
Less Annoying CRM is a CRM specialist tool specifically designed for freelancers and small businesses. This CRM platform is recommended by thousands of businesses for its ease of use and customer support quality. All the information is stored in one place.
Features
With Less Annoying CRM, you can:
Organize your project in one simple platform;
Manage contact and data;
Sync calendar and tasks;
Generate leads and pipelines
Work easily with the team and clients;
Customize;
Integrate it with other platforms such as Mailchimp, Google Calendar;
Have access to information on the go by using the mobile app.
The drawbacks
Basic reporting features
Lack of marketing management tool
Pricing
Less Annoying CRM has the most affordable price tag for freelancers and small businesses with lots of CRM features. It has a cost unique for all businesses $15 per user per month without contracts and limitations. With the price of your lunch but you can organize your work for a month. It's a very good cost for freelancers or small businesses on a tight budget with lots of powerful CRM features in one simple platform. They also offer free client service to answer all client's problems.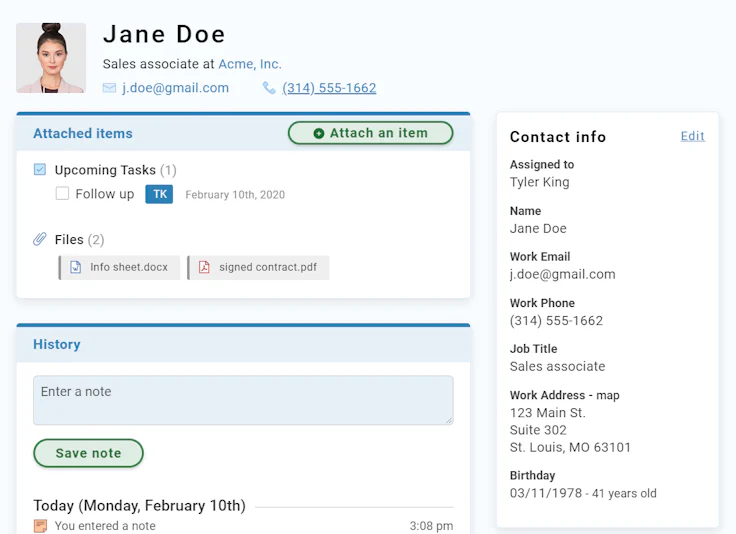 Sales Force Automation Software
Learn more about Less Annoying CRM
Streak
Streak is a platform that was created by a former Google product manager in 2011 with the idea of helping salespeople connect easily their work to their email box. Streak has everything you need for a CRM tool. It is deeply integrated totally in the Gmail box and works alongside other G suite applications. The goal is to create a platform where salespeople can both communicate with their leads and manage their work in one simple interface. It's very easy to use the user interface.
Features
It has all the important CRM features such as:
Data, task, and project management
View tracking
Sales management
Project management
Business development
Fundraising
Client support
The special thing is that Streak lives inside Gmail so freelancers can easily export and import information or customize their workflow. You can easily track information when an email is opened.
The drawbacks
Slow
Unable to see the location of the person who viewed the mail
Lack of lots important CRM tools compared to other applications like Zendesk Sell or Salesforce such as segmentation, territory management, lead qualification, quotes/ estimates.
Pricing
Streak provides a free version which is ideal for startups with few contacts. With its basic pack, you can still enjoy most of its important CRM features such as reports, data management, … The paid plan starts from $15 per user per month, billed annually.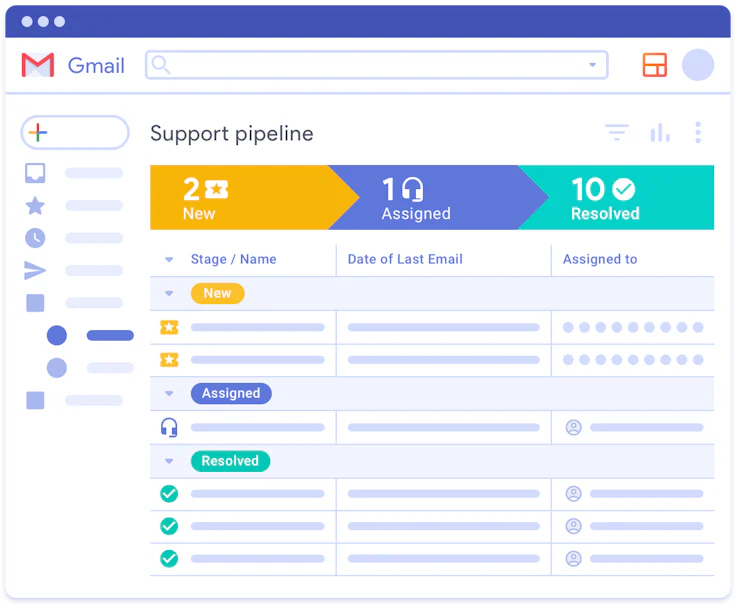 The CRM Solution for Gmail
Learn more about Streak CRM
Things to consider in choosing a CRM software for freelancers
There is no better CRM tool than the one that will truly satisfy your needs and suit your budget. Before choosing a CRM system, it is important for freelancers to determine their objective by answering these 3 questions:
What are your goals?
Who are your clients and what do they need?
What is your budget?
After answering these questions, you will know what CRM features you need to use. Moreover, you have to pay attention to these criteria such as:
Contact, data, and tasks management
Lead management
Customer experience, ease of use
Personalization
Information security
Furthermore, we have to take into account that freelancers must find a balance between:
a solution powerful enough to help them work efficiently;
and a price adapted to freelancers who don't have the same budget as a large business.
With a powerful CRM solution, you can significantly increase your sales, efficiency and productivity. It is important to research carefully your business needs and the client before you choose a CRM tool. Find your needs and a CRM that meets those needs by considering the key factors that we have mentioned.
With this article, we hope that you can surely find the right CRM for your business. The key is knowing what you need and finding out the CRM platform that satisfies those needs when you see them.
Best tools for you